Disclaimer: This blog post contains affiliate links.
Update 20/05/13: Today is the last day of Amoralle's sale and they've dropped some prices even further – I've updated the prices below.
I really don't rave about Amoralle as much as I should do, especially considering they're one of my very favourite lingerie brands – up there at the top of the list alongside Bordelle and Agent Provocateur. Maison Close is another of my favourite brands because of the way they make very simple, often monochrome lingerie that just looks incredible, and Amoralle reminds me of Maison Close – only even better.
That said, Amoralle is not a cheap brand and I haven't bought anything from them yet. However they've just launched a sale with up to 70% off including some of my very favourite pieces, so if you've been waiting for an opportunity to try this brand then now's your chance!
Here are my top picks from their sale…
Diamond Robe (pictured above)
Was £334, Now £66.80
This is the robe that sparked the idea for a regular 'lingerie lust list' on the blog, because I saw it and simply had to share it! I think it's just incredible – the lace is gorgeous, the neat, contrasting trims make it look expensive and it's all topped off with a huge bow, and what's not to love about that? Considering that this is one of the pieces in the sale that actually is 70% off, I'm rather tempted to buy it…
Was £269, Now £134.50
I was just reading an article yesterday about the trend for luxury nightwear being worn as outerwear (and I'm not talking wearing your pyjamas to Tesco) and wondering what the nightwear would have to look like to make it work – and then I saw this. Not only would it make the most deluxe nightdress I'd ever own if I bought it, but it's also the sort of thing you could wear on the red carpet and not look at all out of place! Plus, just look at those laces. Aren't they stunning?!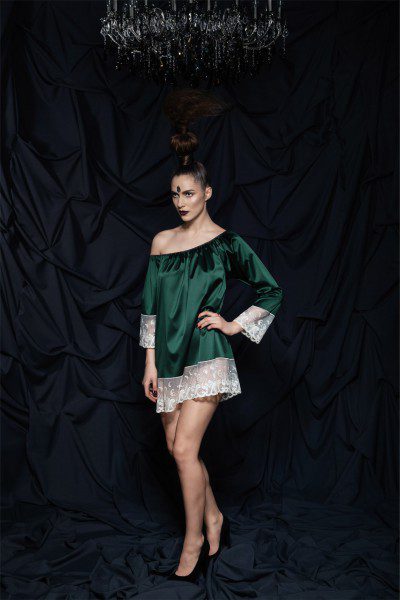 Was £211, Now £105.50
It's rare that Amoralle uses colour (shades of brown excepted) but when they do, they do it so well. Emerald green (or 'forest green', as I call it) has always been one of my favourite colours. It always looks so rich and luxurious, especially in a beautiful fabric like this one. This off-the-shoulder, shorter-length nightdress with lace trims is part casual, part dressed-up – perfect for effortless-seeming glamour!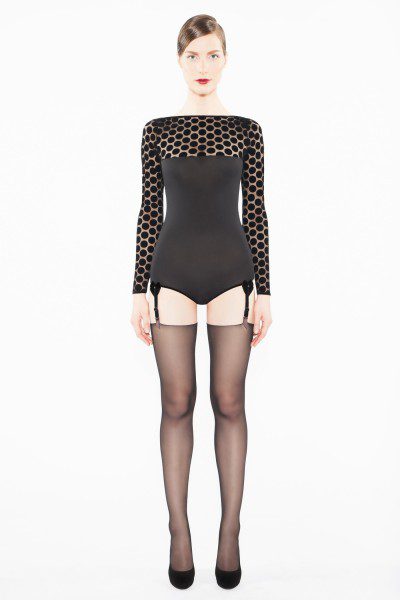 Was £185, Now £129.50
This is a simple but, as the name says, magnificent bodysuit in one of the best fabrics ever invented – sheer black mesh with polkadots! The suspenders are topped with velvet bows and beads, adding a little girly touch to an otherwise very modern-looking piece.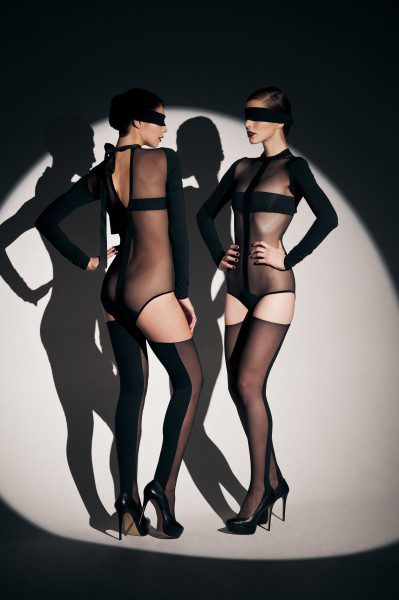 Was £182, Now £127.40
More bodysuit goodness – this time in sheer black mesh that's blocked out with opaque fabric in just the right places to make it teasing. Again, there's just a little touch of girliness in the bow that ties at the back of the neck. I think this bodysuit would look stunning layered under a pencil skirt or trousers for outerwear, if you're daring enough!
Was £93, Now £46.50
Last but not least, this is one of the pieces that particularly reminds me of Maison Close thanks to its simplicity, colour palette and thin, seam-like lines. If understated lingerie is your kind of thing, this is perfect, and it's also not too costly at this price either!
Have you ever bought anything from Amoralle, or wished you could? What do you think of this brand?