Disclaimer: This blog post contains affiliate links.
There have been some gorgeous new pieces popping up on eBay this month, from stockings to swimwear and a couple of beautiful corsets. Which is your favourite pick this month?
Italmoda Doli Cole seamed tights
 – pictured above
Buy-it-Now for £3.85
Size: S, M & L available (on separate listings)
How incredible are these?! Yes, I bought a pair and if they fit I am oh-so-definitely going back for more, as the seller has lots of stockings by this brand in all sorts of designs that are equally as elegant and unusual as this, with just a hint of diamante here and there. This isn't a brand I've ever heard of and I've not been able to find out any information on them through Google, so if you know anything about the brand I'd love to hear it!
Update 01/08/2014 – these arrived and it turns out they're by Doli Cole, not Dali Cole as the seller wrote. Doli Cole are being sold on Etsy as vintage, but that's all I could find out about the brand.
Corsets Au Cachet vintage 1920s/30s corset
Auction (currently £12.99) – ends 28/07/14 at 08:12pm
Size: Vintage French size 70, approx. modern UK size 12
I wish this corset were my size! This is a rare chance to get hold of an original 1920s or 1930s French corset, complete with its original box and in wearable condition. It's a pretty light pink colour with lovely detail at the front and four suspender straps. According to the seller it can also be worn lower on the body, girdle-style.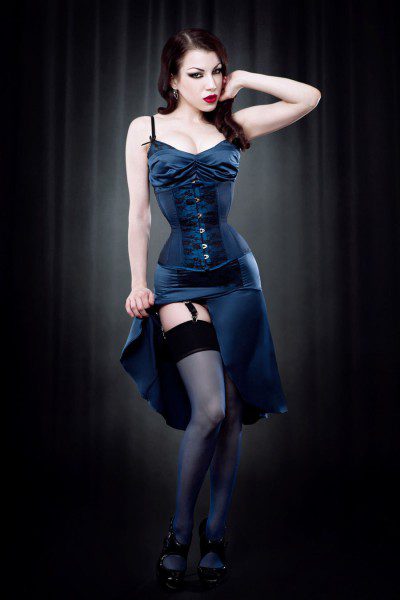 Kiss Me Deadly DeVille underbust corset
Buy-it-Now for £99
Size: 22″ waist
For those who prefer a modern corset, this blue taffeta one from Kiss Me Deadly is beautiful with its black lace overlay on the front panels. It also happens to be my size and I was seriously considering buying one (there are currently 5 still available) but I've decided I need a black corset so it matches more of my lingerie wardrobe.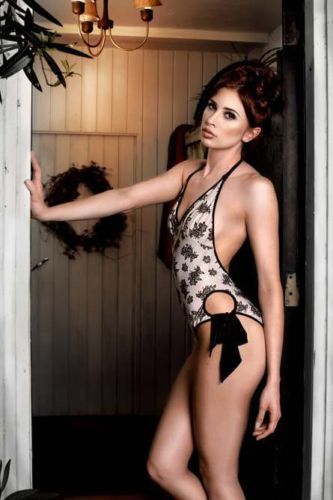 Shell Belle Couture floral swimsuit
Buy-it-Now for £30 (soft cup) or £40 (padded cup)
Size: S or M (soft cup) / 34C, 36D or 38B (padded cup)
I'm thinking of getting the soft cup version of this for myself – it's such a stylish swimsuit! Shell Belle Couture is a luxury, indie brand that's made on the island of Mauritius and I can definitely imagine wearing this swimsuit on a hot island beach somewhere in the world, cocktail in one hand and a floppy sun hat on my head!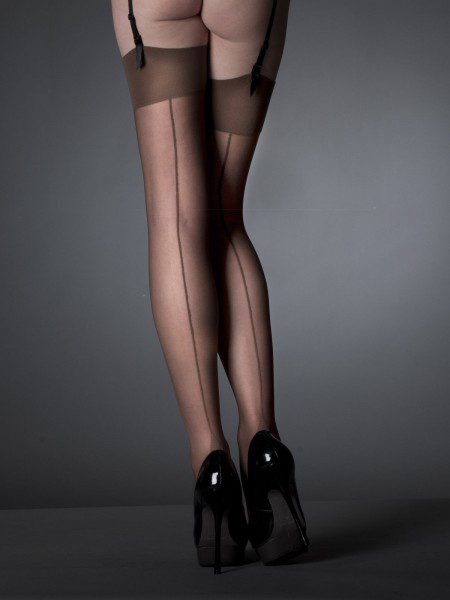 Ann Summers seamed stockings
Buy-it-Now for £1
Size: Small
Last but not least, these brown stockings with a backseam aren't really anything special or unusual, but they are a total bargain. If you want some fairly good quality stockings for daily wear that you won't cry over when they inevitably ladder, stock up on these which are being sold by the official Ann Summers eBay outlet. I bought two pairs and for this price I can't complain.
Have you seen anything else lingerie-related on eBay I should know about? Let me know – the August top picks post will be going live in a week or two.