Disclosure: This blog post contains affiliate links.
I love polkadot mesh and I love soft silk, but there's no fabric on Earth I love more than lace, and the more intricate and unusual the better. (I'm dying to wear my wedding dress already, which is floor-length lace that's subtly beaded and sequinned all over).
When you think of the word 'lingerie', lace is probably the first fabric that pops into your mind. It's true that a significant amount of lingerie features at least a lacy trim. However, there's a world of difference between the lace you'll find on your typical high-street bra and the lace you'll find on a couture garment.
So for the other lace lovers out there (and those for whom money is no object), I've rounded up the best places to shop for really, really beautiful lace lingerie…
This brand has been on my radar for a while and it's one I'd really like to try someday, perhaps on my honeymoon. Founded in 1992 in Romania, this luxury brand uses a lot of monochrome, couture laces in their designs. Those include bras, knickers and suspenders, as well as pieces that can double as deluxe outerwear with a bit of layering such as bodysuits, skirts and slip dresses.
Prices start at around 430 LEU (£77) for a thong and go up to 4550 LEU (£815) for the pieces that use a lot of lace, although there's a half price sale on right now.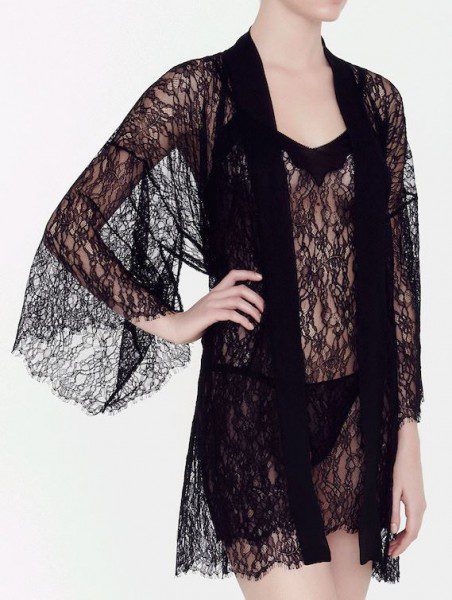 Jenny Packham uses all sorts of deluxe materials including printed silks and even feathers, and of course some breathtaking laces. This robe and slip set is simply equisite, with a eyelash trim and delicate, almost spider web-like pattern.
The designer also has an eveningwear line where prices reach the thousands, but for lingerie expect to pay in the region of £350 to £600 for one of her lace pieces.
Designer Carine Gilson specialises in silk-satin lingerie and nightwear, and at least for now, there are no lace-only pieces. Instead, she uses expertly hand-cut Calais lace to trim and adorn her slips, bras, robes and shorties. If you want to see her sewing skills in action, check out this real-time Youtube video of Gilson sewing a sheer negligée with lace adornments (be warned, there are almost 9 hours of footage! Skip to part two if it's just the application of the lace you're interested in).
Prices start at £310 for shorts and go up to £1,245 for a lace-trimmed silk robe.
Recent graduate Karolina Laskowska is the youngest brand to make it onto this list. She's best-known for her colourful vintage kimono silk designs, but her lace pieces are beautiful too. This bra set is made from an elaborate beaded lace (click through to her website and zoom in to see all the detail), and coming up in September are a couple of designs made from antique Victorian lace that's over 100 years old and very limited-edition. Perfect for those who want something truly unique!
Prices for her lace lingerie start at £65 for a pair of knickers and go up to £190 for a Victorian lace babydoll, although lots of lace pieces are currently on sale.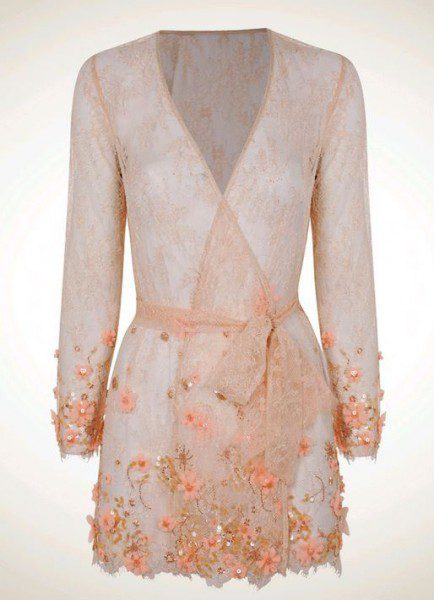 Agent Provocateur is likely the best-known and biggest brand on this list, but unlike a lot of mass-produced brands they haven't compromised on fabric quality. I own quite a few pieces by them and they're all made from unique, beautiful laces. This robe is from their premium Soirée collection and is made from heavily-embellished French leavers lace, but even in their cheaper (though by no means cheap) mainstream line you can get beautiful Chantilly and French leavers laces too.
Prices start at £45 for a lace thong and go up into the thousands for their Soirée range, but in their summer and Christmas sales you can often pick up a bargain.
So those are the top 5 brands I would recommend for those looking for premium-quality lace lingerie, but I also think Fleur of England deserve a mention for their 'floating lace' Jasmine bra, as well as Shell Belle Couture for this truly exquisite slip.
Which are your favourite lingerie brands for lace? Any you'd add to this list?