Disclaimer: This set was chosen and bought by me, and was not gifted in anyway. The review was also my choice, and the views and opinions given are completely my own. This blog post contains affiliate links.
OK, so I'm going to start off by blaming Estelle for this. Firstly, I don't want to review anything that I stock, I don't want to be thought of as biased. Secondly, Estelle pointed out the Gossard sale, right after my birthday when I had birthday money burning a hole in my pocket!
Gossard used to be one of my firm favourites with plunge bras giving a fantastic shape without padding or molding. But after a while they moved onto other things, or I stopped finding them, and I discovered other brands. So, not having purchased a Gossard for well over a decade, I was pleased to find things that I love again, and in my new size as well.
After a fair amount of debating on their website, I settled on the beautiful, if not a bit dressy (if you understand what I mean) Opulence set. It arrived in only a few days, packaged in a beautiful, floral print post bag and wrapped in tissue paper (I forgot to take a picture of that. Sorry). Personally, to me, presentation is a big thing and a pretty package arriving makes me smile and think good/better things about what I will find inside. Opening the package I wasn't disappointed.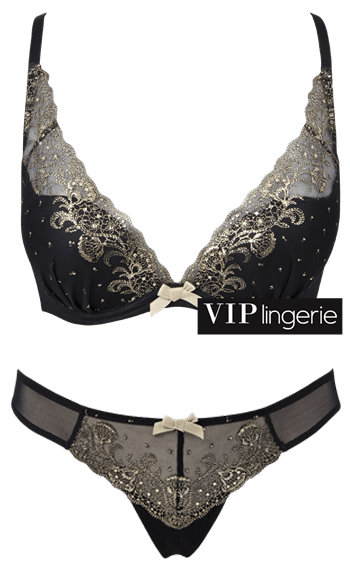 The Bra
Material: Molded insert, covered by stretchy netting, with gold embroidery and sparkly bits (what girl doesn't love a sparkly bit?). Elastic back and straps.
Shape: Plunge, push-up.
Finishing touches: Gold bow in the center gore, Gossard on the strap sliders.
Score: 9/10
The gold was a little bright for me, as I'm more of a silver kind of girl, but I wouldn't let that put me off.
Fit
Size: I ordered a 30E, which is my size with most of the main brands that I've tried.
Cups: The cup size fitted me beautifully. It gave me a lovely rounded shape, without pushing my breasts right up against each other. The stretchy netting sat nicely against the skin, so no gaps were found like you can have with some bras.
Band: The band came up a little small for me, although not small enough to be an issue. I probably would have been better with the 32DD on the middle hook, but was too impatient to wait for a return and new bra to come out. The other thing I found unusual was the clasp. Although it had the signature Gossard shape, that I remembered from all those years ago, it is unusual for a larger cup to only have 1 hook, although this didn't affect the support given. However, due to the summer weather and puffing up like a balloon when it gets hot (got to love getting older) the thin clasp along with the slightly tight band did make it feel like it was cutting in slightly by the end of the day.
Score: 7/10
Cups were perfect, and band could probably have been solved by going a size up.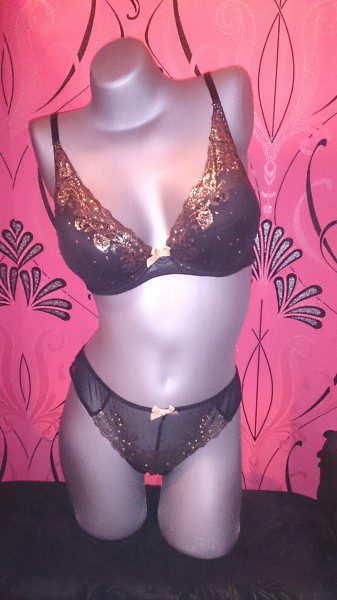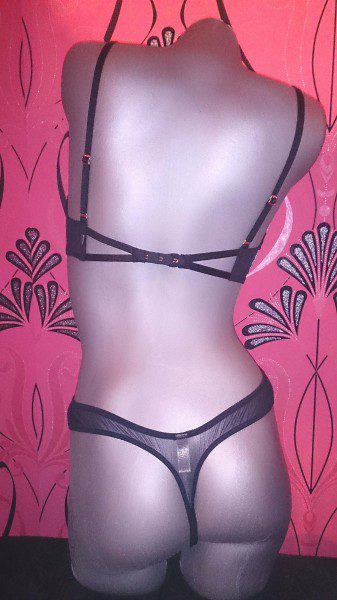 The Thong
Material: Stretch netting with gold embroidery and sparkly bits.
Shape: High-leg thong.
Finishing touches: Gold bow in the center of the waistband at the front.
Score: 7/10
The front was lovely. I was just surprised that on something that looks so decadent, the back was so plain.
Fit
Size: Medium. I normally umm and aah over which size I am now. I would normally wear a UK 10. The decision was, however, made for me by only having Mediums (UK 12-14 according to Gossard's size chart) and upwards left available.
Comfort: Medium was, if anything, a bit big. I could have had the small after all (had it been available). However it wasn't so loose as to fall down. I also didn't find the gold thread to be at all itchy.
Score: 9/10
Ultimately I need the small, but get on fine with the medium.
Washing
Now, as those of you who have read my previous blogs already know, I wash my bras in the machine (sorry Gossard). In fact I don't even bother reading the instructions to find out if they are machine washable, I just do it. I will try redeeming myself a little by saying that I do now use a laundry bag (although that's a recent thing and all my previous Gossards lasted for years!).
Anyway, I have washed this set a few times now and can honestly say that even going through my machine that they have come out looking lovely.
Score: 9/10
I can't comment on long term at the moment, and appreciate that I don't give them the best chance.
Overall
Score: 8/10
The slightly smaller band and plain back of the thong are the only things that have down-scored this set. It was really lovely buying a Gossard again, it has made me remember all the things I have loved about them through the years, and confirm why they've held their place in the market for so long.
There was also a suspender belt available at the time, and I am now regretting not buying it whilst I had the chance!
The bra is still available in a range of sizes from 30D to 38C here, reduced from £39 to £19, and the thong is available in M, L or XL here, reduced from £16 to £11.
Have you bought the Gossard Opulence set and if so, what did you think of it?