Disclosure: I received these two items free of charge to review.
I don't recall now where I first came across Lucy Jones Lingerie, but I do remember the first image I saw: a model kneeling on a bed in the Skater Dress Body, a slightly loose-fit, silk satin teddy with lusciously-full ruffles draped over the hips. My first thought was "that's beautiful", followed by "that's so eighties". I wasn't wrong – it turns out its a recreation of an original 1980s design!
The Lucy Jones Lingerie brand
As a late eighties baby, the original Lucy Jones Lingerie was before my time. It was founded by Lucy Jones in Liverpool in 1980 and went on to what I can only describe as phenomenal success for a small, independent brand, being stocked in leading department stores including the likes of Harrods and Harvey Nichols in the UK and Barney's in New York. The Skater Dress Body even got a full-page feature in Vogue's December 1983 issue!
Lucy took inspiration from lingerie styles of the 20s and 30s, but added a contemporary twist through the use of bold colours and prints. She was also aiming for a fashion-meets-lingerie vibe, back when the lingerie as outerwear trend was still a pretty new phenomenon.
Sadly, she was eventually forced to close down her brand and moved into fashion education instead, but always missed the creativity and process of making lingerie. So, she decided to relaunch in 2018. This 'new' Lucy Jones Lingerie is almost identical to the old one, with designs taken directly from her 1980s archives that have just had a few minor tweaks to modernise them.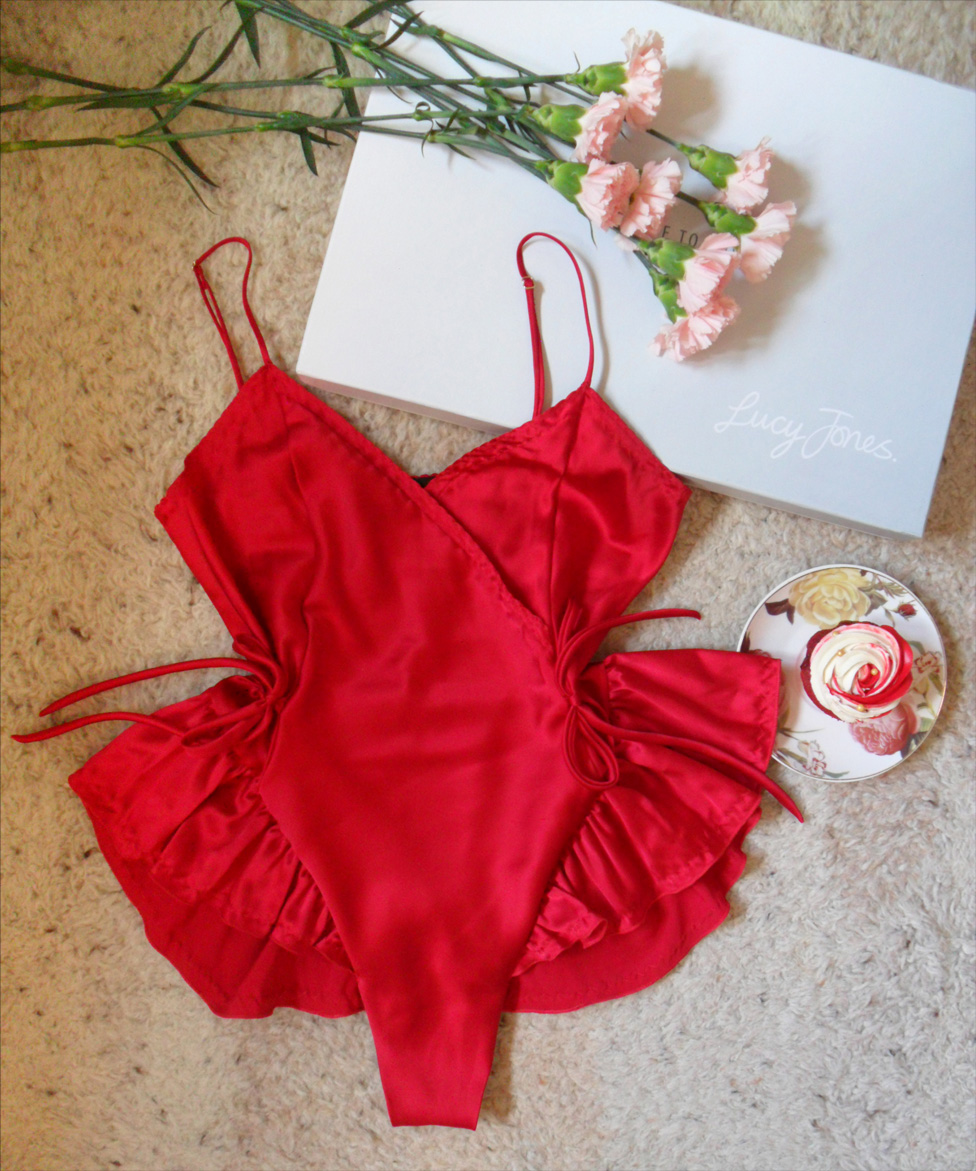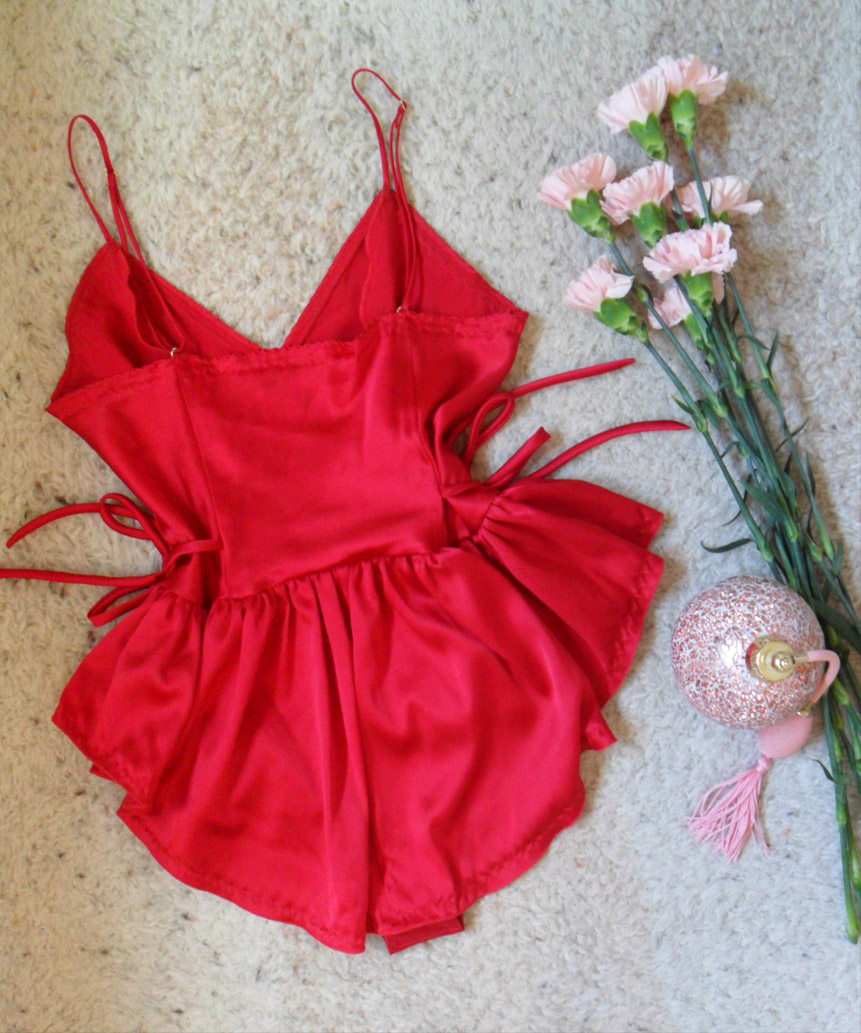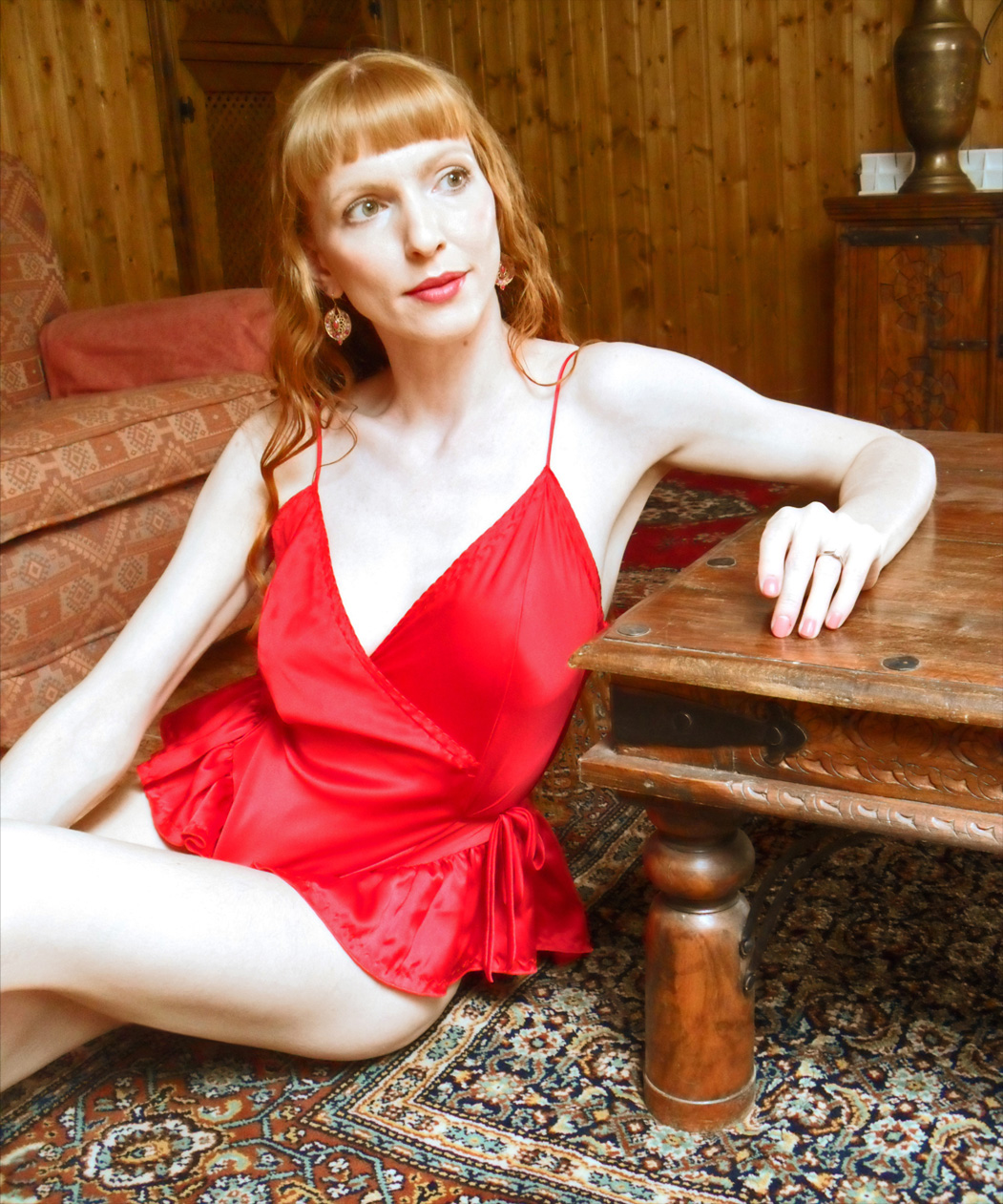 Appearance
When Lucy reached out to offer me a couple of pieces, naturally my mind went immediately to the Skater Dress Body! I just think it's so decadent looking with its generous use of silk to create rich, flouncy draping at the legline. It comes in four colours and my favourite was this vibrant red.
In person, it's just as impressive if not more so. The rouleaux shoulder straps and thicker, double-sided silk ties at the waist are perfectly executed, and both the wrapover neckline and hip frills are finished with decorative stitching – an inset zig-zag stitch at the hips, and the same plus a stitch that 'catches' the edge at intervals all the way around the wrapover neckline to give it a slightly scalloped effect. This bodysuit would already be beautiful enough if it were just plain, flat-edged silk, but adding this decoration makes it truly special.
Although this relaxed-fit bodysuit instantly made me think of ruffled 1980s lingerie teddies, it doesn't feel dated. In fact, it's a style that's currently trending. It's interesting to think that this is a look which works perfectly now, worked perfectly in the eighties, and was inspired by styles of the 20s and 30s – if the designer was going for something timeless, which I believe she was, then she certainly nailed it!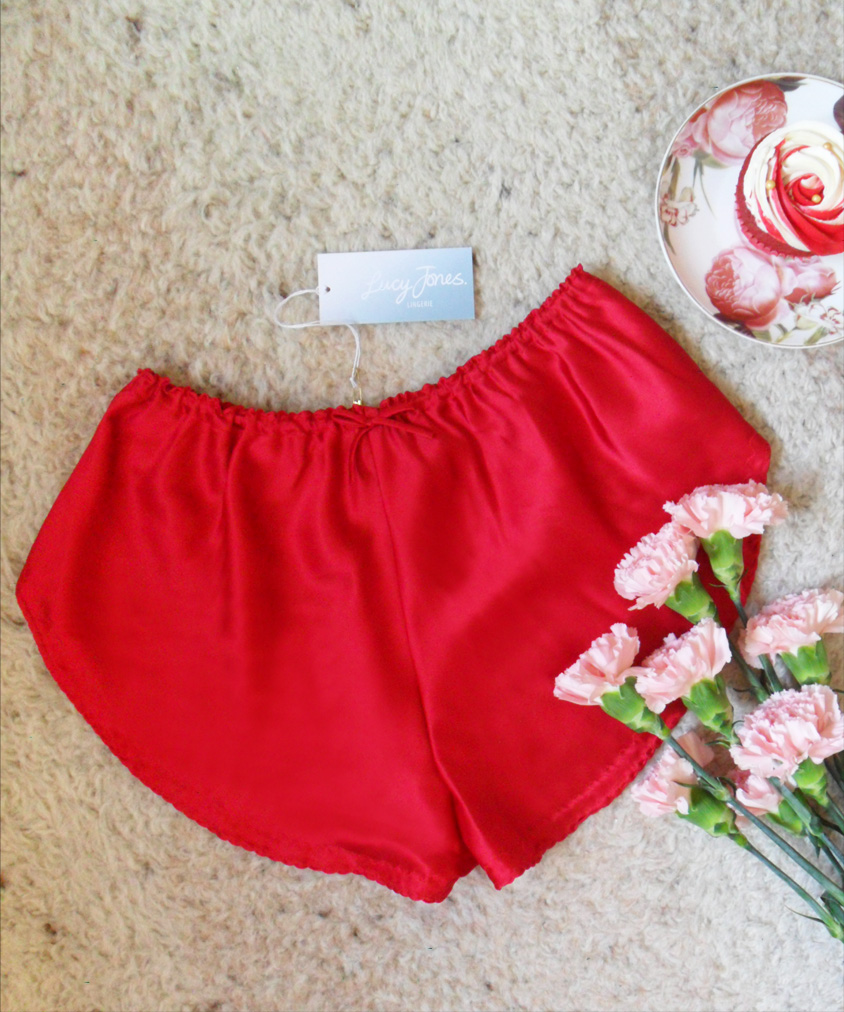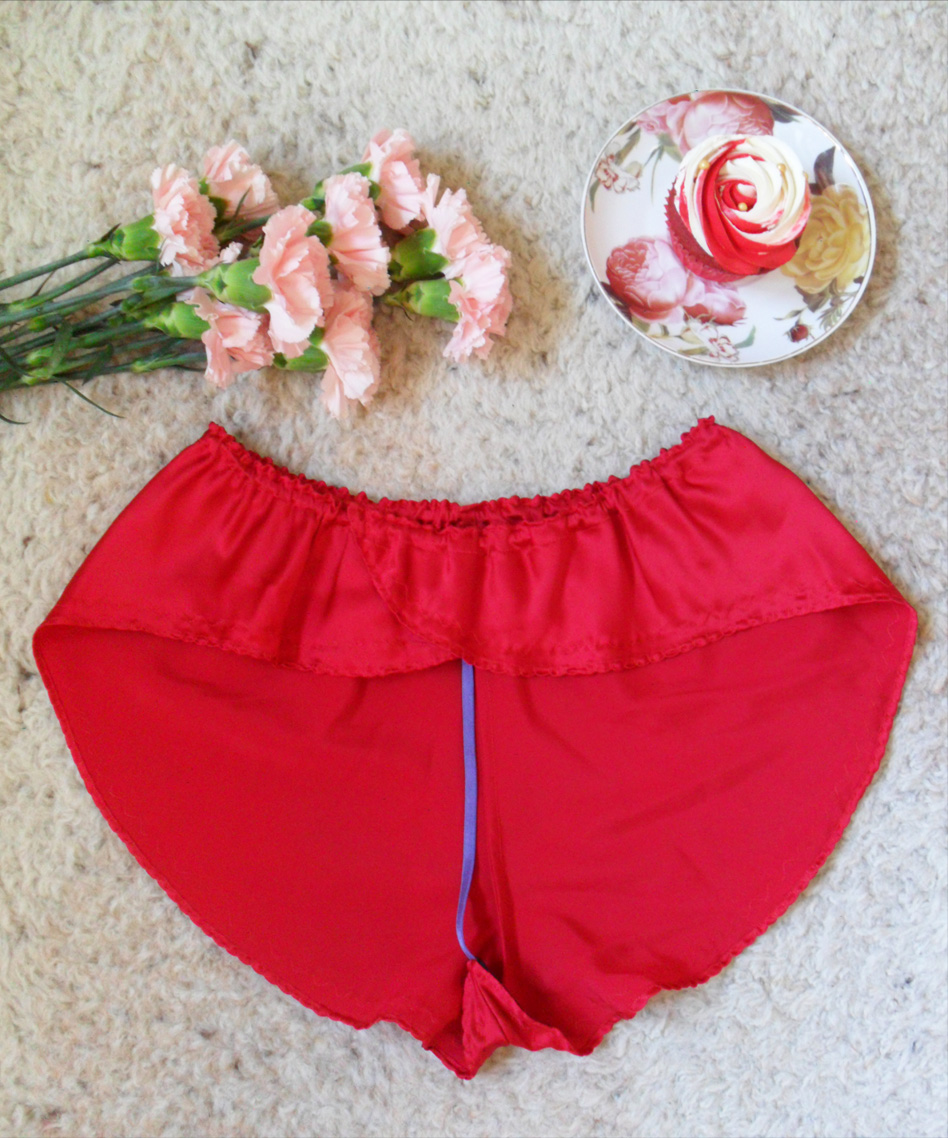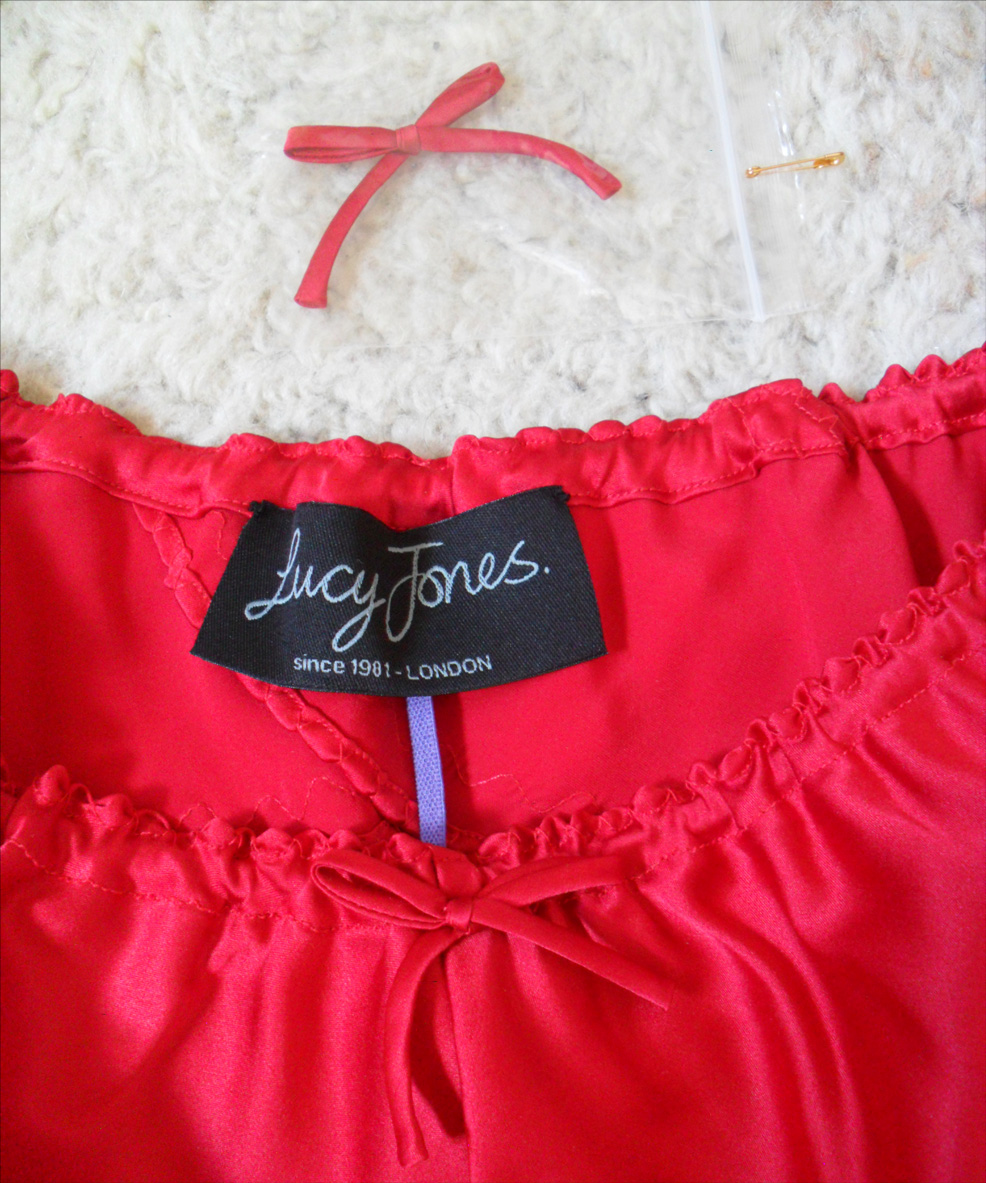 The other item I received is the French Thong, a playful twist on a classic French knicker that's mostly backless save for a wide waistband and narrow strip of elastic. I chose this one because I just thought it was something fun and different that I hadn't seen before. The fact that the elastic adds an unexpected flash of contrasting colour also adds to the fun aspect, although this is optional – Lucy will contact you after ordering to pick out a colour.
(Side note: since all lingerie purchased directly from Lucy Jones Lingerie will be made to order, she's able to offer various customisations. I believe that the ties, straps and even decorative stitching on the bodysuit for example can be a different colour).
The thong is also decorated with the scallop-creating stitching and around the leg openings, plus an adorable little silk rouleau bow at the centre of the waistband. It was a lovely surprise to find a spare bow in my package as well, a small detail that really gives you the sense this lingerie is intended to be treasured long-term.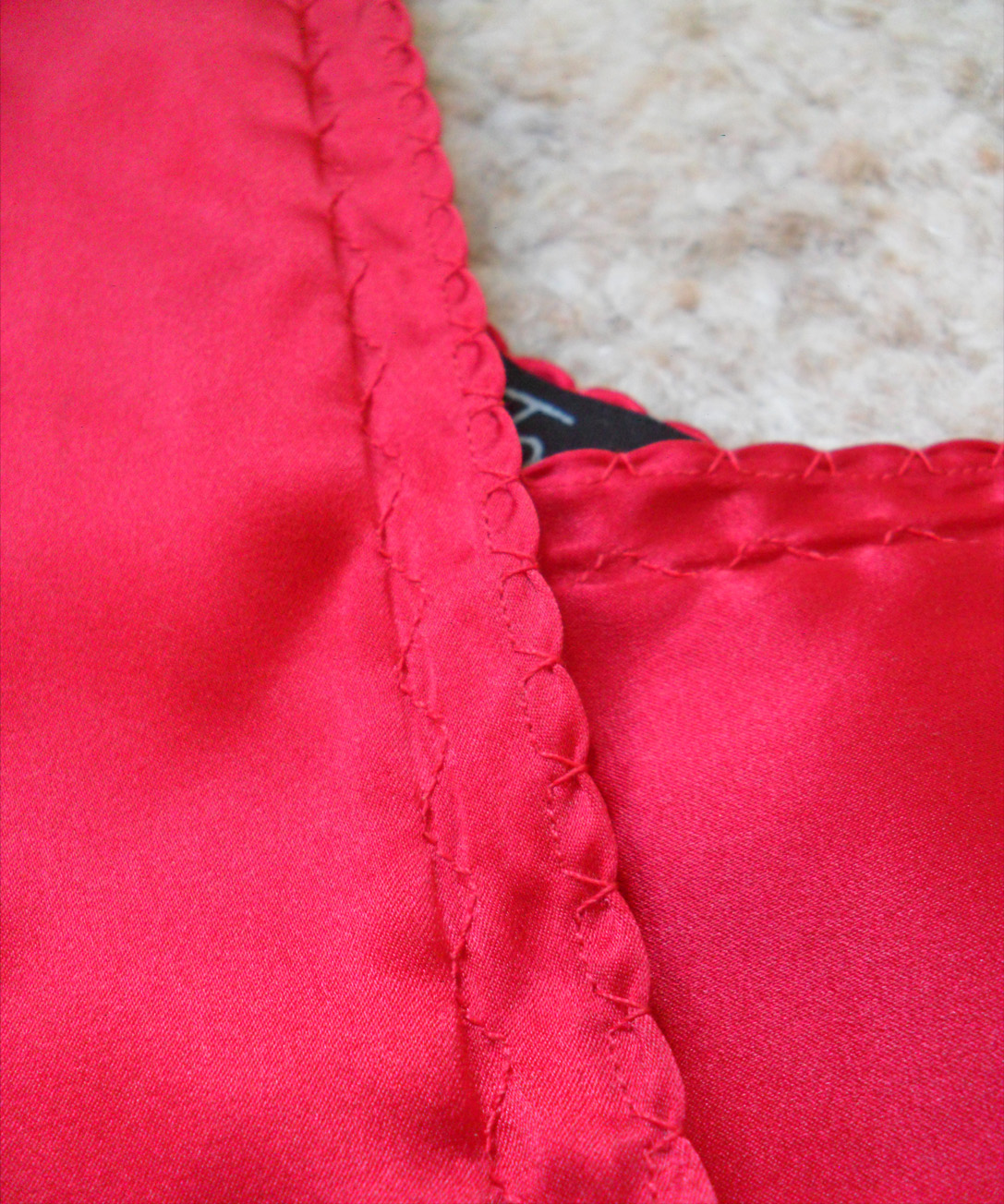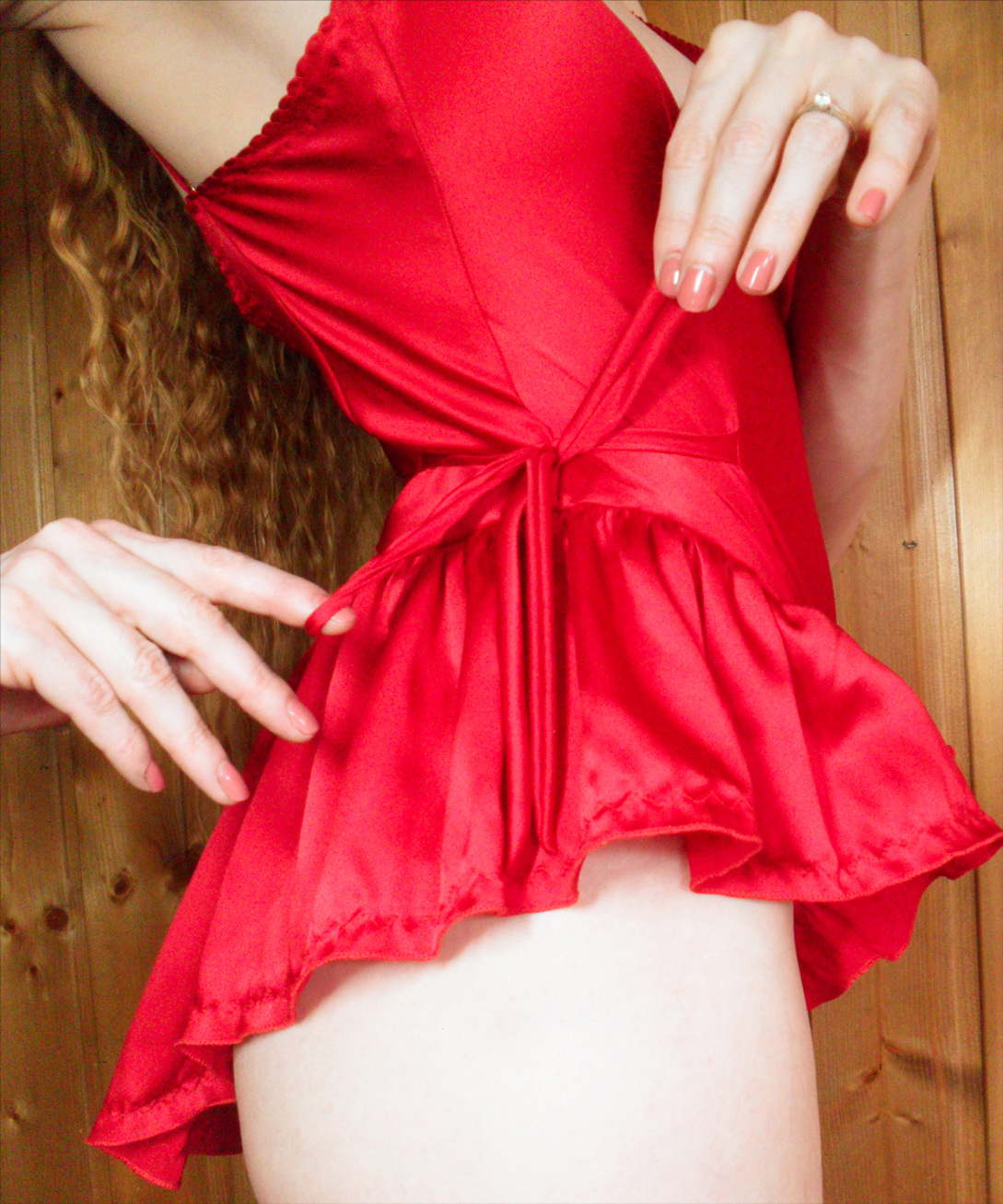 Fit & construction
Standard Lucy Jones Lingerie sizing runs from XS-XL, although bespoke sizing is available for an additional fee. I went with my usual size of XS for both pieces and the fit is great.
I read an interview with Lucy where she talks about one of the things that drew her to pre-Lycra era vintage lingerie being the challenge of creating a curve-following fit through careful patternmaking and techniques such as a bias cut, rather than relying on stretch fabrics as the majority of modern brands do.
The bodysuit is a 100% bias-cut silk satin fabric which does have a slight stretch naturally, but of course the ties at each side help it to fit nicely on the body. The only area that doesn't fit me so well is the underarm – there's some excess space as you can see in the image right at the top here. On the plus side for some of my readers, this means it will accomodate a much larger bust size than mine no problem!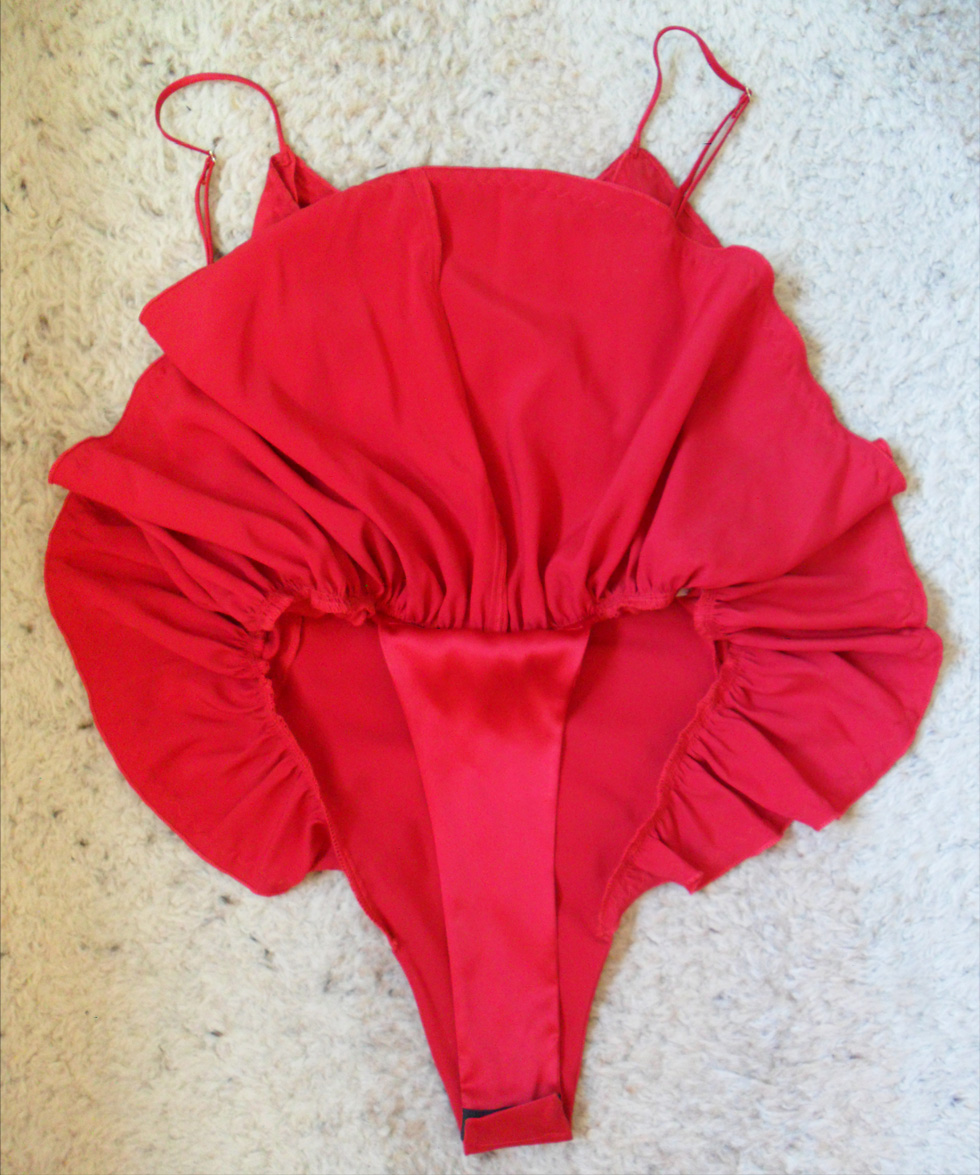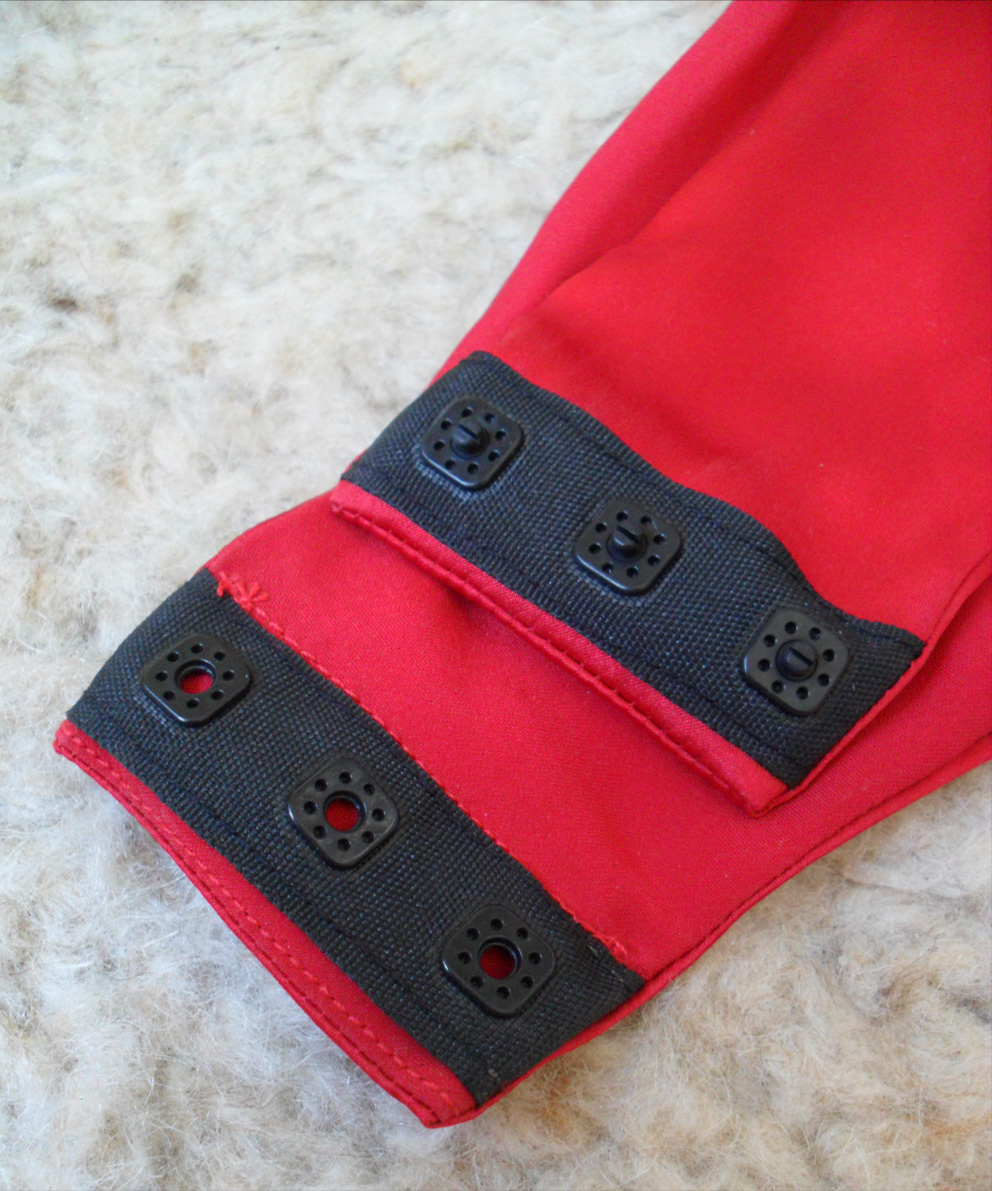 The hip flounces on the bodysuit actually continue round and dip down into a 'skirt' at the back, below which is hidden a wide thong entirely made from double-layered silk. Yes, that means a silk gusset, and it has a snap closure which is a feature I always appreciate on bodysuits since it makes going to the bathroom so much easier.
The only thing I don't like so much on this piece is the strap sliders, which are noticeably wider than the straps themselves. It's a tiny detail, and doesn't seem to affect the straps' ability to stay at whatever length you position them to, but looks a little messy compared to the perfect finish on the rest of the garment.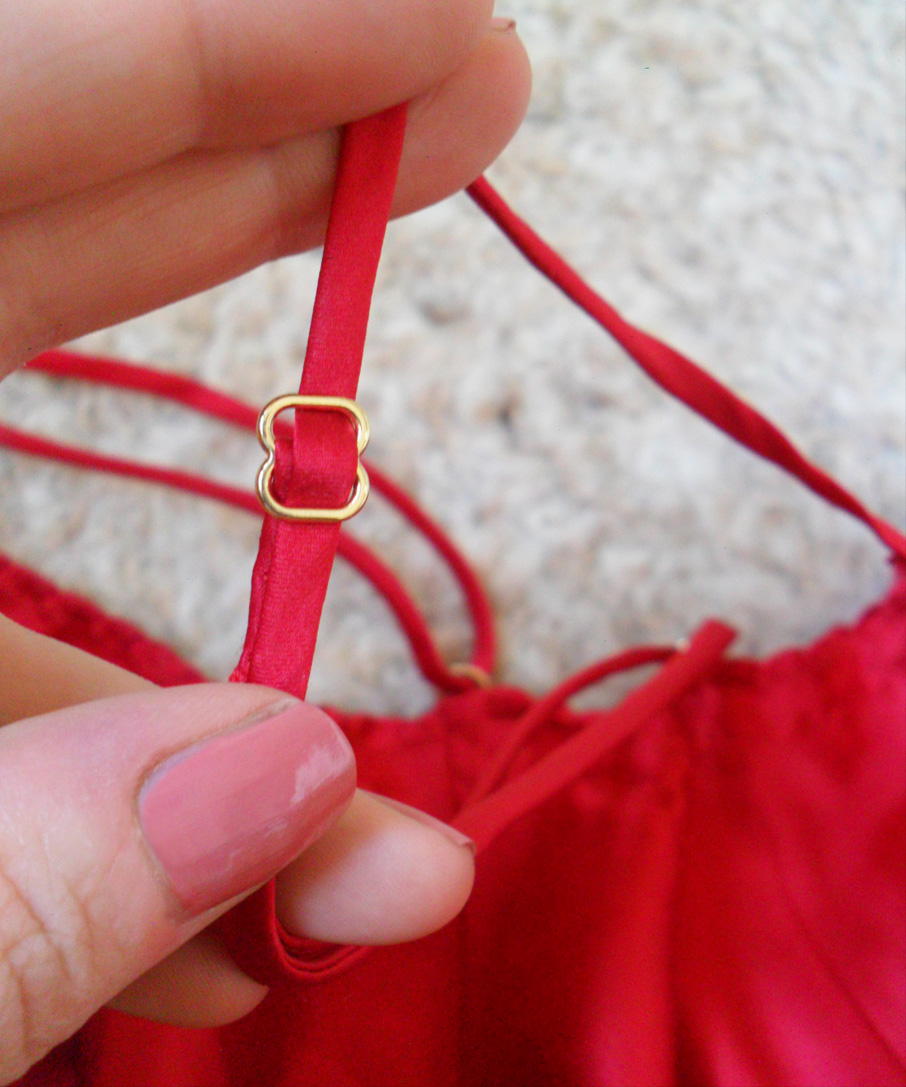 As for the French thong, that does feature an elasticated waistband and the elastic g-string, so it has more of a modern fit. It's made from two panels which cross over at the back and are joined by a French seam (meaning the raw edges are completely enclosed) at the centre-front, which is the only French seam on these two garments.
There's the tiniest little jersey gusset inside which sits too far back to really act as a gusset, so I'm assuming it's just there to add a smooth, comfort-enhancing lining over the part where the front seam and elastic g-string converge. Unfortunately, and I say this as someone who generally finds thongs more comfortable than briefs, this still isn't the most comfortable of underwear designs – you do notice that it's there between your legs throughout the day. Or at least that has been my experience.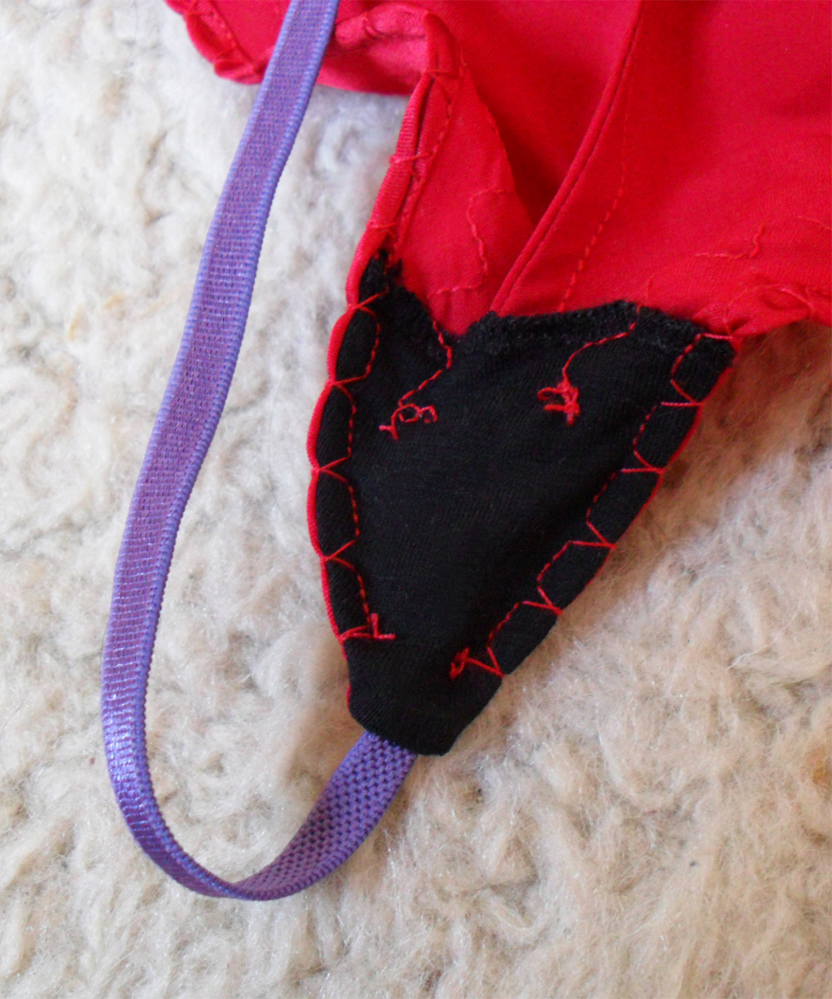 How to wear this lingerie
Both of these are very fun lingerie designs, for different reasons. The French thong felt a bit like very luxurious novelty lingerie – aesthetically 'sexy' and probably better suited to short-term bedroom wear due to the slight discomfort factor. The bodysuit meanwhile also has a playful vibe thanks to the deluxe frilliness of the skirted section, but strikes me as a more elegant and refined design overall. I wasn't at all surprised to learn that it was the brand's bestseller.
The versatility of the bodysuit also makes it a great-value investment. It feels like 'loungerie', a lingerie piece that would be equally great for lounging around at home in, and I've also worn out the house (over a red bra since the silk is thin) by tucking it into a high-waisted skirt so it resembled a camisole. I've played around with covering up the side ties in or letting them show, and even untucking the whole skirt section for something of a peplum effect. If you like wearing lingerie as outerwear, this piece will definitely give you options!
Final thoughts
After trying Lucy Jones Lingerie, I'd be more than happy to recommend it. It's a luxury brand and it's priced as such – £170 (approx. $216 or 198€) for the French thong and £315 (approx. $400 or 366€) for the Skater Dress Body – but from the purely-decorative stitching details to the teeny-tiny gathers that give the hip flounces their volume, you can see the time that went into hand-crafting both of these garments. The bodysuit in particular feels really well-priced for the quality you're getting, and you'll know it was ethically produced.
The Peti-Slip is another piece I particularly recommend taking a look at, but there's more available than just what's currently on the website. For example, the Skater Dress Body also comes in a sheer silk organza version as seen on Instagram, and if you like the ruffles on the bodysuit then you have got to see the Skater Knickers!
I'd love to know your thoughts on these two Lucy Jones Lingerie designs. Do you prefer the lavish design of the silk bodysuit, or is it the avant-garde shape of the French silk thong that most catches your eye?