Disclaimer: This blog post contains affiliate links.
Amoralle is once again having a flash sale! One of my favourite brands, Amoralle creates beautiful lingerie and loungewear that often doubles as outerwear, as well as a line of luxury hosiery to match. They also offer free worldwide shipping on all orders, yay!
Money-saving tip: British customers using Paypal (which won't charge you a fee for using a foreign currency, as paying with a credit card will) should checkout in USD, not GBP, to save about 40% more thanks to the current exchange rate! European customers can also save a bit by switching from EUR to USD.
Right now you can get up to 70% off a range of designs between today and Wednesday only. Here's what I've got my eye on…
Sheer Nightdress – Was £95, Now £51.23
Sometimes the simplest things work best, and I adore this ultra-sheer, floor-length nightgown, with just a thick ruffle of navy blue lace at the bust. Pair with high-waisted knickers as pictured (the model appears to be wearing these ones, £57 with a pretty, matching bra) to leave things mostly to the imagination.
Beige bodysuit with velvet trims – Was £125, Now £94.50
I adore Amoralle's bodysuits – in fact I think they're my favourite of all bodysuits – and this form-fitting one is, according to the brand, also suitable to wear as a luxury swimsuit. The suspender straps are removable.
Bodysuit with full lace sleeves – Was £197, Now £106.50
More bodysuit awesomeness here, and they don't get much fancier or luxury-looking than this one. The plain jersey bottom and black pussybow neckline are a perfect contrast to those super-sized sleeves in a gorgeous cream lace.
Astonishing Faye polkadot bodysuit – Was £163, Now £88
Um, did I mention how much I love their bodysuits? This sheer, polkadot tulle one has velvet panels placed to make you look more hourglassy, and is finished off with detachable suspender straps in velvet with bows and Swarovski pearls. If that's not luxury then I don't know what is… Oh, and this one comes with the matching stockings too!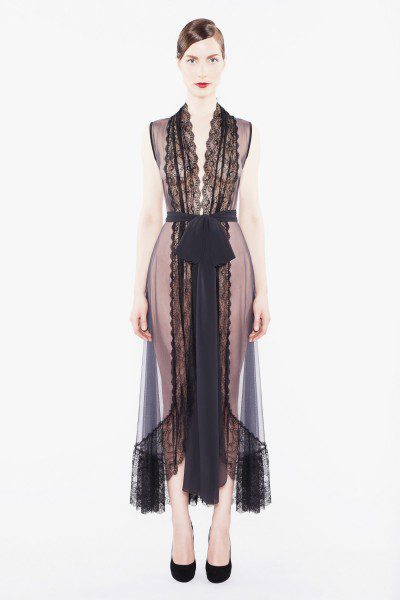 Royal Tulip lace and mesh robe – Was £239, Now £103.20
I am seriously tempted by this one. A glamorous and seductive sheer-chiffon gown, it's trimmed with a really beautiful lace and finished off with a super-long, chiffon belt.
Slip with detachable suspenders – Was £97, Now £31.50
I love this really unique, strapless slip dress in a mixture of sheer, white, polkadot fabric and smooth, black jersey. There's also a cute, sheer panel over the bum at the back too. This comes with the matching stockings also and is a bargain at this price, particularly with free shipping!
Smoky blue robe with lace – Was £268, Now £144.50
At first glance this is just a (very pretty) dress, but look closer and it's actually a robe with a split all the way up the front. I love the contrast between the fitted jersey top and the big, swooshy skirt – and that lace looks incredible. It could still work as outerwear if you pop a simple slip dress underneath.
Citrine floor-length lace and chiffon gown – Was £297, Now £96
Incredibly discounted at close to 70% off, this breathtaking robe is perfect for lounging around the house à la Hollywood starlet. It looks like mesh but it's actually a very fine lace, with a caramel panel at the hemline and velvet buttons.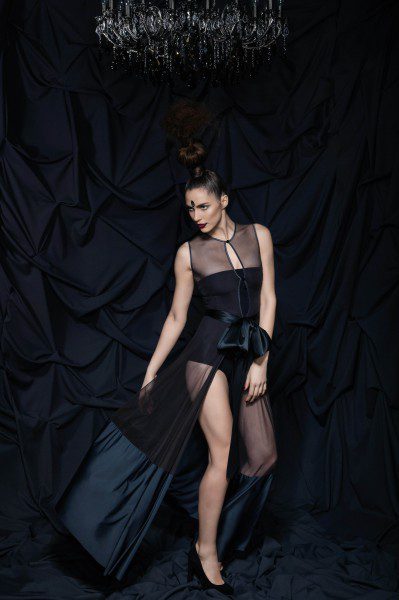 Lava Stone sheer mesh robe – Was £297, Now £96
This is not the black robe it may appear to be – it's actually a deep, chocolate brown with silky, navy-blue paneling at the hemline and for the over-sized sash. It's a mesh version of the lace Diamond robe I bought in Amoralle's previous flash sale – you can check out my review here.
Jersey and lace bodysuit – Was £83, Now £63
I thought I'd end with another bodysuit. This is just like the soft, jersey one I own (which is oh-so-comfortable), but with a quirky circular cut-out in lace. It looks very futuristic to me!
Those are my favourite picks but you can check out the entire sale here. Anything that's tempting you?