Disclaimer: This blog post contains affiliate links.
Petticoat is, I feel, an old fashioned word, but a word that I grew up with nonetheless.
In my house petticoat was the word given for any undergarments that separated bra and knickers from outer clothing (tops and skirts or dresses). It didn't matter if the 'petticoat' was actually a slip (full length) or half slip (the skirt half).
It was the layer of nothing inspiring at all that hid the pretty underwear that my Mum has always worn. Consequently, it is also the thing that I have pretty much avoided since being old enough to make my own choices. (Although admittedly I might not feel that cold as much if I did wear a slip or half slip and vest – but don't let my Mum hear me saying that!).
Antique 1900s Embroidered Petticoat – $45 (approx. £29)
For the purpose of this blog, I will use the word petticoat to refer not only to an actual petticoat, but also to a slip or half-slip.
[Editor: According to Wikipedia, the term petticoat can correctly be used for either a half slip or full slip in the UK, but in modern language it's usually interpreted specifically as a half-slip with an extremely full shape.]
First of all, lets take a quick look at the word petticoat and what they actually are. Since they were first worn back in the 16th century, petticoats have always been worn as an undergarment, designed to smooth and shape the outer garments. Often stiff, they made the skirt stand out away from the body, giving the appearance of a smaller waist (therefore making the breasts look larger as well).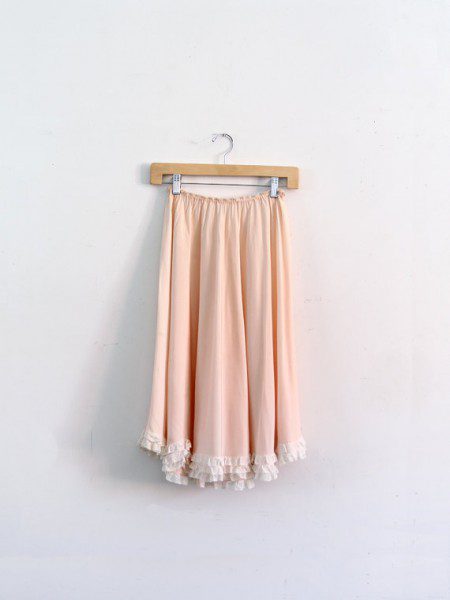 Vintage 1930s Half Slip – $126 (approx. £81)
Later they were elaborately decorated to be shown under open-fronted skirts. However our love for the petticoat didn't stop there. 4 centuries after they were first worn, the modern day petticoat – one made with layers of netting – was a staple. Just look at the fabulous Lindy Bop dresses of the 1950's.
In the 21st century, these extra-full petticoats are mainly used under wedding dresses and vintage clothing.
So, if the petticoat has been a staple item of clothing for hundreds of years, why, in 2014, do we find so few of them available in shops? To my mind, there are a couple of reasons.
Vintage 1960s Petticoat – $96 (approx. £62)
First of all, trousers, jeans and leggings are much more popular than skirts and dresses now. Therefore, the need for a petticoat has diminished. Tucking your petticoat into your leggings is incredibly difficult and rather lumpy! (Admit it, that image will be stuck in your head now!) The use of practical, comfortable clothing has reduced the amount of skirts or dresses worn, ergo also the undergarments associated with them.
Although my second reason does come down to fashion, the same as wearing trousers does, it looks at it from a different angle. Throughout history, there has been fashion. The type of clothing associated with an era for woman has, for centuries, been dress and skirt related. But gone are the days of tight-laced corsets along with the framed hoops, petticoats and layer upon layer of clothing. As I mentioned before, we go for a lot more comfort with our clothing now. But it isn't just comfort that has changed, but also what is deemed acceptable.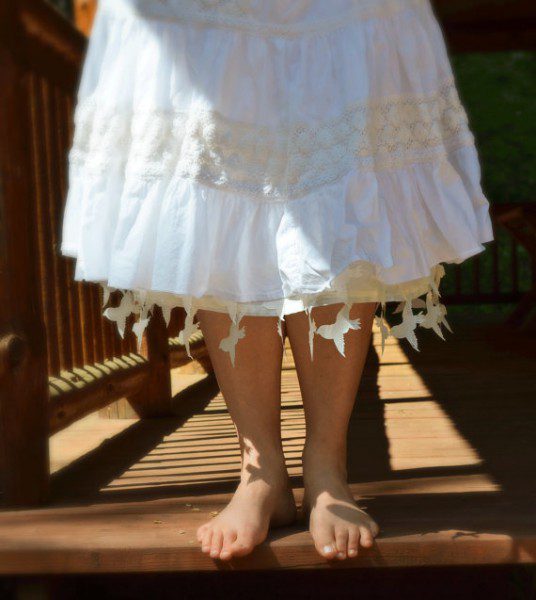 MyOlyGirl Bird Skirt Extender (Worn Under Skirt) – $49.45 (approx. £32)
Women's rights along with attitudes in general have seen many changes in fashion. Skirts can since the 1960s been worn very short (and a petticoat would just stick out of the bottom) and the wiggle skirts of the 1950s wouldn't allow space for a petticoat underneath.
Likewise, if a garment is made of more sheer material and we can see the shape of the legs or see the bra underneath, nowadays we don't think twice about it. (Well, my Nan does – she still asks why I am not wearing a petticoat when I go round). Our clothing is more casual and as 'daring' as we like now. And our attitudes towards it is more accepting.
Angela Friedman Dentelle Slip – $325 (approx. £209)
So, this brings us back to the beginning – can the petticoat be a modern day necessity?
For me, the answer is going to be 'no'. However, for someone who has always been a non-believer in the petticoat, but an avid wearer of skirts and dresses, I am starting to come around to the concept of a full slip, but possibly not in the traditional sense. Let me explain.
Not only have I always been a non-believer in the petticoat, but I am also not one for nightdresses. Since working in the lingerie industry, I have been given an insight into many more garments than I would have ever sought out otherwise. And I can tell you, there are some absolutely stunning items out there, and not all will break the bank either.
Parfait Kitty Babydoll – £45.72
You can imagine my surprise when I kept finding myself drawn towards chemises, slips and babydolls, despite not having a need for them in my bedroom wardrobe. I've started thinking that they would look good under dresses – especially cupped babydolls etc. That little bit of extra warmth (OK, Mum, you were right) but prettier than a piece of cream coloured nylon.
I am now kicking myself for thinking too long and missing a beautiful slip right here on the wonderful Esty website, so with this in mind, think I will be trying one or two of the others I have my eye on this winter.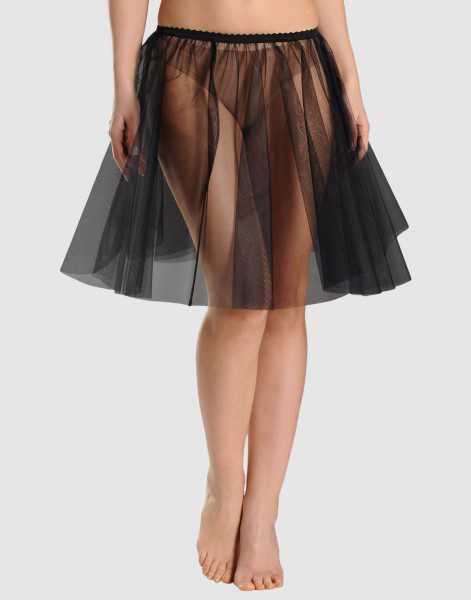 Alexander McQueen Half Slip – £30 clearance price
Okay, so my Mum did read this, and this is what she said….
"Yes I do wear a petticoat, sometimes a half slip in the spring or autumn or a full slip in the winter. Not only for warmth but to also smooth out the lumps and bumps of my aging body. When I used to wear a mini skirt (14" from waist to hem) I still wore a petticoat, sometimes shortening it so it didn't show below the hemline – they were often bra slips in those days, so only one garment instead of two.
The skirts may have been short in the 60s but they were usually A-line so you could tuck the hem under the thighs when you sat down so you didn't reveal too much. I also wore one with pencil slim skirts – it helped to stop the back seam splitting. As you say they are harder to find these days, but the fabrics are generally better than previous times."
Do you wear a petticoat? Or would you? Let me know your thoughts.
Kirsty, owner of Curvature Boutique.
Featured image: ID Sarrieri Retro Circle Skirt, 1330 LEI (approx. £237)
Follow the Esty Lingerie blog with Bloglovin