Disclaimer: I bought this bodysuit with my own money and Between The Sheets did not ask for a review.
Last year I reviewed Between The Sheets' gorgeous Leopard Play robe, and at the same time as I bought that I also picked up this Birds of Play bodysuit in 'shade', a light grey. It was also available in black which has since sold out, but this grey colourway is still available now.
Appearance
The bodysuit is made from an exclusive and refreshingly different feather-motif lace, with a decorative elastic edging the neck, arm, leg and back openings. Speaking of the back opening, it is very low cut with a large cut-out section – a nice contrast to the relatively detail-free front.
It's a simple design – not really anything groundbreaking, but it's a pretty fabric and about the level of detail that I would expect at this price point.
Verdict: 5/10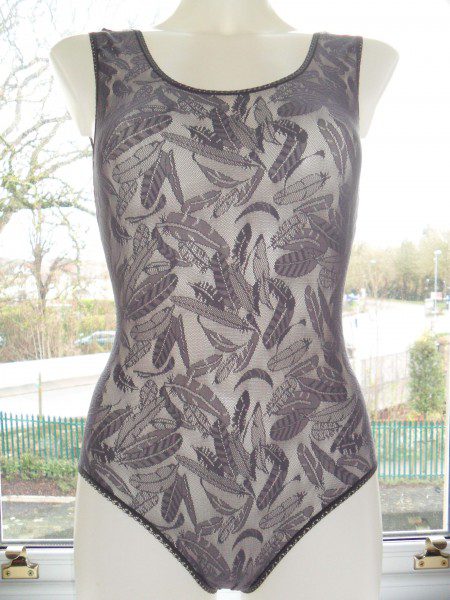 Construction
The feathery lace was designed and made locally in New York for the brand, and is so soft and stretchy. It might just be the most comfortable lingerie I own, the kind that makes you forget you're even wearing it.
The stitching is flawless, with neat seams and a soft lining at the gusset, and it has held up perfectly to lots of wear and washing.
Verdict: 9/10
Fit
I bought the size Small, a UK 8-10 according to the brand's size chart. I was a UK 8 when I bought it and it fit me great. I'm a UK 6 now and it still fits more or less; the sizing is fairly flexible due to it being very stretchy all over.
The only fit issue that I had was with the lower edge of the cut-out at the back, which gapes quite a lot on me (as it does on my mannequin below) rather than lying flat against the skin. If I'd known how stretchy this was going to be I would have gone for the Extra Small which I'm sure would have fit me even as a UK 8, so if you're deciding between two sizes I'd say opt for the smaller one.
Of course, such a soft fabric offers no support whatsoever at the bust, so bear that in mind if you're used to more supportive lingerie.
Verdict: 7/10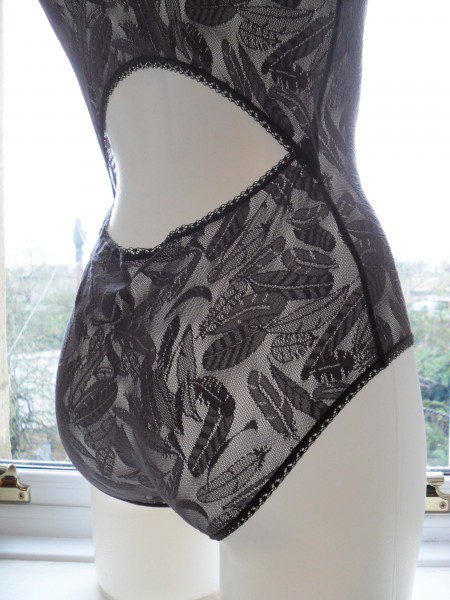 Washability
The bodysuit is hand-wash only in cold water, and is super easy to clean and dries quickly. I also think it would be fine to machine-wash this on a cold setting if you have a lingerie wash bag to protect the lace from snags.
Verdict: 8 / 10
Value for Money
The Birds of Play bodysuit is reduced from $90 to $36, which works out at about £24. When you consider that this is ethically made in New York (whoever sewed it was paid a fair wage for their time) and that it uses an exclusively-designed lace (exclusives cost money), this is really great value for money. Add to that the fact that it's incredibly comfortable and I think you're getting a fantastic deal!
Verdict: 10 / 10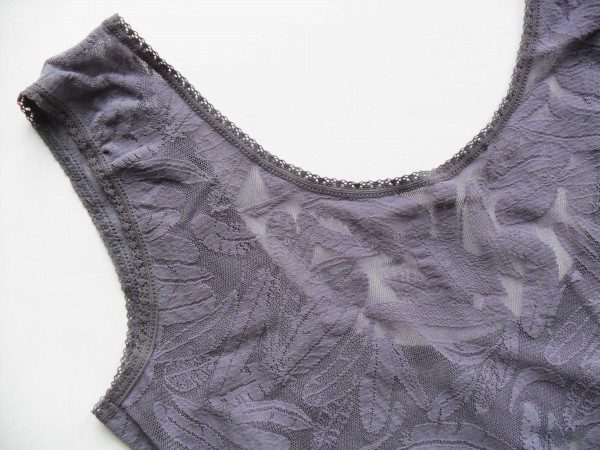 Would I recommend it?
Absolutely! I have other bodysuits that I prefer the look of, but I find myself reaching for this one all the time because it's just so ridiculously comfortable. And of course, aesthetic is a very personal thing (my fiancé absolutely loves how this looks, which kind of surprised me) so if you love the look, all I have to say to you is this: Go buy it quick, because it's about to sell out!
The Birds of Play bodysuit is still available in XS to M sizes.
What do you think of the feather motif lace? Are you a fan of Between The Sheets?