Everyone loves a bargain – I know I certainly do, and you never hear anyone say "Look what I found, and it was full price too!". The word 'sale' can bring a smile to the face and the shoppers to the shops. But are sales all good?
First of all I would like to look at the ugly bits of sale shopping. I don't know if many of you saw, but on Black Friday back in November last year, shoppers got so worked up over the idea of reduced prices that there were fisty cuffs in one branch of Victoria Secrets, here in the UK. The shop was packed with bargain hunters, and it obviously was a little too much for some ladies. Extreme, but it happens. You don't get much uglier shopping than that.
Now the good. Well, from a shoppers point of view, they get to buy that item that they've been lusting after for some time at a reduced price, one that they can now afford. Or they get to pick up a natty little number that they'd never noticed before.
Pretty Wild Love Flower bra, currently 70% off
But what about from a shop-keeper's perspective? Well, just the word 'sale' can bring people into a store, looking for a bargain, making them shop when they weren't planning to. And whilst looking at the reduced priced items they might see some full priced ones that they love as well. It also gets rid of all the old stock, making space to bring in new items and turning old ones into cash.
So, with all that is good about a sale, does that leave any space for anything bad? From a shoppers point of view, if items are in the sale, they are normally the last bit and pieces and therefore the boutique may not have your size or the style you were after. If you are a more unusual size like a 28G, you are less likely to find them amongst the sale items – these sizes are in low production and demand tends to equal availability, so they sell out at full price. Likewise, common sizes like a 34D have more people buying them, so are less likely to be left for the sale or will sell out first at that point.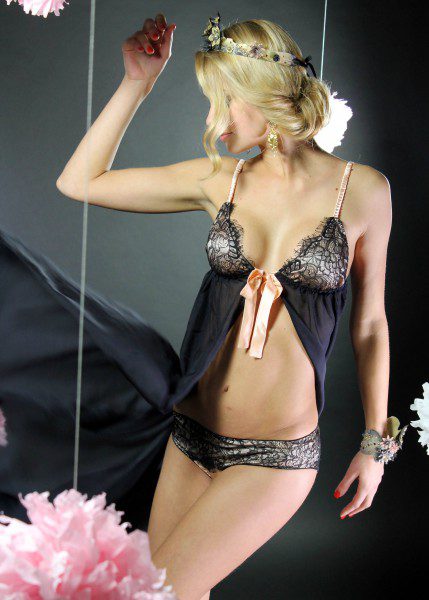 Helen Valk-Varavin Antoinette gown, currently 60% off
Styles, prints or colourways may not be repeated by a manufacturer if they have not been popular, and it maybe difficult to match up items if an unusual colour. Likewise, if items are seasonal, like a bikini or fluffy robe, you can buy something cheap at the end of a season but you will have to stare at it longingly as you wait to be able to wear it.
As a shop-keeper, I know what the mark-ups are like, and certainly with lingerie they aren't as lucrative as other things can be. Therefore the more items are reduced, the less money is available to buy new stock, or pay wages etc. Or, you can actually lose money and sell for lower than you originally purchased the item for!
To me, I can see the good, the bad and the ugly, but being a shop keeper now, if I see an item I love, I'll buy it at full price and support the shop. However, I will still help them to clear old stock too – well, it would be rude not to!
Kirsty, owner of Curvature Boutique.
Follow the Esty Lingerie blog with Bloglovin