Disclosure: Curvy Kate and Charnos both gifted me the bras, but it was not done in expectation of a review. All opinions are my own
For those who have read my previous posts, you will know that I have never been a lover of the strapless bra. In fact, I have been known to refer to them as a necessary evil.
We all have those tops/dresses that would look so much better without any straps showing, but finding a strapless bra that fits, doesn't look like we've got a monoboob, and stays up… well, that's another matter entirely. Consequently, many of us opt for pretty straps on our bras or go without. If you have boobs above a D cup as well, you might as well throw in the towel now.
But is that still the case? In my quest for the perfect strapless bra, I have tried the well-acclaimed Wonderbra (unfortunately it is not the right shape for me – it always gives me a ridge at the top of the bra) as well as others over the years. Quite a few don't come in my size. However, I am now proud to say that my lingerie drawer now boasts not one, not two, but three – yes three – strapless bras. Not only do I own three strapless bras, but I actually find that they work. Yes, I can sense your disbelief from here.  So, to prove it to you, I'm going to review them here for you.
For information purposes, I wear a 30F, or where necessary, sister size 32E.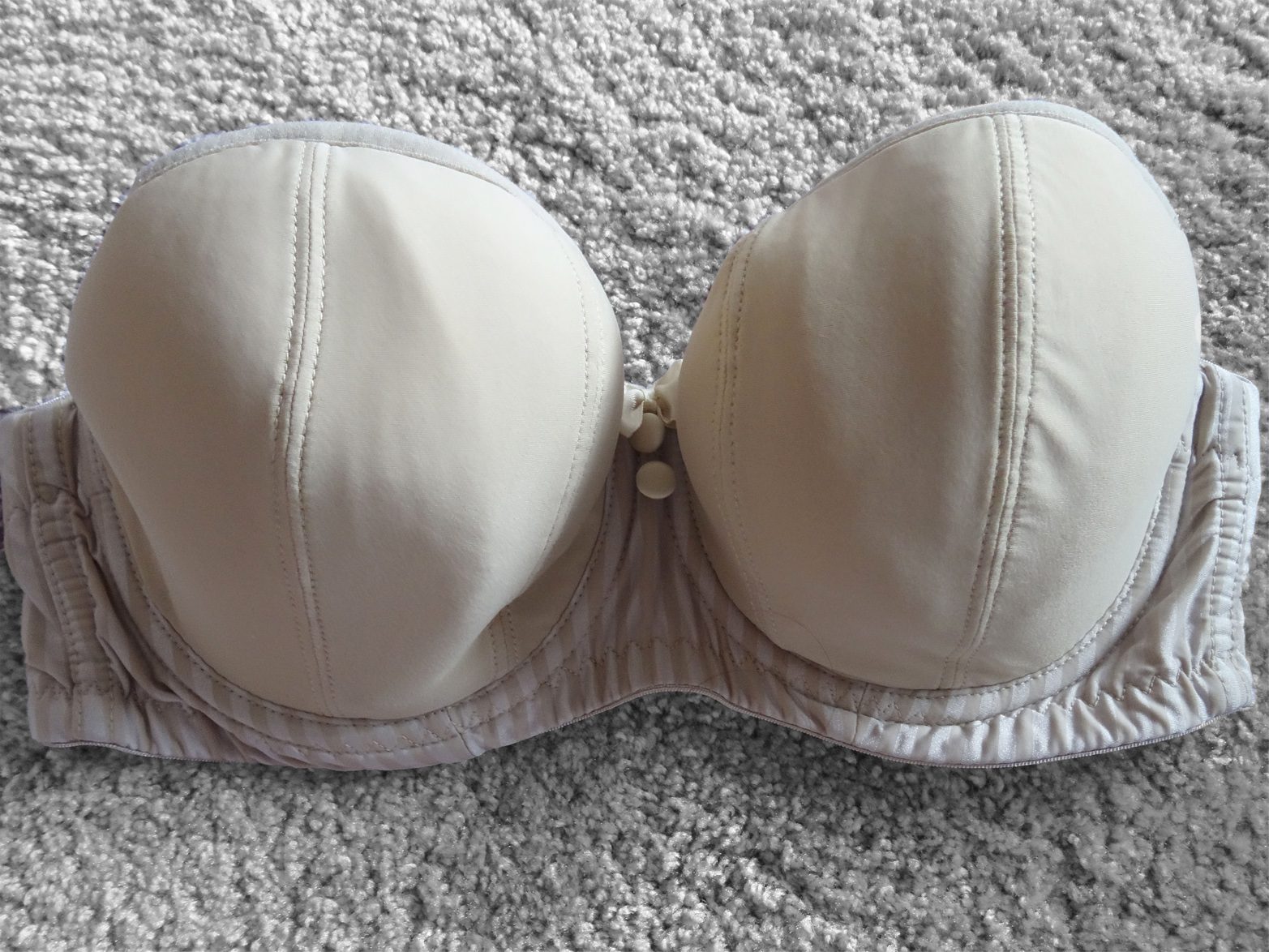 Curvy Kate Luxe bra
The Luxe bra was long-awaited and delayed a couple of times because Curvy Kate wanted to get it right, and boy were they right to do so. The Luxe covers a whopping sixty sizes, and they needed to be sure that there would be the same continuity of fit from the smallest to the biggest. As part of their advertising campaign, Curvy Kate have shown their models (of all sizes) on trampolines and doing cart-wheels. But is that really possible?
Fit
For me, I find the Luxe to be a very comfortable bra. I'll wear it with or without the straps, and it gives a nice shape. I do find that the band comes up a bit on the snug side, but this does give a little over time. The cups are true to size. Being a balconette, it doesn't come up too high at the centre gore so I can wear it with slightly lower tops.
Looks
The Luxe has been designed with almost a Tuxedo in mind. The plain cups have vertical seams, which can be seen through very tight tops, but for most are fine. The stripes on the band are woven into the material and therefore look great but don't affect the look under clothes. They have finished it off with little buttons on the centre gore.
Overall Impression
I do like the Luxe strapless bra; fit and comfort levels are great. For me, I appreciate Curvy Kate's attempt at making the Luxe basic enough for practicality but with a few design features so that it isn't too boring. However, possibly because I am not a fan of neutral lingerie, no matter how practical, it isn't pretty enough for me.
Verdict: 7.5 / 10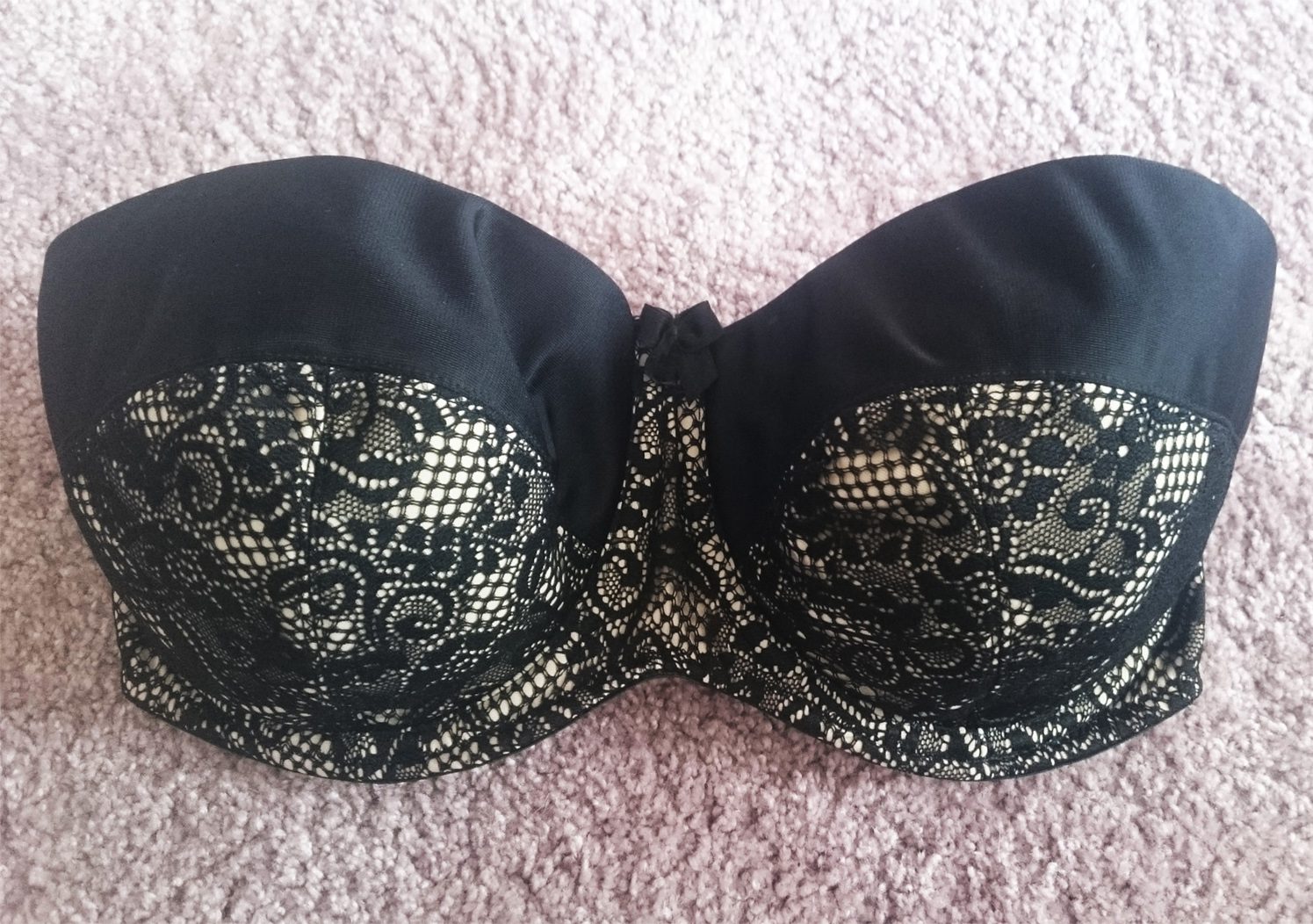 Charnos Superfit Lace bra
Charnos have been a household name for many years, and are much quieter about their presence than Curvy Kate. Often appealing to an older audience, Charnos designs accordingly. They let their name and products speak for themselves a lot more, and so the launch of the Superfit Lace bra was much more discrete. Despite not going up as high in the cup sizing as Curvy Kate, they actually cater for 65 sizes as they go up to a higher band.
Fit
I like the way that the Superfit Lace gives me a wonderful shape, however this is partly due to the generosity of both the cup and band. To me, my 30F fits more like a 32F, with the band done up on the tightest setting and the cup having room in it. However, the design means that I haven't got gapping in the cup and therefore can wear it quite happily.
It is a full cup bra which means that it has a higher centre gore, so low tops aren't so much of an option. Because of this, it isn't the best choice for wearing with an underbust corset as the centre gore can dig in by the end of the day, but day to day it is very comfortable and doesn't move.
Looks
As I said, Charnos generally design for a slightly older audience than Curvy Kate, however they have kept a sense of style with a plain black band and strip at the top of the cup; the main part of the cup is black lace over a neutral base. Apart from the seam separating the lace from the satin, this is quite a smooth cup under clothes. The band itself is plain with a satin look and there is a small bow at the top of the centre gore.
Overall Impression
I don't go to my Superfit Lace as much as my Luxe, not because of anything to do with the bra, but purely because I am not a lover of briefs, preferring a thong or shorts. Therefore, I will choose the Superfit only if I know I will not have a VPL. I like the design, and comfort. The generosity in sizing is dealt with in a way that I can still wear it comfortably as well.
Verdict: 7 / 10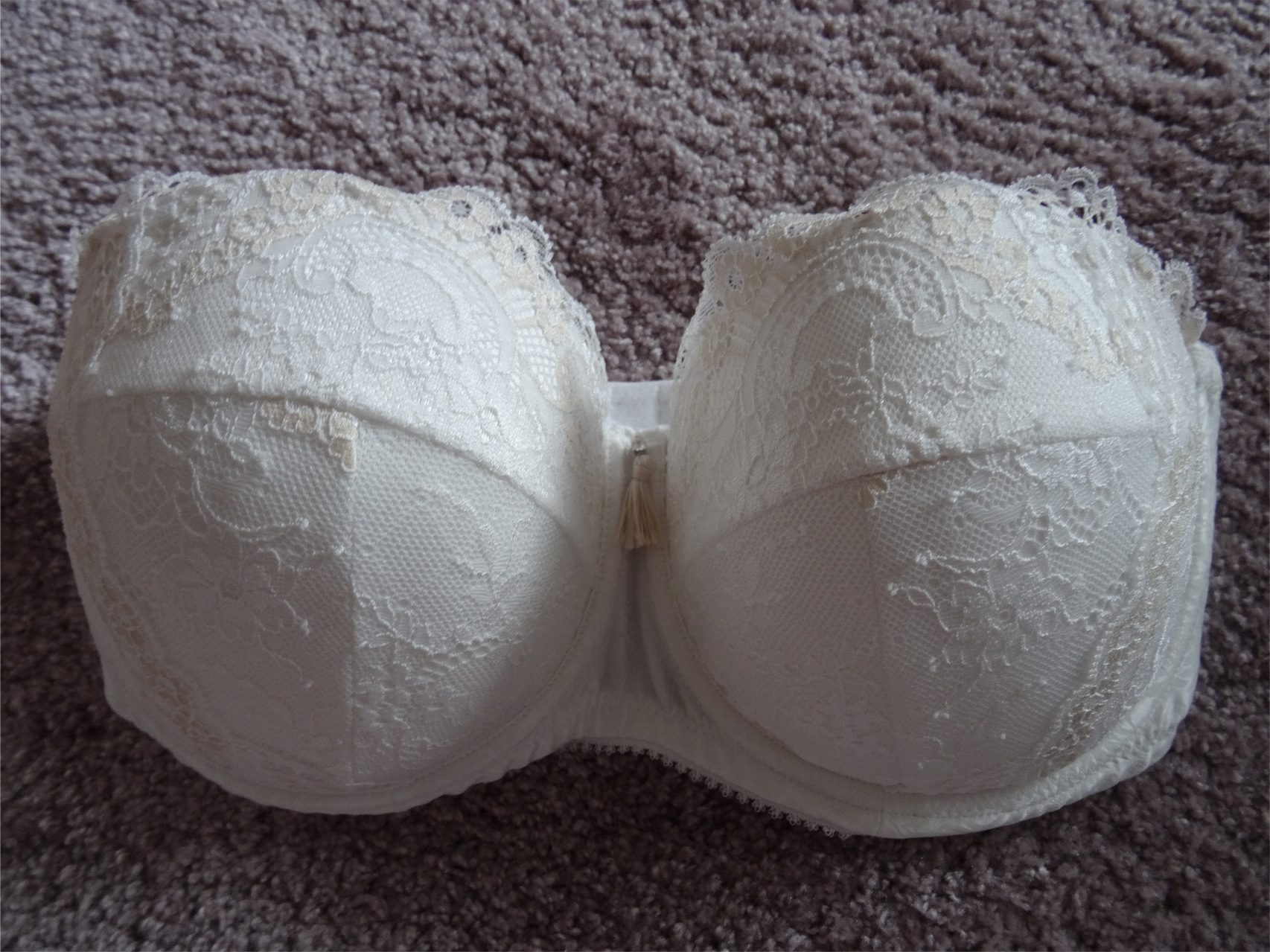 Charnos Bailey bra
Bailey has been brought out as Charnos' bridal range. Originally, they offered the plunge bra in blue and this was well received. The prettiness of the lace and jacquard band lent itself well to being bridal, and so the following season Charnos released it in ivory, adding in other bridal accessories and offering this strapless bra as well.
Fit
Bailey's jacquard band means that it isn't as stretchy as some materials and therefore comes up as a slightly firmer fit than the other strapless bras I have tried.  The cups are well sized, but are minimisers so they slightly flatten the chest and give a wider look than the other bras. Because of both the firmness of the band and the minimising effect, I choose to wear this on the first hook, rather than the last hook as I would normally do with a 32, to stop a plumper look above the cups. However, despite wearing it looser than I would normally do, it didn't move throughout the day.
Look
With lace cups, a jacquard band and a cute little tassel at the centre gore, this is the prettiest of the strapless bras I have tried. The lace has some of the design in gold, making the design stand out, and the edge of the lace goes over the top of the cup slightly. The cup is a three-part design, so does have seams. The hardware is also in gold, complementing the lace.
Overall Impression
Looks wise, this is by far my favourite strapless, and although I can't wear it as I should it is actually better for me to go with the bigger band. It is a full cup, which isn't ideal for me, but I didn't find that it was digging in by the end of the day. Shape-wise though, this bra doesn't offer me as good a shape as the other two, as it creates a wider look and makes my bust look smaller.
Verdict: 7.5 / 10
All three strapless bras had things about them that weren't 100% perfect, but to be honest, none of them had problems that stop me from feeling confident wearing them. I am finding a lot more clothes that I wear my strapless bras with and they have now become an important part of my lingerie drawer.
Here's a comparison overview: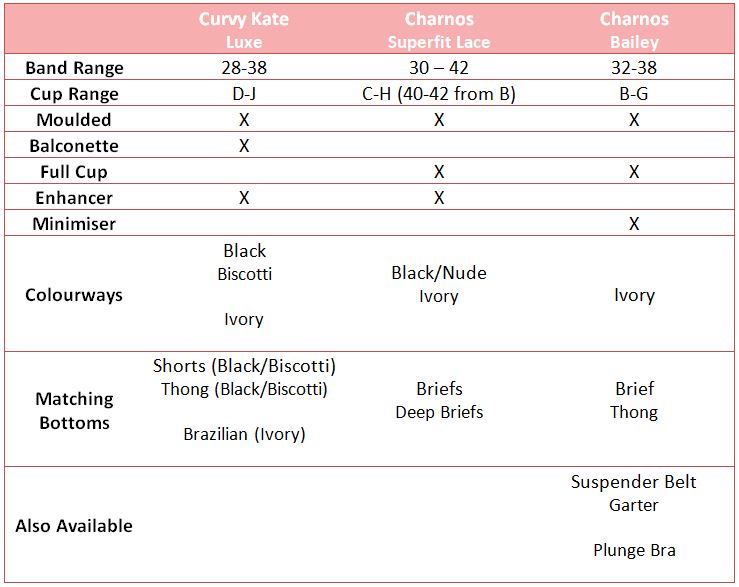 Have you tried any of these three bras? What's your favourite strapless bra?
Kirsty.