Disclaimer: Although this set was gifted to me, the review below was not requested, and all opinions are my own.
Earlier on in the year I had the opportunity to walk up Mount Snowdon, and took the chance as a way to raise money for Against Breast Cancer. Although I did the walk on the day itself in a steel boned corset, I was able to train and travel in a set given to me by Lorna Drew – their first mastectomy range, as it suited my mission.
One thing that I feel that I should point out, right at the beginning, is that I can't review this set fully, for the simple fact that I have not had a mastectomy, or lumpectomy, and therefore I am unable to review the pocketed side of the bra. So I will be focussing on how the set is for anyone who just likes the design (the bra doesn't have to be worn with a prosthesis).
The new Grace bra by Lorna Drew is her first venture into mastectomy wear, after winning numerous awards with her nursing bra range. The Grace range is pretty and, in comparison with some mastectomy wear, affordable too. It offers a lace bra, matching briefs, high shorts, a thong and a suspender belt, and comes in a light colourway as well as this dark one.
The Bra
Design
Material: Although I wouldn't class this bra as molded, it is thicker than a standard soft bra. It is non wired, with a beige cotton inside topped with soft black lace on the outside. Elastic back and staps.
Shape: Full cup – to ensure that a prosthesis would fit in.
Finishing touches: Beige bow in the center gore, plus at the bottom of the strap before it splits into two just between the bra and strap.
Pockets: Being a mastectomy bra, it does come with internal prosthesis pockets as standard, and extra support where the wire would normally be.
Score 9/10
This bra is a little fuller than I normally go for, however I like the lace used and also the sling effect at the side in a second layer of lace.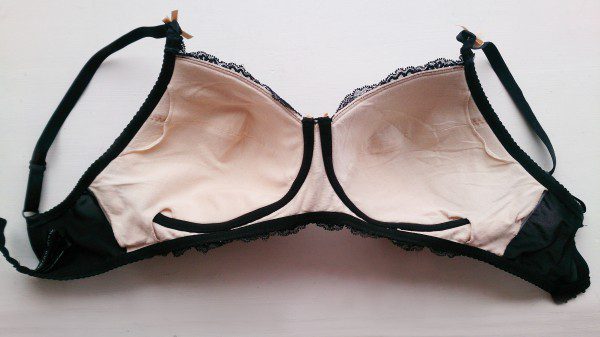 Fit
Size: I normally wear a 30E, but unfortunately this bra doesn't start with a 30 band, like some of Lorna Drew's nursing bras do, so I used the sister size of 32DD.
Cups: The cup size fitted me beautifully, sitting flat against my chest at the top of the bra. Because it's non-wired, I don't expect it to sit against my chest at the center gore, as it is normally the wires that achieve this effect. I found the cup size to fit well (and my husband to comment that I looked bigger in the chest when wearing it!).
Band: Being a 32, I have worn it on the tightest hook, which I found very comfortable. It has 3 rows of hooks at the back, which is unusual for this size bra, but not an issue – the hooks are quite close together and therefore the band width is actually not much deeper than a 2 hook.
Score 8/10
Cups were perfect, and had it come in a smaller band, it would have been ideal.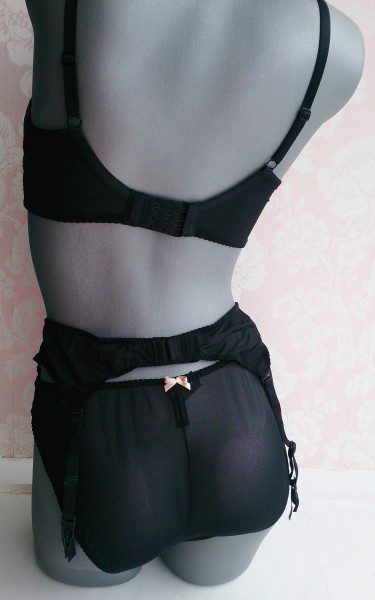 Bottoms
Design
Material: Stretch netting across the back and side. The front has black lace with a beige panel behind, concealing my modesty!
Shape: Brief.
Finishing touches: Beige bow in the center of the waistband at the front and back.
Score: 8/10
I liked the fact that the back had detailing as well as the front, although I am not so much of a briefs person – however they were the most practical for my purpose.
Fit
Size: Medium.
Comfort: I think that I could easily be a small, rather than a medium, however the extra space meant that they didn't feel so tight across my bottom (which is what I don't like about briefs normally). They were also not so loose that they were falling down. The materials were nice and soft as well.
Score: 9/10
Although I'm not a fan of briefs, the bigger size solved the annoyance I normally have with them.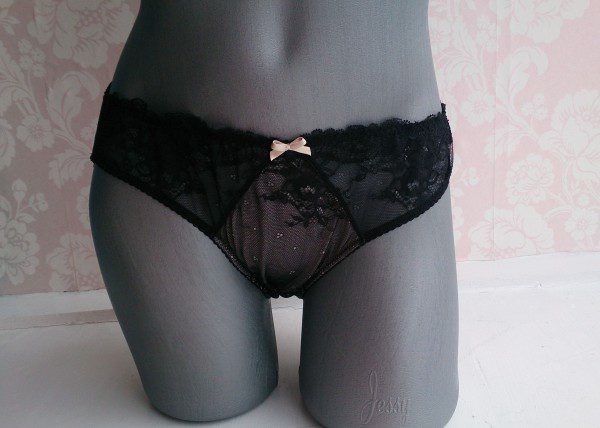 Suspender belt
Design
Material: Lace front with a mesh back and elastic straps
Finishing touches: 3 beige bows at the front, in the centre of the waistband and at the top of the two front suspender straps. There are 2 hooks at the back.
Fit
Size: Small
Comfort: The suspender belt fitted about right, although I still had it on the tightest hook. It wasn't too tight and didn't get pulled down by the stockings either. Likewise the straps stayed put and didn't lengthen themselves through the course of the day.
Score: 9/10
I didn't realise that suspender belts could stay put and not be affected by the stockings, so very impressed. I could possibly have used a smaller size if it were available though!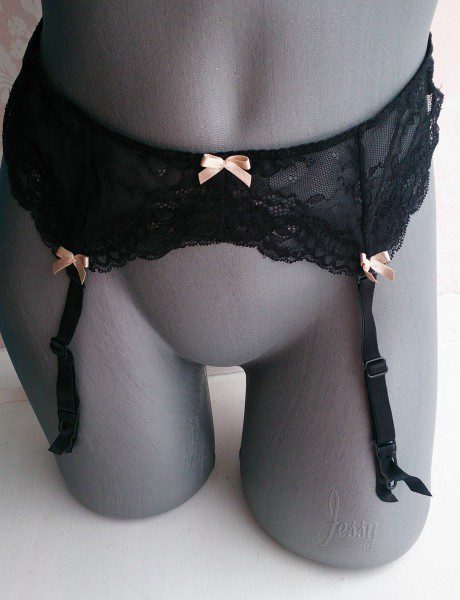 Washing
Now, as those of you who have read my previous blogs already know, I wash my bras in the machine, and yes I know I shouldn't. In fact, I don't even bother reading the instructions to find out if they are machine washable, I just do it.
I will try redeeming myself a little by saying that I do now use a laundry bag. I have washed this set a few times now, and can honestly say that even going through my machine that they have come out looking lovely.
Score 9/10
I can't comment on long term at the moment, and appreciate that I don't give them the best chance.
Overall Impressions
Score: 9/10
I was very impressed with Lorna Drew's Grace mastectomy set! Having not worn a non-wired bra since I was an early teen, other than a bralette, it was nice to have something that doesn't have a hard edge. Especially something that was pretty and comfortable as well.
The bra also works really well with an underbust corset, which can be a little uncomfortable with an underwired bra. The pockets weren't even noticeable, so the fact that it was a mastectomy bra wasn't an issue or even a consideration really for me.
I vowed earlier on in the year that I was going to try to wear stockings more often like I used to years ago, and this suspender belt has helped with that plan. It's nice that stockings stay where they're put!
And the briefs weren't an issue either. But how did they fare practicing for walking up a mountain, bouncing in caves and on long car journeys? To be honest, I didn't even notice them, which has to be a sign of comfy undies.
Have you ever bought anything from Lorna Drew? What did you think of it? And if you've bought this bra as mastectomy wear, how did it score for that?
Kirsty, owner of Curvature Boutique.
Follow the Esty Lingerie blog with Bloglovin