Disclaimer: This set was bought with my own money and neither L'Agent by Agent Provocateur nor The Outnet requested a review.
If you read this blog regularly (or if you just take a look at the tag cloud in the footer!) you'll know that Agent Provocateur is one of my very favourite brands. I own a ton of their stuff but I've only ever purchased on sale because, well, my budget doesn't stretch to £200 bra sets.
So when I heard about their cheaper diffusion line L'Agent, which launched in 2013, I was more than excited. And then I was disappointed, because when I finally saw it there were pieces I liked but nothing I loved, and I'm used to falling head over heels for anything Agent Provocateur. Of course, you can't expect the exact same thing at half the price, but to me Agent Provocateur has two qualities that make it so irresistible – deluxe fabrics and unusual designs – and for the most part the L'Agent collection had neither.
L'Agent has kind of been growing on me though, particularly when I saw the more recent Idalia bodysuit (now there's your unusual design element) and the Iana set (and there's your luxe fabrics!). So when I spotted a L'Agent sale at The Outnet (right after my fiancé hung my favourite everyday, moulded-cup bra on a heated towel rail so that one wire warped and now keeps stabbing me), I thought I'd give their moulded-cup Marisela a go.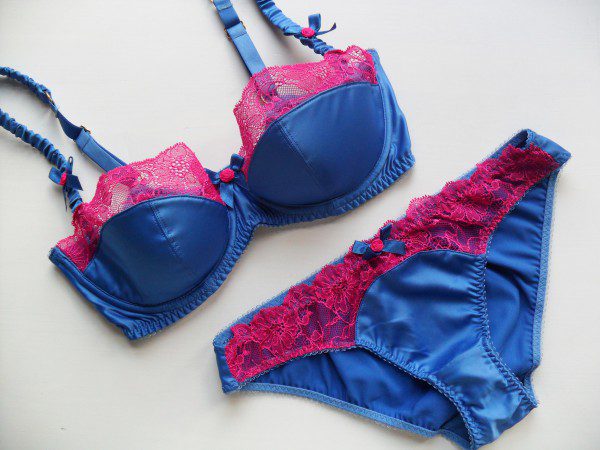 Appearance
This particular version of the Marisela is a rich, cobalt blue satin with vibrant pink lace. I went for this colourway purely because it was the only one with both the bra and bottoms in stock in my size, but I think I would have picked it anyway because the bright, bold colours just make me feel so summery.
The lace isn't fancy French chantilly or specialist embroidery like you would typically find something from the Agent Provocateur mainline collection, but it is still gorgeous with a nice, scalloped edge. There are also some lovely finer details – ruched straps, rose-centred bows and a delicate picot trim all round.
Verdict: 8/10
Construction
Construction-wise, I'd say this is just as good quality as something by Agent Provocateur. The only real difference is the fabric quality – the satin for example is polyester rather than silk, but then my Agent Provocateur Jena set was polyester too – and the hardware, which isn't stamped with the brand name. It wouldn't surprise me if the L'Agent range is being made in the same factories as Agent Provocateur, by people with the same skill set and experience.
Verdict: 8/10 
Fit
I bought a 32DD, sister sizing up from my usual 30E, and size Extra Small (UK 6-8, my size) bottoms. And the fit is simply perfect. The cups are exactly the right size, the gore sits flat, the knickers fit like a dream and even the band fits me well despite being a size larger.
Also, this set is comfortable. Almost (almost) as comfortable to wear as the soft jersey Kriss Soonik set I reviewed a few days back.
Verdict: 10/10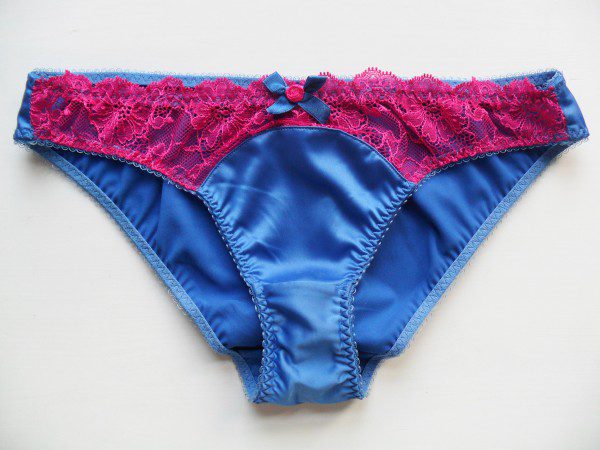 Durability
(This is the bit I'd normally call 'Washability' but since I tend to talk about general wear and tear here too, I've renamed it).
This set is hand-wash only, and the label states to wash it separately. I ignored that (or rather, I didn't check the label) the first time I washed it and stained a bit of the pink elastic on the Arabel suspender belt pictured above blue, so if you buy this do pay attention to the instructions and wash this set on its own!
I've noticed that after wearing the set a handful of times a few small pulls have appeared in the lace. They're really very tiny but this may be a sign the set isn't going to last for years and years.
Verdict: 6/10
Value for Money
Originally the Marisela set cost £78; I bought it on sale for £35. It instantly became one of my 'everyday' sets due to how comfy it is and how the mostly smooth, moulded cups don't show up underneath clothing. It's pretty, it's well-made and I see myself wearing it many, many times, so yes, it's good value for money.
Verdict: 10/10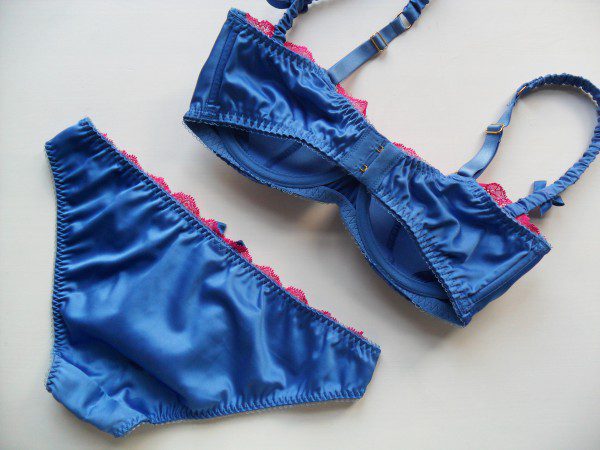 Would I recommend it?
Yes! I bought this to replace my favourite, moulded-cup, everyday bra (goodbye dear Lepel Justine), and I think I might just like this one even better. It's changed my perception of the L'Agent brand too – this may never be the brand I go to for groundbreaking design work or incredible fabrics, but I can see now that it has its own set of qualities like comfort that make it worth buying.
Luckily for you, The Outnet's sale is still going so you can shop the Marisela range here (including different colourways and nightwear items) at less than half price if you're quick. If you don't mind paying full price (and I think this set is worth it), it's also available on the L'Agent website in classic black.
What do you think of L'Agent by Agent Provocateur's designs? Have you bought anything?