Disclaimer: This set was bought with my own money and neither Kriss Soonik nor Coco de Mer requested a review.
I bought this Kriss Soonik bra set from Coco de Mer back in January, along with my Belle et BonBon set. Soonik has a very distinctive style that I've always liked – simple, but never boring. The Emily bra was introduced for Autumn/Winter 2014 in grey, yellow and maroon, and a season later in white too but without the marabou puff detail.
Appearance
The design of the set is quite a basic one – classic briefs and cups with a single piece of fabric that goes up and over the shoulder – but the unusual fabric (I've never seen ribbed jersey used for lingerie before!) and, of course, the marabou puffs give it a unique touch.
The marabou puffs are detachable and one thing I hadn't realised from the product photos or description (it is mentioned, but not clearly) is that it also comes with flat satin bows, so that was a nice surprise when it arrived. I like the puffs for their fun and quirky appeal, but I'm a sucker for bows and this set looks gorgeous with them too. It can also be worn with neither, so you're getting three looks in one!
Verdict: 7/10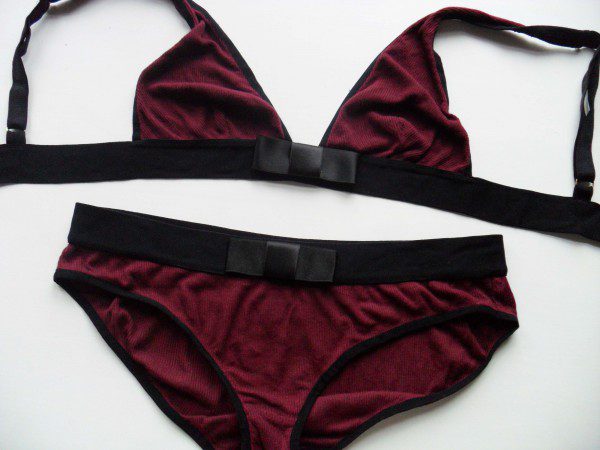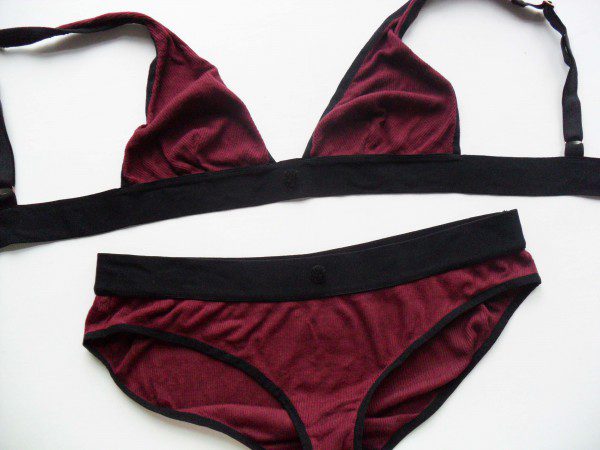 Construction
Words cannot describe how utterly soft this fabric is. It just feels amazing to wear – even the elastic waistband and bra band are made from an elastic much softer than I'm used to.
The set is very well made with neat, small stitches (it's also made in Europe, in Estonia), and has a small dart at the base of each cup for slight shaping. The velcro is super sticky, so you don't have to worry about the puffs or bows falling off during the day, and the fact you can replace the big puffs with flat bows or nothing at all makes the set suitable for when you want a smoother line under clothing.
Really, the only thing that lets this set down is the hardware, which I'm pretty sure is gold-coloured plastic, but it's not a deal-breaker.
Verdict: 9/10 
Fit
I bought a size Medium (UK 10-12) bra and size Small (UK 8-10) knickers. Had the Extra Small (UK 6-8) knickers been in stock I would have bought those but the Small fits just fine, and will easily stretch up to a UK 10.
Being a Medium, I was expecting the band to be too loose for me and the super soft elastic is very stretchy – I can stretch the band out to 45″, so even if you wear a 34 or 36 band size which I normally equate with a Medium, you might find this rides up somewhat.
I've always liked ribbed jersey clothing because of how it contours perfectly to the body, so the cups fit me very well and will fit a range of cup sizes. However due to being so soft and stretchy, combined with a soft, narrow band, they don't provide any support to speak of.
Verdict: 5/10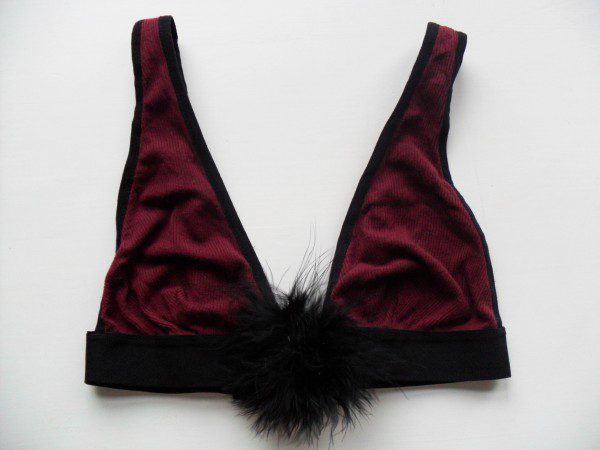 Washability
The washing instructions for this set were a bit confusing! The labels have the hand-wash only symbol, whilst the tags state "Machine wash cold 30° in a laundry bag". The first time I washed this was by hand with the marabou puffs still attached and though the feathers themselves dried fine, they started to come unglued from the felt backing.
I emailed Kriss Soonik to ask if the puffs were supposed to be washable and she very kindly sent me a pair of replacement puffs (which was extra lovely considering I hadn't even bought the bra set directly from her) and said it's best to remove them before washing. I think a note on the label or tag that these are not washable would be a good addition for future sales.
The ribbed jersey has started to take on a slightly fluffy texture and I've only hand-washed this set five or six times, so that's a little disappointing.
Verdict: 5/10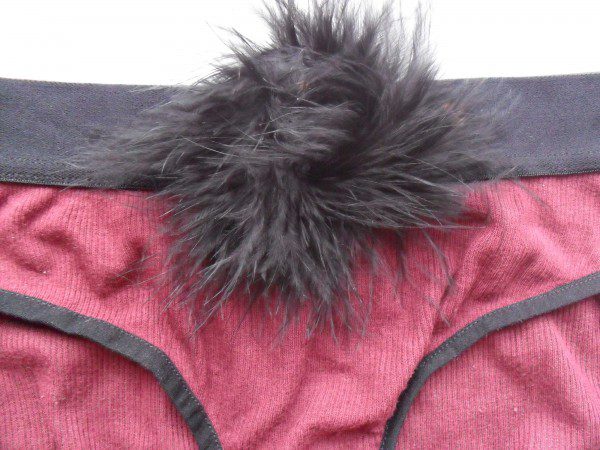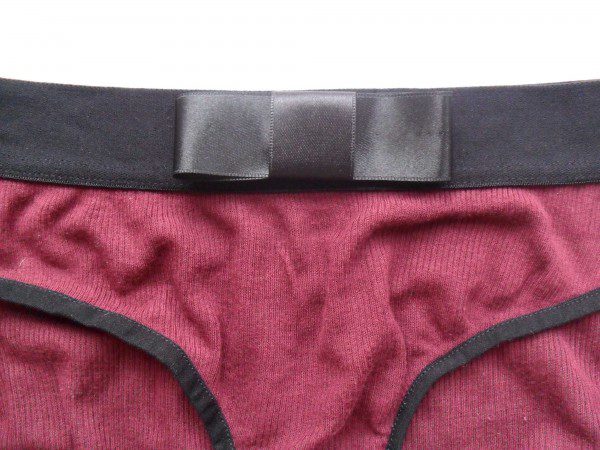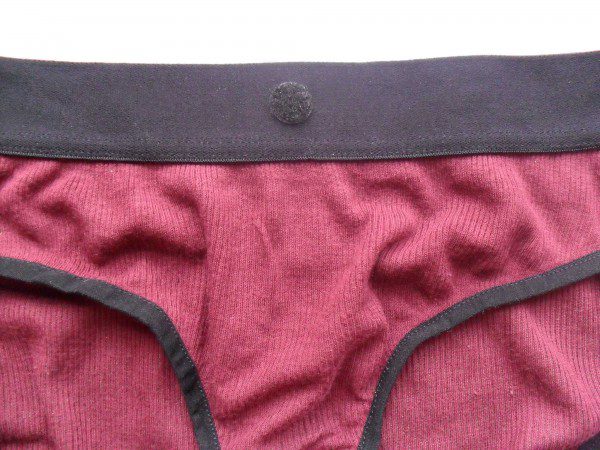 Value for Money
This set originally retailed for £112 – £56 a piece – and I bought it on sale for £34.20. It's fun, unique and super comfortable, so I'm very happy with it for the price I paid. I just wish the fabric held up better to washing.
Verdict: 7/10
Would I recommend it?
Although the ribbed jersey is wonderfully soft, because of the 'fluffiness' after so few washes I'm inclined to recommend trying Kriss Soonik's Alison set instead if you like the shape and the interchangeable decorations, which is the same but made from floral lace and available in all black or black and lime. It is however ideal if what you care most about is comfort.
If you really love the jersey though, this maroon set is still on sale at Coco de Mer here and here, or at full price in grey at Kriss Soonik.
Have you ever tried anything by Kriss Soonik, or seen any other ribbed jersey lingerie?