Disclaimer: This blog post contains affiliate links.
Did you read my recent blog post on alternatives to nylon hosiery for sensitive skin? In it, I featured a couple of stocking designs by Foot Fetish Socks, an indie brand based here in the UK, and I simply had to find out more about their story when I read that all of their stockings are hand-cranked on a vintage sock machine. For one thing, I really wanted to see what one of those machines looked like!
I spoke to Charmaine, the founder of Foot Fetish Socks, to find out more about what goes into making a pair of her knitted stockings…
Esty: So, what started the sock obsession? And what made you decide to start selling them?
Charmaine: I used to live and volunteer in a community for people with learning difficulties and shared a house with 13 other people. We did all of our laundry together, so this led to everyone losing socks! This is when I decided to start knitting my own socks, so I could easily identify them.
Sock knitting is addictive and I am still hooked. Years later I saw a sock machine and I was mesmerised by the machine's history and mechanism. These knitting machines were all made in the turn of the century and represent a global change over from hand knitting to mechanisations. It is one of the first machines ever built – it was made at the same time as cars were first built!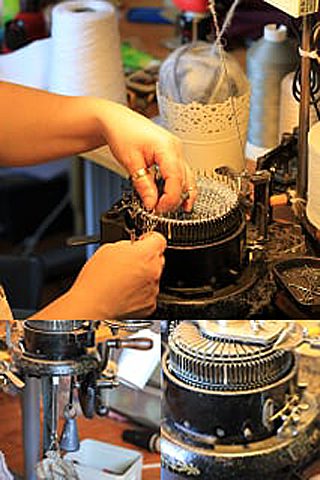 Charmaine's antique sock machine.
E: Your socks are hand-cranked on this antique, using vintage patterns. It sounds very time consuming! What goes into making a single pair of socks or stockings?
C: The right types of yarn is the most important part – I prefer to use luxurious, natural and unusual yarns. Then you need to find the patterns that best show off the yarn… some look best ribbed and some delicate yarns look more luxurious in a flat knit.
At first, getting to know the machine is a steep curve but once you get the hang of it, it is quite therapeutic. The sock is made in two stages: the first is knitting using the machine and then they are all finished by hand which takes about two hours in all.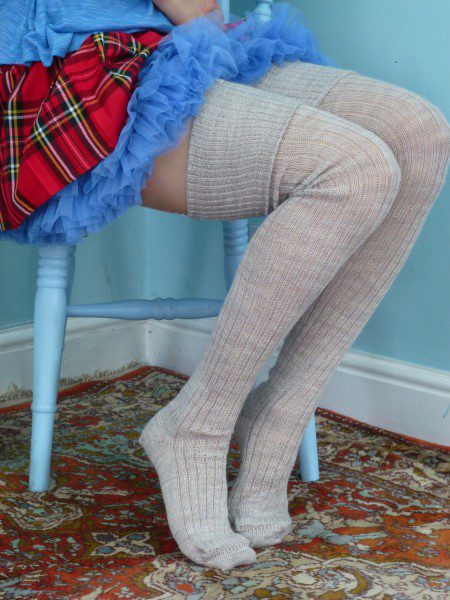 E: Your wool and cashmere stockings featured in our recent post on hosiery for sensitive skin. What are your bestselling fabrics, and the ones you like the most?
C: The bestselling fabric in stockings is the cashmere, and also the very beautiful Noro yarn (Japanese) which is a silk, cotton and wool blend.
My personal favourite is… all of them! I feel a great accomplishment when I finish any pair of socks. I wear all of my own socks, and very biasedly love them all.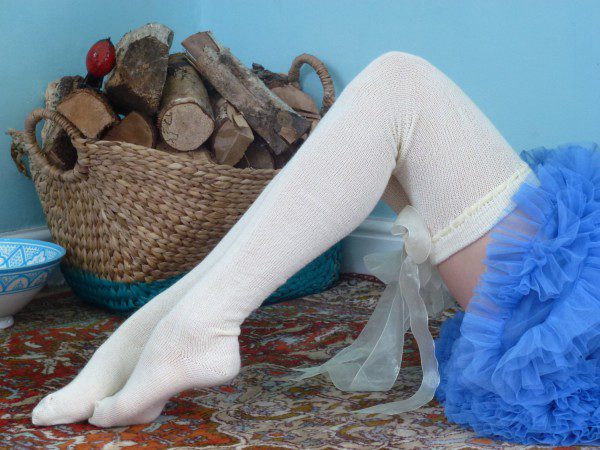 E: So do you ever buy other hosiery or do you just make your own? 
C: I wear my own crew socks and never buy any others. But really I'm just a typical cobbler.
E: Foot Fetish Socks seems like a flourishing business, with close to 800 sales on Etsy to date. What makes your hosiery unique and desirable?
C: We push the envelop in terms of fabric and design. We have personalised customer service, we treat everyone well because we want them to come back. Nearly a third of our items are custom made, which makes us a specialist company.
E: Finally, what does the future hold in store for Foot Fetish Socks? 
C: Recently we have become a duo; Sam has joined forces with myself to help allow the business to grow, bringing in her love for marketing and taking on the challenge of exploring internet sales. Give me time and I will get her hooked on knitting too!
We are striving to be the brand that makes getting socks as gifts more like "Oooh" than an "mmm".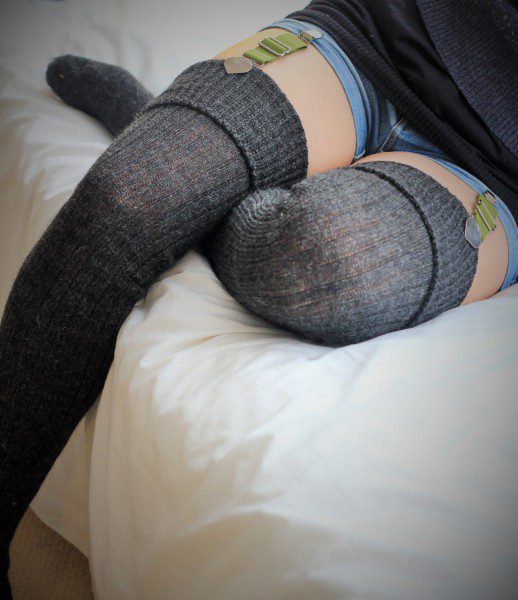 Charmaine and Sam have set up a special discount code just for you guys – you can
get
10% off your order with code FFSOCKS10
until the end of September! You can buy all the items featured in this post and more in the
Foot Fetish Socks Etsy store
.
If you'd like to find out more about how their hosiery fits and feels before you purchase, keep an eye on the blog over the coming week because they very kindly sent me a pair of cashmere stockings which I'll be reviewing very soon.
What do you think of Foot Fetish Socks' hand-cranked wool and cashmere hosiery?