I am once again bringing you some beaded lusciousness by Love & Swans. I've been obsessed with this independent Russian lingerie brand from day one, and every time they release something new I find myself saying "I think this is my favourite yet". And you know what? I really do think this latest bralette design is my favourite yet!
Of course, that might have something to do with the fact it's the most expensive piece they've created to date. The Pearl bra retails for an eye-watering 1,111€ (approx. £936 / ~$1,289) which is well above typical Love & Swans pricing. But there's a good reason it costs so much – each one of these beads is a natural pearl, not plastic, and there are a lot of them.
It's also highly limited-edition; the Pearl bra is available made-to-order only and will be strictly limited to just five pieces. However, that means that it can be made to your measurements and the brand states it can be created in any size. (Of course, if you're full-busted, you should bear in mind that this is a relatively-unstructured bralette that isn't going to offer much in the way of support – but this isn't a bra you choose for practical reasons!).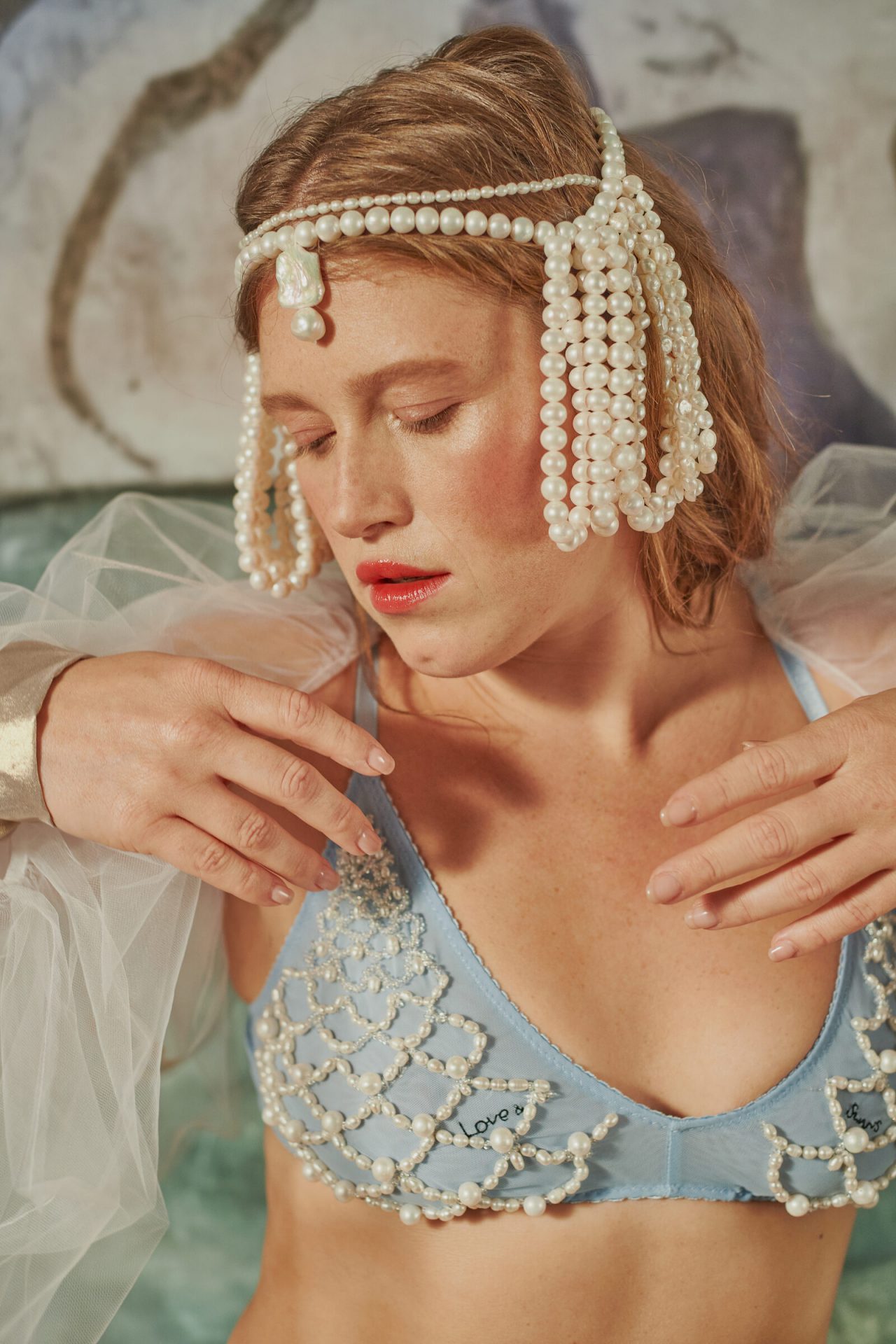 While there isn't an equally-decadent matching bottom, Love & Swans is now offering their Basic thong (35€, approx. £29 / $41) in the same light blue mesh. Other coordinate options in baby blue include a neck and waist harness (60€, approx. £51 / $70) and leg harness (50€, approx. £42 / $58), which are also available in light beige or red and are the first harness-style accessories the brand has offered.
Speaking of offering new things, this season also sees the debut of Love & Swans boxers! The Santa Muerte boxers (115€, approx. £97 / $134), which the brand describes as gender neutral, can be worn alone or paired with either the bralette from their popular Santa Muerte set, or the updated Summer Muerte bralette which is sold separately.
Back to the magnificent Pearl bra. Can't afford to drop 1,111€ on this thing of beauty? I feel your pain! But luckily, this new Autumn/Winter collection also includes two other bralettes with a very similar 'scales' design, but done in shimmering Japanese bugle beads with a few natural pearls scattered in. One is the The Right of Spring bra (160€, approx. £135 / $186) in warm gold, and with matching bottoms available, and the other is the Swan Lake bra (150€, approx. £126 / $174) in icy silver.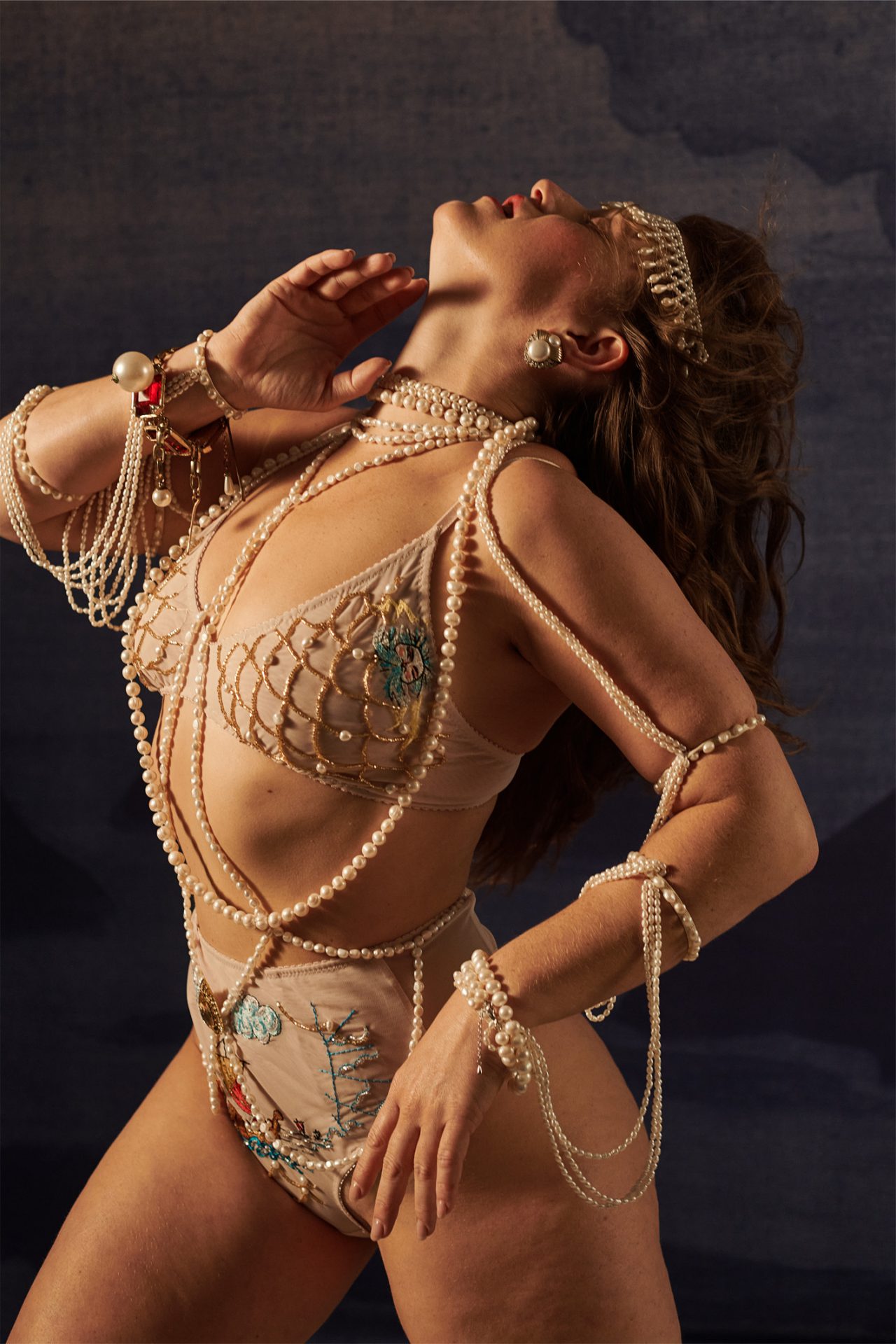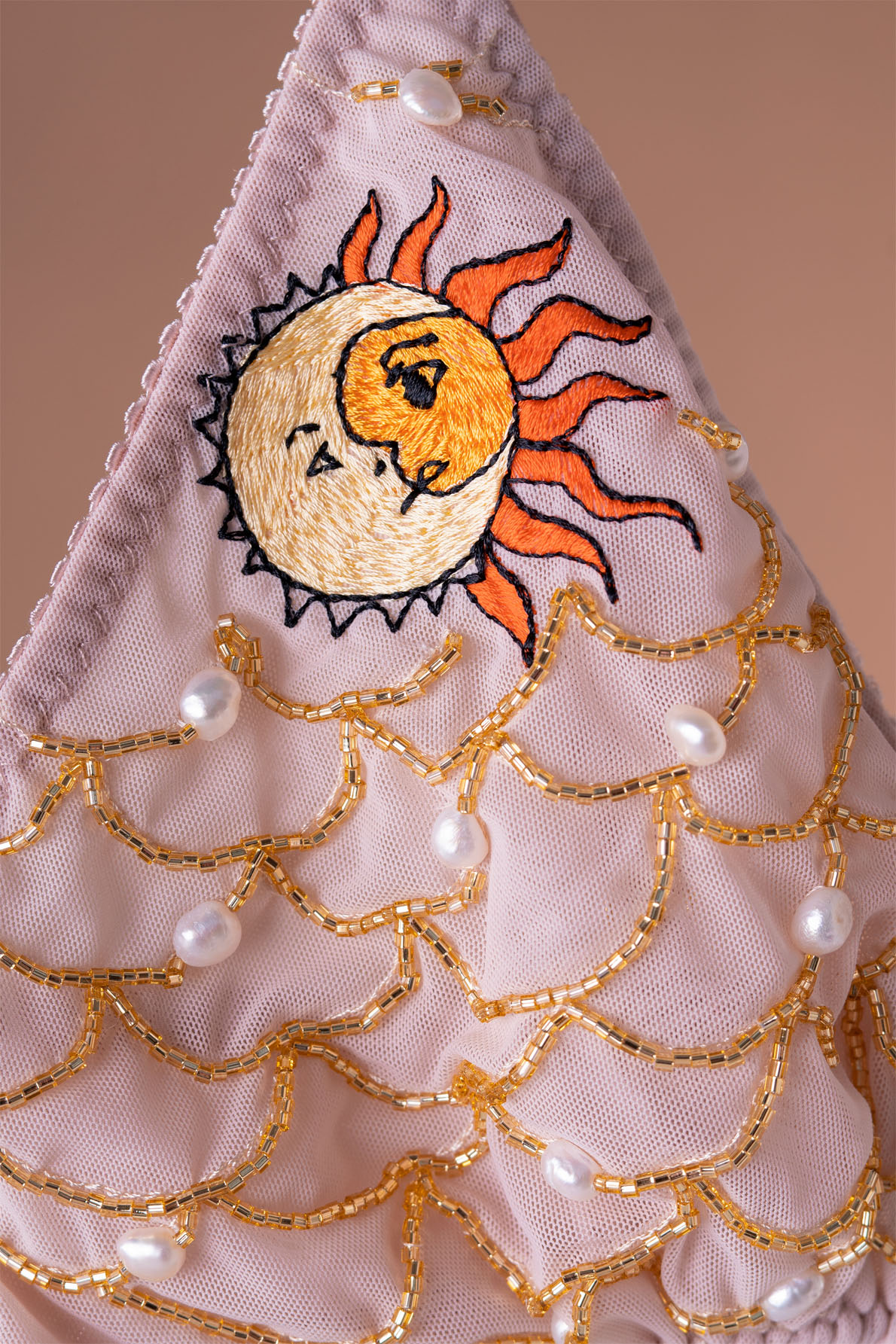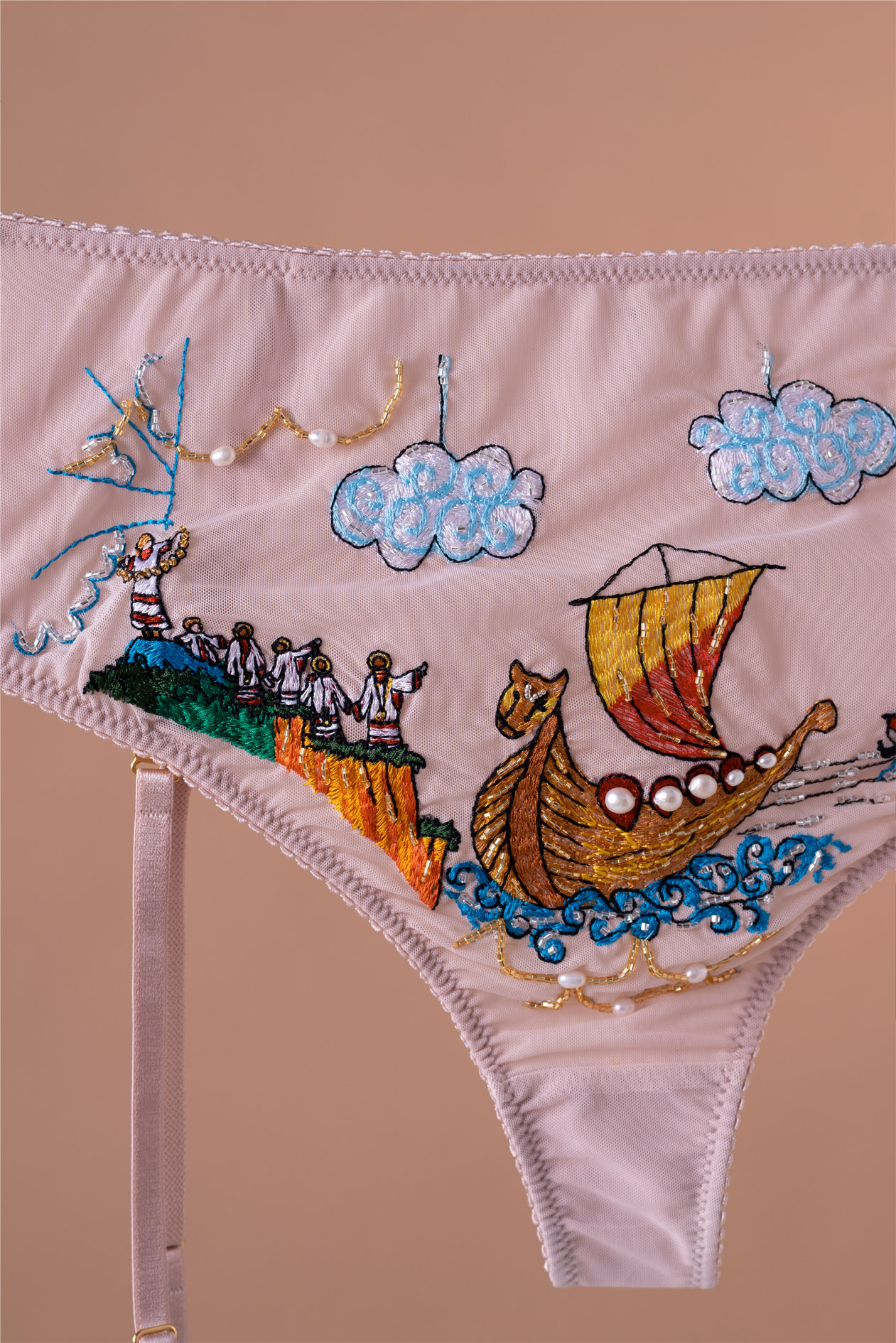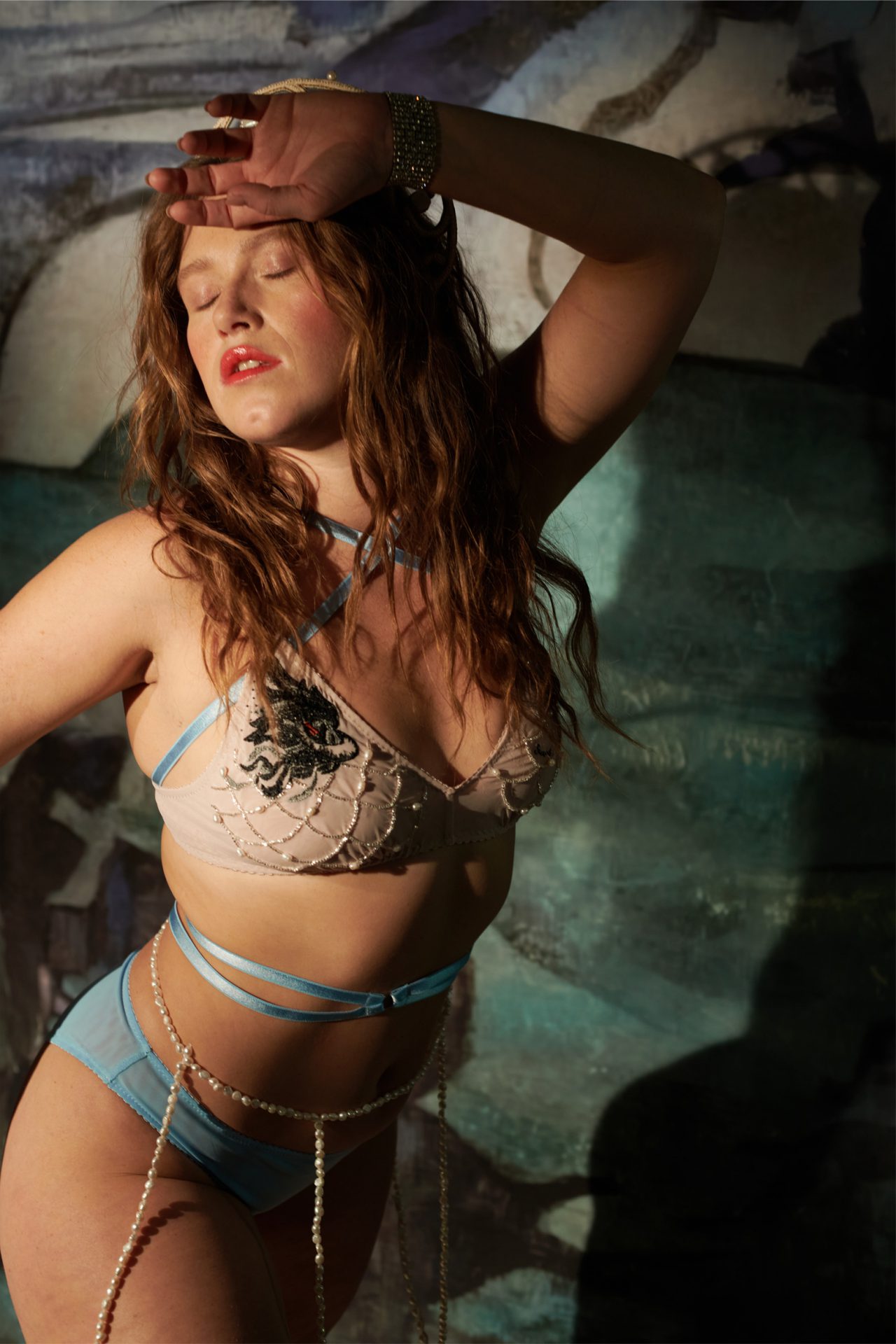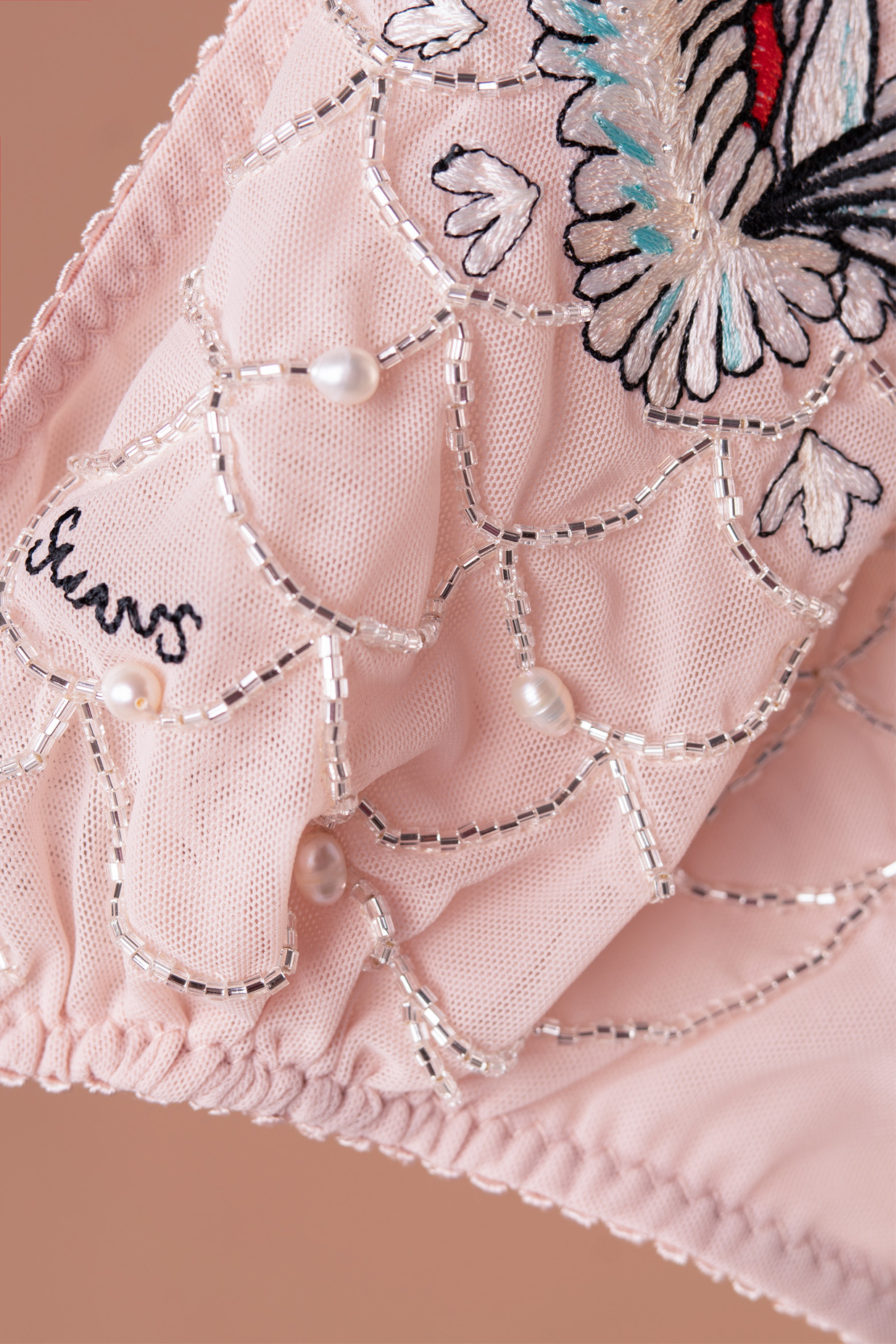 While there's something about these scalloped shapes and elegant pearl beading that just really appeals to my personal aesthetic, there's plenty more to love in this Russian ballet-inspired collection – including a baby blue remake of the Roarin' 20s set from their debut collection, a personal favourite from their archives – so be sure to check out the full range of products on the Love & Swans website!
Which of these pearly bralettes is your favourite? If money were no object, would you splash out on the premium Pearl bra, or are the metallic bugle beads still more your thing?