Disclaimer: This blog post contains affiliate links.
In this year's quest to try new, and more luxurious, hosiery brands I stumbled across Falbala on Twitter. The name is a French word which can be roughly translated to an English verb meaning 'to adorn with trimmings' – which is precisely what this indie brand does!
Falabala's stockings and tights are made in Italy and then beautifully embellished by hand here in the UK, whether that's applying 380 Swarovski crystals one by one down the seams or stitching on tassels and bows. These are stockings for the burlesque pin-up in you.
The hand-finished nature of these stockings also means there's room for customisation, such as these tights dotted with a string of Swarovski crystals in your choice of 96 different colours!
As well as their embellished styles, Falbala also offers a cheaper range of retro-inspired seamed stockings in plain, fishnet and polkadot styles.
Below are all of my favourite styles from the current Falbala range. Their lookbook page is well worth a look too – there are some amazing designs which aren't in the shop but may well be available as a custom order. That's the beauty of indie brands!
Plus, the brand has also kindly offered up two pairs of stockings for our readers – read on for details of how to enter.
Fishnet stockings with spikes & crystals, £35
Glittery Seamed Stockings with Swarovski Crystals, £25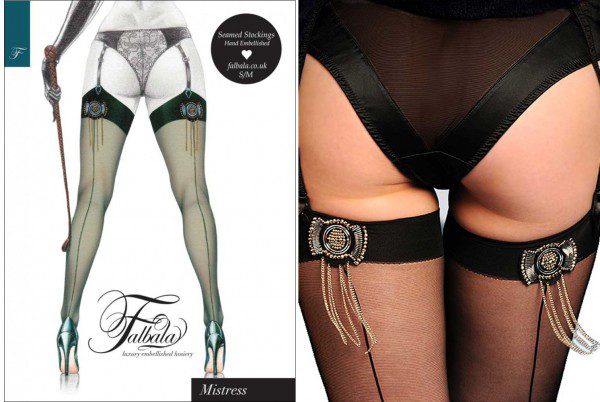 Chains & Tassels Seamed Stockings, £30
Dragonfly tights – Swarovski pearl & crystals, £65
Spike Seam Stockings or Tights, £95
Dotty Seamed Stockings – Black, £10
Karen from Falbala has kindly offered up two pairs of stockings from the classic retro hosiery range to be won! You could pick from a selection of fishnet stockings, sheer seamed ones and those gorgeous polkadot ones above.
There will be two winners, so they'll get to pick out one pair from that range each. To enter, simply leave a comment with the style that you would choose if you won.
Please note that you will need to click the link below and record your entries on the Rafflecopter widget in order for them to be counted – once you've done the first one, you'll see some ways to earn bonus entries for even more chances to win! This giveaway is open to UK residents only.
Have fun entering and don't forget to let me know what you think of Falbala's hosiery designs!