Disclaimer: This blog post contains affiliate links.
In case it isn't obvious by now, I love harnesses. I am however a little bored of them all starting to look the same – plain and black. I like to think I make mine a little differently to the majority, using colour, crystals, unusual metal details and sometimes even all three (if you're wondering why I also have a few plain black ones, it's because people keep buying them).
I do like to keep my prices down though and there's a limit to what I can do before I'd have to start charging more. Other, more luxurious brands however are not constrained by price, and have really let their creativity run free to design some stunning harnesses that are like nothing else out there!
Here are 5 brands who are making some truly beautiful and unique harnesses right now…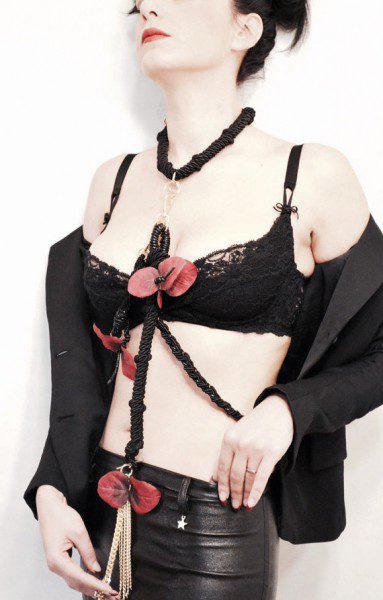 Witchcraft black polished rope harness, ~£189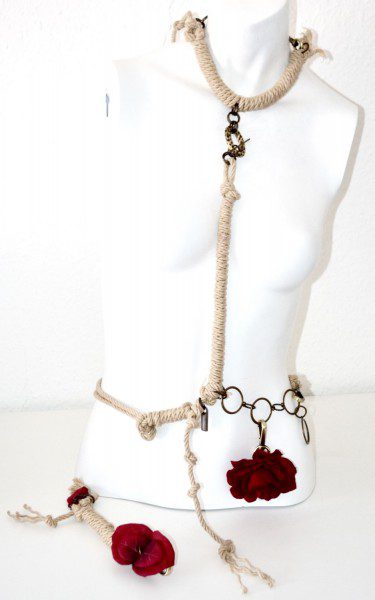 The Castigation of Venus rope harness & bracelet set – ~£174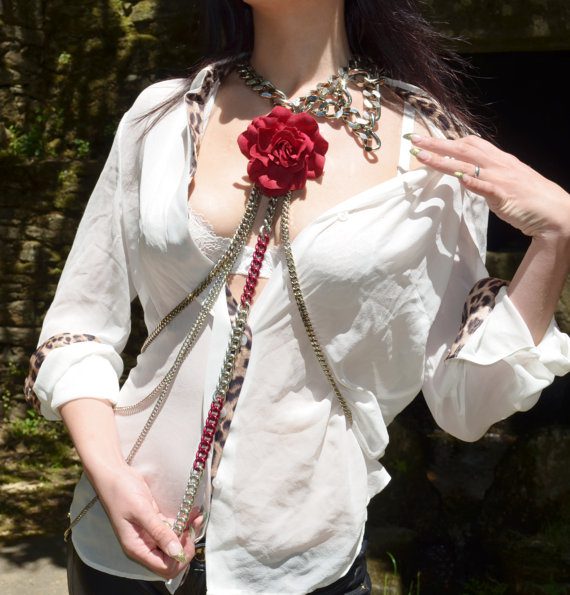 The Punk, The Glam and The Beast chain harness with flower – ~£191
Finerblack is a new brand based out of Berlin, Germany and founded by Italian designer Alessia Flavia Vitale. She makes harnesses and jewellery using a combination of chains and twisted rope. She's inspired by bondage but her style is very feminine and sexy, with each harness looking like a stunning piece of artwork for the body! Her rope designs are my favourite – the two featured above are both one-off items.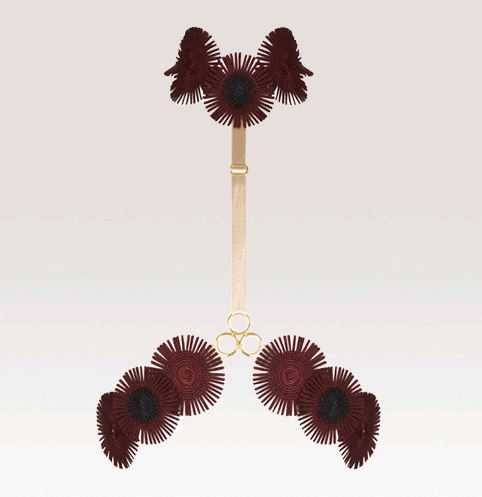 Minerva burgundy and caramel harness – £100.80 inc. VAT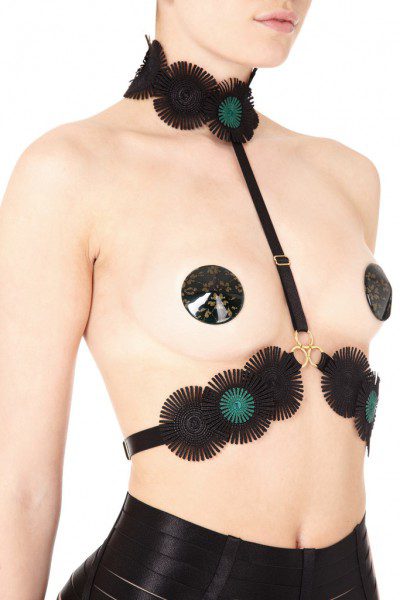 Minerva jade & black harness – £100.80 inc. VAT
Cabaret harness in caramel & black – £294 inc. VAT
Bordelle, founded by Alexandra Popa in 2009, very quickly became a household name for luxury British lingerie. Popa's unique style is all about elastic strapping, and was a forerunner to the current strappy lingerie trend. I absolutely love these new-season Minerva harnesses with their fun and unusual embroidered fans. All Bordelle lingerie is made with 18 carat gold-plated hardware to make it truly luxurious and special.
Kyra chain harness in gold – ~£124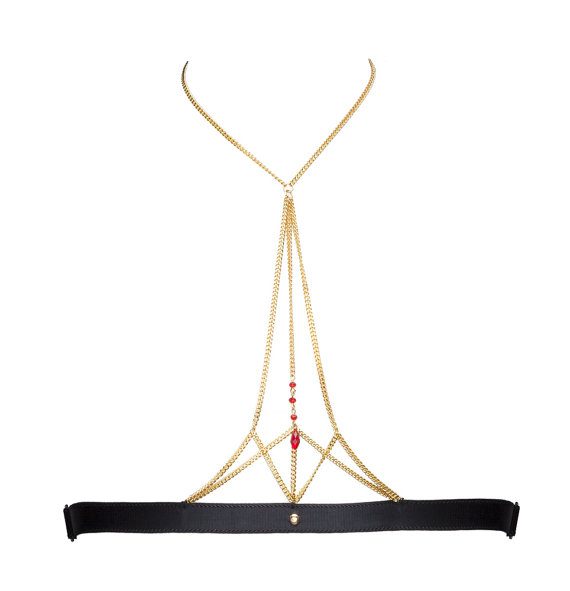 Ona gold chain harness – ~£142
Absainte is a Parisienne brand designed by Datura Alchimilia with a very jewellery-inspired aesthetic. She uses thin, sometimes detachable chains which drape around the body or form intricate designs. I love the contrast between the delicate chains and beadwork, and the thick black elastic that she uses.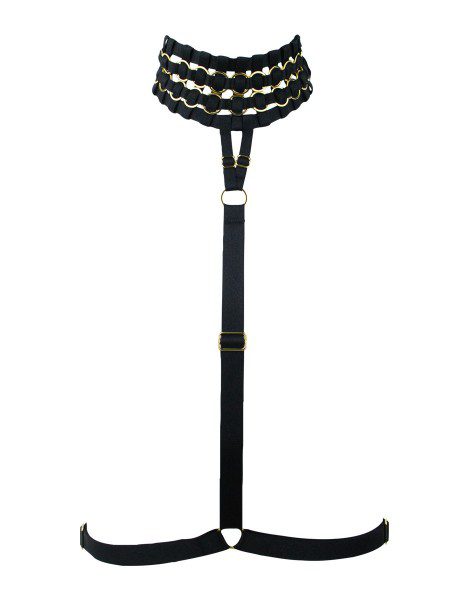 Lattice choker harness in black – ~£80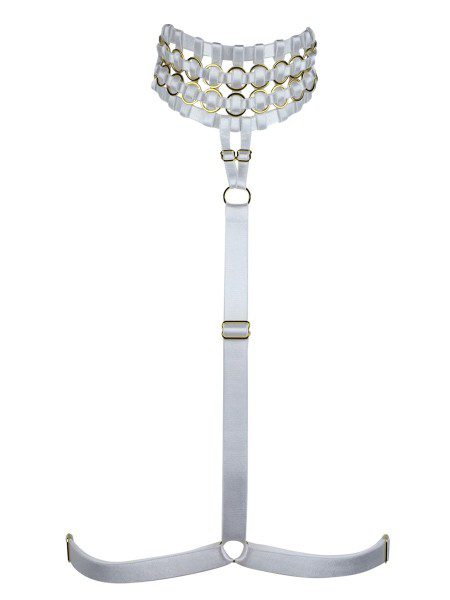 Lattice choker harness in white – ~£80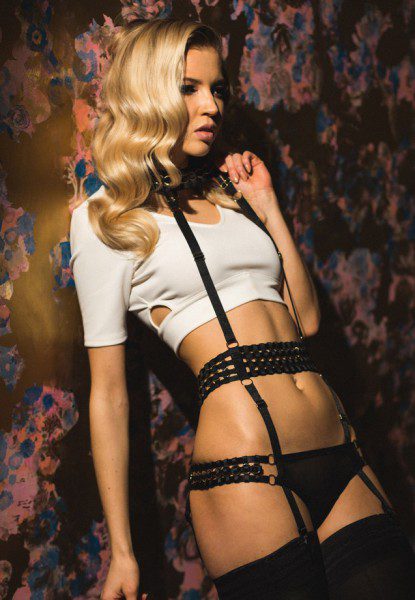 Woven suspender harness – ~£157
Bodybinds is a US brand designed by Jackie Hopson that specialises exclusively in 'strappy' lingerie and accessories. Yes, most of it is of the plain, black variety, but I thought the brand deserved a place on this list for their new Lattice collection which is really quite breathtaking. Harnesses aside, I am dying to get my hands on this woven bralette! The elastic woven through gold rings is very reminiscent of Bordelle, but at a slightly lower price point.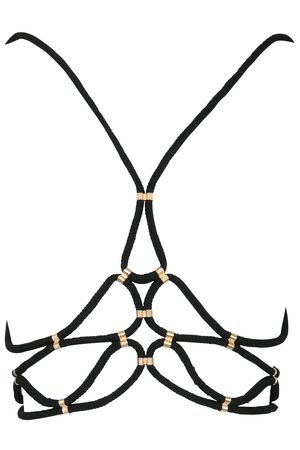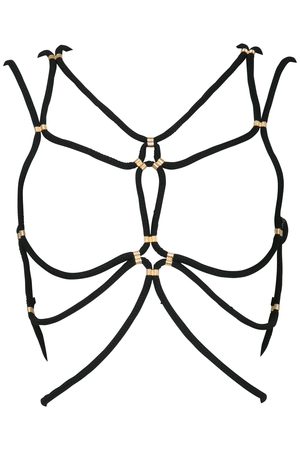 Shibari rope harness in black – ~£231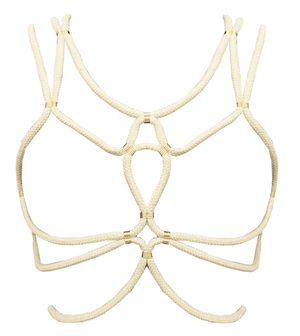 Shibari rope harness in ivory – ~£231
DTSM (which stands for Don't Shoot The Messenger) is the second Berlin-based brand on this list, and the second one not by a German designer! Jen Gilpin is originally from Canada and designs mostly clothing but with a few accessories such as these harnesses too. She also has some leather harness designs, but I thought the rope ones were much more unusual – aside from Finerblack at the top of this list, it's not a material I've seen used for body harnesses before and it gives them a very luxurious and unique feel.
So there you have it, 5 designers making lingerie harnesses that are a little bit different to the norm. Which brand is your favourite, and do you know of any others I've missed off this list?