Disclaimer: This bra set was bought with my own money and Figleaves did not request a review.
Have you heard of Lulu Tout? Created by Figleaves, the brand focusses on classic French-inspired styles (so lots of lovely laces and embroideries!) for those on a budget – most bras cost £24 with matching briefs generally £15-16.
Figleaves recently had a massive sale with really tiny prices and I picked up a few sets, including this Fleur Rose one. Although it's not visible on the website now that the sale is over, if you follow this link directly to the product it is still there and still in stock. And still £5!
Appearance
I'll be honest, I much prefer this bra in 'Nude/Black' but a) I recently decided I won't buy anything else beige that's called 'nude' and b) it wasn't available in my size anyway. Purple isn't my favourite colour (I'm in the minority here, I know it's one of the all-time best-selling lingerie colours) and at full price I wouldn't have bought this, but the rose embroidery really is gorgeous so the low price swayed me. I've also become totally obsessed with sheer bras ever since I bought my Claudette Dessous!
Up close, that embroidery is just as beautiful as it looks on Figleaves' website – nice and thick, and forming a delicate rose-petal scallop across the tops of the cups. I love the finishing touches on the bra – the little cut-out at the gore, the grosgrain bow, the pleated satin straps – which all come together to make it look really very pretty.
The thong is nice too with its sweeping border of sheer embroidery. The back of it and the bra are pretty plain and uninteresting, but that goes with the price point. Only really luxury lingerie looks as good from the back as it does the front!
Verdict: 7 / 10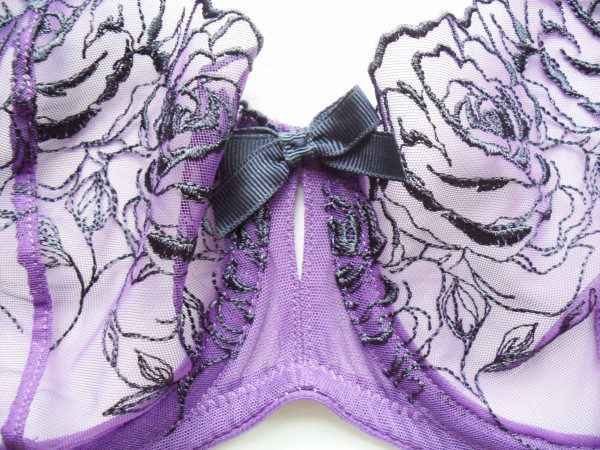 Construction
Considering the price, the Fleur Rose set is really well made – soft, comfortable fabrics (there's no backing to the embroidery but I didn't find it scratchy), metal hardware and small, neat stitching all round.
Verdict: 10 / 10
Fit
I ordered the 30DD bra and UK size 8 thong. Normally I wear a 30E and this was the closest size available in the sale, but you'll have to take my comments on fit with a pinch of salt because I think that right now I'm between sizes – recently I've bought both 30Es that have been too big and 30DDs that have been too small. Online bra shopper's nightmare!
Anyway, this bra is exactly my size, which may or may not mean the cups come up a tad large. The band is a nicely firm one, and as shown in my bra styles guide this vertically-seamed shape is very uplifting.
The thong is a Brazilian style with a fair bit of coverage at the back. It feels like a standard UK 8 to me and is super comfortable. Actually the whole set is super comfortable, it's excellent as an everyday set.
Verdict: 9 / 10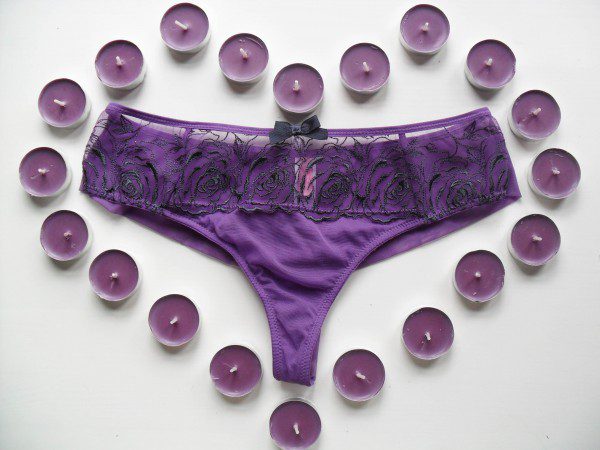 Durability
Unlike the majority of the fancy lingerie I usually buy, both the bra and thong are machine-washable and at up to 40 degrees too.
I've been hand-washing the set myself, and although I've noticed a really tiny amount of wear (a bit of fluffiness at the ends of the underwire channels) it's more or less still in perfect condition.
Verdict: 9 / 10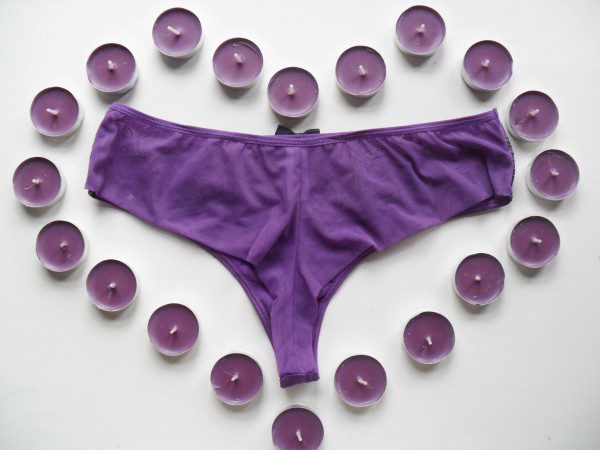 Value for Money
The original retail price of the Fleur Rose set is £24 for the bra and £15 for the knickers – embroidery this pretty at this price, and available in 30 band sizes (and in 30A-C – difficult to find sizes) is a very rare treat indeed – definitely worth the money! And of course, definitely definitely worth the £9.50 I paid for it.
Verdict: 10 / 10
Would I recommend it?
Yes! I don't tend to shop at Figleaves – it's a little mainstream for my personal taste – but after seeing and wearing this set, I absolutely plan to check out more of the Lulu Tout range and maybe pick up one of the newer styles.
The bra is still available in both colourways and a range of sizes here for £5, and the purple thong in UK 8 here for £4.50.
What do you think of Figleaves' Lulu Tout range? Have you bought this set or another design from it?