Disclaimer: I bought this slip with my own money and neither Mimi Holliday nor MySale requested a review. This blog post contains an affiliate link.
Firstly, I hope you had a wonderful Christmas! I'll be off to a spa in Andorra in a couple of days (a surprise Christmas treat, yay!) and don't envision having much/any internet, so thought I'd whip out at least one last blog post of 2015 before I go.
Earlier this year I read this article by fellow blogger Sweets on all the reasons she thinks slips are wonderful, and spent the 7 months that followed researching my first silk slip – and first slip of any kind, actually.
Why did it take me so long to buy one? To be frank, price. I don't really wear nightwear and I have many a neglected babydoll languishing at the back of my lingerie drawer. So whilst Sweets' article was intriguing, I still had my doubts about whether I'd regret dropping three figures on something I've always considered to be a fancy nightie.
As luck would have it I didn't need to make my mind up, because up popped a massive Mimi Holliday sale on MySale and there it was – a silk slip, the length I wanted, in my size and only £25!
My full review of this slip is below, but here's the TL;DR version: the very first day I wore this, I bought two other silk slips. I want more.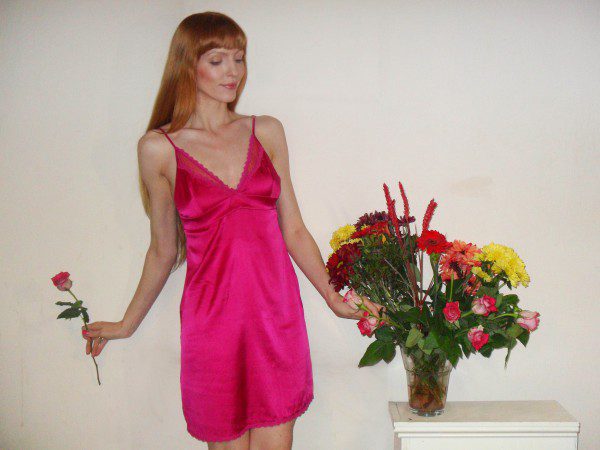 Appearance
As the name suggests, the Raspberry Ripple slip is a vibrant, raspberry-pink colour, and being silk it has a wonderful, glossy sheen to it.
It's a simple slip, which is what I wanted (my main motivation for buying this was to line my sheerer dresses and skirts, so I wasn't looking for bulky trims or any kind of print) but it has some nice finishing touches – thin, floral lace trims, sheer polkadot mesh detail at the neckline, and a keyhole opening at the back that fastens with a single, mother-of-pearl button.
Verdict: 6 / 10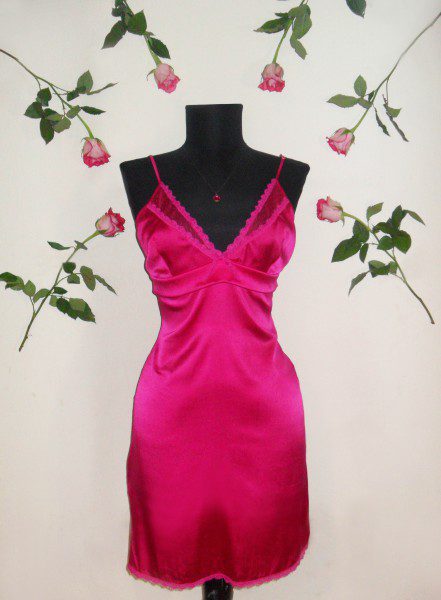 Construction
The exact fabric content is 96% silk and 4% elastane – with a slight stretch, the silk skims beautifully over the body, and this is one piece of clothing I absolutely do not notice I'm wearing. It's that comfortable!
Overall, the slip is well made, with neatly-finished seams, small stitching and quality fabrics.
Verdict: 8 / 10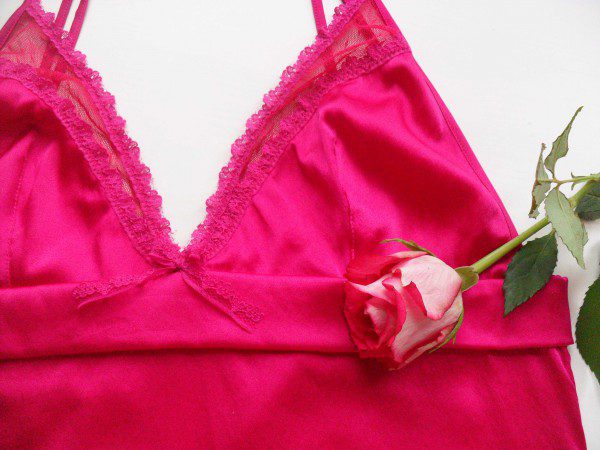 Fit
I had to guess my size with this one because Mimi Holliday's 'size guide' doesn't actually contain any information on sizes! I went for an XS which usually equates to a UK 6-8, my size, and it does indeed fit me just right.
If you're a small-band, large-cup bra size, I'm sure you can relate to trying on S/M/L or 8/10/12/etc. sized nightwear and finding that the cups are almost always too small. Well I have good news for you – as a 30E, this slip is not only a great fit in the body but in the cups too! In fact, there's plenty of room for a couple of cup sizes bigger though by the same chalk, if you wear a 30D/32C or below they're probably going to look a bit baggy.
Also on the topic of the cups, I love that these actually stay in place! The 'band' is tight enough that things stay put all day long, but also loose enough that I can comfortably wear a bra underneath if I want to. I couldn't really ask for more fit-wise, to be honest.
Verdict: 10 / 10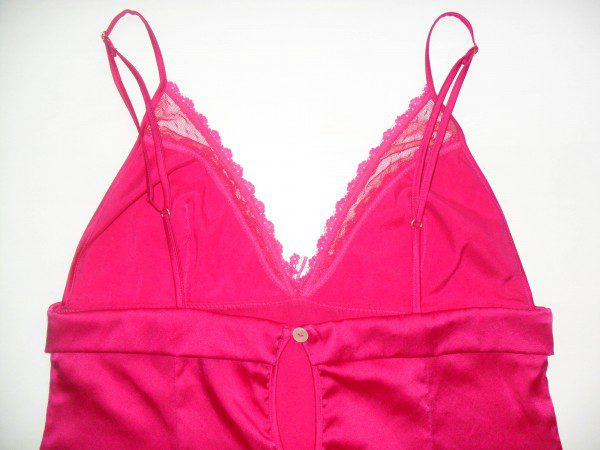 Durability
The Raspberry Ripple silk is hand-wash only and I've noticed that it leaks rather a lot of bright pink dye when I'm soaking it, so I wouldn't recommend washing this with any other colours. It's easy enough to wash though, and dries quickly – though do expect to have to steam or gently iron it if you want to keep that smooth, silky look because it wrinkles like crazy!
I'm also learning that silk satin is incredibly easy to snag…
Verdict: 6 / 10
Value for Money
As mentioned, I got this for an absolute steal at £25 – the original RRP is £131. I love this slip and haven't stopped wearing it since I got it, so definitely full marks here!
Verdict: 10 / 10
Would I recommend it?
Absolutely! Slips in general have been a total revelation for me and I don't see how I survived for so long without owning one. It's such a multi-functional garment – I've already worn this as loungewear, to sleep in, and under clothes for extra warmth and/or modesty under sheer fabrics, and if you're more daring than I am I dare say you could pair this with a shrug and a pair of heels for a night out too!
The Raspberry Ripple slip is now sold out at Mimi Holliday but there is just one available here in size XS, reduced to £63.50. You might also be interested in the newer Angel's Trumpet and Oleander silk slip styles by Mimi.
Are you a fan of slips, particularly silk ones? What do you think of this Mimi Holliday Raspberry Ripple style?