Disclosure: This blog post is sponsored by Lovehoney. Links with a * are affiliate links.
If you live in the UK, chances are you've heard of Lovehoney. Taglined "the sexual happiness people", this is the place to go online for a huge range of sexy lingerie from the likes of Leg Avenue, Oh La La Cheri and Seven 'til Midnight. What you may now know however is that Lovehoney also has their own, in-house lingerie range* which was unveiled at the end of 2014.
It's a sizeable collection, with just over 150 different pieces currently available on the site, and many items available in plus sizes up to a UK 24. It's also great to see that a lot of the designs that come in plus-sizes are actually photographed on plus-sized as well as core-sized models – admittedly something a lot of brands in this niche are good at, but admirable nonetheless!
Lovehoney recently loaned me a few lingerie and nightwear pieces so that I could photograph them and give you a close-up look at the collection. I'd originally asked to be sent the eyelash lace-trimmed Enchant Me range which is just gorgeous, but unfortunately it's been discontinued – the last few pieces are on sale from £3 and I definitely think they're worth checking out, so be sure to view this basque*, bra* and knickers* too.
Despite the huge variety of products in Lovehoney's own lingerie collection, the colours are focussed around a narrow colour palette of black, red and purple – classic lingerie colours that most people will list amongst their favourites. As for materials, there's lace – a lot of lace – alongside satin, mesh, net and wet-look fabric. Almost every piece is finished off with a little silver Lovehoney charm.
My favourite piece from what I saw was this Flaunt Me cupless, crotchless lace bodysuit* – also available in red* and plus sizes*. Cheap lace has a tendency to look cheap, but not this one. I thought it was really pretty, especially with the little ruching detail at the back and the detachable suspender straps. At £22.99, it's great value for money too!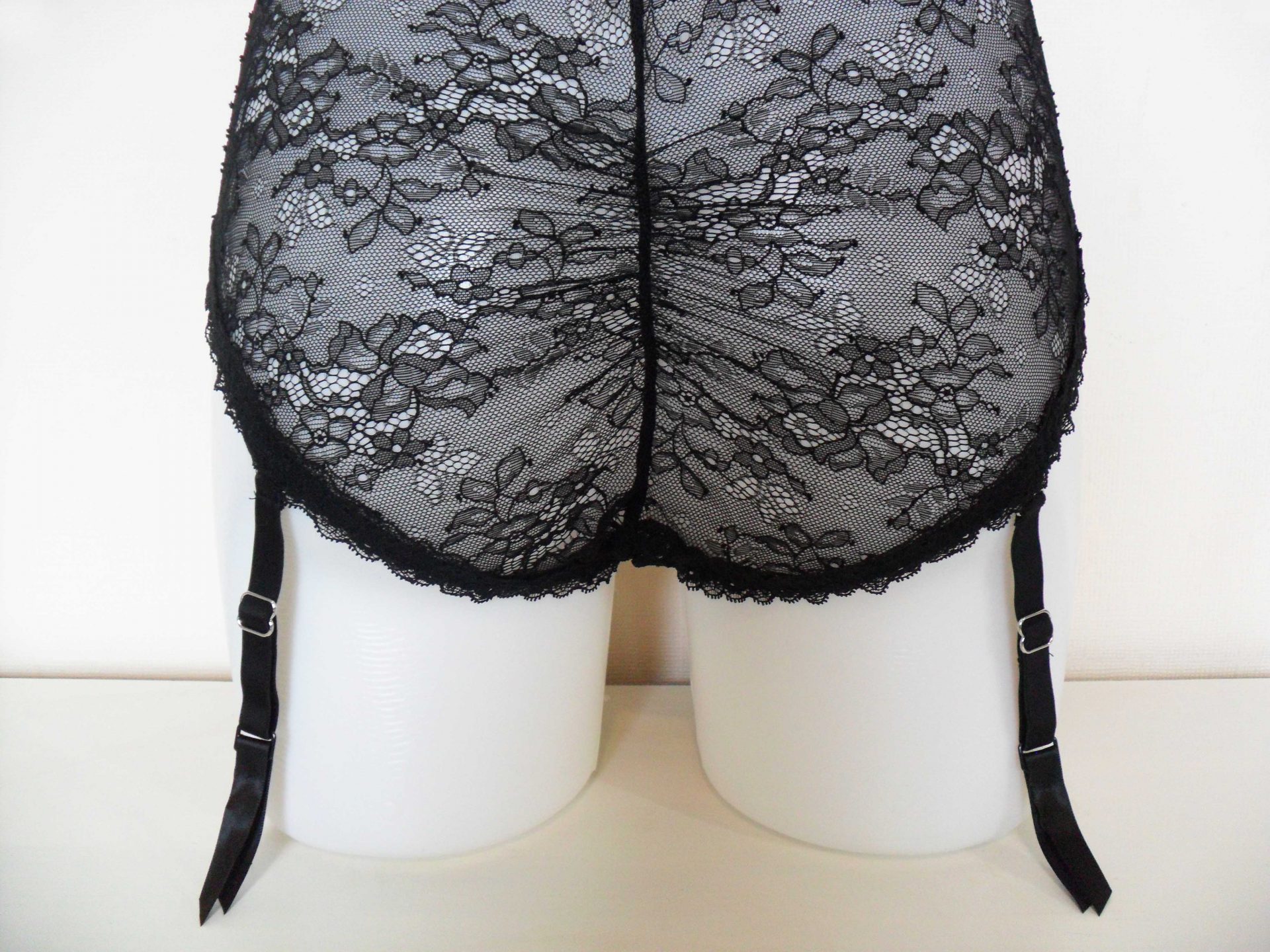 The robe pictured above and below (available in One Size* and Queen Size*) is also from the Flaunt Me collection, but made from a different black lace (not quite so lovely, but perfectly acceptable for the price point). With its thigh-grazing length, sheer floral pattern and scalloped edging, it's a lovely little boudoir cover-up that won't break the bank. The regular price is £19.99, though the One Size version is currently on sale for half that if you're quick!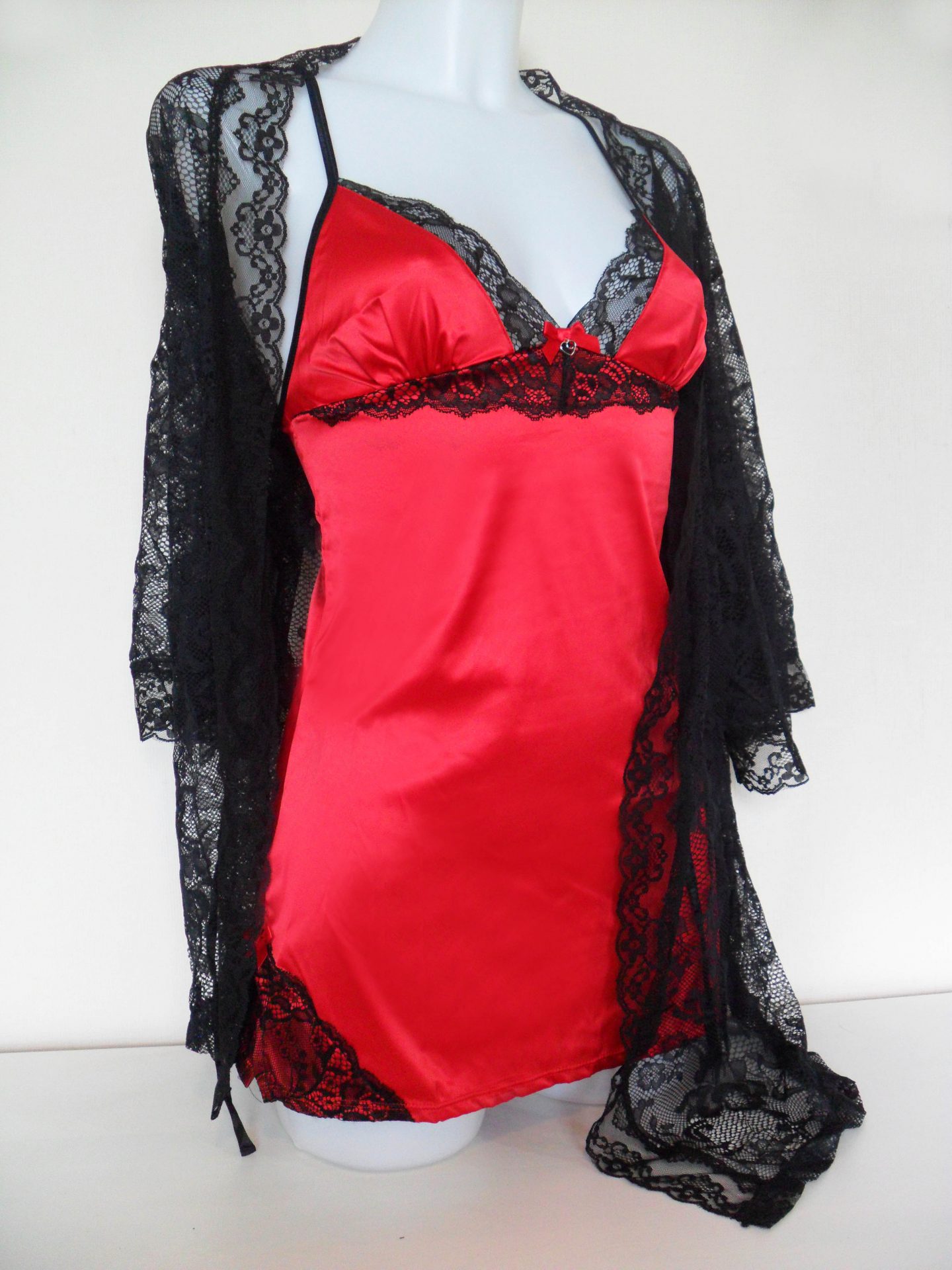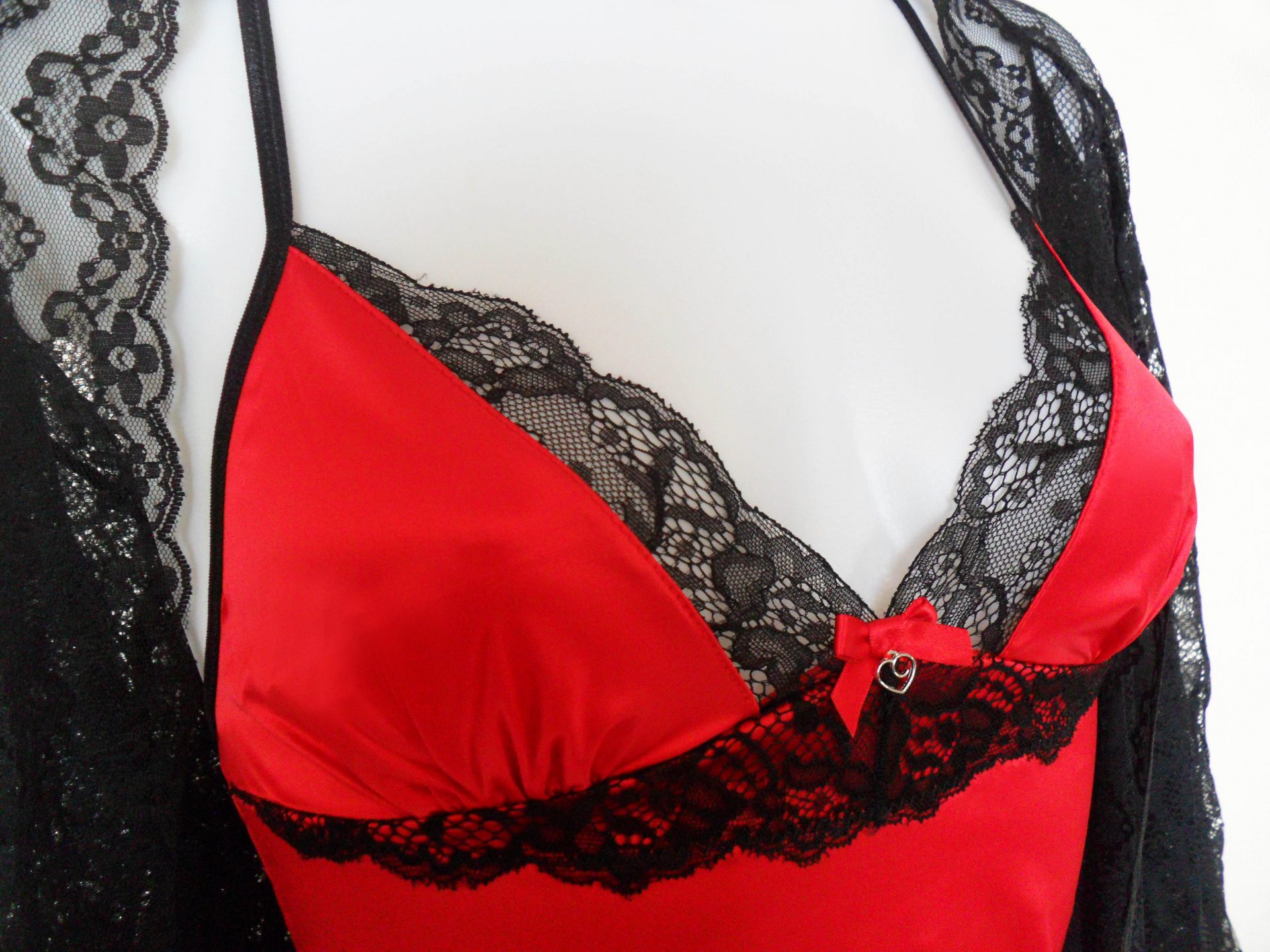 No sexy, boudoir-inspired lingerie collection would be complete without a slinky little satin chemise, and this Spoil Me babydoll was my other favourite piece and probably the one I could most imagine wearing myself. Like cheap lace, cheap satin can look awful – it can look more plastic-shine than glossy-sheen, or feel stiff and crinkly like tissue paper – but the satin on the Spoil Me babydoll was surprisingly thick and soft.
The design is cute too with its split sides and racer-back style. The Spoil Me babydoll costs £24.99 and comes with a matching thong, and is available in red*, black*, purple* or baby pink* all in regular and plus sizes.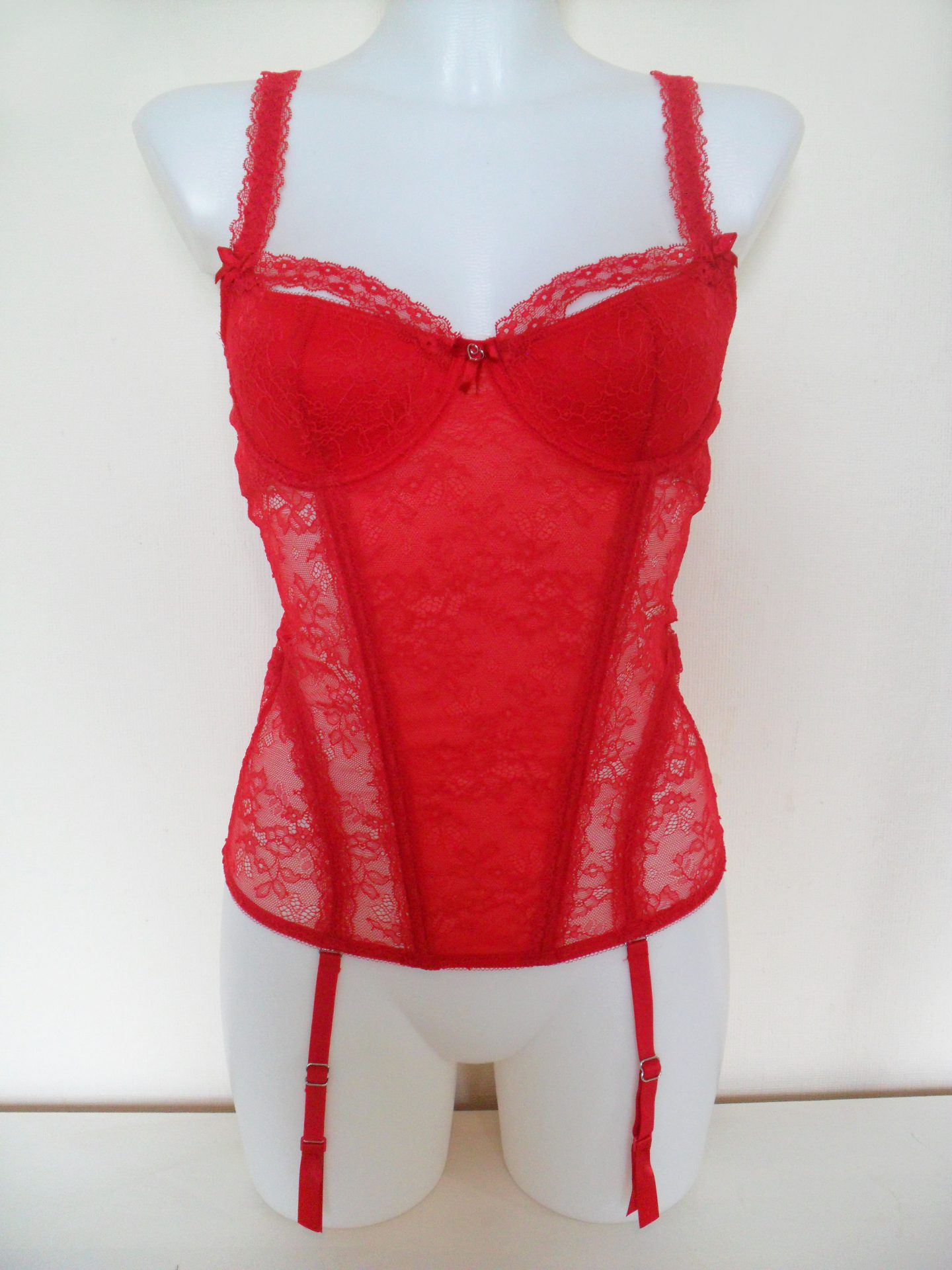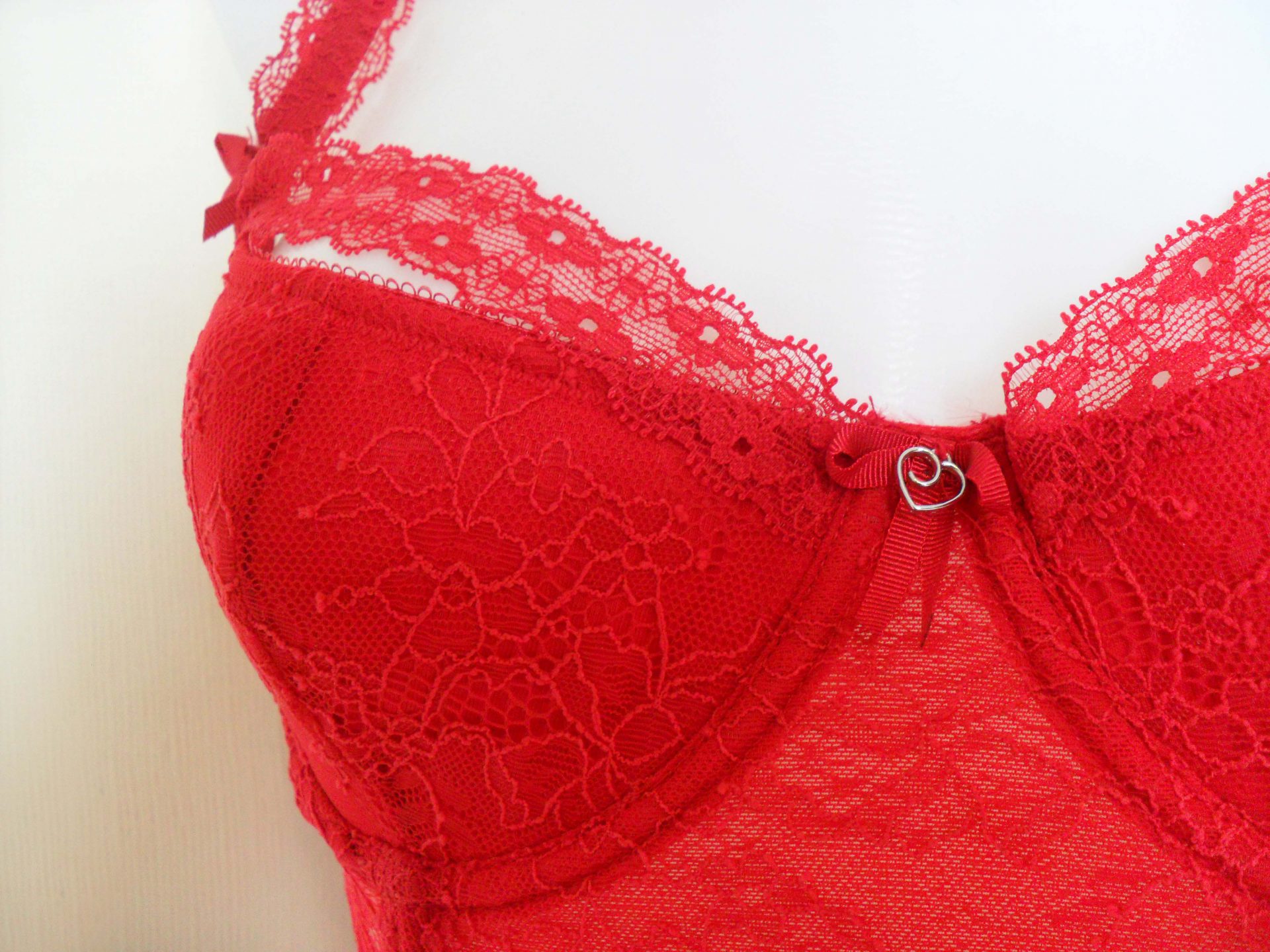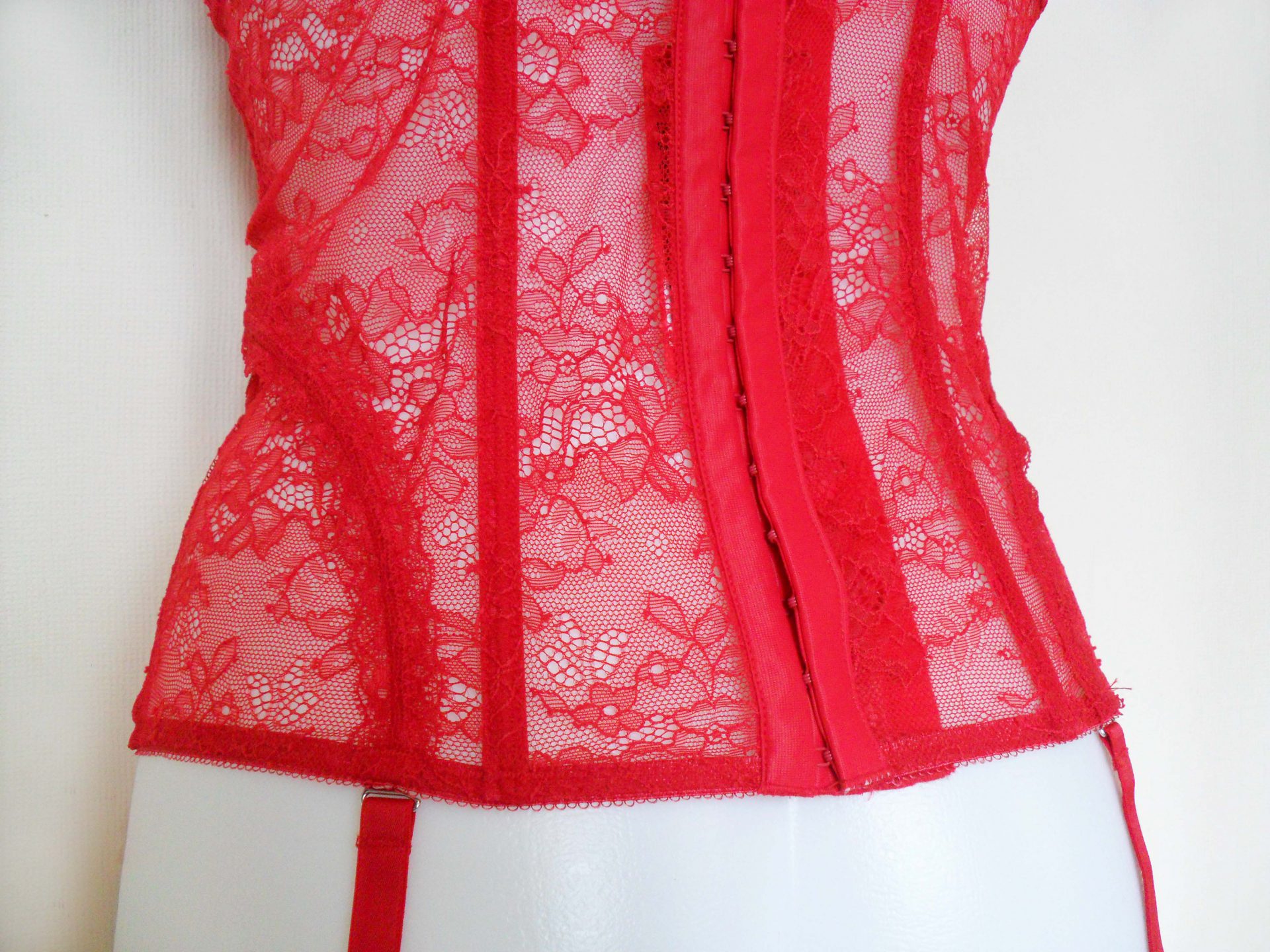 Coming back to the Flaunt Me collection, there's also a lace basque* – available in black* too – which is made from the same, pretty lace as the cupless bodysuit. The lacy straps atop the lightly-padded cups give just a nod to the popular strappy trend on what is otherwise a very simple, classic-looking basque. I think it looks a little more expensive in the black colourway, but either way at £29.99 including a matching thong it's another affordable indulgence.
Finally, the bras. Pictured here are the Spoil Me* (left) and Adore Me* (right) bras, both available up to a UK 22-24 and with matching bottoms. The Spoil Me is a very of-the-moment design, with a strappy, racer-style back, whilst Adore Me is a half-cup bra overlaid with black lace and with a ribbon halter fastening. Both of these bras are front-fastening, and cost £16.99 each.
So, overall thoughts on Lovehoney's in-house lingerie range? Whilst this is not a place you'll find luxury fabrics or finishes, that's okay – lingerie doesn't always have to be about luxury. What Lovehoney does offer is sexy, pretty underthings that come in a wide variety of sizes and are very affordable, so you can treat yourself guilt-free every now and then.
Prices range from £36.99 at the top end, down to just £5.99 – or £1.50 if you count the current sale prices! So if you're looking for cheap, flirty lingerie that won't fall apart after the first wear, do check the full range out.
What do you think of Lovehoney's foray into lingerie design? Is there anything here that you'd buy or wear?