Disclosure: This article is sponsored by Lovehoney. Links with a * are affiliate links.
You've probably heard by now (I've been seeing it pop up everywhere anyway!) that the plastic in our oceans is expected to outweigh the fish in them by 2050. Another statistic that I came across more recently is that only 9% of the plastic ever produced has been recycled. If figures like these make you want to change your shopping habits, you'd be far from alone in that.
Much of the information I see related to plastic waste revolves around food packaging, but so many of our clothes are high in plastic content too. Polyester, for example, is a type of plastic. As is nylon, a very popular choice of fibre for both lace and hosiery. So what can do you when you want to continue to treat yourself to pretty underwear, but also respect the environment?
Luckily, sustainable lingerie options are becoming increasingly easier to find – and increasingly stylish too. But if you're thinking 'sustainable' automatically equals expensive, and that's out of your price range, then you'll be glad to know that there are brands making eco-friendly lingerie accessible for all budgets. Allow me to introduce you to Mindful*, a new conscious lingerie line by Lovehoney where everything in the debut collection costs under £40 / $50 / 45€.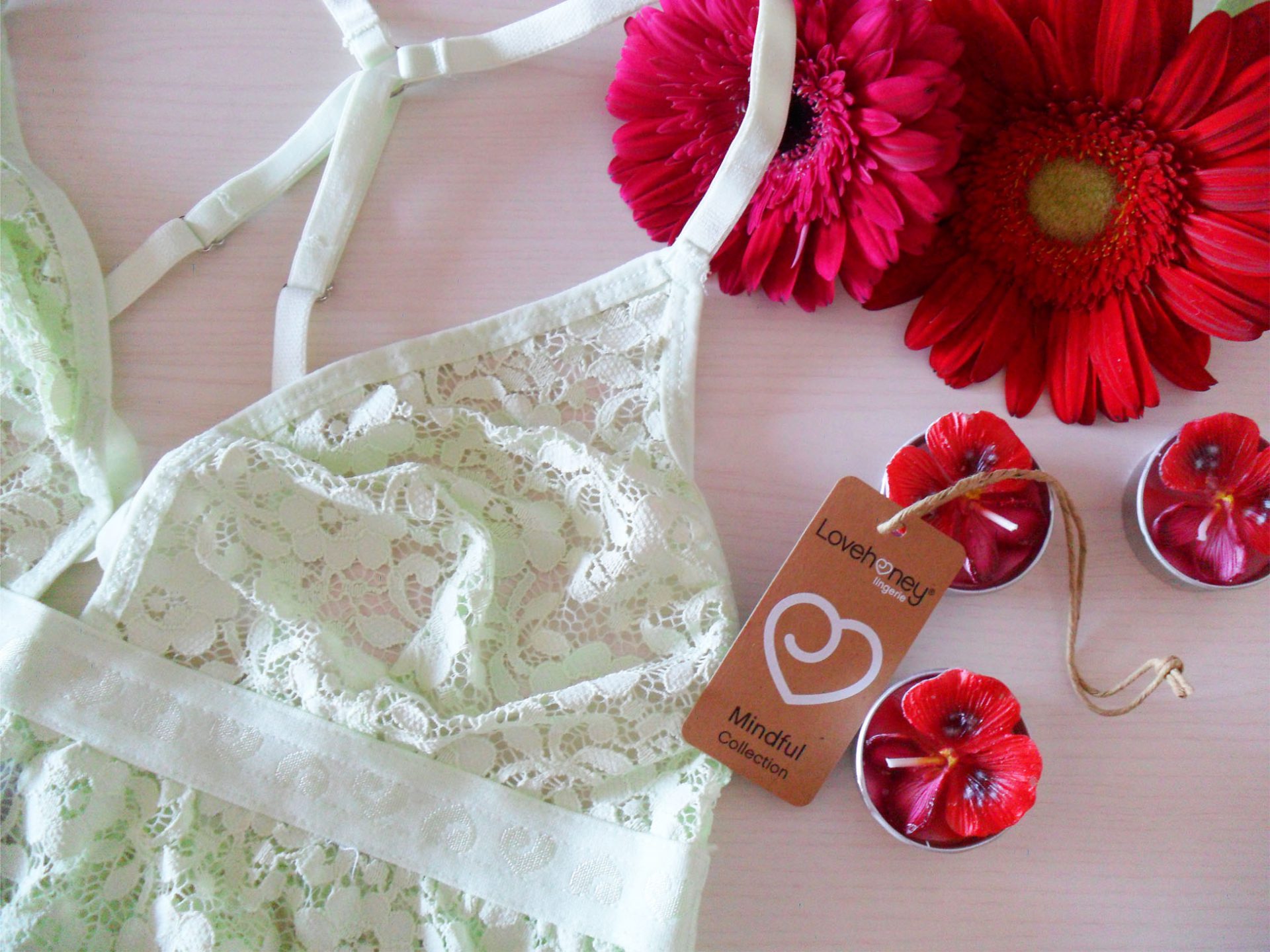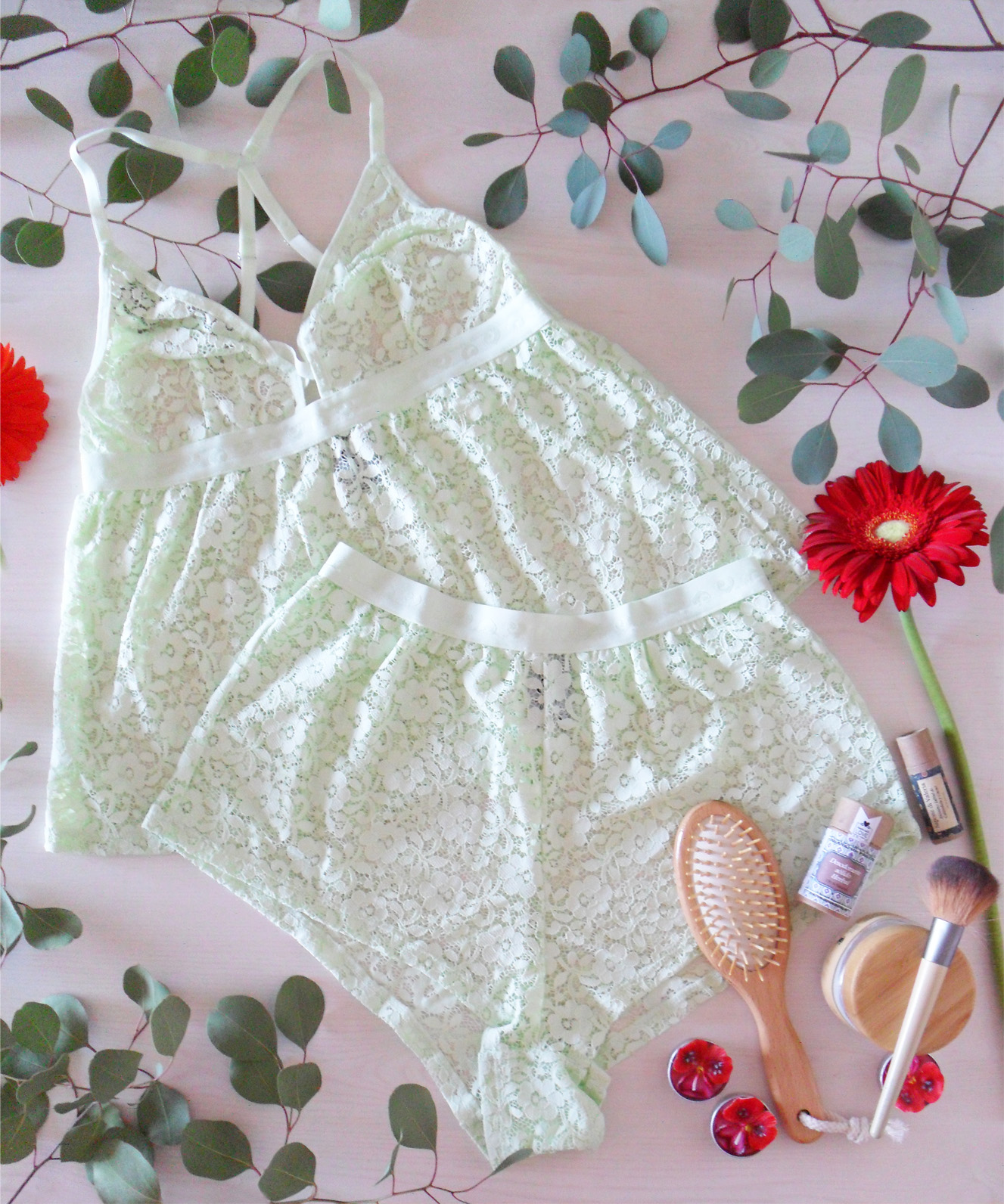 Lovehoney's Mindful range is based around giving new life to pre- and post-consumer waste, by focussing on recycled materials. Not only does this find a use for more of our existing plastic, but these recycled fibers typically have a much lighter impact on the environment (such as fewer carbon emissions) than creating the same fiber from scratch.
The Mindful designs all use one of three fabrics: a soft, seamless nylon and a floral lace which are both made from GRS-certified regenerated yarns that would otherwise have been headed for landfill, and a fishnet range that is made of ECONYL®, a regenerated nylon created from a mix of industrial waste, discarded carpets, and salvaged fishing nets. Yes, you can now wear fishnet lingerie that may once have been an actual fishing net!
This debut collection features a minimal-yet-fun colour palette of black and mint green, and includes everything from casual bralette sets and lounge-friendly bodysuits to the sexy, sheer fishnet bodywear. There are even eco-friendly stockings! You all know I have a soft spot for lace, so pictured here are my two top picks: a Lace Cami & Shorts Set* (US link* / EU link*) and the matching Lace Bra Set* (US link* / EU link*). However, if you're looking for something with a bit more edge and a sporty vibe, I definitely recommend taking a look at the Leopard Print Seamless Body* (US link* / EU link*) and Leopard Print Seamless Bra Set* (US link* / EU link*).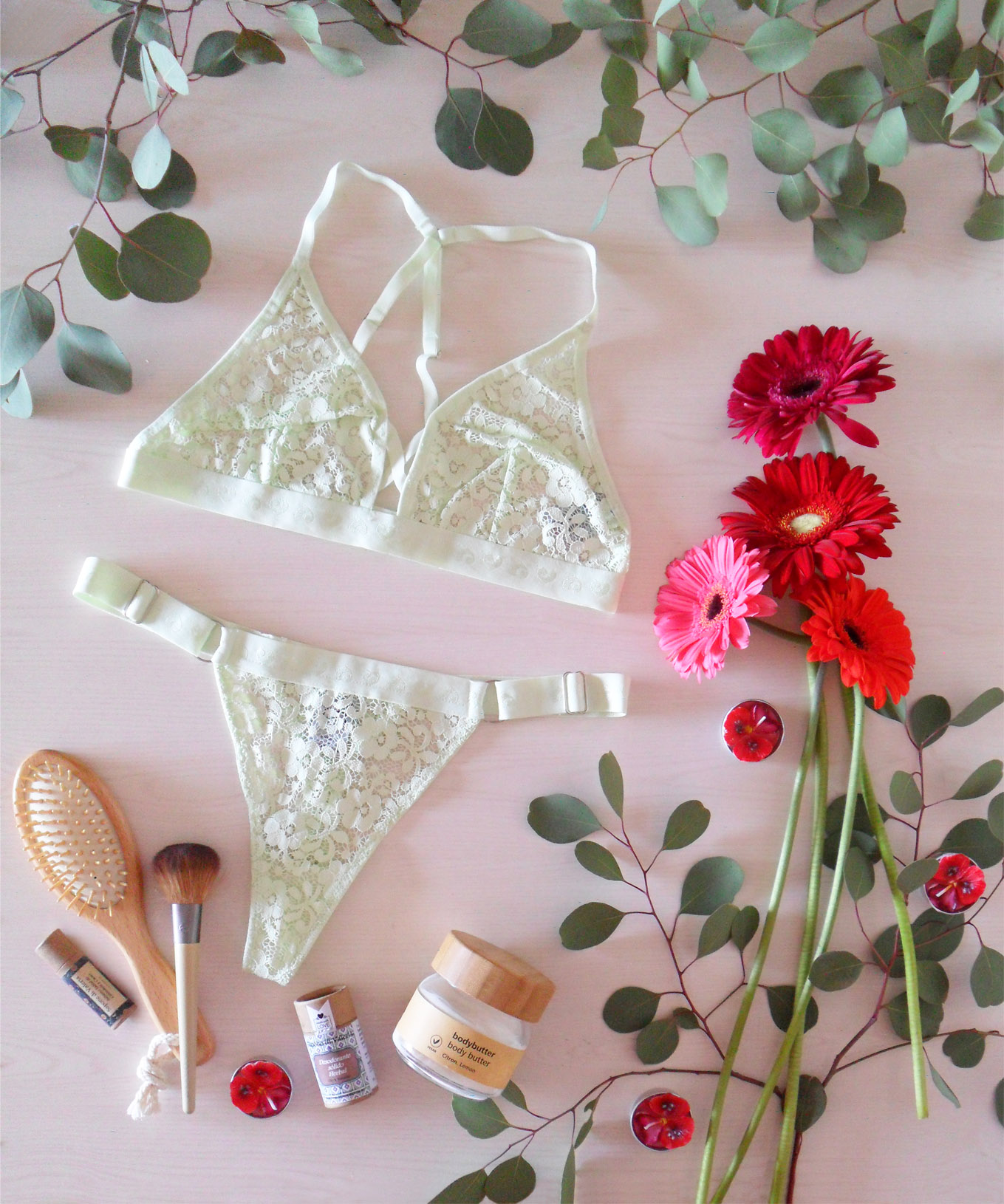 I've said it before, but one of the things I love about Lovehoney's lingerie line is its size range, and the Mindful collection is no exception. Sizes run from S/M to 3XL, which covers up to a UK 26 or US 22. Everything has been photographed on three models too, so you can see how it looks/fits on different bodies.
Oh, and naturally, all Mindful items are packaged in cornstarch bags that are biodegradable and home-compostable, with swing tags made from responsibly-sourced recycled paper. Even better – and showing that their commitment to increasing sustainability goes beyond this single collection – by 2023, Lovehoney intends to make all its packaging for own-brand items free from single-use plastic!
What changes are you making, or would you like to make, to create a more eco-conscious lingerie drawer? And which piece from the Lovehoney Mindful collection* is your favourite?