Disclaimer: This set was sent to me free of charge by Zathiya to be reviewed. My opinions are, as always, 100% honest. Ewa Michalak is not affiliated with this blog post.
Ewa Michalak is somewhat legendary amongst lingerie aficionados, especially in the DD+ market. Offering what is quite possibly the widest size range on the planet (it is the widest, according to their About page) and an equally massive variety of styles which range from the basic to the on-trend and fancy, I've heard a lot of great things from a lot of bloggers about this brand. Many full-busted  women swear by them.
That said, I've also heard rather a lot of not-so-great things, not so much about the product but complaints regarding their customer service. Holly at The Lingerie Addict even published an article listing 5 concerns about how Ewa Michalak operates its business. I've also read that their sizing can be confusing and inconsistent.
So with all that in mind, I've always quite wanted to try this (in)famous lingerie brand but never felt confident enough to purchase directly from their site. That's where Zathiya comes in, because this new US-based D+ lingerie and swim retailer stocks, amongst other brands, a range of Ewa Michalak bras that come with a no-hassle returns and exchanges policy. Plus, of course, if you're shopping from the States you won't have to worry about customs fees or expensive postage costs!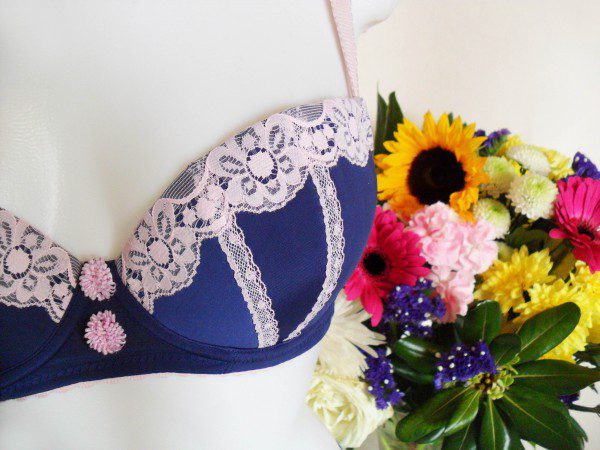 Appearance
Klaudyna is made from a fine-knit fabric with a slight satin sheen to it, which Zathiya describes as navy-blue but I think looks closer to purple. It's decorated with pale pink lace, two different picot trims and the cutest little flat pom-pom things that I just love – they're such a fun alternative to the ubiquitous bow!
The bra is finished with a subtle 'Ewa Michalak' label to the side of the left cup. The lace is rather plain and not the fanciest, but overall I think it's a pretty bra set for everyday wear, and one that offers a smooth line under clothing.
Verdict: 5 / 10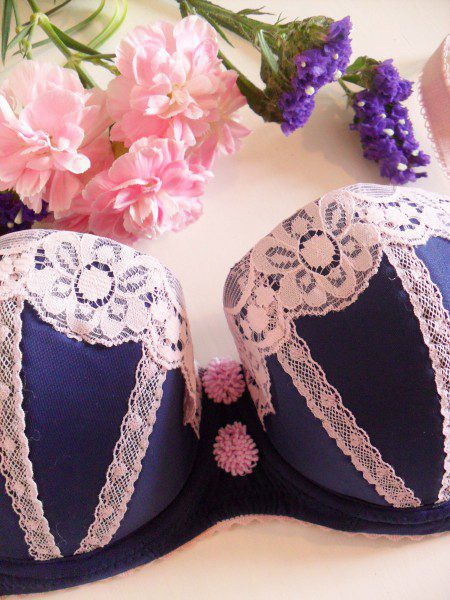 Construction
The CHP Klaudyna is a molded-cup bra with 2 vertical seams, hidden underneath the strips of pink lace. The straps are a nice, thick, sturdy elastic with picot edging, and they use coated metal hardware to adjust the length. The fabric I really like – it's super soft and lightweight making the knickers incredibly comfortable to wear.
Both pieces are stitched together well and the seams seem neat and durable. For some reason the inside stitching hasn't been colour-matched, so you can see purple zig-zagging all over the pale pink elastic – I point this out only because it was really weird to see (literally every other bra I own has colour-matched stitching inside because it looks neat) but it's on the inside so it doesn't really matter. Only you are going to see it!
One of the best things about this bra however is the pads inside the cups. They're removable, though sewn in place so you'd have to cut them out. They're intended to help even out asymmetrical breasts (more common than you may think) by removing just the one, but they also mean that if you go up a cup size you can just remove them altogether and the bra will still fit.
Verdict: 8 / 10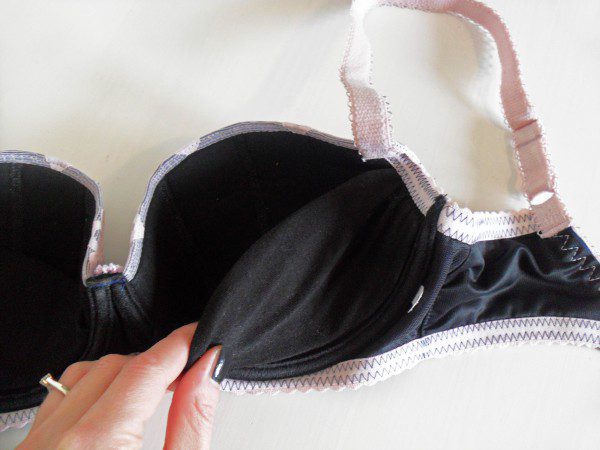 Fit
Ewa Michalak bras come with a letter code which indicates the style – in this case, CHP is a half-cup, padded bra which Ewa Michalak describes as "suitable for every woman, regardless of the size and condition of her breasts". So a good starting point for someone like me who's unsure about the brand's sizing.
Although I typically wear a 30E, in anything molded/padded I tend to get a better fit in a 30DD. I have a full-on-bottom/shallow-on-top shape which means these rigid bras gape on me otherwise. I asked Aisha for some advice on sizing since I am new to this brand, and she suggested sticking with my regular size of 30DD (Polish 65DD).
And I'm very glad I listened, because although Ewa Michalak's size calculator puts me at a 30C/65C, the DD is a great fit! I've kept both removable pads in and it still gapes the tiniest bit on my smaller side, but on the other side the fit is spot on.
The bra gives me a very lifted, rounded shape and the 30/65 band is firm but very comfortable. As for the knickers, they're a EU 36 / UK 8 and a great, comfortable fit too.
Verdict: 9 / 10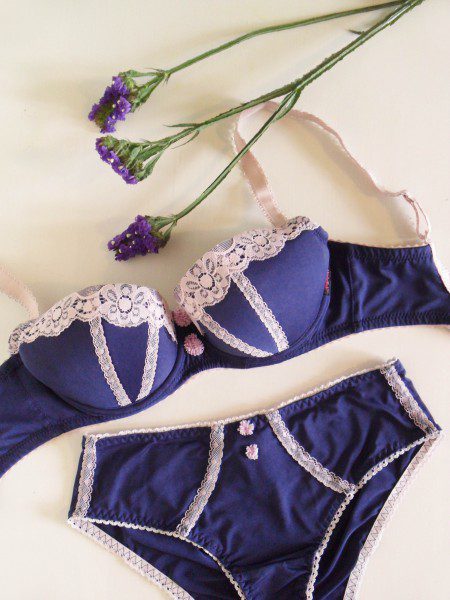 Durability
I received this bra set 5 weeks ago and have probably worn it about once per week since, and hand-washed it in between as per the care labels. It's held up perfectly to wear so far and still looks brand new!
Verdict: 9 / 10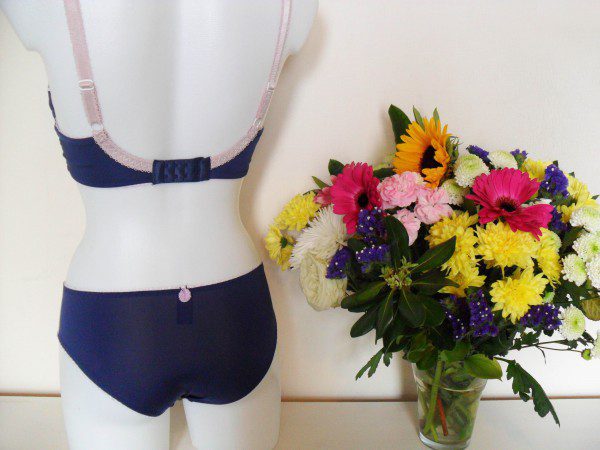 Value for Money
At Zathiya, the CHP Klaudyna bra costs $55 (around £38) and the matching bottoms come in at a very budget-friendly $18 (around £12). I think that's a very fair price for a set that's well-made, comfortable and super supportive.
Verdict: 8 / 10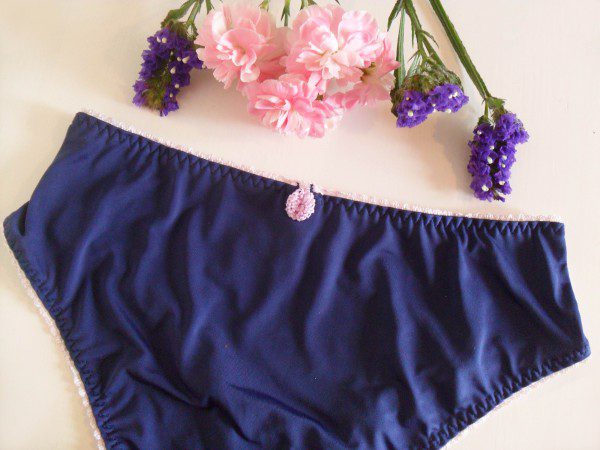 Final Thoughts
Although this is not a bra set I would have picked out for myself (I'm not a huge fan of purple, for no particular reason), I've been reaching for it constantly in my underwear drawer because it's just so comfortable to wear, and gives a great shape.
It arrived quickly to the UK – around a week from dispatch – and Aisha was great at helping me choose the right size, so don't hesitate to contact her if you're looking for size advice on one of her products. I'd definitely recommend shopping with Zathiya if you're looking to get your hands on some Ewa Michalak State-side with fast shipping and hassle-free returns.
What do you think of this CHP Klaudyna bra set? Do you have any experience with Ewa Michalak or Zathiya?