Disclosure: I won this set in a Twitter competition – lucky me!
Well here's an overdue review! Back in December I was incredibly lucky to win a Fleur of England Hot Chocolate set during their week of Christmas giveaways (and a chocolate goodie box from Craved, which was every bit as delicious as it sounds).
The prize included a push-up plunge bra and lace brief, though as with many Fleur of England collections, there's a whole range of coordinates to choose from including unlined and unwired bra styles. The set I'm reviewing today is also available in black, white and 'nude' (which appears to be something between light gold and powder pink – it looks like it'd be a good nude on very pale skin).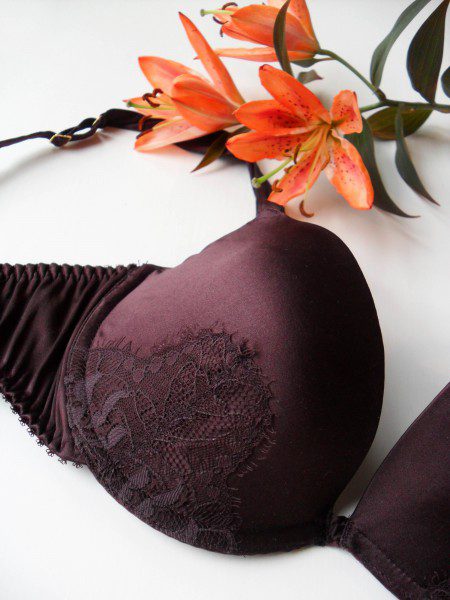 Appearance
The push-up bra from the Hot Chocolate collection is made from a glossy, dark brown silk with just a touch of lace detailing. The straps, like those on my Heiress set from Fleur, are made of wide, unelasticated silk at the front for a little touch of luxury. The straps do however need ironing after each wash to get them all lovely and flat again, otherwise they scrunch up and the effect is lost.
The matching knickers are gorgeous, made from the same, very beautiful lace as my Fleur of England Signature knickers – the main difference between the two is that the Hot Chocolate ones have a silk panel at the centre-back rather than being pure lace. The waistband at the back has a straight edge, but at the front the scalloped edge of the lace trims the top in a delightful, eyelash-edged ruffle.
Verdict: 6 / 10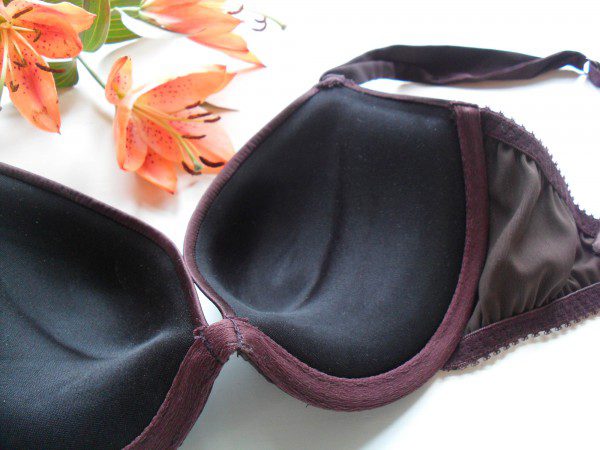 Construction
The Hot Chocolate bra is made in the UK, the brief is made in Portugal. The stitching is all small and neat and the fabrics are all of a luxury quality – except for the strap hardware, which appears to be gold-coloured plastic.
The bra is a plunge style, so it has a very short little gore between the cups, and has curved padding along the base and side of each cup to push both up and in. The band, which is silk on the outside, has a smooth polyester lining for added strength.
Verdict: 9 / 10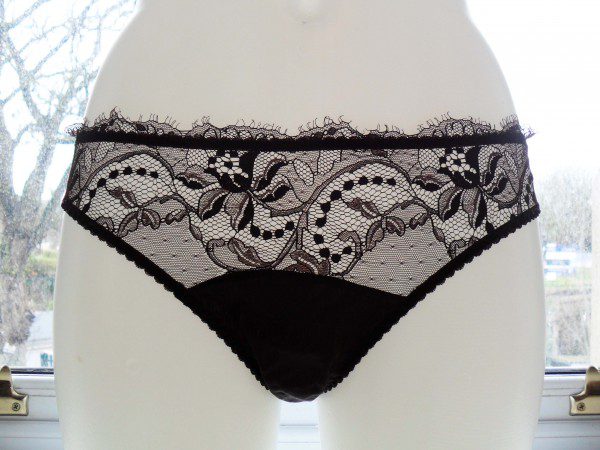 Fit
The knickers are a size Small or UK 8-10 – I wear a UK 6 currently but only a handful of Fleur of England knickers start at an XS. That said, they fit me very well. I've measured them against my Fleur of England Signature knickers (also a Small) and they are exactly the same size, but the Hot Chocolate ones use a stronger elastic with less stretch and so feel tighter on the body. I'd say that, despite the size label, they do actually fit like an XS or UK 6-8. I don't think they'd fit a UK 10 comfortably and recommend sizing up if you're on the upper end of a size.
As for the bra, well, I am still learning things about bra fit and my bra size even after five years of lingerie blogging! Generally speaking, I wear a 30E in unlined bras and a 30DD in molded/padded styles which would gape in my regular size. I tried writing a paragraph to explain why that doesn't apply to this low-cut plunge, but thought an illustration would be clearer!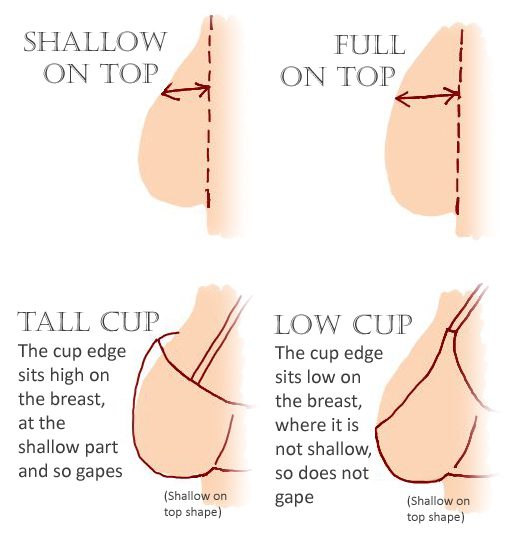 So, I asked for a 30DD what with it being a molded cup, but I'm practically falling out of it by the end of the day (through no fault of Fleur of England's – I chose the wrong size – so this isn't reflected in the score below). Also, the push-up padding gives a boost of about one cup size in case you're wondering.
Verdict: 7 / 10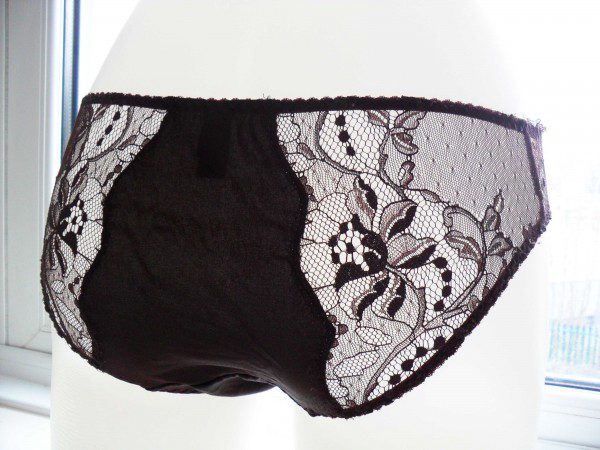 Durability
Generally when I'm writing reviews, I haven't owned the lingerie for that long. My only criteria is to make sure I've worn and washed a set at least three times before I review it.
However, as I mentioned I won this pre-Christmas so I've had it a good half a year, and despite the size issue I like it so I've worn it a fair bit. And you know what? It looks brand new! I've followed the care instructions to hand wash in cold water and neither the silk nor lace are showing any real signs of wear. I love it when a brand chooses fabrics that are as durable as they are beautiful.
Verdict: 10 / 10
Value for Money
Fleur of England's Hot Chocolate push-up plunge bra costs £80 (~$115 or ~102€), and the matching brief is £69 (~$99 or ~88€). It's a luxury splurge for sure, but the fabrics are gorgeous, the construction is excellent, and the set has held up incredibly well to daily life so I definitely think this is worth its price tag.
Verdict: 8 / 10
Final Thoughts
This is my third Fleur of England bra set now and I've always been impressed with the quality of their lingerie. Also, they're based right near me and manufacture some items in the UK, so yay for local lingerie!
What Fleur of England does well is luxurious classics. Though they have kicked off some of the biggest lingerie trends of recent years (think illusion tulle and appliquéd bralettes), I don't really see them as a brand to go to for of-the-moment lingerie. Rather, they're a place to find something understated and beautiful that will still be stylish 10 years from now.
What do you think of Fleur of England's Hot Chocolate collection, and the brand in general? Would you agree they're a great place to go for timeless lingerie design?