Disclosure: I bought this lingerie with my own money and was not asked to review it. This post contains affiliate links.
Marks and Spencer – the home of 'this is not just food' food, Percy Pigs, and lingerie. Can you believe I've lived in the UK for 26 of my 27 years, write a lingerie blog, and had never until recently bought underwear here?
M&S sell over 61 million pairs of knickers per year and claim that one woman in three owns a bra by them, and over their 90 years in the lingerie biz they've done some great things such as launching nude lingerie for multiple skin tones back in 2011, but I've always found their designs a little basic for my personal taste. They're the place to go for budget-friendly, everyday wardrobe staples apparently, but that's not really my thing.
Then, in 2012, model Rosie Huntington-Whiteley and M&S together launched Rosie for Autograph which quickly became the fastest-selling lingerie range in their store. Preconceptions are hard to forget though and I still didn't really pay the brand any attention, until I was in their café earlier this month across from the lingerie department and figured I may as well have a browse.
I was immediately drawn to two Rosie for Autograph bras in a glorious shade of red, and I also picked up this unlined balcony bra in a pinkish-cream to try on. The fit of the red ones didn't kill me but oh, the third bra! I left the shop devastated it wasn't red too and seriously considering buying one plus a packet of dye.
Well, silly me, it does come in red. And in black and a cool olive-and-cream combination. The one time I try lingerie shopping in a store and I still end up buying online!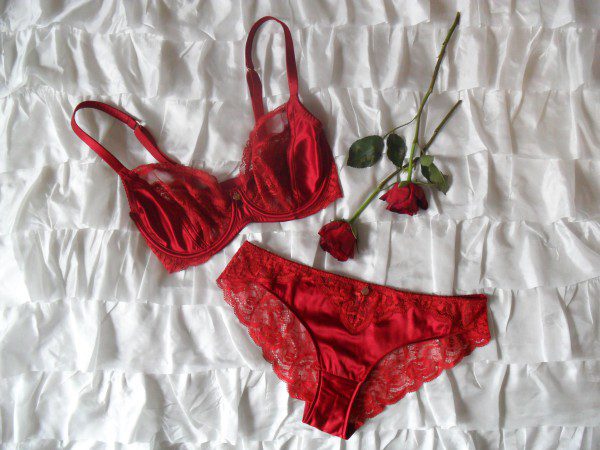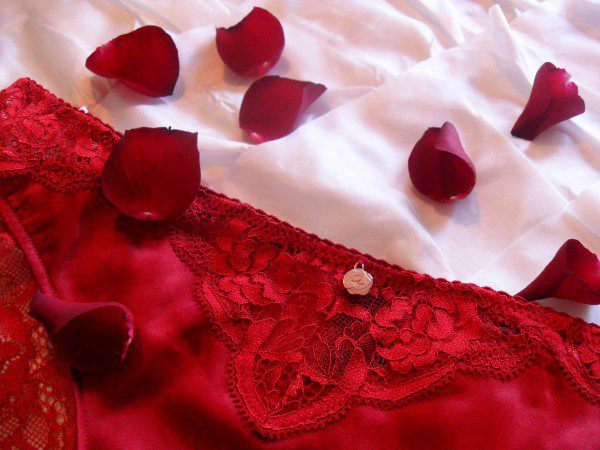 Appearance
The Silk & Lace Non-Padded Balcony Bra is an elegant affair combining lace, sheer mesh and silk, and the colour is glorious. Exactly the shade of red I have been hunting for a lingerie set in since forever ago – not too bright and orangey, not too dark and burgundy. Just a rich, deep, beautiful red.
The Brazilian brief-style knickers are lovely, with a wide lace trim, silk front and a little rose-gold charm like the bra. I know rose gold is everywhere right now and it's the 'cool' thing to like but I don't care, I love it and it works perfectly alongside this shade of red.
And then there are the French knickers. Soft, slippery, glossy silk with a little mesh and lace trim. Can you believe these are only £20?!
Verdict: 10 / 10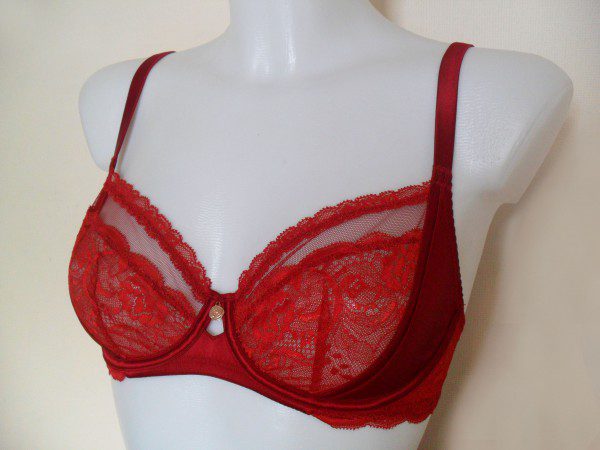 Construction
I expect a certain level of quality when I'm buying lingerie on the high-street, but this set exceeded those expectations. Everything is just perfectly sewn together with tiny little stitches, and the 'Rosie' embroidered elastic on the bra straps is a detail I certainly didn't think I'd find on a £26 bra. (Other, padded bras I tried on in the store had Rosie's signature imprinted into the lining). I can see why M&S is a favourite in the nation's lingerie drawers.
Verdict: 10 / 10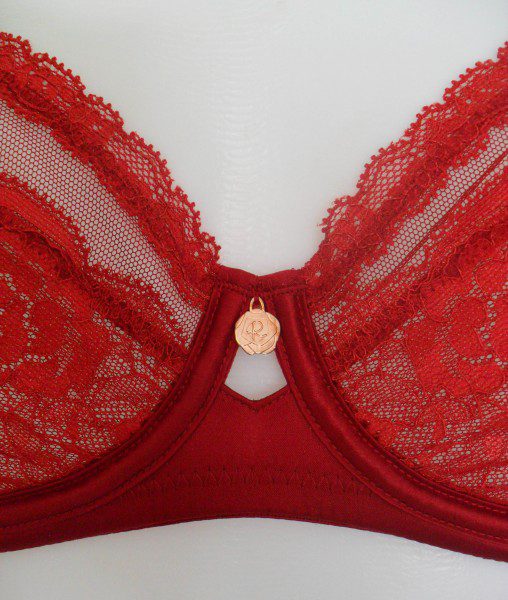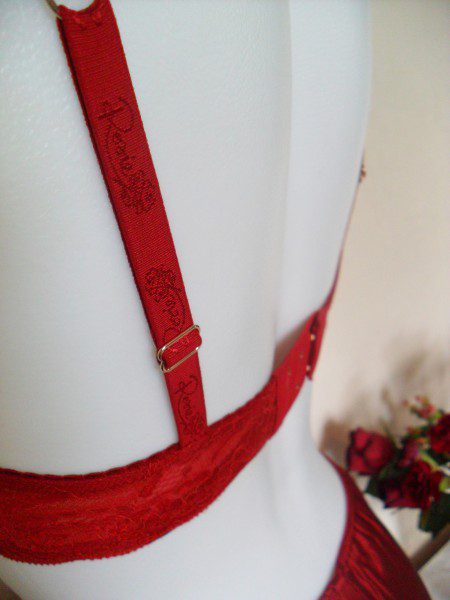 Fit
Either M&S doesn't carry Rosie's line in store in 30-bands, or they'd all sold out, so I tried on a 32D. It fit well but a tad loose in the band so I ordered a 30DD online, and I couldn't be happier with the fit. It's like the bra was made just for me! It's so comfortable I barely notice I'm wearing it too.
The matching briefs and French knickers I bought in my usual size of a UK 6 and they both fit true to size too.
Verdict: 10 / 10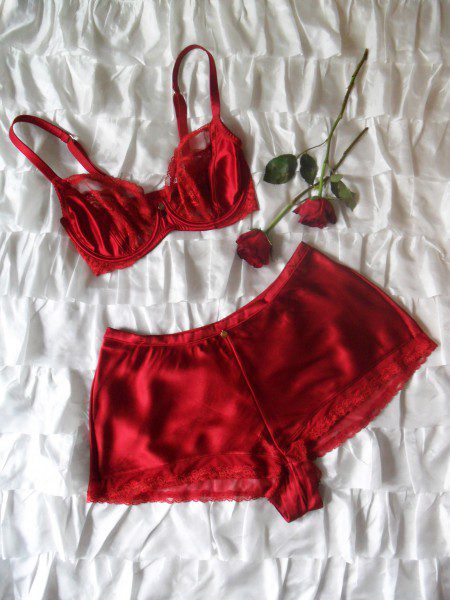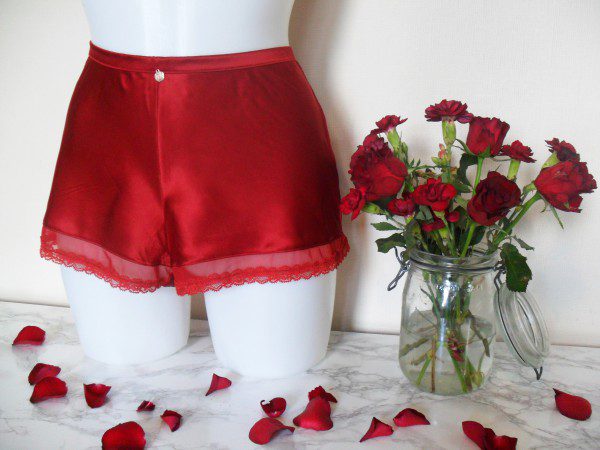 Durability
This is a silk and lace set with an underwired bra, and do you know what? It's all machine washable up to 40 degrees. I haven't tried that, I've only hand-washed the set, but I can tell you it doesn't leak a drop of dye which is so unusual for a silk this richly- and deeply-coloured.
Verdict: 10 / 10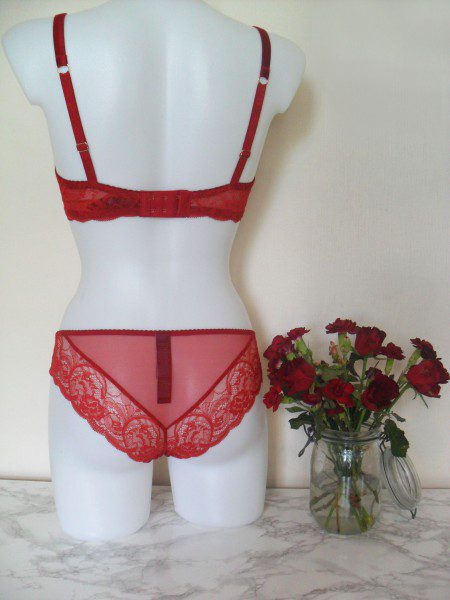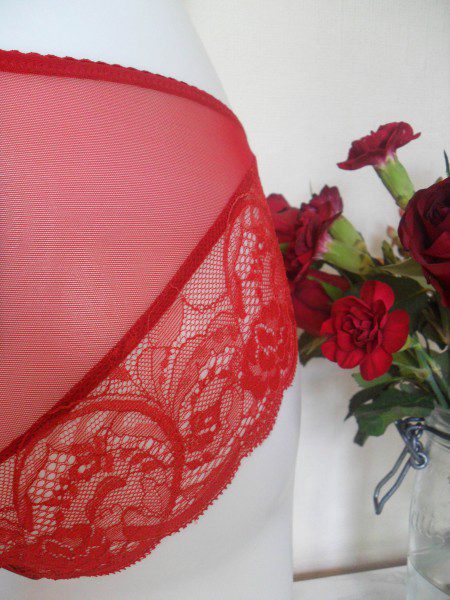 Value for Money
So here's the best bit – for the three-piece set I bought, you're looking at less than sixty quid! £26 for the bra, £20 for the French knickers and £12.50 for the briefs. This is only marginally more than they're charging for much less fancy bras – tons of Marks and Sparks' plain-looking t-shirt bras are retailing for £25 – but this one's beautiful, and it's silk.
£20 for the silk French knickers is an absolute bargain too – a quick Google search reveals similar styles by other brands at £20 and up in polyester satin.
Verdict: 10 / 10
—
Er, so, I just rated this 10 out of 10 for everything which is a first on this blog, and should tell you everything you need to know about my opinion of this purchase! The unlined bra is available here, the French knickers here, and the Brazilian briefs here, all in a variety of colours. Also in the same range are a padded balcony bra, padded plunge bra, padded 'beau' bra, shortie knickers, high-leg knickers, teddy, pyjama set, short chemise, long chemise and robe. You can't say M&S doesn't give you options!
What do you think of this bra set, and have you ever tried anything from Rosie for Autograph?