Disclosure: I bought this lingerie set myself.
Have you heard of German brand Escora? If not, that's understandable – they don't seem to do much marketing in the UK, or on social media for that matter. They've been around since 1862 but I never see their name pop up on any lingerie blogs or trade media, and after stumbling across the brand last year, I promptly forgot they existed.
Lately however they have appeared on one of my favourite flash sales sites, MySale, every couple of months. Sometime earlier this year – I forget when, but I've had this set for at least six months – one of those sales was happening and I took the opportunity to give them a go. I really love their aesthetic, but Escora is a luxury (i.e. pricey) brand and I was reluctant to pay full price when I couldn't find a single review online.
The Zohra range is still available to buy direct from Escora – the quarter cup bra is reduced from 99.95€ to 79.96€ (about £69 or $86), and the briefs are down from 54.95€ to 43.96€ (about £38 or $47). The Zohra range also includes a ton of other bra and bottom styles – I particularly like this bra and this one!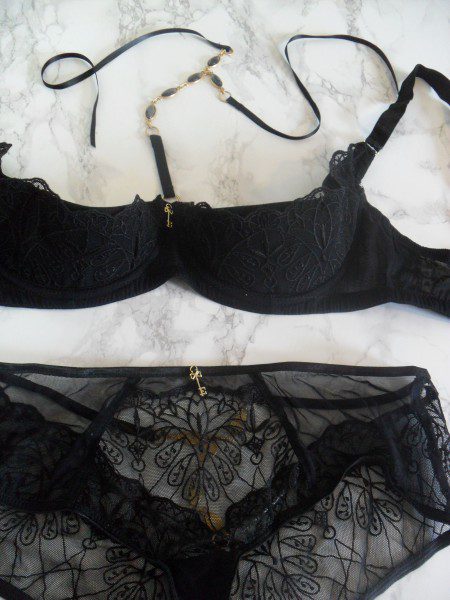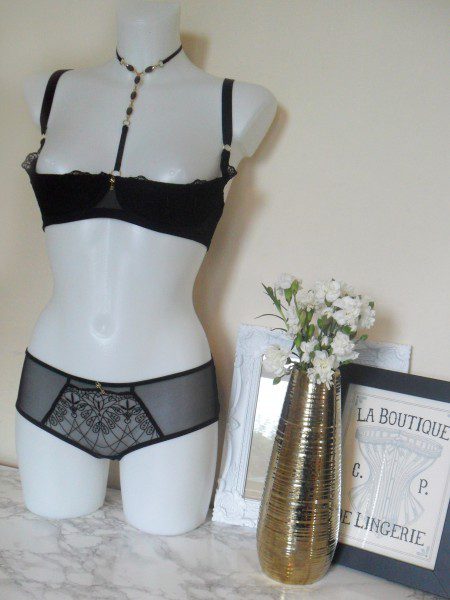 Appearance
Straight away, you can tell this is a luxury set. The embroidery is beautiful and unusual, and then of course there's the jewellery. Close-up, I wouldn't say this bit looks particularly expensive – the grey 'gemstones' look a tad dull and plastic-y – but they're gorgeous from a distance and do really add to the overall look of both pieces. The jewelled choker on the bra is detachable thanks to a discreet little hook inside the gore.
Another sign that this is a luxury set are the bespoke, gold-tone charms on both pieces with Escora's chic key logo. I like to pretend they're Es for Estelle!
Verdict: 8 / 10
Construction
The quarter cup bra has lightly-padded cups that end just below the nipple, overlaid with the embroidered fabric. The bra's wings, and the side panels on the front of the brief, are made from a sheer mesh that is wonderfully soft and stretchy. The knickers have silicone just inside the scalloped edge of the embroidery, to help keep them in place (as the embroidered fabric is not so stretchy).
The detachable choker ties around the neck with double-sided satin ribbon, but the bow I tie it in has an annoying tendency to undo itself. I think I'll end up replacing the ribbon with an elastic strap with a hook to fasten behind the neck. When I remember to get round to it, I'll also re-sew the Escora charm onto the knickers because it's been sewn on at a 45 degree angle and just refuses to hang straight.
Verdict: 7 / 10
Fit
I bought the bra in a European 70E which is equivalent to a UK 32DD (even though it says UK/US 32E on the label – that's wrong). That was my size at the time of purchase and it fit me great, however it still fits just fine now that I've dropped a cup size. The quarter cup shape is really rather flexible on size – even if it gapes a little, it still looks okay because, let's face it, the point of a bra that exposes most of your breast is not to be perfectly-fitting. So long as the wire is the right width, it'll be comfy.
The bottoms I bought in a European 34 or XS. Again, the label is confusing – it also says US 6 (which is a UK 10, and a S according to their own size chart) and UK 8 (which is equivalent to a US 4, not a US 6). Anyway, I think they fit like a UK 6, possibly a 6-8. Ignore their size charts and go by your usual European sizing.
This set is super comfortable. The quarter-cup, in case you're wondering, is actually really supportive and I forget it's not a normal bra. I feel totally fine wearing this all day long – I don't fall out of it or feel any 'bounciness'. The jewellery on the knickers clinks and jingles a bit though, so maybe not one to wear to work!
Verdict: 7 / 10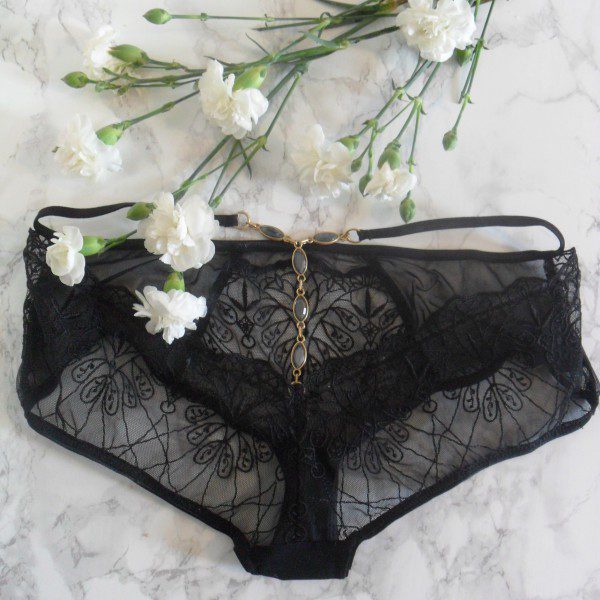 Durability
The Zohra bra and knickers are both hand-wash only, and after 6+ months of doing that they still look brand new.
Verdict: 9 / 10
Value for Money
I don't recall what I paid for this set, but as mentioned the original price was about £86 for the bra and £47 for the knickers. Expensive, yes, but on the lower end of luxury lingerie pricing even though it's made in Europe where production costs are higher than, say, China. Having seen the quality first-hand, I can definitely recommend it and think it's worth full price.
Verdict: 10 / 10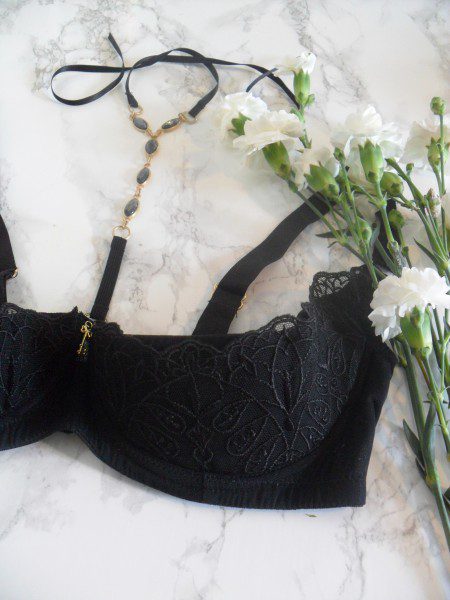 Escora is well worth checking out if you love luxurious, beautiful lingerie with a touch of eroticism. There are a lot of products available, though the site is a bit hard to navigate – there's no search function for one thing, but do a bit of digging and you'll find some gems. Click here, here, here and here to see what I'm most coveting!
Had you heard of Escora before? And have you ever tried a quarter-cupped bra?