Disclosure: This blog post contains affiliate links.
If you haven't started thinking about gifts for December 25th yet, now is a good time to start looking if you'll be shopping online. The postal system slows right down at this time of the year with the Christmas rush, plus ordering early gives you some time to return the gift and choose something else if you decide you don't like it.
My first gift guide of the year focusses on gifts that cost £25 or less. Most of these are small, stocking-filler type ideas, but I've also picked out a few larger pieces that offer great value and would make a lovely main present if this is your total budget. I've noted below which of these I'm recommending from personal experience, as I love four of the items on this list enough to have bought them for myself!
Tease Wildflower glitter pasties, $7.95 (~£6 / ~8€)
Ships from USA
These single-use pasties are a fun, sparkly stocking filler. They have a peel-off backing, so there's no need to bother with glue or tape.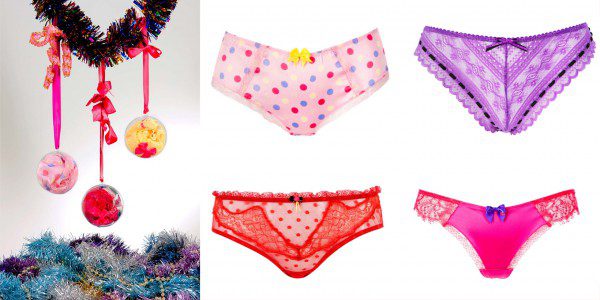 Tutti Rouge Knicker in a Bauble, £6.99 (~$9 / ~8€)
Ships from UK
You don't get to pick the style of knicker that you get with this one, just the size of course (which runs from XS to XXL), but surprises can be fun! At £6.99 this is a great value gift – why not buy a few to hide amongst the baubles on your tree?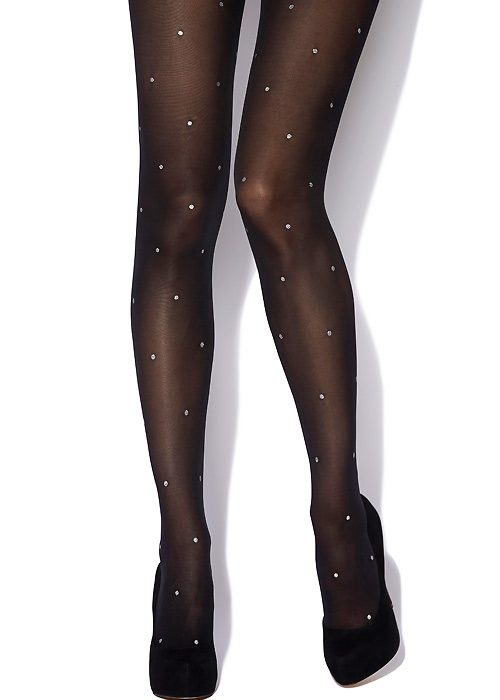 Charnos Sparkle Spot tights, £9.99 (~$12 / ~12€)
Ships from UK
Clothes all seem to get a bit sparklier at Christmas time, and these subtle, glitter-dot tights are a great, chic-but festive stocking filler. They're available with gold or silver jewellery (hint: if you know your giftee tends to weather either silver or gold shoes/jewellery to parties, choose that colour).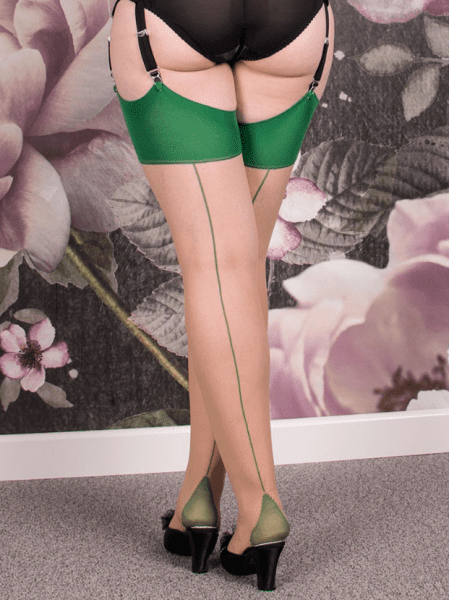 What Katie Did retro seamed stockings £10 (~$12 / ~12€)
Ships from UK
What Katie Did's retro seamed stockings are some of my favourite hosiery, I own multiple pairs and highly recommend them. If you're buying for someone who wears a lot of colourful lingerie, these are a great option – as well as green, they come in blue, burgundy and red, plus some more neutral colours.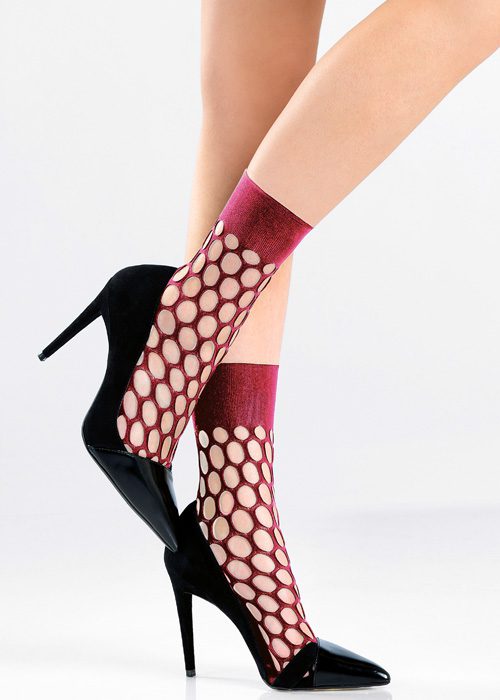 Pierre Mantoux Sibilla socks, £11.99 (~$15 / ~14€)
Ships from UK
Yeah, I know, socks for Christmas. Original right? But this fun, fishnet design is not your normal pair of socks! Other colours are available, as well as tights (which still come in at under £25).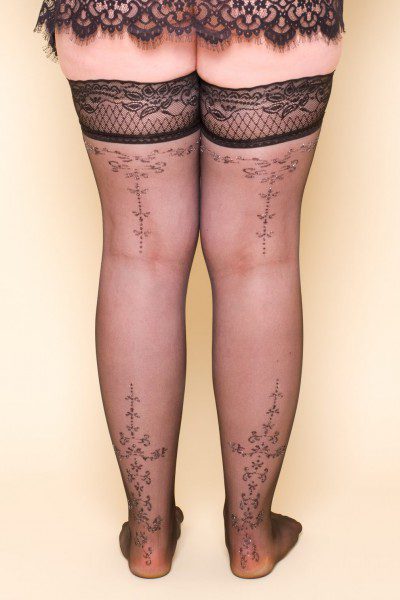 Viva Voluptuous Sparkly Lizzy Hold-Ups, on sale for £12 (~$15 / ~14€)
Ships from UK
Available in size XL only, these sheer hold-ups feature gorgeous, glittery detail at the high and ankle that is perfect for those Christmas and New Year parties! The sale price is valid for a short while longer, after which they'll be back up to £15.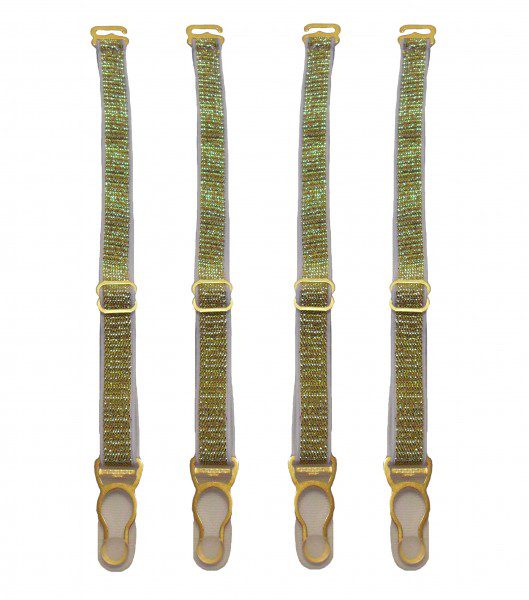 Esty Lingerie sparkly gold suspenders, £12.99 (~$16 / ~15€)
Ships from UK
This is one of my own creations. Another festively-metallic stocking filler, they're hand sewn and use gold-plated hardware. They can be worn with most knickers, basques and corsets that come with detachable suspenders.
Bluebella Tala chemise, on sale for £15 (~$19 / ~18€)
Ships from UK
I bought this chemise for myself. I haven't gotten round to reviewing it yet (or wearing it for that matter), but I can tell you that it is an absolute bargain at just £15. If you're looking for a gift that looks way more luxurious than it actually costs, this is the one! Another delightfully shimmering option.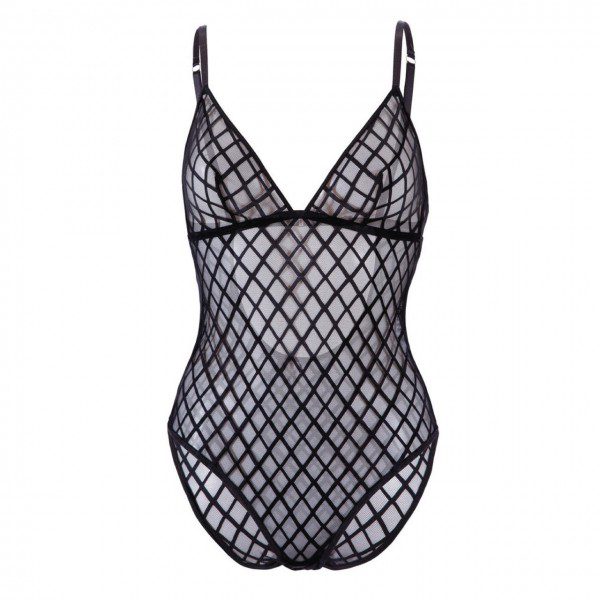 Bluebella Thea bodysuit, on sale for £15.20 (~$19 / ~18€)
Ships from UK
Is your recipient's style more sleek and athletic than sparkly and lacey? I also love this understated bodysuit with its graphic diamond mesh. Available from a UK 8 to 18!
Trasparenze Platino floral tights, £15.99 (~$20 / ~19€)
Ships from UK
I bought these tights recently and they're wonderful! The bright, colourful floral design is so unusual and eye-catching, which makes these a great gift. From my experience, I'd recommend buying your giftee a size up from what the size chart suggests, especially if they're tall.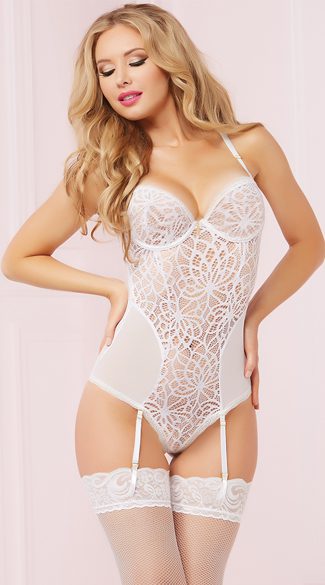 Seven 'til Midnight crochet bodysuit, $23.95 (~£19 / ~23€)
Ships from USA
This is a really pretty bodysuit for the price! It has a nice cut-out back with strapping detail too. It's available from S to XL, though as it has wired cups and isn't sold by cup size, I would note that it's unlikely to fit someone with a very full bust.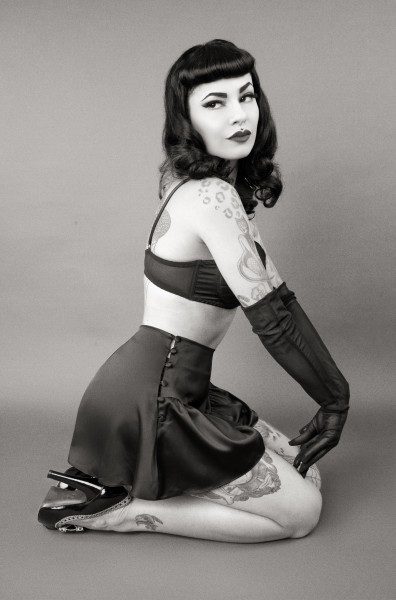 Playful Promises satin tap pants, £19.99 (~$25 / ~24€)*
Ships from UK
These delightful tap pants are from the Bettie Page by Playful Promises collection, and are just wonderfully swishy and fabulously retro.
Rosie for Autograph at Marks & Spencer silk French knickers, £20 (~$25 / ~24€)
Ships from UK
I reviewed the red version of these tap pants recently, here, and could not fault them! They are really such a bargain for £20. They're silk but the same price as you'll find similar styles in cheaper polyester fabric for. As well as the red, they're also available in black. Sizes from UK 6 to 20.
Escante Inner Goddess bodysuit, $25.95 (~£21 / ~24€)
Ships from USA
The metallic accents on the lace give this bodysuit a luxe touch – I was surprised at how affordable the price tag is! It comes in sizes S-L, and thanks to the stretch fabric there's a good chance of it fitting your recipient well even if you don't know their exact dress size.
Olivie Seven lace-trim knickers, $30 (~£24 / ~28€)
Ships from Croatia
How lovely are these knickers? They're handmade too, perfect for an ethically-conscious giftee.
Gio fully-fashioned cuban heel stockings, £24.99 (~$31 / ~29€)
Ships from UK
If you know the person you're shopping for loves stockings, then you really can't go wrong with a fully-fashioned pair. I like this fun blue colour for something a little bit different, but they also come in a light beige colour and in a darker bronze.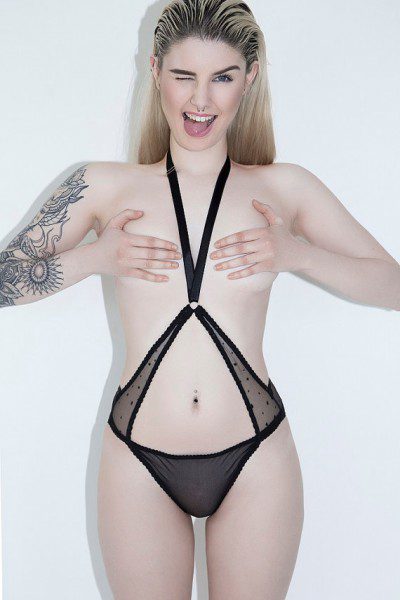 ColieCo Jessica harness knicker, £25 (~$31 / ~29€)
Ships from Portugal
Know someone who loves the strappy lingerie trend? Available in XS to XL, this handmade knicker combines sheer and polkadot mesh, and will be easy for your recipient to mix-and-match with whatever black bras they already own.
Will you be treating someone to anything from this list? If you're planning to spend over £25, check back soon for my next gift guide covering items costing up to £50.