Disclosure: Links with a * are affiliate links.
There's something particularly lovely about owning a garment that was made just for you, but we don't all have the budget for bespoke lingerie and sleepwear. That's where custom embroidery offers a nice alternative – it's way, way cheaper than ordering something truly bespoke, but still feels more special than a purely off-the-rack item. Whether it's personalised pyjamas with your name on the pocket, or a silk camisole monogrammed with your initials in a fancy font, these are the types of pieces you'll want to hang onto forever, because they're uniquely yours.
Of course, you can treat yourself to custom-embroidered lingerie – why not? – but it's also particularly fantastic for gifting because it comes across as especially thoughtful. (In fact, this blog post idea was inspired by me searching for Mother's Day gift ideas). Many of the cheaper brands that make personalised robes are targeted towards bridal parties, but this is the kind of thing that's also great for Valentine's, the holidays, birthdays, or just as a surprise 'I care about you' gift!
To help you shop, I've rounded up 25 brands offering monogrammed sleepwear and lingerie, for various budgets. Most of what's out there is pyjamas or robes, but there are a few options here if you're looking for lingerie garments such as bra sets, camisoles or chemises too.
For each brand, I've noted whether they charge a fee for custom embroidery and how much it is, but you can find out more information via the website links such as colour and font options. Be sure to check both the returns policy and size chart too, as well as reviews if they're available – adding a monogram will almost certainly make your purchase non-refundable, since it can't be resold to someone else, so the last thing you want is to get the size wrong. If you're shopping as a gift, I always recommend robes when in doubt as they usually have a decent amount of sizing flexibility.
Olivia von Halle
I'll start with the most luxurious brand on this list. Based in the UK, Olivia von Halle is a premium silk sleepwear brand. Don't let the simple ivory and black colour palette of the set above fool you; Olivia von Halle also offers some of the most fun and fabulous prints in the luxury sleepwear industry, from sea creatures to cartoon clouds. Silk satin and silk habotai pyjama sets can be ordered with standard embroidered monogramming directly from the product page, at a cost of £18 per letter (max. 7 letters). Notably, they are the only brand on this list to offer Arabic script as an option. You can also contact the brand to discuss other customisation options such as glitter monograms.
Morgan Lane
Based in the US, Morgan Lane is a lingerie and nightwear brand for those who like things luxe yet kitschy. For $45, they offer custom embroidery on a range of garments from pyjamas to eye masks, which can be a monogram of up to 3 initials or a name of up to 12 characters. In keeping with their aesthetic, you can also add a heart, star or cloud-shaped frame around your monogram, and replace some of the initials/characters with embroidered designs such as flowers or hearts.
Extra Special Touch
Extra Special Touch is a UK-based handmade brand creating personalised keepsake items for weddings – everything from handkerchiefs to bridal garters made from Nottingham lace. As part of this, the designer offers personalised lingerie* in ivory silk and lace which can be monogrammed with one or two initials in a wide range of colour choices (already included in the price). Perfect for anyone who likes the colour white, not just brides!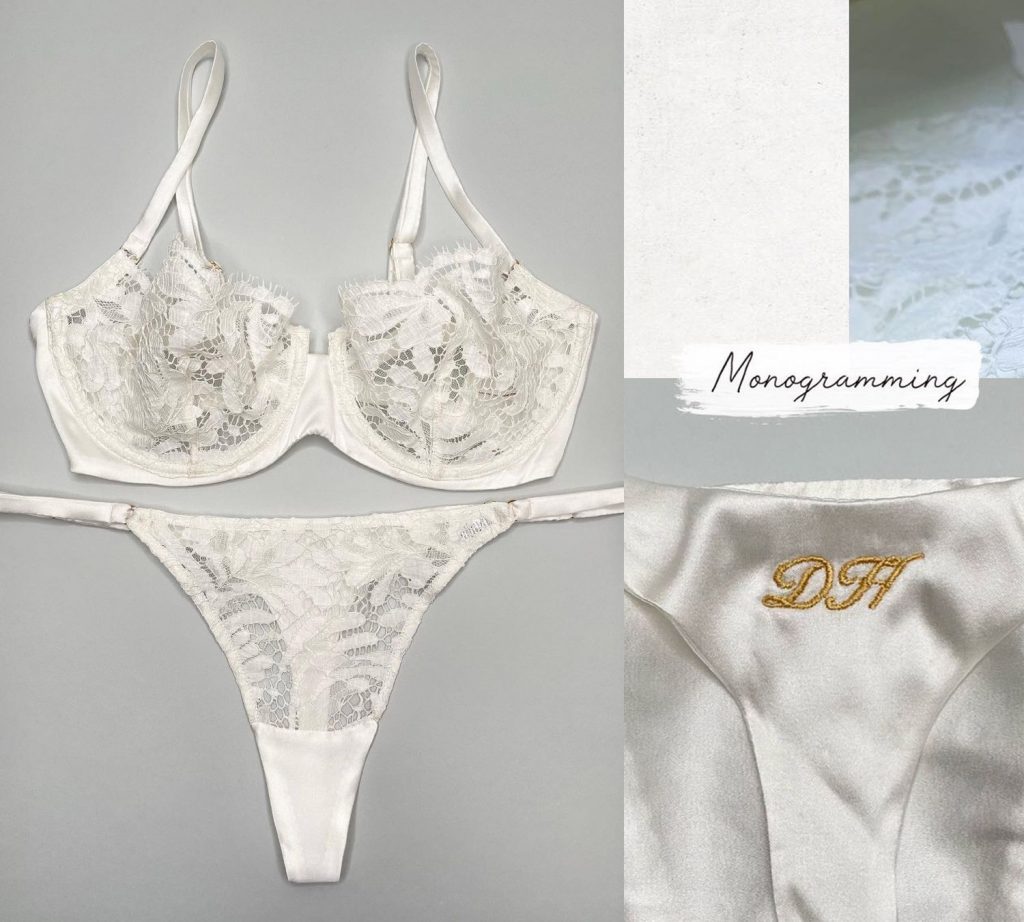 Fréolic London
Fréolic London is a boutique lingerie brand offering semi-bespoke bra sets in silk and lace. I recently reviewed their lingerie here – it's impressive! Use their customiser tool to choose your preferred colours, fabrics and garment shapes, and at the end you have the option to add embroidered initials for a £40 fee.
La Perla
You've no doubt heard of this high-end Italian lingerie brand, but what you may not know is that they offer free monogramming (up to 3 initials) on a selection of their silk satin nightwear pieces. (Note: it's described as hand-embroidered but judging by the images, I'm somewhat doubtful that's the case).
Stephie Ann
A brand that is offering hand embroidery (and yet, still one of the most affordable), Stephie Ann is an independent British brand created by a textiles designer. Focussed on gifting, she offers nightwear plus accessories such as eye masks, socks and scarves, with many items able to be personalised with your choice of initials, name, or short message. The amount of text possible varies from garment to garment based on the space available, and so does the price, but it's surprisingly affordable – as little as £4 on certain items! If you're looking for a personalised gift that's particularly unique, on her website you will also find pyjamas that can be embroidered with a 'secret message' inside the neck.
Bonsoir of London
Founded in 1926, Bonsoir of London is a British brand offering classically-designed, finely-crafted loungewear in fabrics such as cotton, silk, cashmere and wool. An up-to-4-initial monogram can be added for a £15 fee. Their website describes this service as for "silk pyjamas and wool robes" but I'm not sure if those are just examples or the only options.
Mjrever
A handmade brand from Lithuania, Mjrever* offers pyjamas and robes in velvet and silk-blend satin, all of which can be embroidered with your choice of one or two initials at no extra cost.
Lazy Girl Lingerie
Lazy Girl Lingerie is a handmade brand from Australia whose product range includes a handful of sleepwear items* which can be personalised with your or your recipient's name. Customisation is already included in the price. Options include long and short satin pyjama sets and robes, in satin or cotton-bamboo-blend fabrics.
Always Sunday
Affordably-priced British brand Always Sunday specialises in monogrammed sleepwear, offering it for free on all of their pyjama sets and sleepshirts. Choose from one, two or three initials on the breast pocket, or a name of up to 10 characters just above it. All items are made from the same easy-care satin fabric.
Wulster
Wulster is a sleep and loungewear brand that has developed its own fabric, a satin made from rayon and viscose that it describes as lightweight and breathable. Many items can be personalised, though not their slips, robes or cami sets unfortunately. Knickers can be embroidered with up to 12 characters on the front or 10 on the back, pyjamas with up to 10 characters, bralettes with one or two initials (either embroidered directly onto the bra, or added as a decorative woven label) and shorts with 2 initials as a woven waistband label or up to 10 letters embroidered along the hem. It's not entirely clear from this brand's website where it is based or where it ships from, but it may be Malaysia.
Desmond & Dempsey
UK sleepwear brand Desmond & Dempsey is known for their cotton, linen and silk PJs in fun animal illustration prints, although they also have some lovely florals. All shirt-style pyjamas* (not robes, nightdresses or cami-style pyjamas unfortunately) can be monogrammed for free*, which is done on the pocket and can include up to three initials.
Seline Lounge
One of the most affordable brands on this list, US brand Seline Lounge creates monogrammed pyjamas, robes and accessories that are primarly targeted towards those shopping for bridal party gifts, although there's no reason you can't buy these for another occasion or just for yourself! Fabrics include satin, rayon and modal jersey, and you can buy the garments unadorned or choose from various embroidery placements which add a small fee to the price. You can also purchase embroidery add-ons* for between $5.40 and $12 if you want multiple placements, such as a monogrammed pocket plus a full name across the back.
Wanderluxe Sleepwear
Based in Australia, Wanderluxe Sleepwear is another brand that has created its own fabric, a modal and cotton blend that it says will "get softer over time". All pyjama tops, t-shirts, pyjama trousers, pyjama shorts, nightshirts and robes can be embroidered with up to 10 letters or one heart symbol at a cost of $20 (AUD) per garment.
Harlow & Fox
Harlow & Fox is a full-bust lingerie brand of the most luxurious sort. I have a couple of their bras and can attest to their beautiful fabrics, premium construction, and above all, exquisite glamour. All bra styles have silk satin straps, and for a £60 fee you can make the purchase even more special with a name, date or short message of your choice embroidered onto the inner side of one strap (or maybe the outside, you'd have to ask).
KIP.
KIP. is a US-based brand specialising in personalised nightwear made from Mulberry silk or cotton. You can have your purchase embroidered with one, two or three initials at no extra charge. Choose from classic button-through PJs or nightshirts with piped edges, or perhaps one of their short robes. Extra perfect for gifting, many items come with a matching travel/storage bag!
Jasmine and Will
Another one for those who like their nightwear classic, Jasmine and Will is an Australian sleepwear brand offering simple silhouettes in primarily cotton and linen fabrics. A selection of their garments can be personalised with up to 12 characters at no additional cost.
Derek Rose
Premium British sleepwear and loungewear brand Derek Rose is an equally great one to check out whether you're looking for a simple pair of cotton button-through PJs in a neutral colour, or a silk sleepwear set with a vibrant print. All garments with a breast pocket can be monogrammed, on the pocket, at a cost of £15 per letter with up to 3 letters. If you'd like, you can replace one or more of those letters with an embroidered heart symbol.
HA Designs
HA Designs is a budget-friendly British brand offering a wide range of personalised items, from slippers to phone cases. Their women's sleepwear collection* offers classic, long and short button-through pyjamas plus robes. Personalisation is optional but included in the price, and can be up to 15 characters. If you opt for a single letter, it will be embroidered in a large size.
Sarah Brown London
Shell-like scalloped edges are a recurring theme in Sarah Brown London's lingerie and sleepwear, which is handmade to order in the UK. For a £15 fee, she offers a custom monogramming service for her 100% cotton pyjama sets.
Land's End
If you're looking for sleepwear or loungewear with a more casual vibe, you might like the selection on offer at US retailer Land's End, whose tagline is "Let's get comfy". They have hundreds of pyjamas, robes and lounge garments* in fabrics such as flannel, fleece and cotton, which can be personalised with initials or a name (the character limit depends on the garment) for $8, or a pre-designed embroidered graphic also costing $8. If you'd like, you can add both!
Midnight Mischief
Australian brand Midnight Mischief specialises in affordable, personalised sleepwear, with the option to add up to 10 characters to your garment at no extra cost. Unlike some of the other brands on this list which only offer monogramming on their pyjama sets, all Midnight Mischief garments can be customised, meaning you can also choose from items such as feather-trim robes or lace-trim chemises.
Eve the Label
Eve the Label is a lingerie and nightwear brand based in the Philippines with some really lovely designs. They state that anything can be monogrammed, making them one of the only brands on this list to offer monogrammed lingerie (as opposed to sleepwear). It costs a very affordable 25 to 100 PHP per letter (approx. £0.36-£1.45) depending on the selected font and whether it is a machine-embroidered or hand-embroidered one. Due to being based in the Philippes, they offer some non-standard payment options such as bank transfer, but also accept PayPal for a 5% surcharge.
Made Wright London
British brand Made Wright London was created to offer classic, well-made pyjamas at an affordable price point, and specialises in soft bamboo fabric. All of their nightwear and colour-coordinated Mulberry silk eye masks can be personalised with your name or initials, at £6 for eye masks and £10 for larger garments.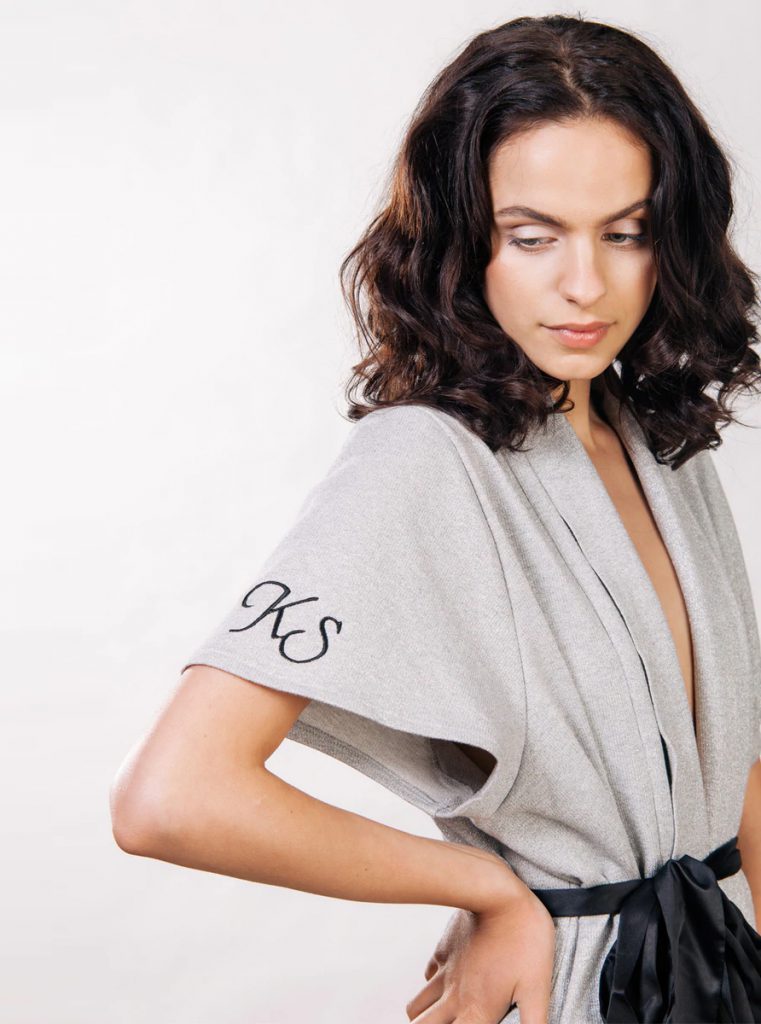 Kriss Soonik
Unlike all of the other brands in this article, independent Estonian label Kriss Soonik only offers monogramming on one specific item (so depending on when you read this blog post, it may no longer be an available service). At the time of writing however, you can add up to six letters to the sleeve of her Diana Wings Wrap, a cute little velour robe with insertion-lace wing motifs at the back. The custom embroidery is optional, but doesn't change the price.
What are your thoughts on personalised lingerie and nightwear? Would you gift it? Buy it for yourself?