Disclosure: This blog post contains affiliate links.
It's December and officially okay to start wearing your Christmas jumpers and playing Slade! If conversations with my siblings are anything to go by, many of you are just starting on your Christmas shopping, so it's time for another gift guide. Last week I shared my favourite gift ideas costing £25 or less, which were mostly small, stocking-filler type items.
If your budget is somewhere between £25 and £50 however, you can start to look at 'full size' gifts such as a pyjama set. At this price you're mostly looking at high-street labels, and the fabrics won't be particularly luxurious. But if you know where to look, there are some very pretty options! Here are my recommendations in ascending price order..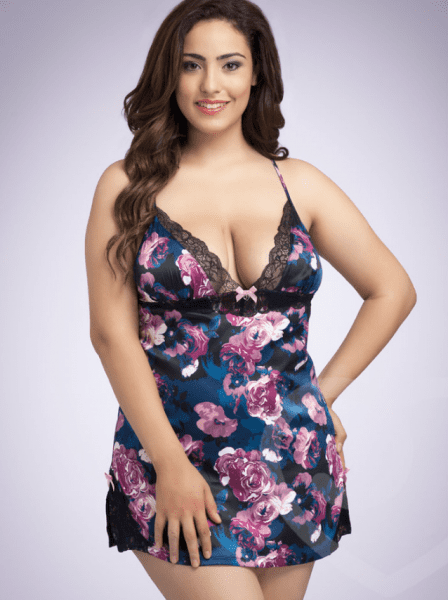 Lovehoney Midnight Bloom chemise, £29.99 (~$38 / ~35€) – plus size here
Ships from the UK (though I believe purchases made on the .com site ship from the US)
With it's slightly abstract floral print and lace trims on the cups and under the bust, this satin chemise is really pretty. Even better, it comes in a S-4XL.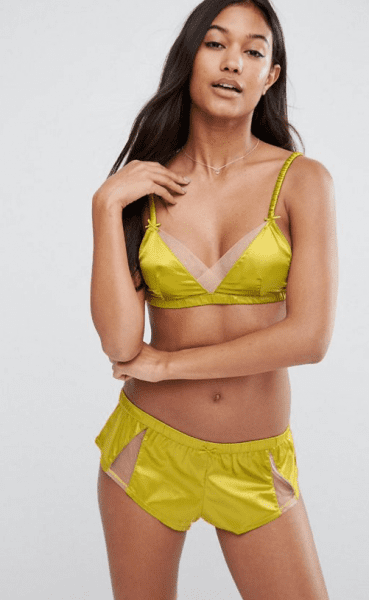 ASOS Blossom bralette, £18 (~$23 / ~21€)
ASOS Blossom shorts, £10 (~$13 / ~12€)
Ships from the UK
It's not silk, but it looks like silk. This chic bra set is a really unusual colour, perfect when you're looking for something that little bit different. There's also a thong available for a very budget-friendly £8.
Lepel Tamara bra & high-waisted knickers, £30 (~$38 / ~35€)
Ships from the UK
This glossy, D+ satin bra set touches on two current trends – strapping, on the cups, and velvet, in the trims – and comes in 30D to 38G sizes. The high-waisted knickers are available in a UK 8-16, and there's also a thong if that's more your giftee's style.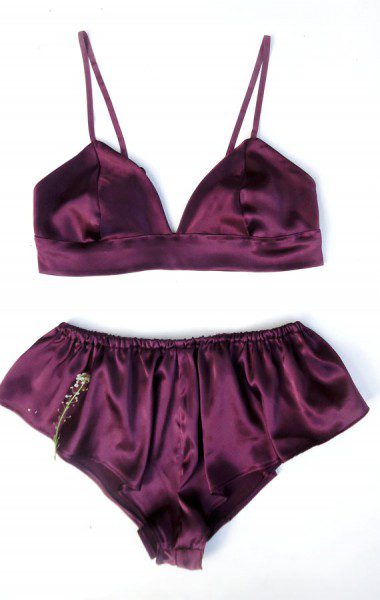 Garden of Delight bralette & French knickers set, $44 (~£35 / ~41€)
Ships from Ukraine
Okay, here is an incredible deal. Take advantage of the lower production costs in Ukraine and treat someone to a real silk bra set for far less than you'd pay from a UK brand! Do order soon though, as this set is handmade to order and will take 1-2 weeks to be dispatched.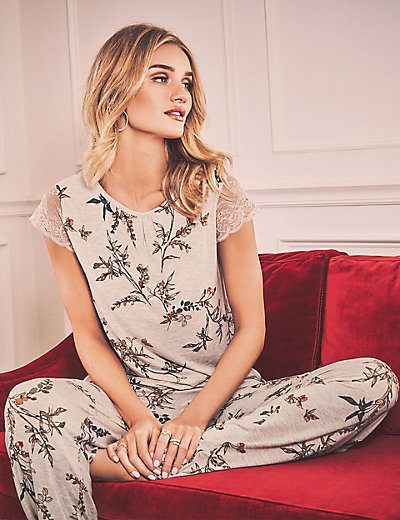 Marks and Spencer Rosie for Autograph pyjama top, £18 (~$23 / ~21€)
Marks and Spencer Rosie for Autograph pyjama bottoms, £20 (~$25 / ~24€)
Ships from the UK
Here's one for the giftee who loves comfy loungewear. This pretty PJ set is available from a UK 6-22, and for the same prices you can also get a 3/4 sleeve top and/or cuffed-hem bottoms, so you can really make sure it suits their personal style.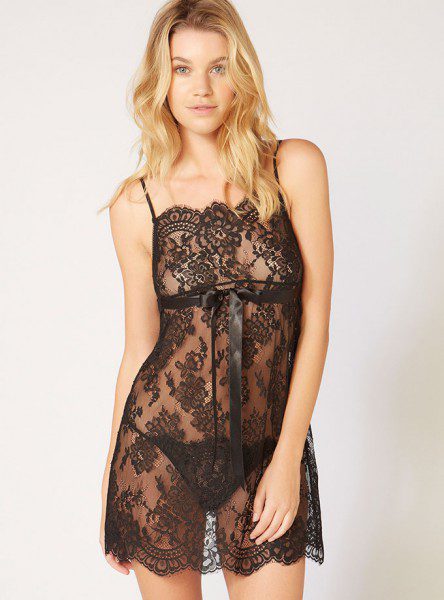 Boux Avenue Latisha chemise & thong set, £38 (~$49 / ~45€)
Ships from the UK
If your recipient loves lace, you'll be hard pressed to find anything as pretty as this chemise for the same price! With scalloped trim at the bottom and top, it looks more luxurious than the price tag suggests – and the matching thong is actually pretty too, not just a boring throwaway one.
Kiss Me Deadly Asa nipple tassels, £39 (~$49 / ~46€)
Ships from the UK
I mostly covered the stockings fillers on the £25 and under gift guide, but here's a more luxurious idea when you really want to treat someone – bejewelled pasties! They have detachable tassels, and are fully reusable.
Esty Lingerie Trailing Flowers suspender belt, £39.99 (~$50 / ~47€)
Ships from the UK
Here's one from me! This suspender belt is 100% hand sewn by me, and it's proving rather more popular than I anticipated. So popular in fact that it's sold out in all but one size right now, but I am sewing more this weekend. With its graphic black lines, it can easily be paired with a black bra set – or a red one of course.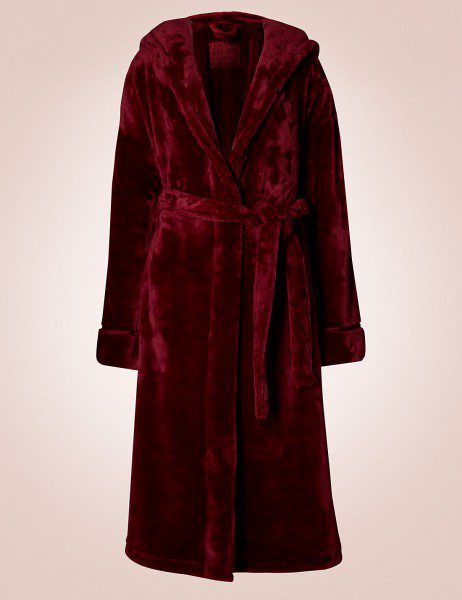 Marks and Spencer Rosie for Autograph dressing gown, £40 (~$50 / ~47€)
Ships from the UK
Who doesn't love a snuggly dressing robe when the temperatures drop?! Available in both standard and long sizes and in sizes to fit up to a UK 22, this one's made from a plush fabric in the most divine shade of red!
Intimissimi lace slip, £42 (~$53 / ~50€)
Ships from Italy
Available in S-L, this pretty slip features an unusual, leafy, stretch lace – perfect for someone who likes pretty sleepwear.
Boux Avenue Malika bra, £32 (~$40 / ~39€)
Boux Avenue Malika thong, £14 (~$18 / ~17€)
Ships from the UK
Buying for someone who likes to be on-trend and likes lingerie with a twist? This cool, crossover neckline is definitely eye-catching, and will be unlikely anything they already own! It comes in 30C to 36DD and the thong from a UK 6-16. For an extra £1, there's also a brief available.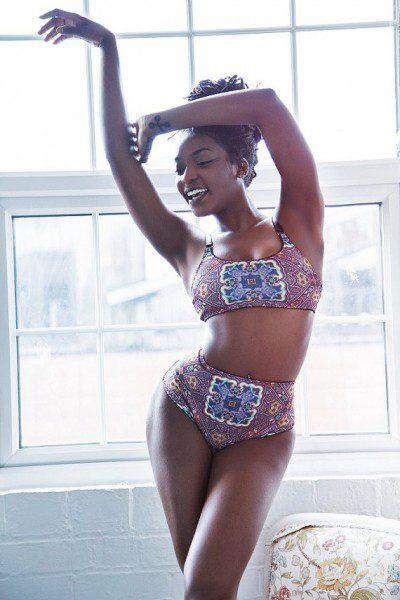 ColieCo Kelly bralette, £26 (~$33 / ~31€)
ColieCo Kelly knickers, £22 (~$28 / ~26€)
Ships from Portugal
One for the person who's addicted to prints! This slightly athletic-looking bralette is made from a firm scuba fabric and would also make a great gift for someone who does yoga, pilates or another low-impact sport.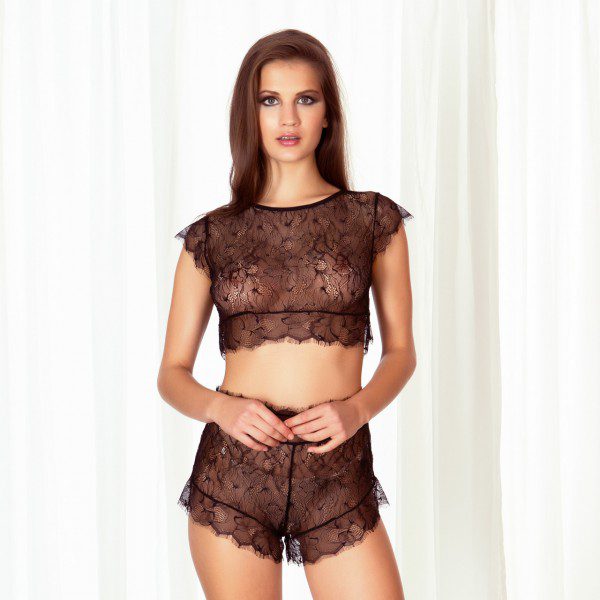 Bluebella Emily top & shorts set, £48 (~$13 / ~12€)
Ships from the UK
Another one for someone who loves a bit of lace! Know someone who loves cropped tops? With a bra or bandeau underneath this one will double as gorgeous outerwear come next summertime, so it's almost like two presents in one right?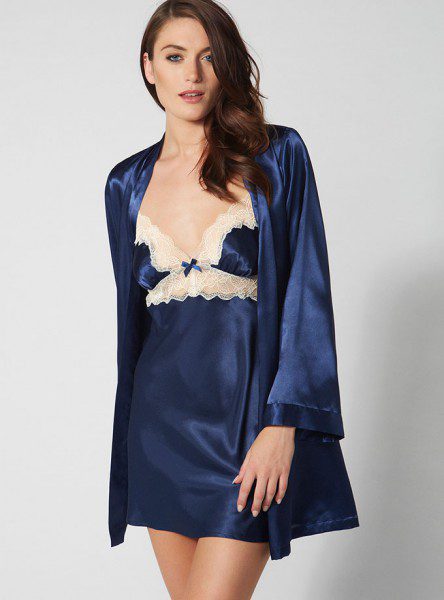 Boux Avenue Kiki chemise & robe set, £48 (~$13 / ~12€)
Ships from the UK
This 2-piece set is available from a UK 6-18. The elegant midnight blue and antique ivory combination is perfect for winter, though it's also available in plum.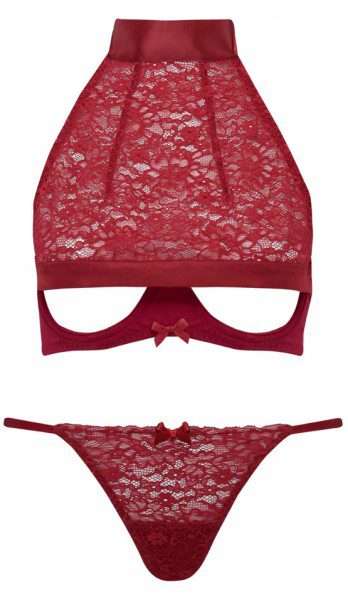 Coco de Mer Red Room bra, £35 (~$44 / ~41€)
Coco de Mer Red Room thong, £15 (~$19 / ~18€)
Ships from the UK
Know someone who's dreamed of owning Coco de Mer lingerie but it's forever been out of reach financially? Then check out their new, cheaper diffusion line in conjunction with Fifty Shades of Grey. This bra is a more affordable version of their £165 Angelica bra – the fabrics are not so fancy of course, but it's no less sexy! If your budget will stretch to an extra fiver, the matching peekaboo brief is well worth the additional cost (unless your giftee is a fan of thongs of course).
Karolina Laskowska Ara knickers, £50 (~$63 / ~59€)
Ships from the UK
Luxury, independent brand Karolina Laskowska is a firm favourite amongst fans of handmade lingerie. Whilst a full set might be out of reach if you're working to a £50 budget, it's just the right amount to get these metallic leavers lace knickers, with the designer's signature crossover front. Your giftee can easily pair them with a black bra they already own.
Boux Avenue Peta pyjama set, £50 (~$63 / ~59€)
Ships from the UK
A pair of button-down pyjamas is a classic Christmas gift, but that doesn't mean it's boring; the burgundy satin and pretty lace trims make this set special enough for gift-giving. It's available from a UK 6 to 18.
Thanks for reading and I hope it helps you find a present someone you know will love! If you're debating spending a little more, stay tuned for my next lingerie gift guide covering treats costing up to £100.