Disclosure: I purchased the SockShop, Pretty Polly and Charnos tights myself. The Falke and Oroblu tights were gifted to me by Luxury Legs. This blog post contains affiliate links.
We're well and truly into winter here in Bristol now. I walk my son to nursery and then two more miles to work early in the morning, and lately the ground has always been coated in frost. As someone who almost exclusively wears skirts and dresses, not trousers, right now hosiery is not optional.
In the past, I've just worn regular, opaque black stockings and tights through winter, plus socks on the coldest days. However, I have Raynaud's and, possibly as a result, never make it through winter without suffering from horrible chilblains on my toes – finding a better hosiery solution was well overdue!
As I'm sure I've mentioned previously, I'm not a huge fan of tights – it's mostly an aesthetics thing, but I also have sensitive skin on my legs that can get really irritated by having too much hosiery clinging to them. However, no one appears to have invented thermal stockings yet (gap in the market here guys! You make them, I'll buy them) so tights it was. Before I get onto the reviews, I wanted to note that I found all five of these tights significantly less itchy and annoying than these things usually are. It must be all the soft, brushed linings! So, fellow sensitive-skinned people, thermal hosiery is possibly something to look into even if you don't need the additional warmth.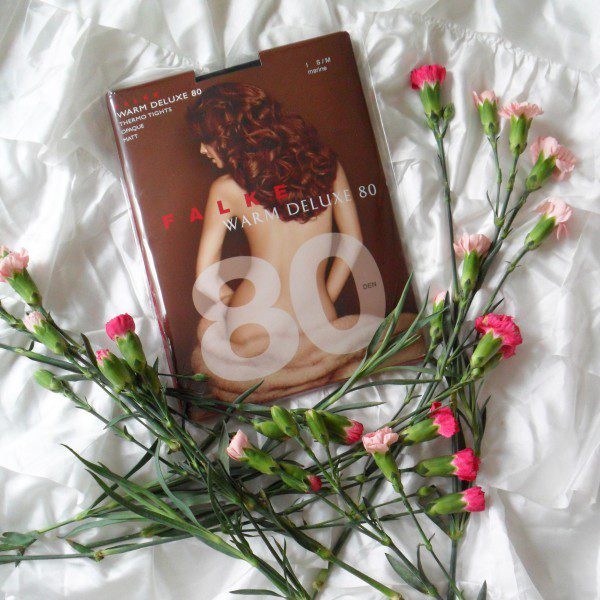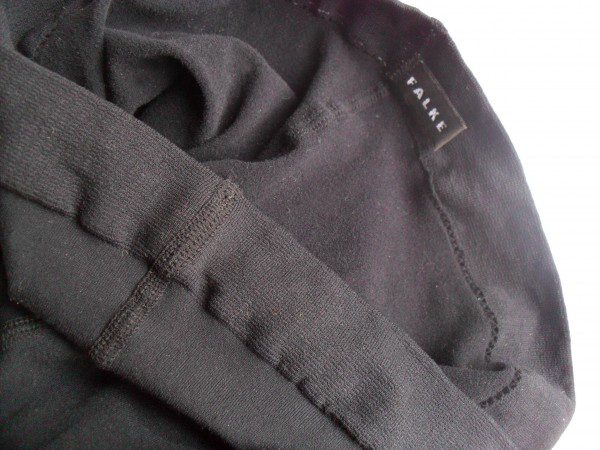 The 80 Denier Pair – Falke Warm Deluxe
Buy here from Luxury Legs for £27
These tights have a plush finish on the inside which they claim creates an air cushion to conserve heat. I was sent these in Marine Navy and if you look at them in the right lighting, and scrunch your eyes up a bit, I suppose they have a blue-ish tinge, but they are for all intents and purposes black tights.
These were the lowest-denier pair that I tried but also the most expensive, so I really didn't know what to expect. Sadly, I didn't find these any warmer than my regular, non-thermal opaque tights.  They do feel super soft and high-quality, and I'm sure I'll get plenty of wear out them in the early spring, but I'm afraid I don't think simply having a plush lining is enough to qualify as thermal. Great tights, but not great thermal tights.
3 / 10
Update 02/04/2017: Despite gentle hand-washing, these tights are now pilling all over after only around 10 wears. I've been pretty disappointed in the quality and would no longer recommend them even as non-thermals, especially given that the brand is not a cheap one.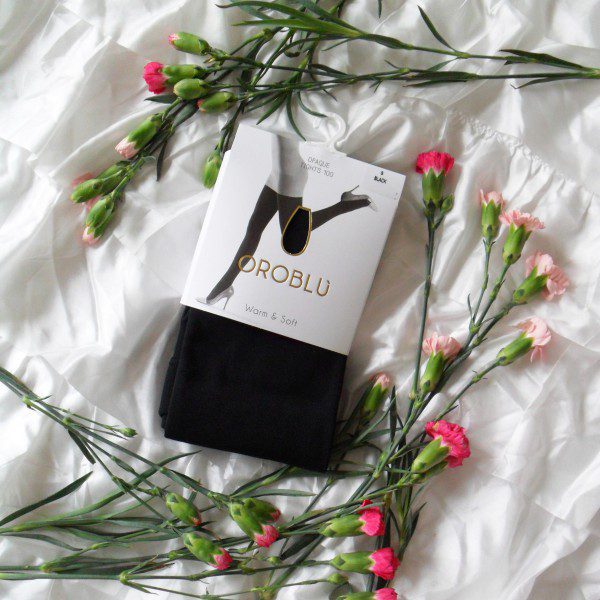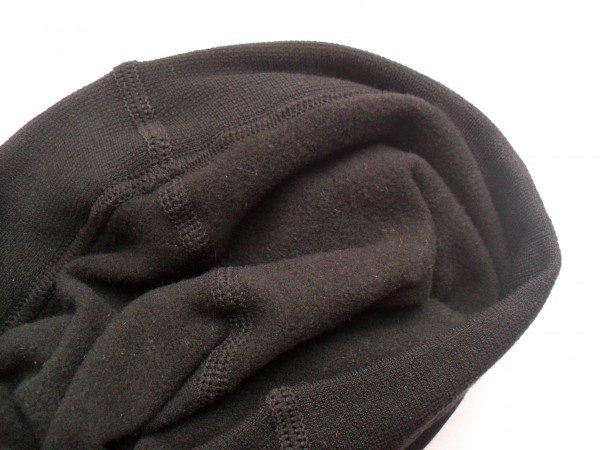 The 100 Denier Pair – Oroblu Warm and Soft
Buy here from Luxury Legs for £17
These tights have a 'micro fleece' lining. It's a thicker, fuzzier lining than on the Falke tights above, and oh my it's soft! These tights were incredibly comfortable and, in my opinion, just as warm as the 140- and 200-denier pairs below.
You will also see if you read on that there were things I didn't like about the appearance of the final three pairs, whereas these Oroblu ones are just very plain, standard black tights. For these two reasons, the combination of warmth and aesthetics, this was my favourite pair of the lot.
10 / 10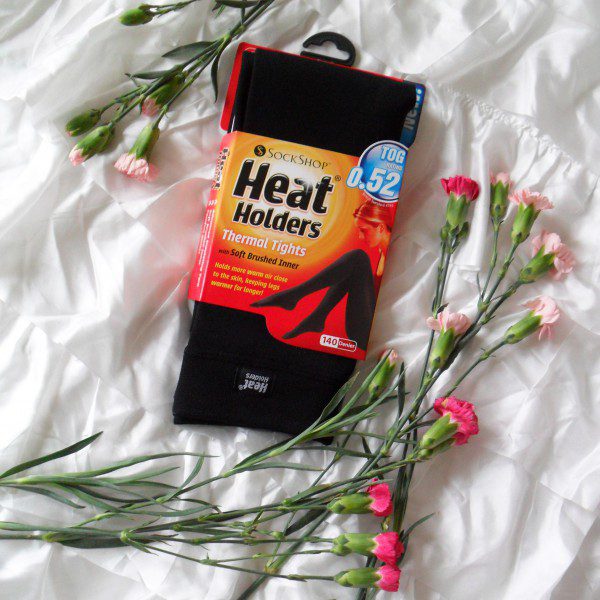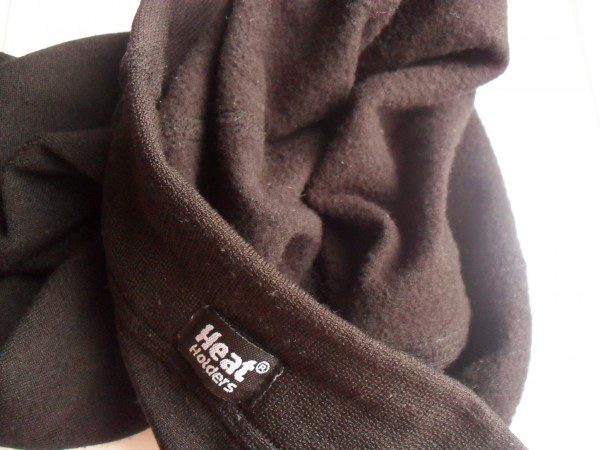 The 140 Denier Pair – SockShop Heat Holders
Buy here from Sock Shop for £8.99
The Heat Holders brand is a SockShop exclusive, and after initially focussing on thermal socks they've branched out into tights and leggings. The brand claims they are 0.52 tog, though that's pretty meaningless to me with almost no other tog-rated tights on the market to compare them to! This pair has a very fuzzy brushed lining which is wonderfully soft (the softest, actually), and I found them lovely and warm too.
This was the only pair of the five where I wish I'd sized up – I would have been more comfortable with the crotch an inch higher, and I'm not tall – and I could have done without the logo patch. I get that it's good for branding (how else do you remember where that one great pair of black tights came from when you have ten that look the same?) but plain black tights already look just so functional, I don't need a constant reminder that I'm wearing thermals. When I'm pairing these with a luxe, lacy black bra, having Heat Holders stamped on my hip is the last thing I want! Could the branding not have gone on the inside?
Still, they're thermal tights and they do that job well. They're also the most budget-friendly pair I tried.
7 / 10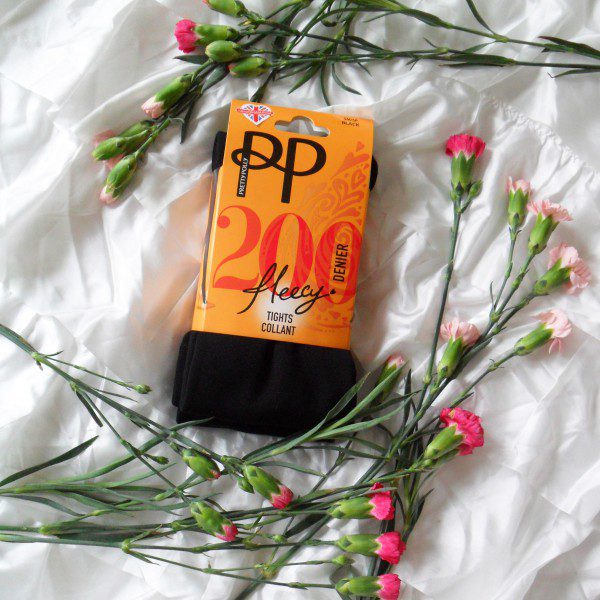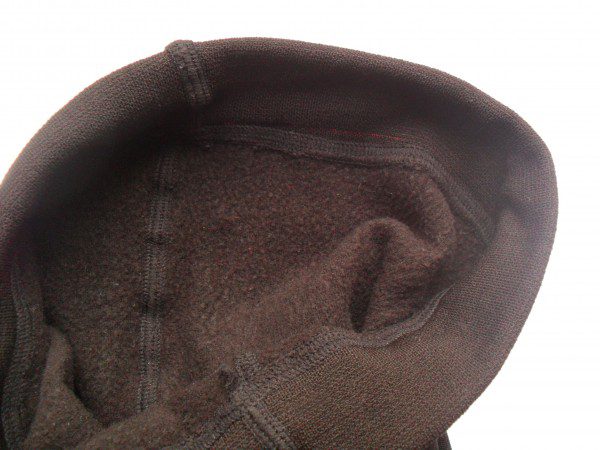 The 200 Denier Pair – Pretty Polly Fleecy
Buy here from SockShop for £10.99
As the name suggests, these tights have a brushed, fleecy lining and again, these felt lovely and soft against the skin as well as keeping my legs nice and toasty.
This is my second-favourite pair from the five I tried and the only reason I preferred the Oroblu pair to these by Pretty Polly, is that the waist on these comes up almost to my bra! Perhaps that's intentional, to keep your tummy warm too, but I thought it looked silly and it also meant there was a visible waistband bump around my rib cage if I wore a tight-fitting top. Perhaps a good option for people with a very long torso?
8 / 10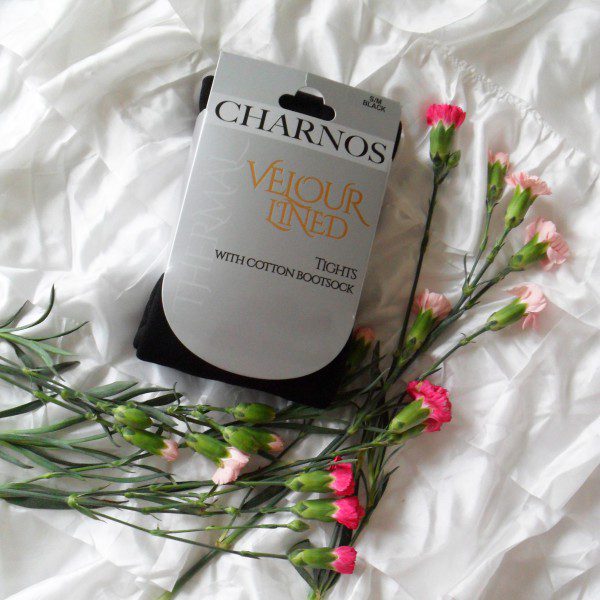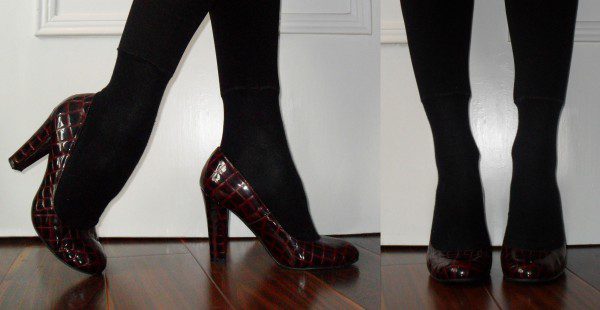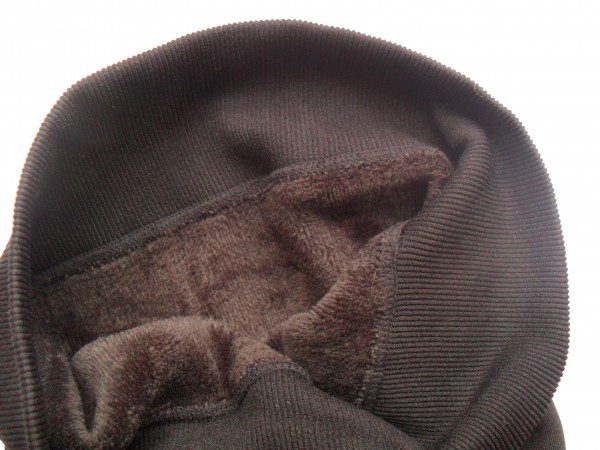 The 400 Denier Pair – Charnos Velour Lined
Sold out, bought for £11.99 from UK Tights
Although I only bought these 6 weeks ago, they are unfortunately now discontinued and appear to be sold out everywhere. These tights are completely unlike any of the others! In their packaging, they were twice the size of the next-thickest pair and it becomes clear why when you unravel them and see what's inside. The fleece lining is so thick it's almost like fur, and super soft. They are so heavy, with a sleek outer, that I'm reminded of neoprene every time I handle them. Unsurprisingly, they were notably warmer than anything else on this list.
The tights have a cotton boot-sock which is in theory a great idea (cosy toes good, sweaty toes bad) but as you can see in my photos it comes up rather high. Even with ankle boots, this bulge where the fabric changes is still very much visible and as such, I'll only wear these tights under knee-high boots. A foot-sock would have been a more practical design choice.
5 / 10
Oh and hey, my readers get 10% off full priced items at Luxury Legs until the end of 2016 with code ESTY10 – enjoy!
If you're looking for the best, warmest thermal hosiery, I hope you've found this comparison post helpful! If you already wear thermal tights, which brand makes your favourite pair?