Disclosure: This blog post contains affiliate links.
Whoops, it's been 10 days since my last gift guide and chances are you're well into your Christmas shopping by now – but if you're still looking for the perfect present, today's post is for you. My previous gift guide covered gifts up to £50 and whilst there are some very lovely pieces on it, today's £100-budget guide is the one where you'll start to see some luxury options – less polyester satin and more silk satin for example.
With 13 days to go, here are my 13 top picks priced from £51 to £100, including plus sized and DD+ recommendations.
Evgenia Night Garden knickers, reduced to $65.10 (~£51 / ~61€)
Ships from the USA
If you're buying for someone who likes all things pretty and feminine, then you really can't go wrong with these knickers – they've got a beautiful floral print, all different shades of pink and purple, and a giant bow made from lace! They're on sale which is great for your wallet, but does mean they are now only available in a size Large.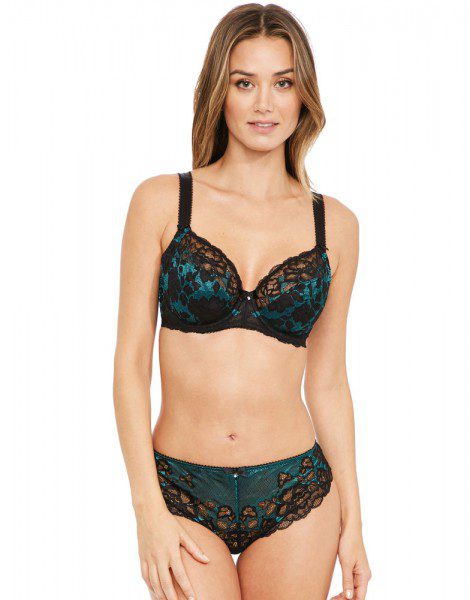 Fantasie Marianna bra, £38 (~$48 / ~45€)
Fantasie Marianna knickers, £18 (~$23 / ~21€)
Ships from the UK
This elegant, DD+ bra is available in 30-40 band sizes, and the matching knickers in S-2XL. The dark green colour is wonderfully festive, and the sheer/opaque lace gives the impression of individual lace appliqués which would cost a whole lot more.
Lola Luna Gaia bra, £31.99 (~$41 / ~38€)
Lola Luna Gaia ouvert thong, £25.99 (~$33 / ~31€)
Ships from the UK
Here's one from my shop, and one I know a lot of people are getting this Christmas as it's flying off the shelves! It does say out of stock right now, but will be back in stock later this week. This gorgeous set is a great gift when you want something that's beautiful but also very, very sexy. I would however only advise buying a quarter-cupped bra for a recipient who already owns one or who has expressed an interest in receiving one, as they're a bit of a Marmite garment – you love them or you hate them. A non-ouvert version of the thong is also available.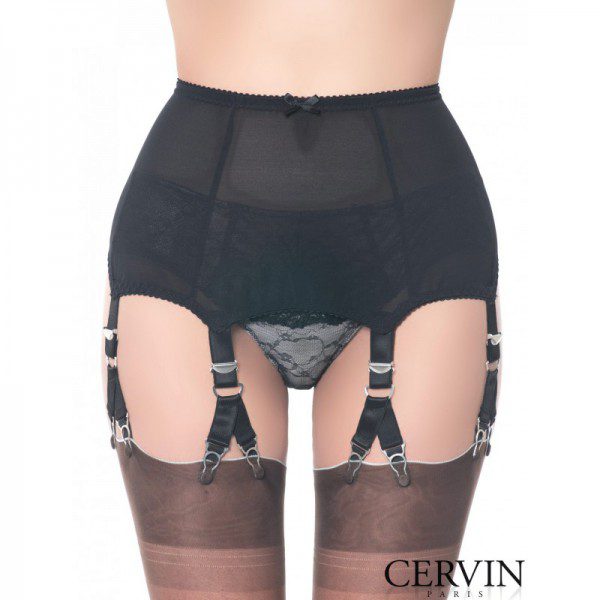 Cervin Chenonceau suspender belt, 70€ (~£59 / ~$74)
Ships from France
If your recipient wears stockings regularly, then a good-quality suspender belt is a practical gift they're sure to get plenty of use out of. And practical needn't mean boring – this double grips on this one by Cervin are a stylish and eye-catching touch! It's available in S-3XL sizes.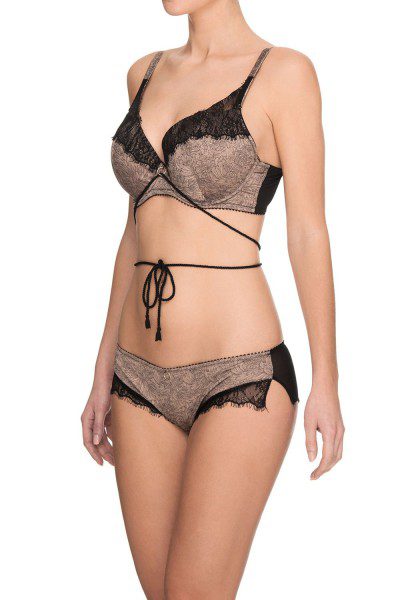 Ultimo Lyra bra, £40 (~$51 / ~48€)
Ultimo Lyra knickers, £19 (~$24 / ~23€)
Ships from the UK
This bra is available up to a 38G and down to a 30D or 32A (click here for the A-D sizes) and the bottoms come in UK 8-18. It's perfect for the recipient that likes lingerie that makes a statement! The rope is detachable, and can also be threaded through the loop on the knickers so there are plenty of combinations to try out.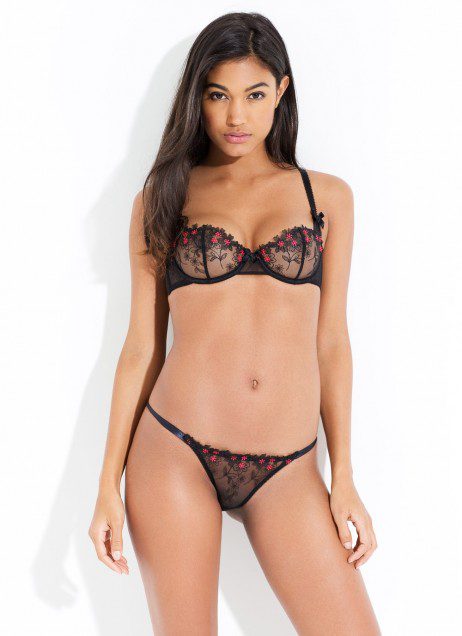 L'Agent by Agent Provocateur Kellie bra, £45 (~$57 / ~54€)
L'Agent by Agent Provocateur Kellie thong, £24 (~$30 / ~29€)
Ships from the UK
This classic black-and-pink colour scheme and pretty floral embroidery mean this is a bra set that will appeal to lots of people. There is also a brief available, and a suspender belt if you don't mind spending just a little more than £100 for the three pieces.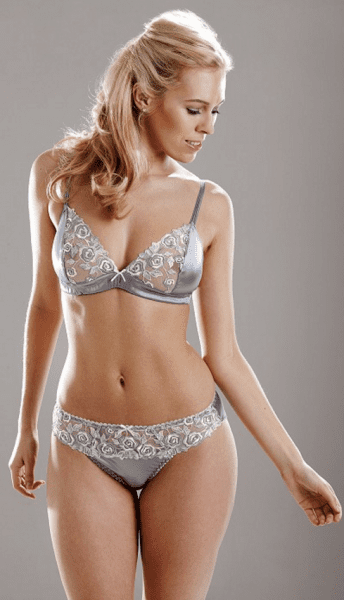 Sulis Silks Amalie bralette, £39 (~$49 / ~46€)
Sulis Silks Amalie knickers, £32 (~$41 / ~38€)
Ships from the UK
You might recognise this brand from my current giveaway (still time to enter!), who manufacture here in Britain – an added bonus if your giftee is a fan of supporting local businesses, though this is a beautiful gift regardless. Although bralettes are a huge trend right now, this doesn't feel like a 'hot trend' piece that's going to go out of style soon and it also looks like it would appeal to a range of ages. The icy silver and white colour scheme is perfect for winter too!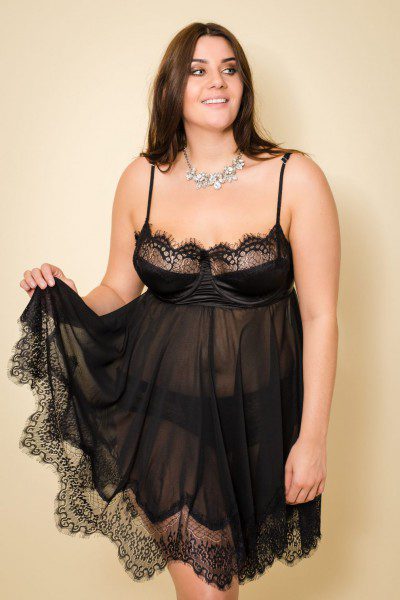 Viva Voluptuous Lara chemise, £75 (~$95 / ~89€)
Ships from the UK
The luxury plus-size lingerie market is growing, but it's still relatively difficult to find beautiful, decadent pieces that go beyond a 38-band size. This babydoll runs from a 36D to a 44D, and goes up to a G cup in the 42-band size. With lashings of French eyelash lace and a scalloped edge, it's perfect for the person who loves a bit of glamour in their wardrobe!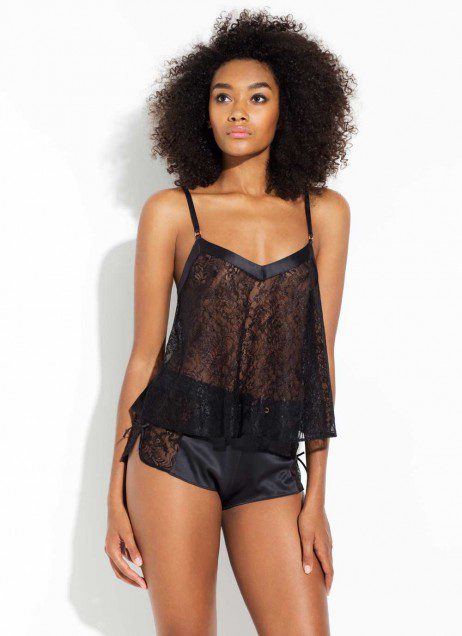 L'Agent by Agent Provocateur Sydney camisole, reduced to £39 (~$49 / ~47€)
L'Agent by Agent Provocateur Sydney shorts, reduced to £42 (~$53 / ~50€)
Ships from the UK
With the cami's racerback style and the shorts' elasticated waistband, there's something slightly athletic and youthful about this cami set. I think it would make a lovely gift for someone who likes their nightwear or loungewear as practical as it is pretty, and right now you can benefit from slightly reduced sale prices!
Amoralle ivory lace bodysuit, 99€ (~£83 / ~$105)
Ships from Latvia
How decadent does this bodysuit look?! Perfect for someone who can never get enough lace! If you've got a fashionista giftee to buy for, this may even double as a chic evening top under a jacket or paired with a maxi skirt. I think I may even need to buy this one as my Christmas gift to self.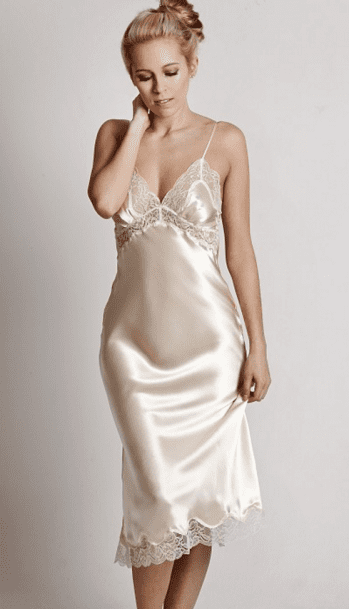 Sulis Silks Gabrielle nightdress, £95 (~$120 / ~113€)
Ships from the UK
This is the type of classic, elegant piece that will simply never go out of style. Other colours are available too for those who prefer a bolder splash of colour.
Kiss Me Deadly Grace gown, £98.99 (~$126 / ~118€)
Ships from the UK
One more from my boutique, and ones for fans of retro Hollywood glamour! These stunning, floor-length gown has semi-sheer side panels and a bias cut for a truly gorgeous (and, helpfully when you're not sure of your giftee's size, very flexible) fit.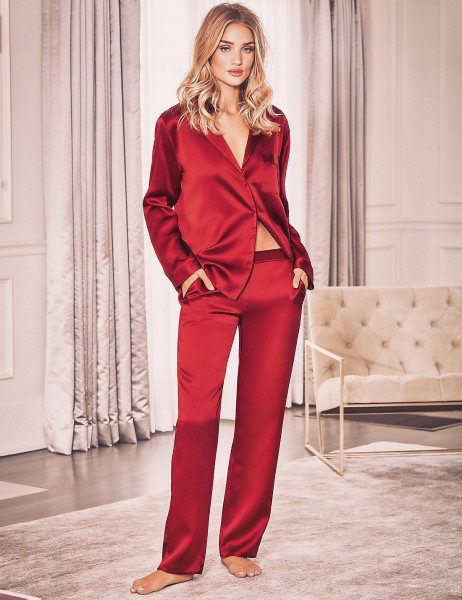 Marks and Spencer Rosie for Autograph silk pyjamas, £99 (~$126 / ~118€)
Ships from the UK
Classic pyjamas are a classic gift! Nothing's more comfortable or feels more luxurious against the skin than sleeping in silk satin, and this rich red shade is just perfect for the festive season. They're currently sold out online in a UK 6, but otherwise available through to a UK 22.
See anything here that you might buy for someone else, or would love to find parcelled up under your Christmas tree next week?