Disclosure: This blog post contains affiliate links.
As promised, today I'm sharing my final gift guide of 2016 and it's all about those extravagant and breathtaking pieces for when money is no object, and for when only the very best will do. So if you're looking to really spoil someone rotten (perhaps yourself!) this Christmas, read on for ideas starting at £250. As always, be sure to check delivery times with the retailer – it's getting very close to December 25th if that's when you're buying for, but many luxury retailers offer express shipping either as standard or for an additional fee.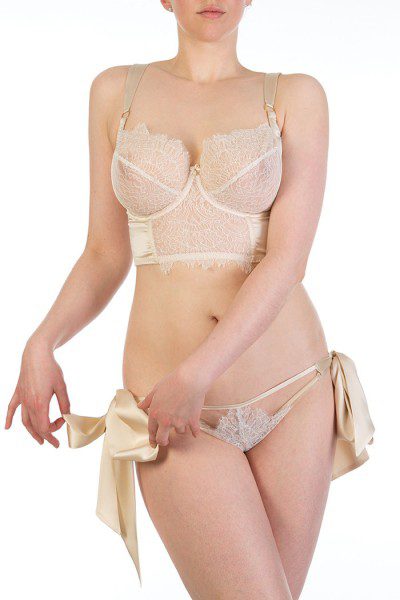 Harlow and Fox Viola Almond bra, £189 (~$236 / ~226€)
Harlow and Fox Viola Almond tie-side knickers, £105 (~$131 / ~125€)
Ships from the UK
There aren't many bras on today's list, because when you're working with an unlimited budget it's very tempting to keep going for the kind of opulent robes and gowns that simply aren't available at a lower price point. But of course, some people are more comfortable in a good ol' bra and knickers set, and here's a stunning option for the full-busted person in your life. The bra is available from a 30DD through to a 38G.
Evgenia Rebelle gown, $390 (~£312 / ~373€)
Ships from the USA
One of my favourite lingerie ranges to come out of 2016, Evgenia's velvety Rebelle is perfectly on-trend, and perfectly festive in this rich, red colour. A classic black is also available however if you think that's what your recipient would prefer.
Boudoir by D'Lish Dita Von Teese Collection Holiday dressing gown, $399.99 (~£320 / ~383€)
Ships from the USA
Burlesque performer and costumière Catherine D'Lish is basically the person anyone in the know turns to when they want a gown that oozes over-the-top glamour, and now she's teamed up with Dita Von Teese for this stunning, limited-edition piece. I couldn't decide if this silver or the rich bordeaux version was more perfect for winter. Sadly, this won't reach you in time for December 25th as D'Lish is fully booked for orders now, but if your giftee can hold out until January it'll be worth the wait!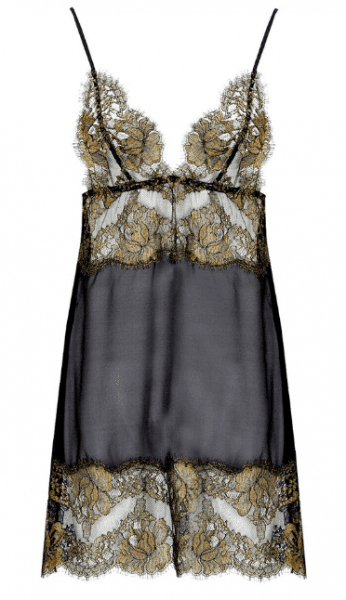 Coco de Mer Ranelagh slip, £325 (~$406 / ~388€)
Ships from the UK
Nothing says luxury quite like golden lace, and here it's been combined with silk georgette for a delicate touch. Pair with the Ranelagh thong and eye mask for an even more impressive gift. Does your giftee prefer the old Hollywood glamour of floor-sweeping loungewear? There's also a full-length version available here.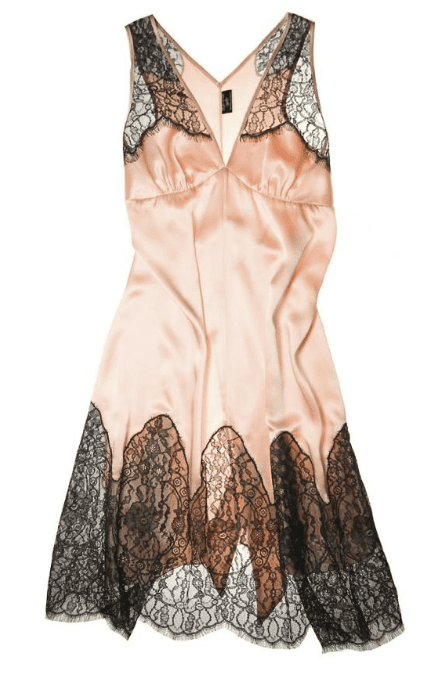 Between The Sheets Deco Lace chemise, $445 (~£356 / ~426€)
Ships from the USA
Between The Sheets is an ethical, sustainably-produced brand that manufactures in New York, if that's the kind of thing that matters to your recipient. This beautiful chemise is made from peach silk and sheer lace, and is slightly flexible on fit (i.e. Small fits a UK 6 and 8) so ideal when you're not entirely sure of the person's dress size.
Agent Provocateur Karlotta babydoll, £395 (~$493 / 472€)
Ships from the UK
The gift of transforming into the luxury lingerie equivalent of a snowball! The fluffy marabou trim and pom-pom puffs are just oh-so-Christmassy, and the French Leavers lace is beautiful. This is now only available in size M/L, but it also comes in black for which the S/M is also in stock.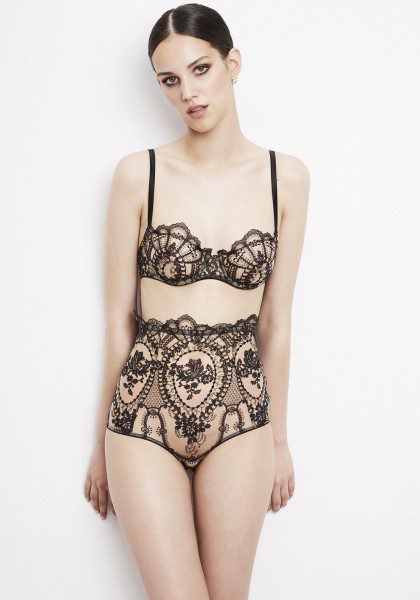 I.D. Sarrieri La Naissance de Venus bra, 245€ (~£205 / ~$256)
I.D. Sarrieri La Naissance de Venus high-waisted knickers, 315€ (~£264 / ~$329)
Ships from France
The incredible lacework on the knickers especially is simply a work of art. Navy blue is available too. The bra sizing is quite limited, but if your giftee's size isn't catered to the knickers alone will still make a stunning gift.
La Perla Maison bodysuit, £557 (~$696 / ~666€)
Ships from Italy
The smooth, stretch silk on this bodysuit makes it almost look like swimwear from the front, though the back is made from sheer mesh. It's available in UK 10-16 sizes, and in black, white and an icy blue colour too.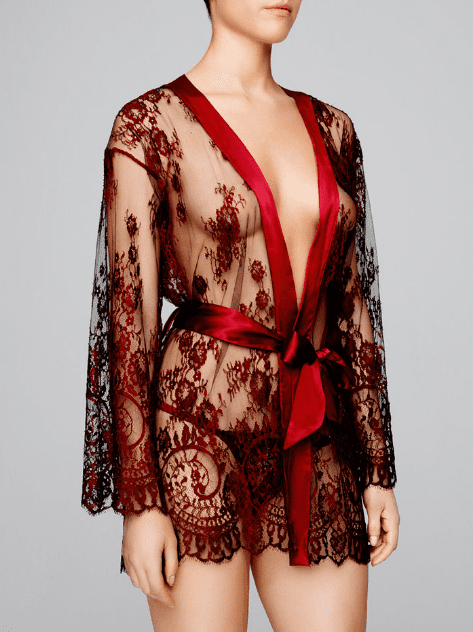 Coco de Mer Alyssa robe, £595 (~$743 / ~711€)
Ships from the UK
The swirling, floral lace on this robe is simply beautiful, and the deep crimson colour is both festive and boudoir-perfect. For those who want to spend a bit more, a range of matching pieces are available from an eye mask to a silk babydoll.
Amoralle Silk Greek Goddess nightdress, 730€ (~£611 / ~$763)
Ships from Latvia
Silk feels wonderfully luxurious against the skin, and with this gown your giftee will be able to wrap themselves in swathes of the stuff. Just note that Amoralle's robes and gowns are made for tall women – I bought one once and was drowning in it at 5'3, so only buy it for someone of less-than-average height if you're also happy to pay for it to be tailored to suit!
Agent Provocateur Christalina bra, £395 (~$493 / 472€)
Agent Provocateur Christalina knickers, £295 (~$368 / ~352€)
Ships from the UK
With silver lurex embroidery for a lightly festive touch, this is the perfect luxury bra set for anyone who's still loving the strappy trend. The straps on this one are encrusted with hundreds of glittering Swarovski crystals!
Agent Provocateur Anissa slip, £695 (~$868 / ~830€)
Ships from the UK
Part of Agent Provocateur's premium Soirée range, this beautiful silk slip dress is embroidered all over with tulips, and can be worn as both decadent loungewear and elegant eveningwear. It's available in S-L sizes but note that Agent Provocateur sizing tends to run small, so it's best for a giftee who's normally a Medium or below.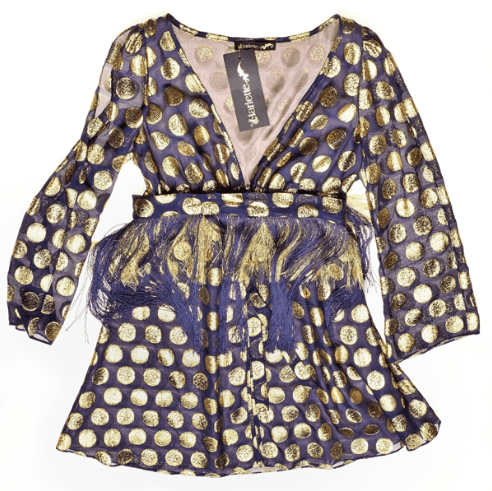 Harlette de Falaise Sovereign State robe, £695 (~$868 / ~830€)
Ships from the UK
For the person who likes to dazzle! This metallic robe is covered in golden 'sovereigns' and with a fun, fringed sash. It can be worn as luxe loungewear, or shown off poolside as a glam cover-up. In fact, I think it would look lovely in place of a jacket as eveningwear too, so your giftee is sure to get plenty of opportunity to wear this one.
Agent Provocateur Nayeli slip, £795 (~$993 / ~950€)
Ships from the UK
Another Soirée garment, this glamorous, floor-length chemise is made from golden silk with large swathes of sheer lace.
Amoralle Sapphire velvet & fur robe, 1,245€ (~£1,042 / ~$1,301)
Ships from Latvia
Lastly, if ever there was a piece of luxury loungewear created to epitomise Christmas spirit, this is it! The deep, jewel-toned blue, the thick and cosy velvet, the oversized fur cuffs in white… this is totally the kind of robe that the elegant Mrs Claus from Marks and Spencers ad this year wears.
Which is your favourite piece here? And which lingerie or loungewear piece would you love to receive, or treat someone to, if price were no issue?