Disclosure: This blog post contains affiliate links.
Hi, readers! I'm Lauren, a writer from the northern US and a brand-new contributor to the Esty Lingerie blog. I am absolutely thrilled to be here writing about lingerie, my one true love. I can't pinpoint the exact moment my lingerie obsession took hold, but I should have known it would be a lifelong interest when I was the only kid who looked forward to getting underwear for my birthday.
I'm particularly interested in the politics of lingerie and how our underthings can be empowering outside of a traditional, narrow definition of 'sexiness'. Being right on the border of plus and straight sizes, I also care a lot about body positivity and representation. But enough about me – on with the round-up!
By now, you've probably heard all about the Danish concept of hygge, defined by the Oxford Dictionaries as "a quality of cosiness and comfortable conviviality that engenders a feeling of contentment or well-being". This usually involves staying in with a warm beverage, cosy socks and soft lighting. For me personally, it also involves marathoning Buffy the Vampire Slayer for the 8000th time – but you do you.
I have been all too eager to jump on this trend. You mean someone took all of my depression coping mechanisms and rolled them into an Instagrammable package with a charming Danish name? Sign me up! But what does one wear to nestle in style?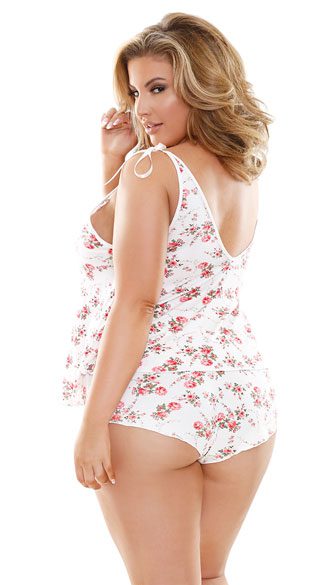 Plus Size Rosalie Cami and Shorts Set by Fantasy Lingerie, $36.95 (~£30 / ~35€)
Cosy doesn't have to mean covered up. This sweet little short/cami set is perfect for breakfast in bed or catching up on your stories. If you're cold, just throw on some thick socks or another blanket from your fort.
Cozy Sweater Robe by Betsey Johnson, $63.37 (~£52 / ~59€)
This is about as close to a cocoon as a human being can get. The fair isle print gives me fireside ski lodge vibes, but there are other colors available if that's not your thing.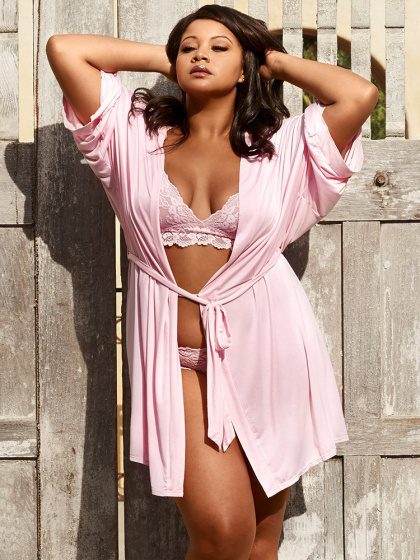 Short Soft Wrap Robe by Hips & Curves, $49.95 (~£41 / ~47€)
A drapey, partially open robe is hot. Matching undies are, to quote my hero Cher Horowitz from Clueless, brutally hot.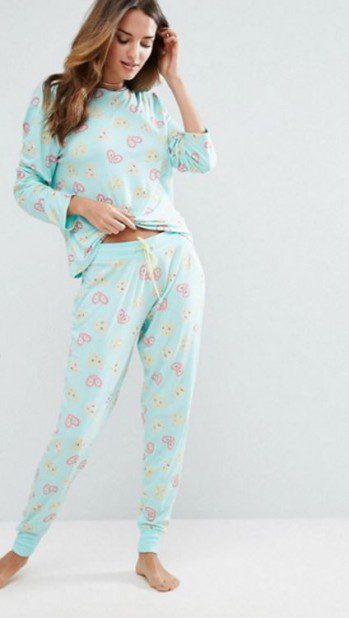 Chelsea Peers Pretzel Long Pajama Set by ASOS, £38 (~$46 / ~44€)
It's no secret that cuddles and carbs often go hand in hand, so you may as well wear them loud and proud.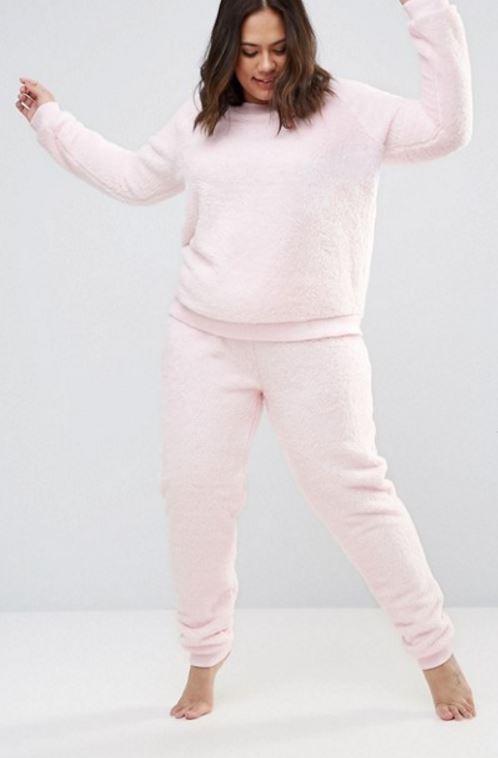 Twosie in Super Soft by ASOS Curve, £28 (~$34 / ~32€)
Why be a human being with responsibilities when you can be a carefree cloud and watch cartoons all day?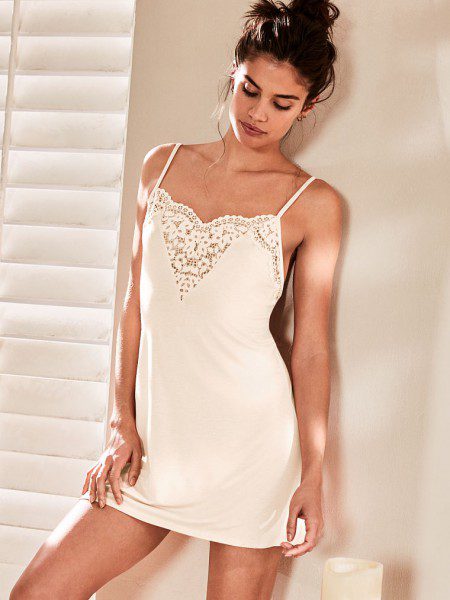 Supersoft Low-back Slip by Victoria's Secret, $42 (~£34 / ~39€)
The floral lace and easy cut will take you right into spring, but also keep you comfy during that unexpected April snowstorm.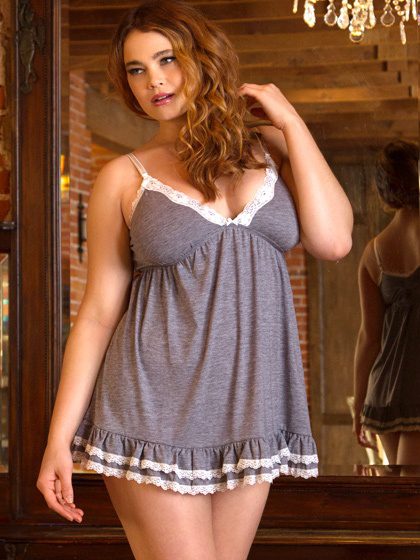 Soft and Comfy Plus-Size Babydoll by Hips & Curves, $49.95 (~£41 / ~47€)
One key to looking (and, more importantly, feeling) cosy when showing skin is texture. The lace trim, ruffles and touchable textile in this line all make for perfect staycation wear.
Short Sleeve Sleep Shirt by Gap, reduced from $39.95 to $28 (~£23 / ~26€)
I'm not normally a fan of visible brand names, but this play on the classic GAP logo is pretty darn cute.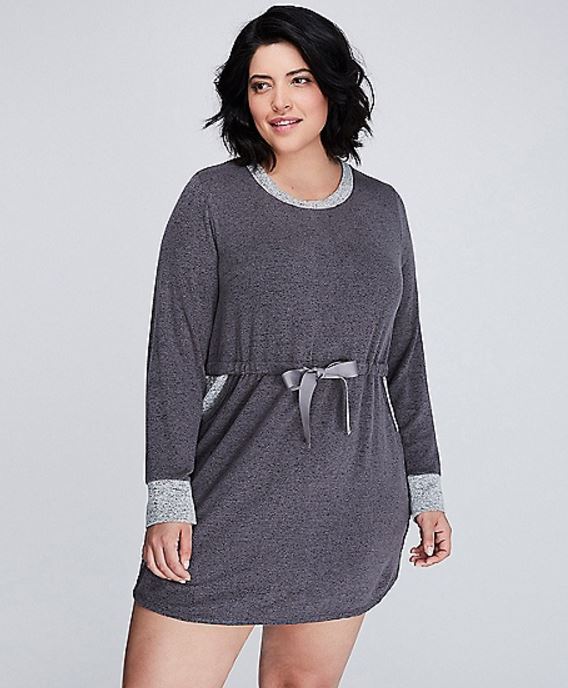 Brushed Jersey Sleepshirt by Lane Bryant, reduced from $42.95 to $30.06 (~£25 / ~28€)
This sleepshirt is the love child of your favorite nightie and the sweatshirt you stole from your high school sweetheart: modest but flirty, cute but sexy, and neutral but interesting.
Bonus accessory round
Fluffy Black Cat Sleep Mask by Sugar Lace Lingerie, $25 (~£20 / ~23€)
You won't actually be able to see how cute you look, but take my word for it. Coordinate with the rest of your outfit to make Gossip Girl's Blair Waldorf proud.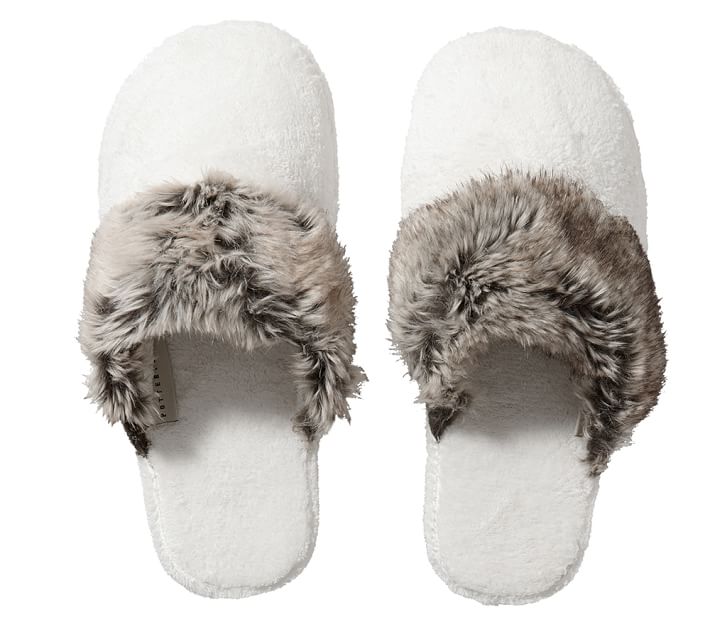 Faux Fur Slippers by Pottery Barn, $29.50 (~£24 / ~28€)
I was gifted these slippers a few Christmases ago, and they're still my go-tos for padding around my apartment or venturing out as far as the mailbox. If you have generous relatives, may I suggest adding a luxurious matching robe to next year's wish list.
What are your go-to loungey pieces to get through unpleasant weather? Share below, let us know if you've made the 'Add to Cart' commitment with any of the ones above, or just tell us what you're Netflix-binging.