Disclosure: This swimsuit set was sent to me free of charge by UK Swimwear to be reviewed. My opinions are, as always, 100% honest.
A few weeks back I reviewed a bra set from UK Lingerie, and today's review comes courtesy of their sister site, UK Swimwear. This is also the brand that runs UK Tights, one of my favourite places to buy hosiery online, and as with that original site the lingerie and swimwear branches aim to cater to a wide customer base. Here you'll find bikini sets for under £20, swimsuits for well over £200, and everything in between. Sizes run from XS to XXL and B to H cups, and styles range from the sleek and sporty to the glitzy and glamorous. It's a bit of a swimwear heaven, really.
I've fallen somewhat in love with the one-piece swimsuit these past few months, after more than a decade of sticking strictly to bikinis. Teenage me thought that bikinis were the 'cool' option versus the 'mumsey-ness' of a swimsuit, but I've come to realise just how much extra room for creativity there is on a one-piece, literally. More space for print, for details, for a dramatic, plunging neckline. That last one is what drew me to this Forever Unique Cuba swimsuit, along with the icy white colour (though you can also find it elsewhere online in black and khaki green if white's not your thing).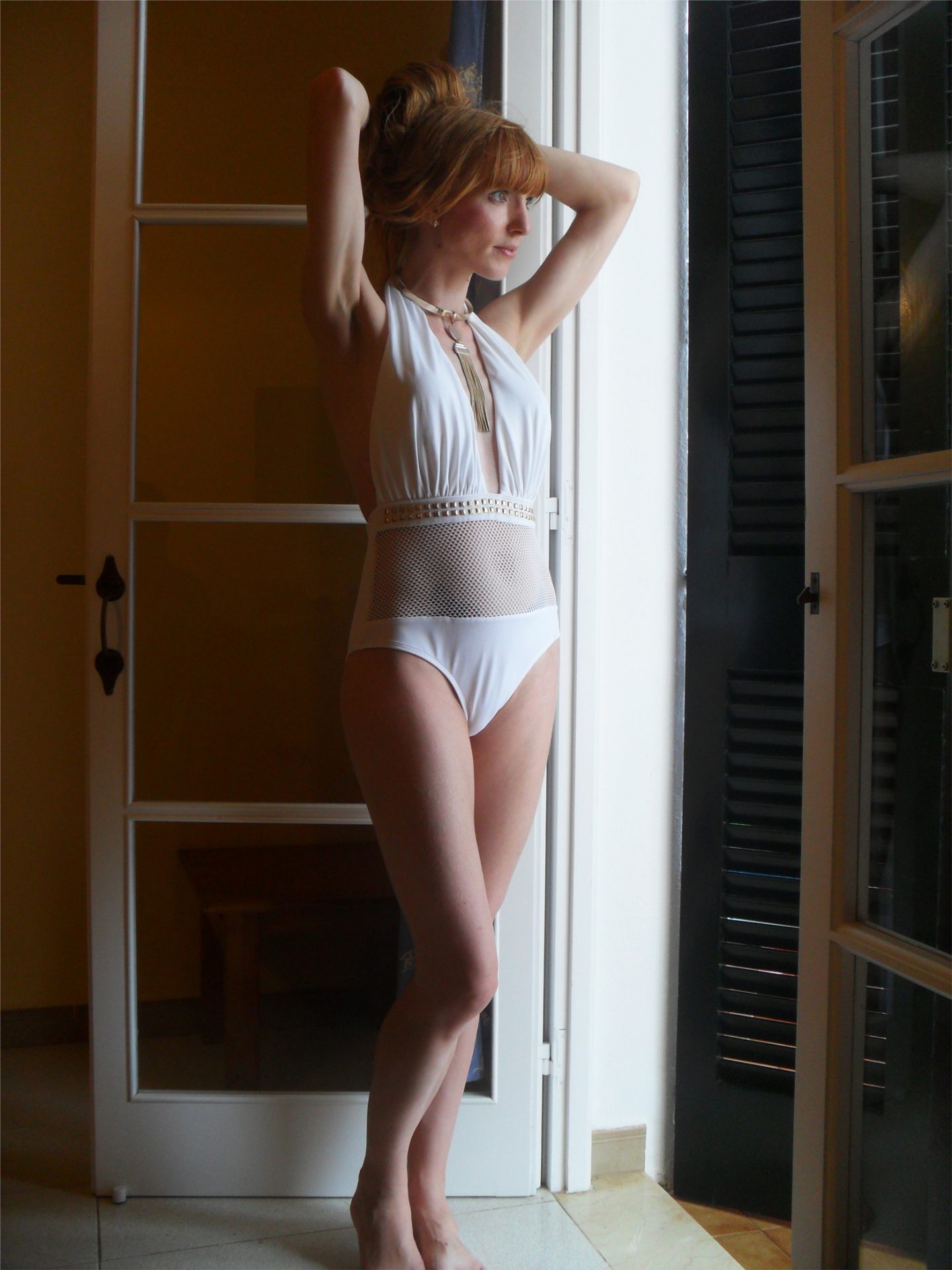 Appearance
Cuba is a backless, plunge-necked swimsuit with a sweeping mesh panel across the front, so although it is a one-piece it still shows off a lot of skin. The main 'detail' is the gold studding around the midsection, which adds a subtle splash of colour and also defines your waist. It's simple, chic and sexy.
I found this swimsuit very flattering on – I often wish my figure were a little more hourglass-y and I think the combination of the gold 'belt' at the front and the way the back ends right at the narrowest pair of my waist does create that illusion a little bit.
Verdict: 6 / 10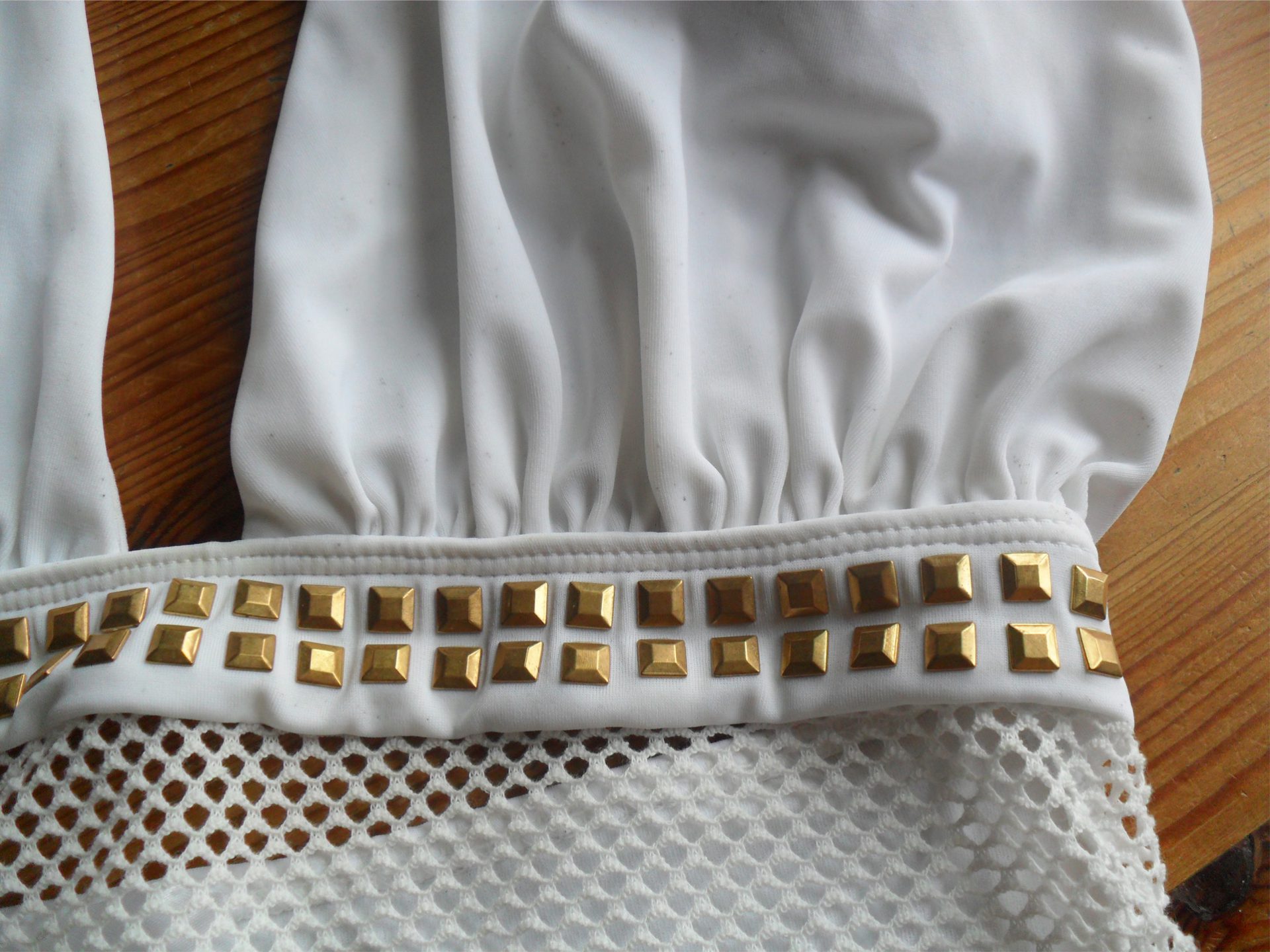 Construction
The main fabric is a polyamide-elastane blend that's super stretchy, and this is fully lined with a softer white fabric, possibly for comfort but more likely for modesty – white swimwear can be risky but I'm glad to say this one stayed fully opaque in the water! There's no additional lining at the gusset.
At the waist, the metal studs are securely and neatly glued on. The neckline above is made from two tall, tapered teardrops of fabric with gathering at the base that is both practical and pretty. Both have a strap at the top of double-sided fabric with neat, fully-enclosed seams. Inside, there's a pouch with a thin, removable pad for shaping and nipple-coverage.
Unfortunately, the little openings through which to remove these pads have been edged with a simple overlock stitch that is unravelling on both sides. The swimsuit arrived with the pads already inside and I haven't touched them, so this has happened simply through wear and the gentlest of hand-washing. It's not visible when worn of course, but I do worry about the longevity of the swimsuit.
Verdict: 7 / 10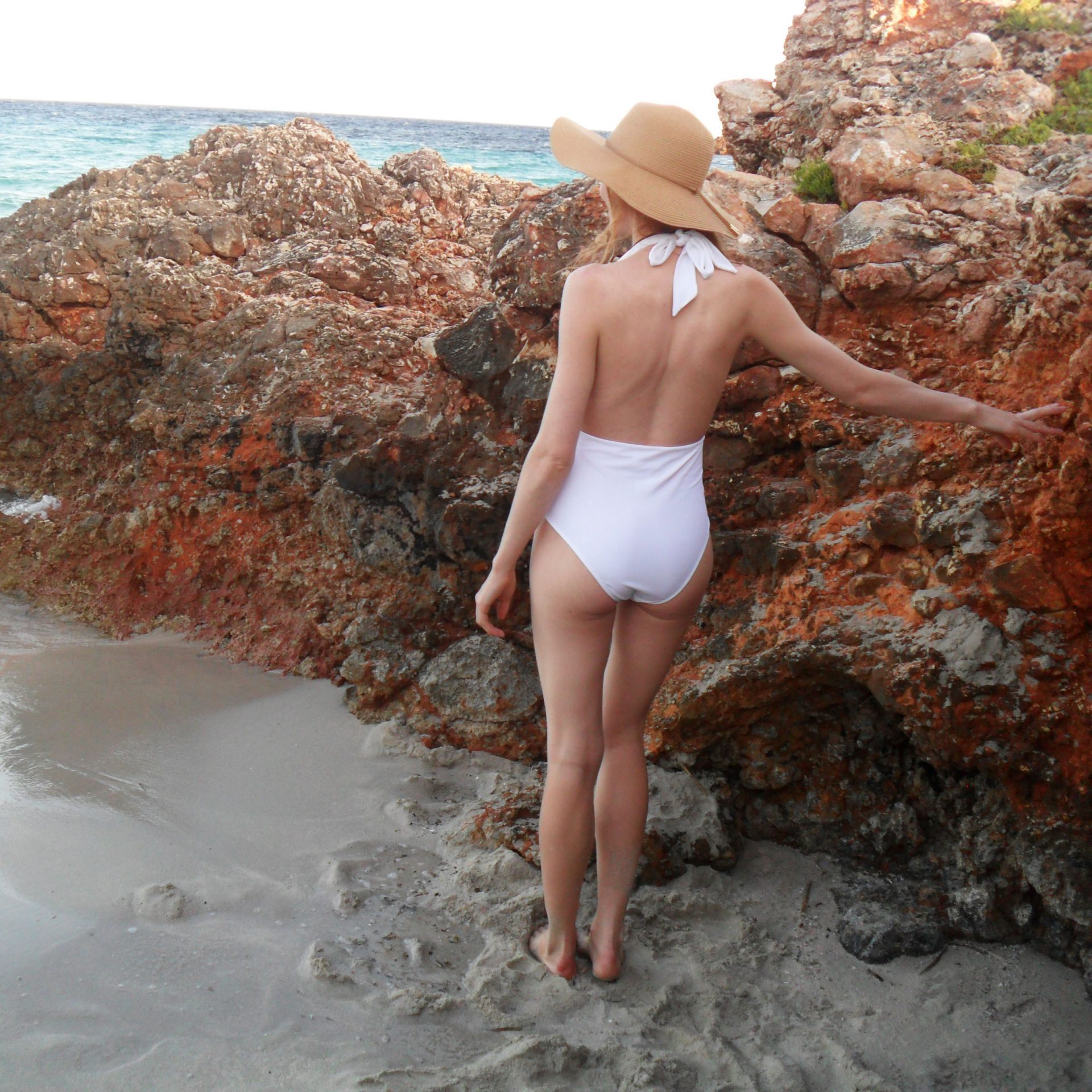 Fit
I received this swimsuit in a UK 10 which was the smallest size in stock at UK Swimwear. Although that's two dress sizes above my usual, I've always found that the stretchiness of swimwear fabric makes it fairly flexible on fit. Swimwear also tends to be on the skimpier side and I prefer more bum coverage on the beach, so I'll often go up one size for the bottoms anyway.
All in all, I think this swimsuit is probably true to size. As you can see in the photos it fit me well enough that I could wear it but there is some wrinkling, especially at the back of the waist – so plenty of room to accommodate a larger dress size.
Verdict: 8 / 10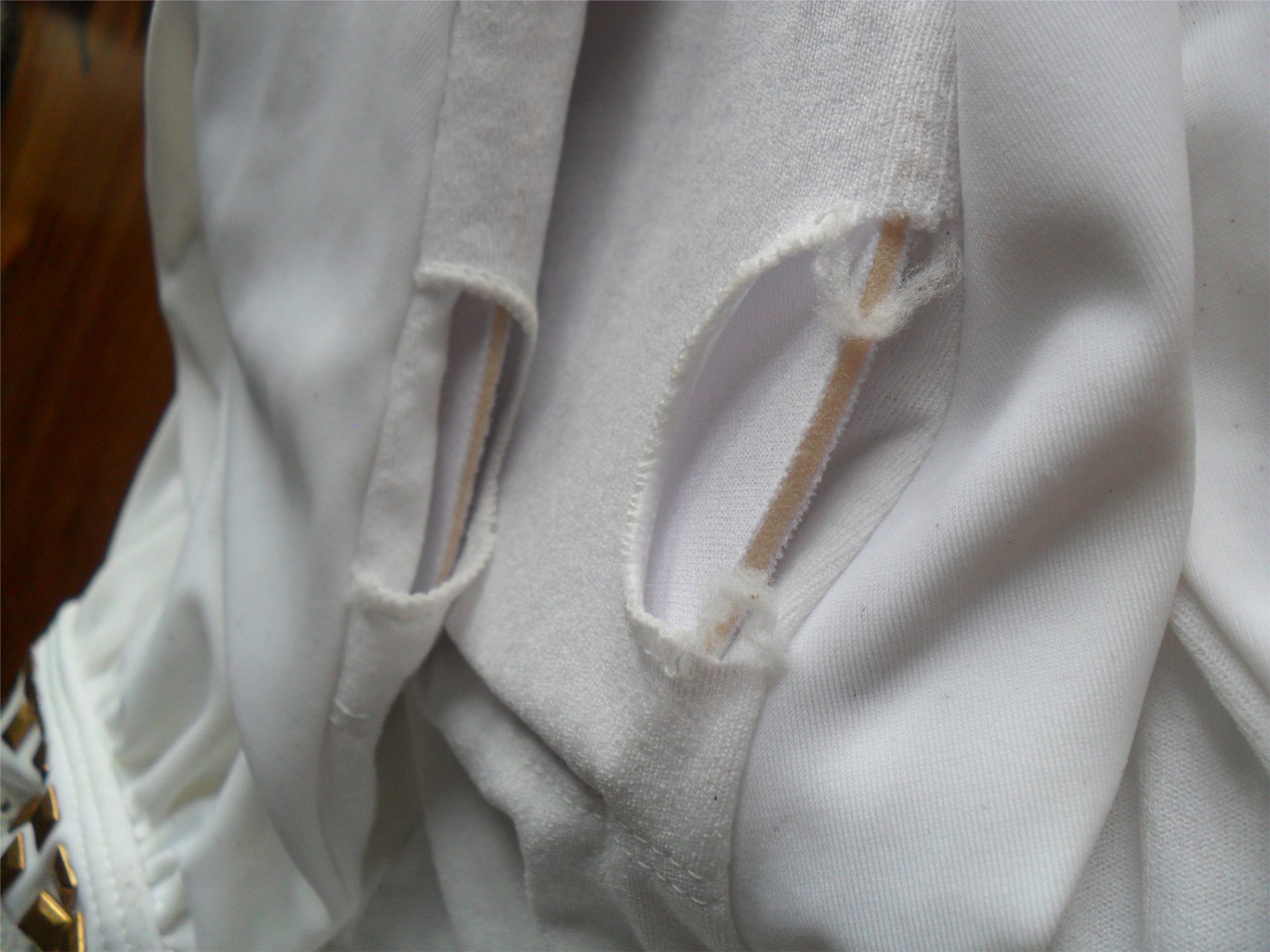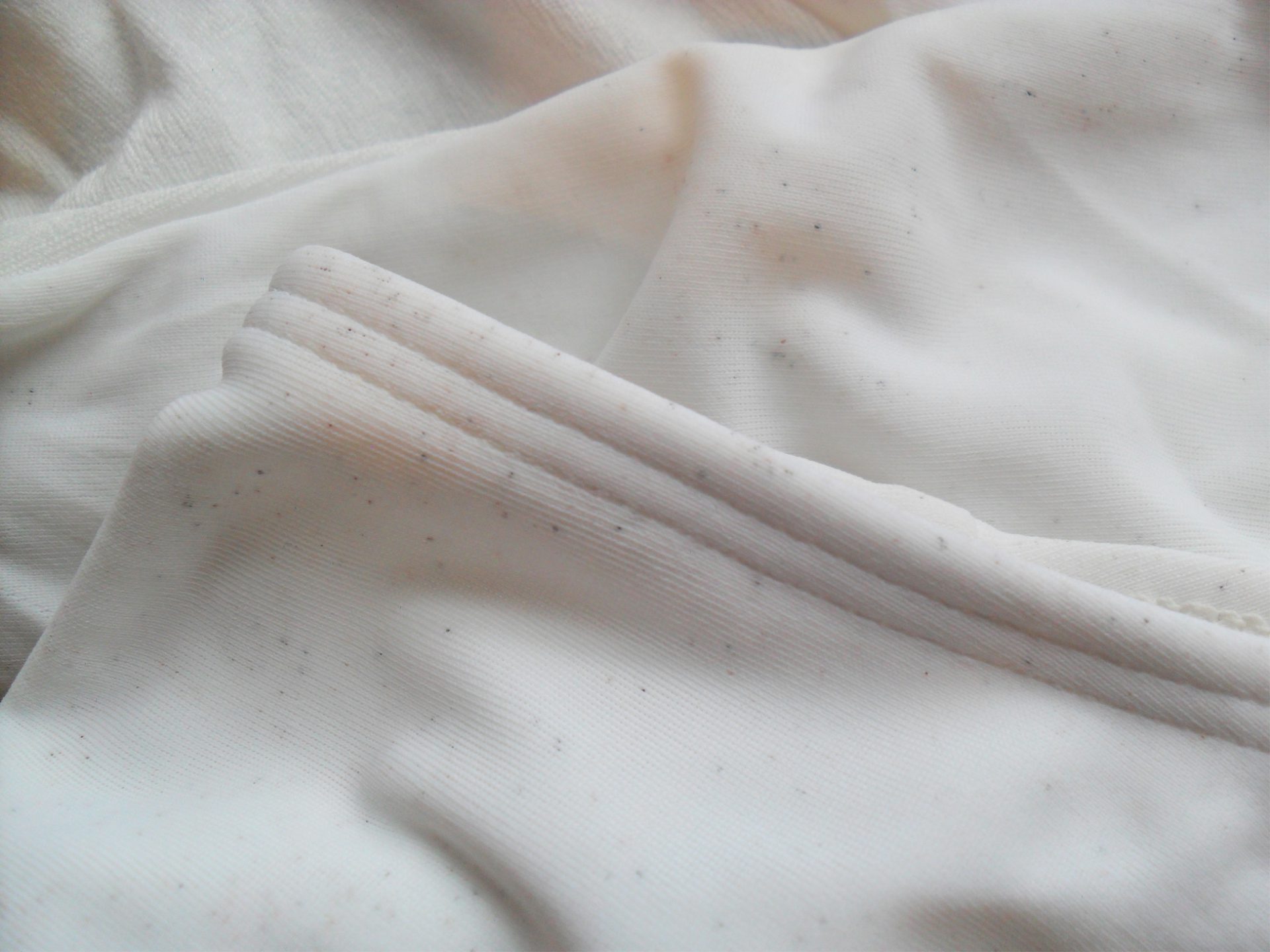 Durability
Besides the disintegrating seams mentioned above, the construction seems fairly robust.  The swimsuit is hand-wash only which is how I've been caring for it. I've worn it a few times in the swimming pool and it hasn't been discoloured at all by the chlorine. The metal studs are also still their original, shiny gold selves, and still stuck firmly in place.
However, after a few trips to the beach the fabric is speckled literally all over with sand particles. I can unstick them one by one with a fingernail, but there are thousands! This isn't a complaint against the Cuba swimsuit as such – it's a common swimwear problem – but it's worth pointing out that the sand is very noticeable against the white fabric, so it didn't take long for it to start looking old. It's not one I'd recommend for the beach – better for a pool holiday.
Verdict: 4 / 10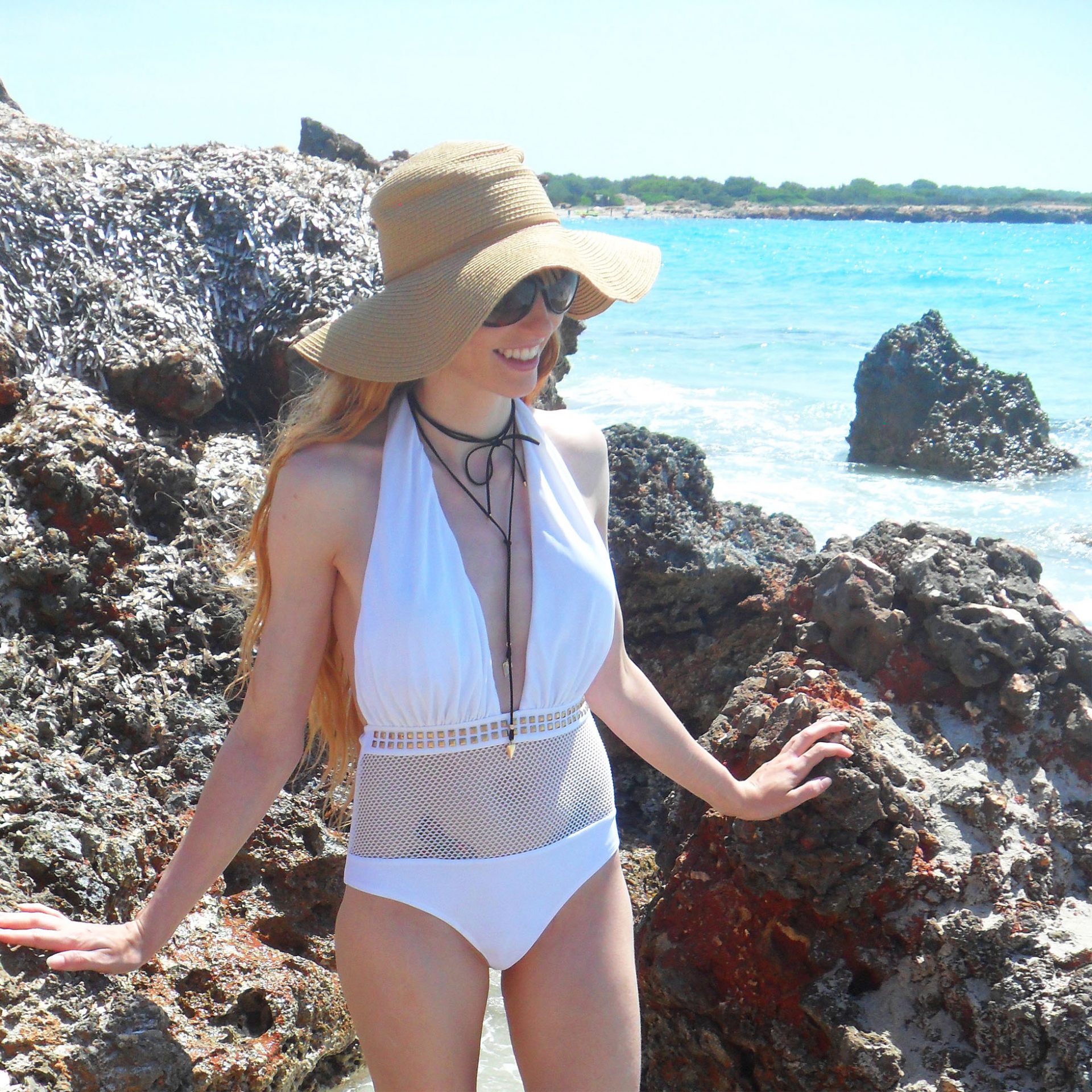 Value for Money
Forever Unique's Cuba swimsuit costs £84.95 (~$111 / ~94€) which puts it somewhere between a luxury swimsuit and a high-street one. As pretty as this swimsuit is, I can't really find anything in the construction or the details that sets it apart from the cheaper swimwear I am used to. It's nice, but I had high expectations given the price point (I am used to H&M swimwear, quite honestly) and it doesn't blow me away.
Verdict: 5 / 10
All in all, I think you should only buy this swimsuit if you really love the way it looks – and then keep it far away from any sand! Other Forever Unique pieces, such as the Antigua tasselled swimsuit, feel like they may offer more for your money. The Cuba swimsuit is available here but do be quick if you want it, as it's down to the last size (UK 12). UK Swimwear offers free UK shipping plus free returns by the way.
What do you think of the Forever Unique Cuba swimsuit? Have you tried this brand, or bought anything else from UK Swimwear? And do you have any tips to get sand out of swimsuit fabric? I have tried blasting it with a hairdryer to no avail!