Disclosure: This bra set was sent to me free of charge by UK Lingerie to be reviewed. My opinions are, as always, 100% honest.
UK Lingerie, sister site of UK Tights and UK Swimwear, is something of a lingerie superstore. Like the original tights and hosiery site ("the world's largest hosiery store"), it stocks a huge variety of brands and caters to all different sizes and budgets with bras from £9 to £103, 30 to 50 bands, and A to J cups. There's also shapewear and loungewear ranging from fluffy dressing gowns to decadent, silk and lace appliqué robes. Basically, whatever type of lingerie you're looking to buy, you can probably find it at UK Lingerie. And it all comes with free worldwide delivery!
I was thrilled when they asked if I'd like to pick something out to review because I have been dying to get my hands on a bit of Aubade for ages. Empretine too – it was a toss up between this Bahia set or Empreinte's stunning Cassiopee in blue, which you can go read about on Let's Talk About Bras.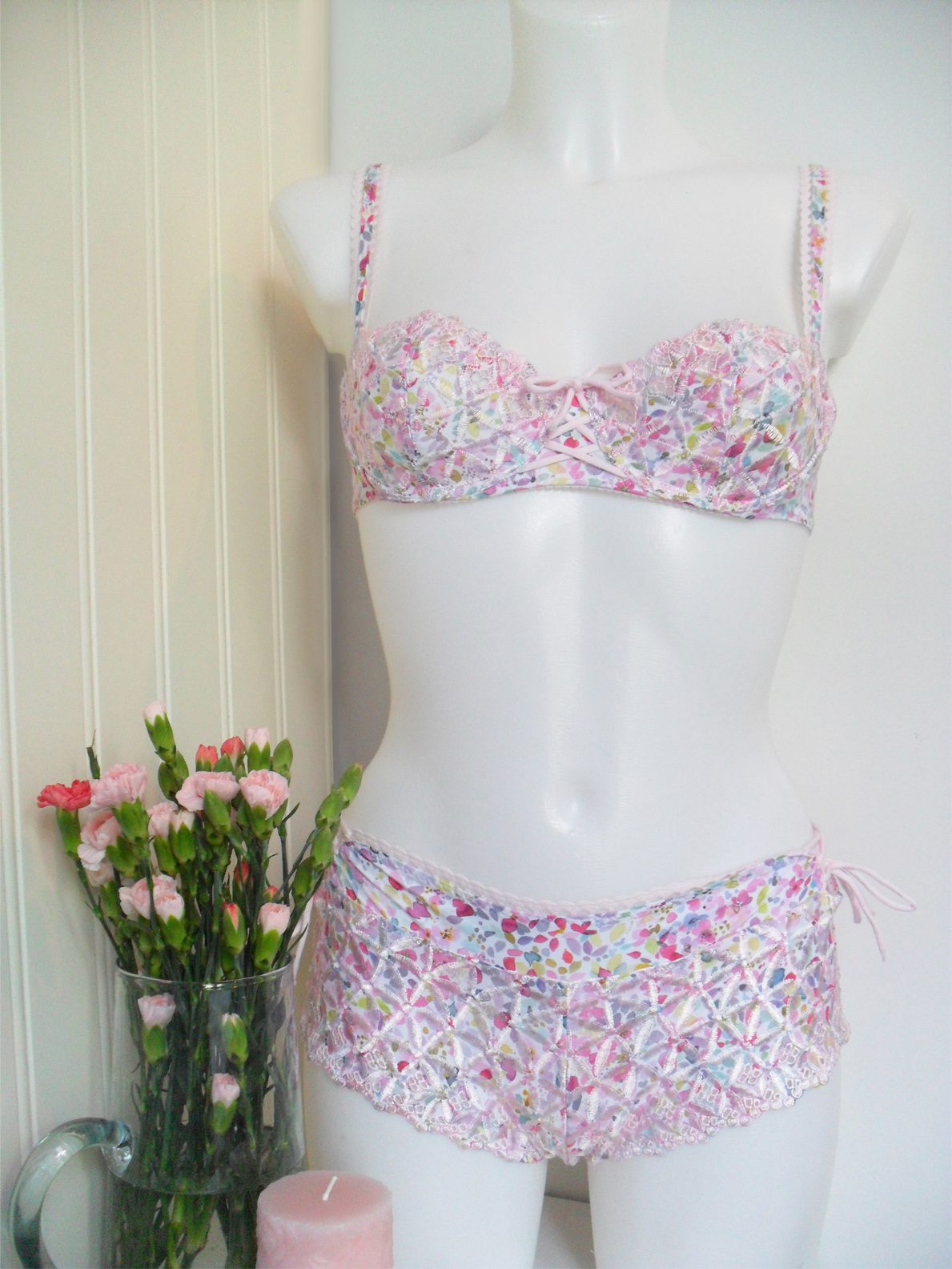 Appearance
Bahia is an Aubade classic that they have released in tons of colours and prints over the seasons, as well as different cup styles from 3/4 cups to push-ups. This particular Bahia is a half-cup style and stood out to me on the UK Lingerie site because of how fun and colourful it looked – no wonder it's called Tutti Frutti!
The thing that ties the Bahia collection together is the embroidery, which is a graphic, 6-pointed flower embroidered onto the fabric in neat rows. Nothing draws me to a lingerie set more than an unusual texture, and this one looks very close to quilting which I love. In fact, I don't recall when I last saw embroidery on top of a print, it gives a wonderful depth to the fabric. That's not even mentioning the broderie anglaise edging and the criss-cross ribbon layered over the gore; there is a lot going on on this bra set, but it's all very cohesive and beautiful.
Verdict: 9 / 10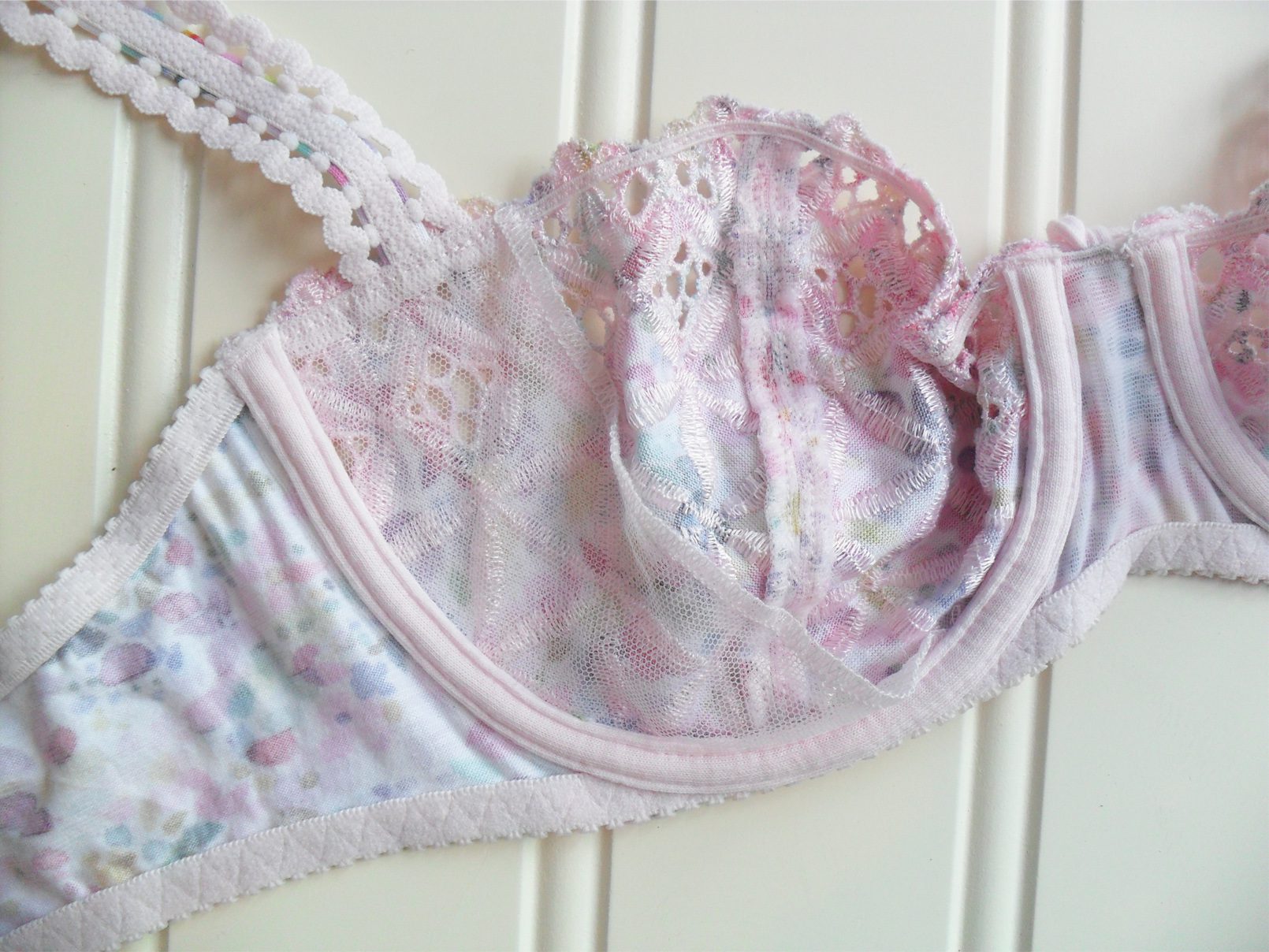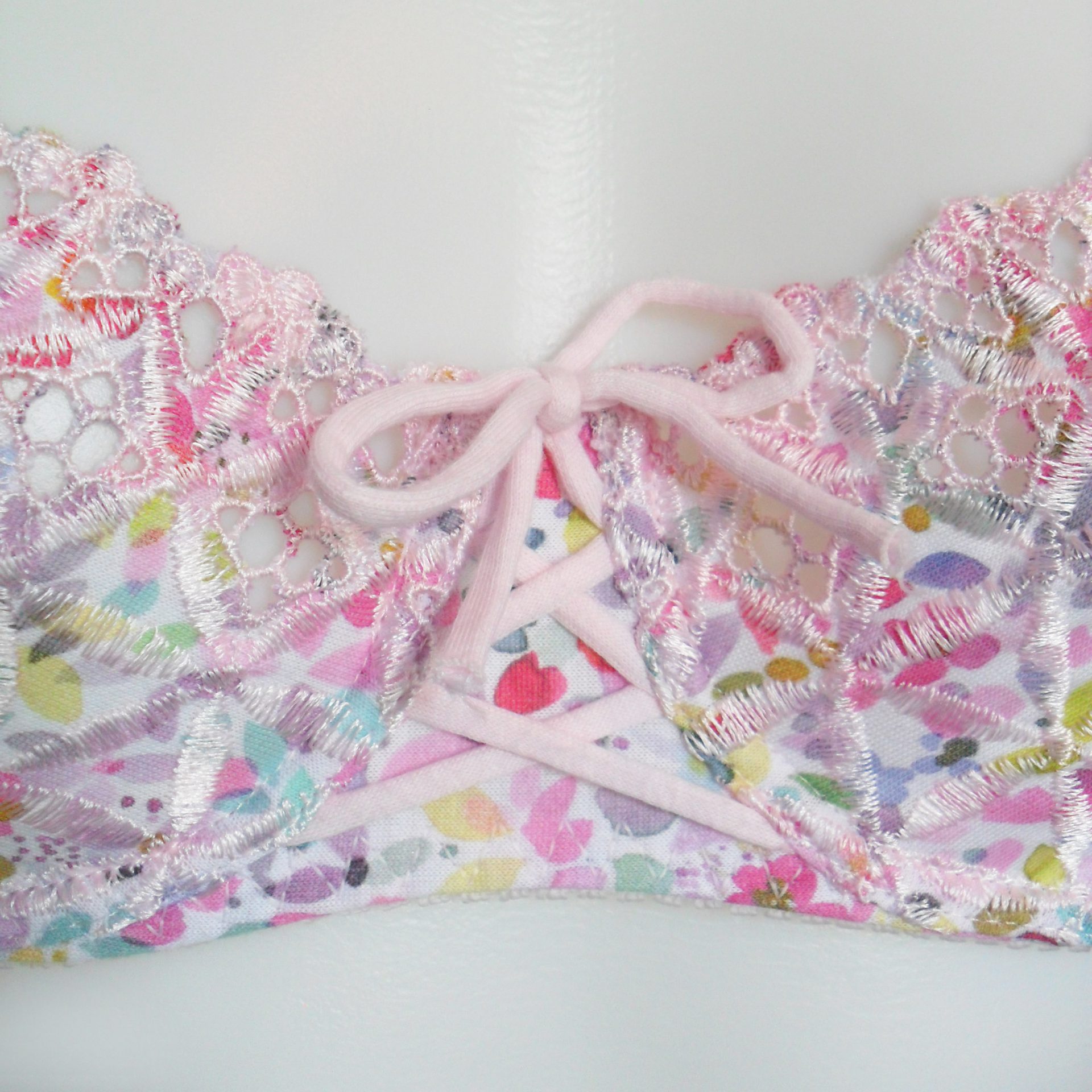 Construction
The embroidered fabric is unlined, but it's soft and I haven't found it at all uncomfortable. The bra features a narrow mesh sling inside the cup, to provide a little extra support at the sides and bring the breast tissue inwards. The cups themselves have a single vertical seam which, as I explained here, helps to give the bra lots of lift and mid-weight support.
The band has just a single-row hook-and-eye-fastening, which I am not used to but then I did size down to a 32C which I never normally wear. I can't quite remember, but I think the 32D I originally received had a wider band (it's quite usual for brands to make small design tweaks at D cups and above, for added support).
Overall, it's nicely, neatly made, but I do take issue with one bit of it – the bows at the gore and either side of the brief. They're made from tubes of soft pink fabric and have just been left open at the ends – no bead, no cap, no knot, no heat-sealing. They were already fraying when I received the set, which would be annoying on a cheaper bra but feels almost unforgivable on a set that costs over £100!
Verdict: 6 / 10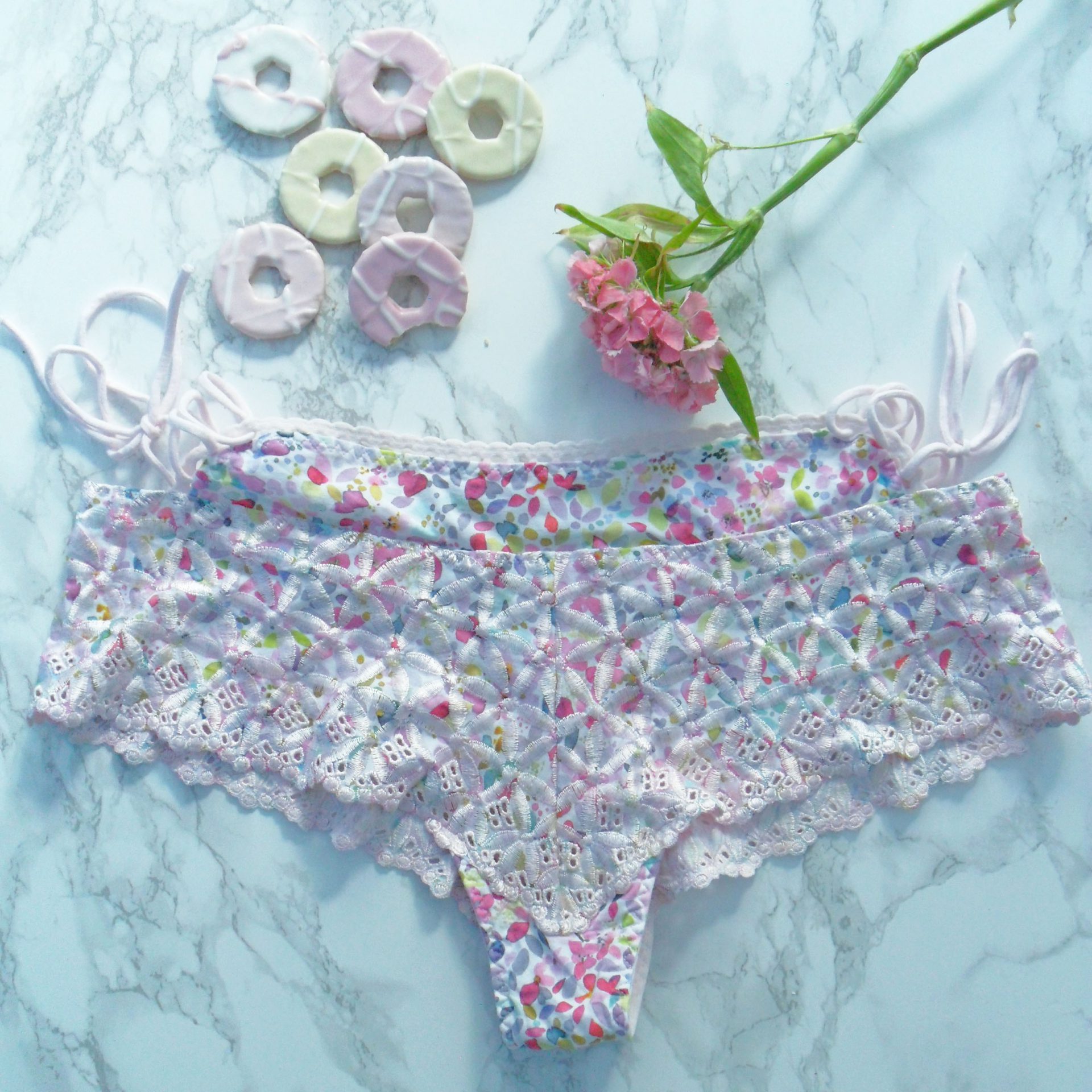 Fit
As mentioned, I ended up with a 32C in the bra, which is not my usual size and not one I've worn since my early teens! It is a bit small in that the gore doesn't lie flat against my sternum, but the cups themselves do lie perfectly flat unlike the 32D which wrinkled. So I'd say it comes up about half a cup size big. The band is a true-to-size 32.
UK Lingerie has labelled the matching short options Small, Medium and Large, which correspond to Aubade sizes 2, 3 and 4. Unfortunately, they're not carrying the size 1 which would have been my preferred choice, but it is available direct from Aubade. I would recommend to stick to your usual knicker size – although there's technically some flexibility thanks to the tie side details, in reality if you pull those tighter than they're supposed to be the excess fabric bags out below.
Verdict: 7 / 10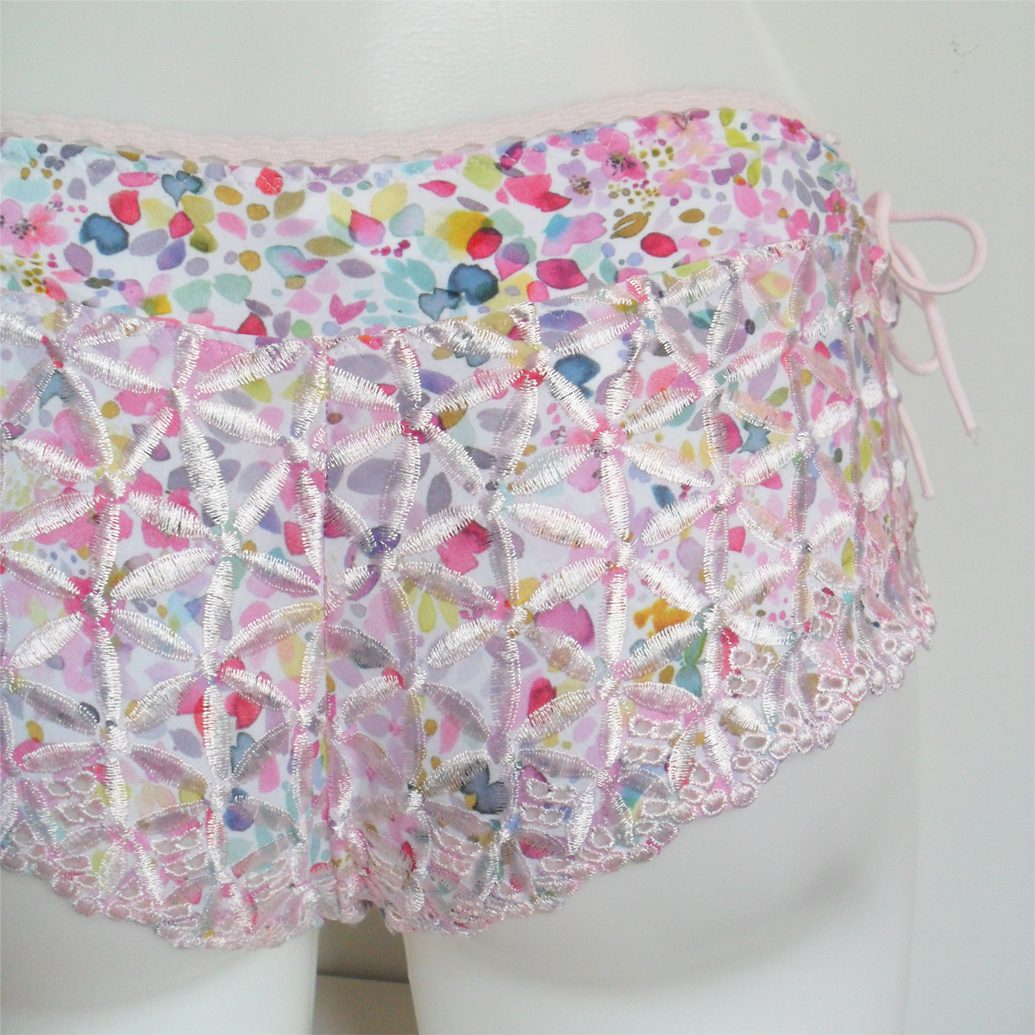 Durability
The bra and knickers are both hand-wash only, no doubt due to all of that embroidery work – you don't want it to catch on anything. I've had this set for 2 months now and worn it regularly, and it is still in perfect condition, except for those pesky, frayed bow ends! That aside, with the right TLC I think this is a bra set that can last you a long time.
Verdict: 7 / 10
Value for Money
The Aubade Bahia half-cup bra is £57 (~$74 / ~65€) at UK Lingerie, and the St Tropez brief (that's what Aubade calls this shortie shape) is £53 (~$69 / ~60€). It's certainly not cheap. It is however incredibly unique, and very pretty.
Perhaps because of those unfinished bow ends or perhaps just because of the fun-but-unsophisticated candy colours, I don't really get a sense of luxury from this bra set. What I do see is a bra set I could comfortably wear all day long and regularly, which gives a great shape under clothing, and which is super eye-catching.
Verdict: 7 / 10
I really want to go buy this bra set in the papaya yellow colour now also (which comes with a satin, not fabric, bow – yay!), and I like this Aubade Jardin Des Delices bra too. They have some really beautiful pieces in their archives – I'm going to have to hunt down a Woodstock Memories and a La Belle en Cavalle set in my size before they're forever sold out everywhere.
Let me know what you think of this Aubade Bahia Tutti Frutti set below. Have you shopped at UK Lingerie before?