Disclosure: This lingerie was sent to me free of charge by Hunkemöller to be reviewed. My opinions are, as always, 100% honest.
I had only really heard of Hunkemöller in passing until I was offered this review opportunity, and I didn't know much of anything about them. A little Googling reveals the brand has actually been around since 1886! Originating in the Netherlands, they have over 4,000 stores worldwide and are a major high-street presence in both Germany and Denmark. However, Hunkemöller has yet to open any physical locations in the UK, though their website does offer shopping in GBP, UK delivery within a week and free returns to the Netherlands.
I was asked to give their "Sexy Comes In All Shapes" tool a whirl, which is a bra size calculator crossed with an algorithm that takes into account the fullness and spacing of your breasts to match you up with one of four standard bra shapes (full cup, demi, plunge or balcony) that Hunkemöller believe will work best for you.
Now, as you all know, I have zero faith in online bra size calculators. Hunkemöller's put me at a 65A (30A UK) which is not even close to my size. However you do have the option to just tell the tool what size you wear, to see the shape recommendation – once you click submit, it will bring up a personalised shop of bras in that shape and available in your size. Personally, I always like to browse a whole store so I don't miss something really pretty, but if your primary focus is fit and you're unsure which styles suit your breast shape, I can see how this tool could come in handy.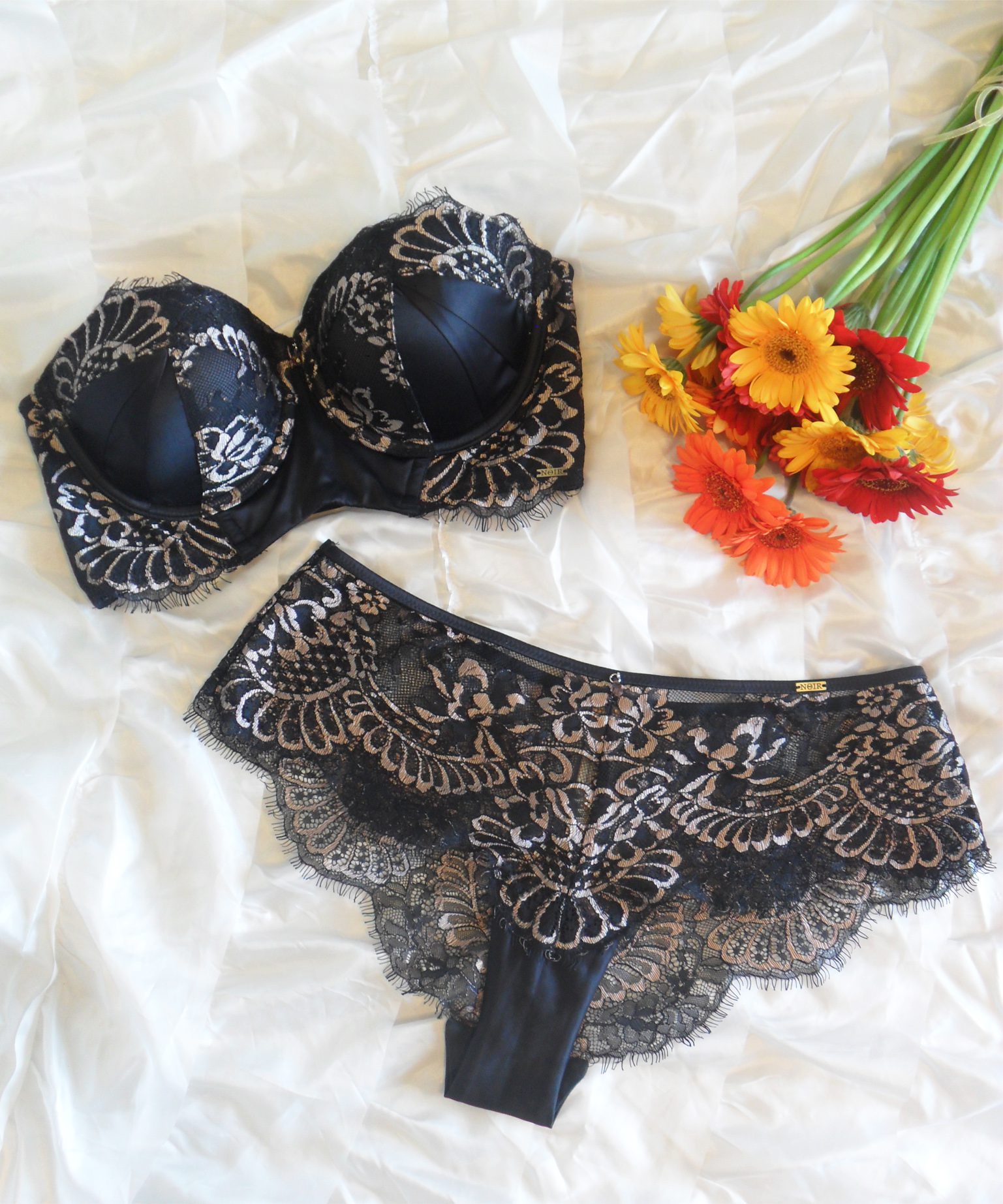 Appearance
Kiara appeared in my personalised Hunkemöller shop but I think I would have chosen this from the entire site anyway because gosh is it pretty. Although the bra is what made me click through, the knickers are what really sold me on this set. Called 'boxers' by Hunkemöller, they are made from all-over lace with a slight metallic sheen, scalloped eyelash trim and symmetrical placement, and look far more luxurious than their £22.50 price tag.
The bra is made from a combination of matte satin, lace and powernet mesh. On the cups, the satin is pleated which gives it a pretty, retro touch. I particularly like the way the satin has been reintroduced at the back of the band, rather than it just being plain mesh all the way around.
As for the finishing touches, both pieces feature a little plastic gemstone charm and custom metal plaques with the Noir logo (Noir being Hunkemöller's premium and more luxurious range).
Verdict: 9 / 10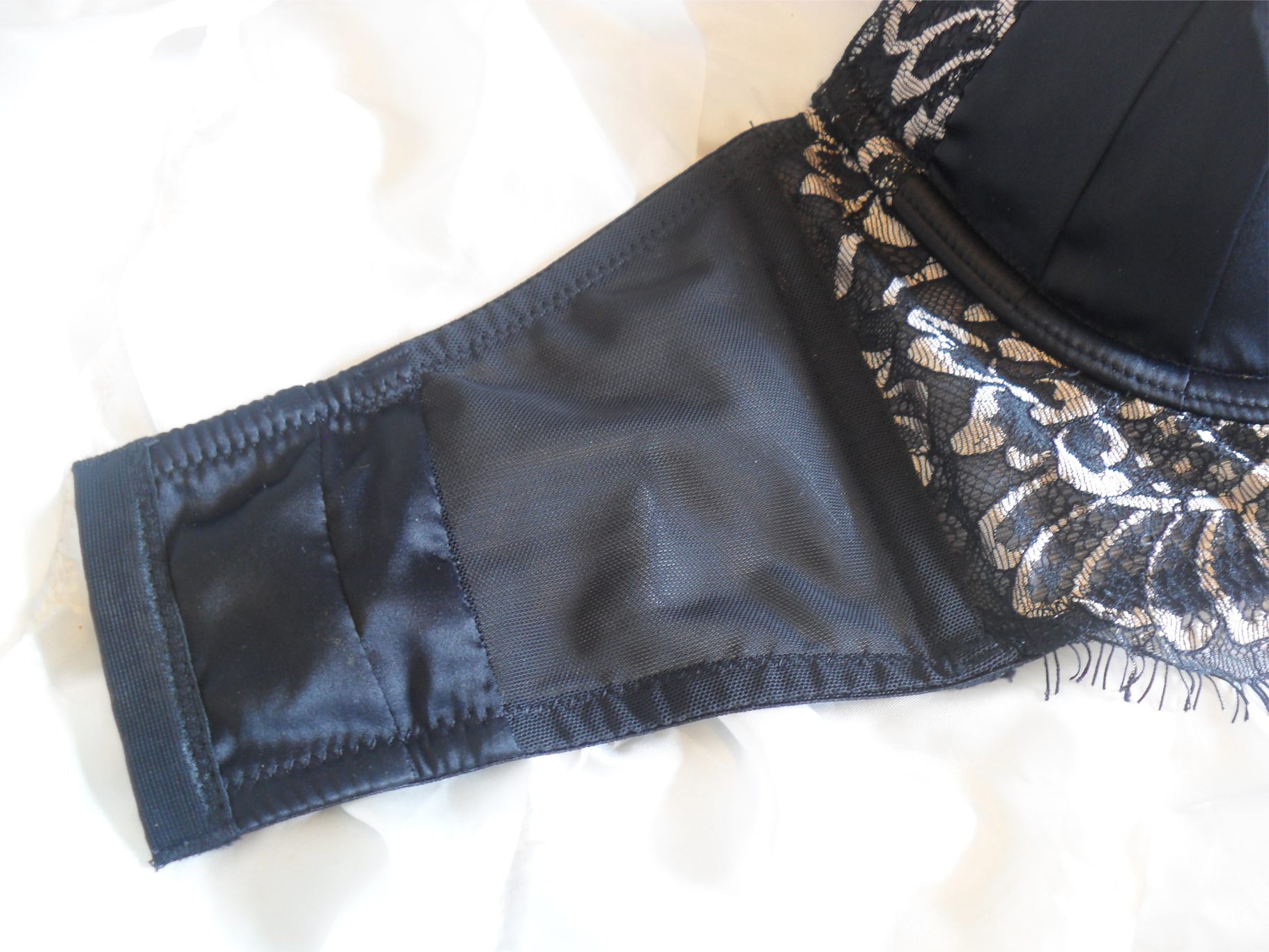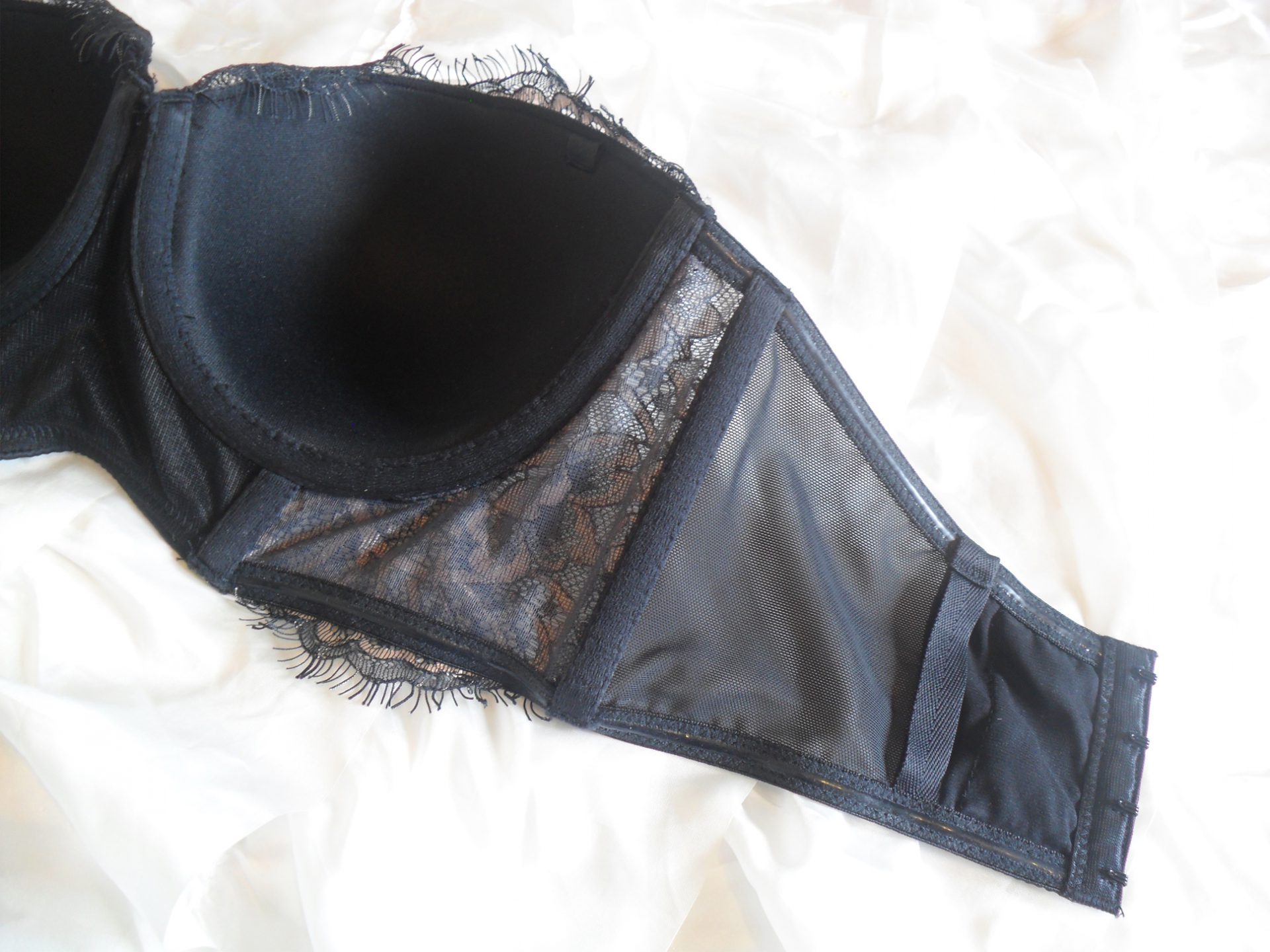 Construction
There are 3 Kiara bra styles and this is the longline balconette which comes with lovely, satin-covered detachable straps (making it my first proper strapless bra!). It's described as padded but is really just moulded, rather than having thick, push-up padding.
Given that it can be worn strapless, the bra has quite a wide band and has silicone trim inside the top and bottom edges of it to help the bra stay in place. There are tall bones at either side, plus two short bones at the front of bra, to make sure the longline style keeps its shape and doesn't roll up.
I was a little surprised that the lace on the inner panels of the two cups is not symmetrical given that it is pattern-matched everywhere else on the set. Overall though it's well-made with the kind of sewing quality I would expect from a high-street brand in this price range.
Verdict: 8 / 10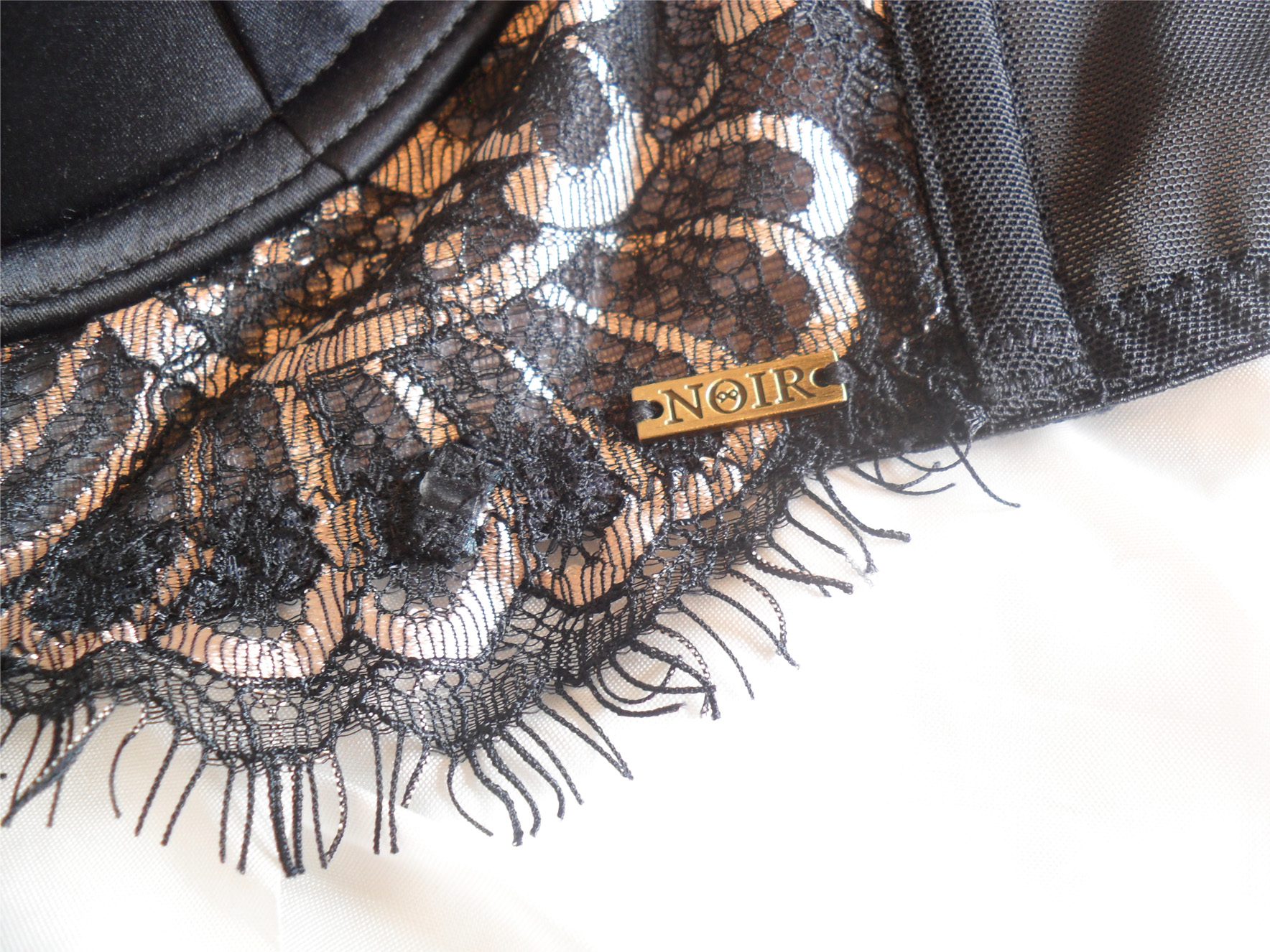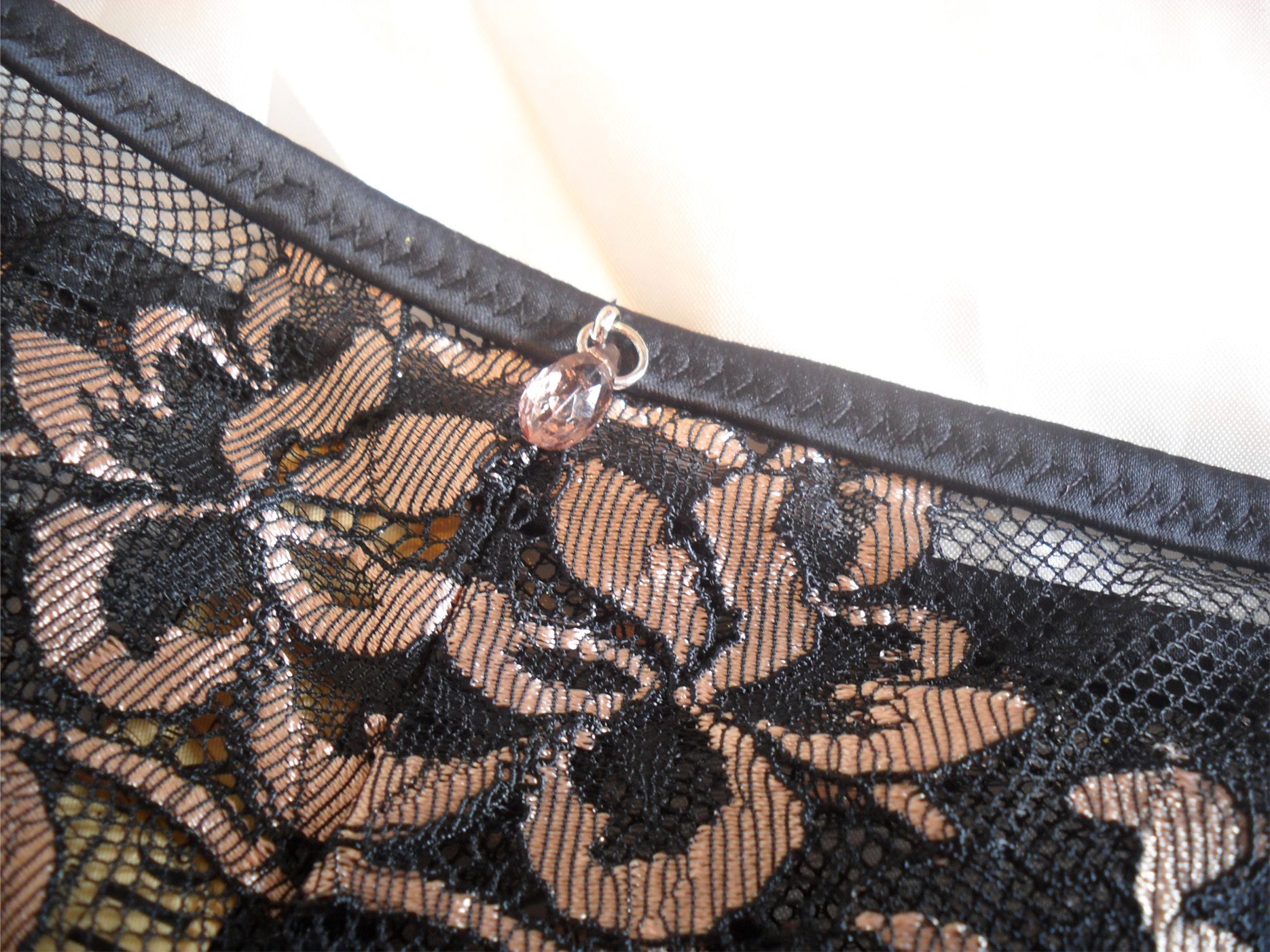 Fit
So, I ignored Hunkemöller's advice to choose a 32A and went for a 32D instead. I prefer a 30-band where available and Hunkemöller do make them, but not in this style. As it happens though, the band on this bra is quite firm, I assume because it's strapless and therefore you really do need a snug-fitting band to anchor the bra in place. I haven't worn a strapless bra in literally years because I have vague memories of various ones I tried all slipping down, but the Kiara stayed put all day long on multiple occasions. I am so happy to finally have a strapless bra that actually works!
The cups feel about a half-size too big for me; there is some slight gaping at the top when I'm not wearing the bra with the straps, which pull them flat, but then molded cups and I rarely get along. I would say the cups fit true to size.
I received the brief in an XS which is a UK 6 on Hunkemöller's size chart, and they fit just fine. A tad loose perhaps compared to the picture of them on the model, but I quite like them with the extra floatiness.
Verdict: 7 / 10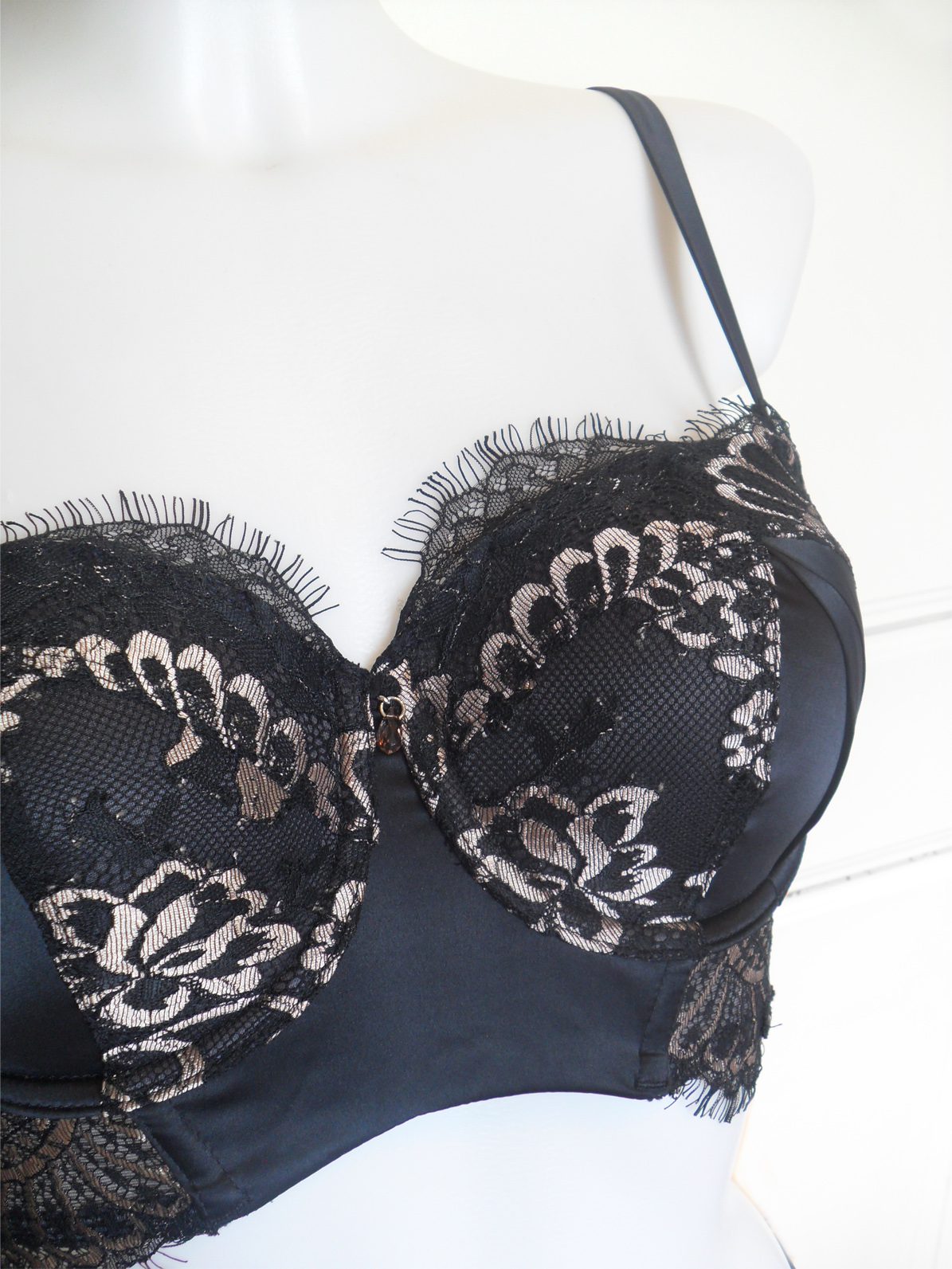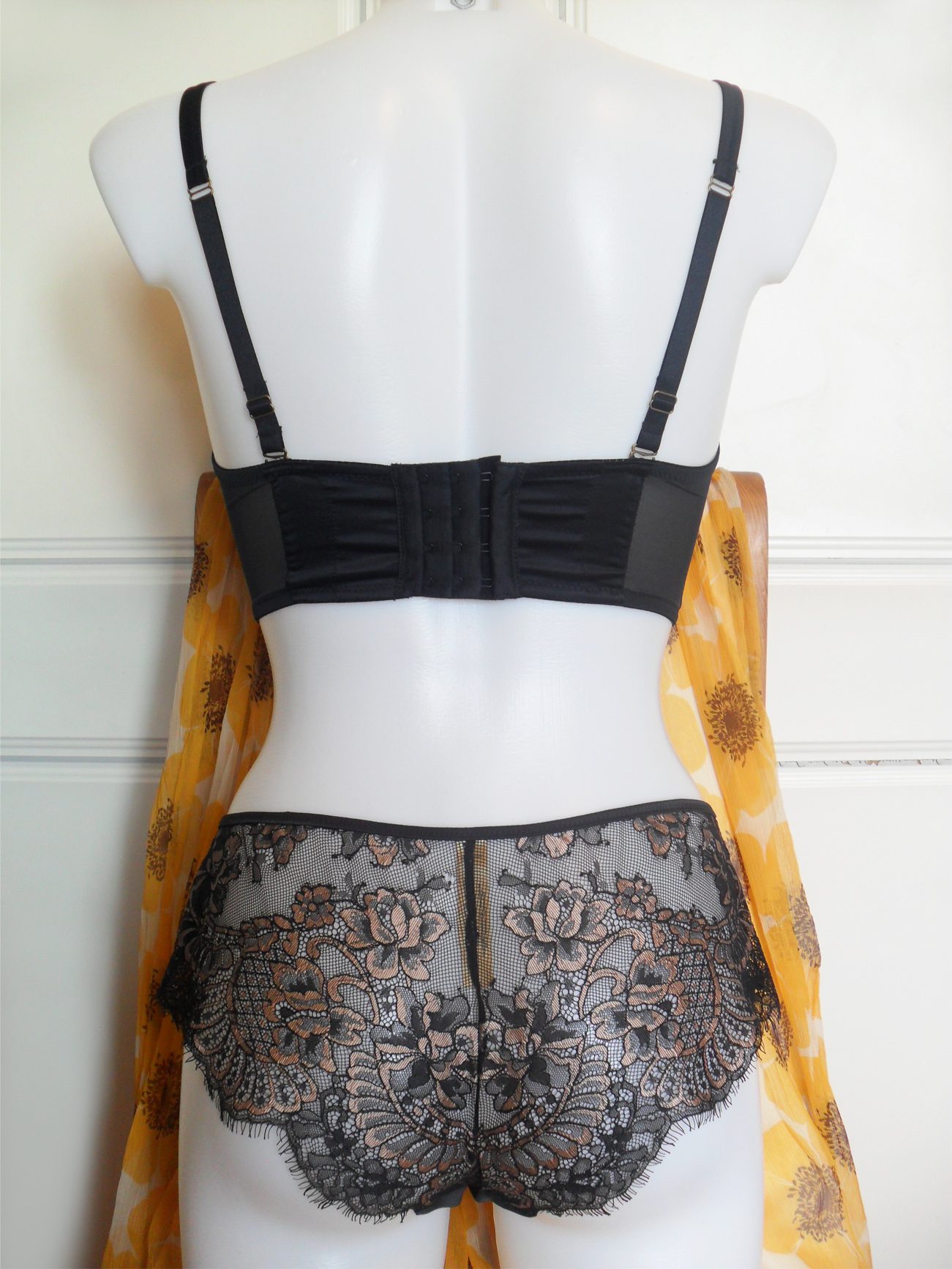 Durability
Both pieces are hand-wash only. The lace is about as sturdy and durable as a lace can be, and the satin is fairly resilient too – I've found there are two types of satin in this world, ones that snags at the lightest brush of a fingernail and ones that don't. Luckily this satin falls into the latter category!
Verdict: 8 / 10
Value for Money
The longline Kiara is the most expensive bra on Hunkemöller's website currently, but at £40 (~$52 / ~44€) it's still very affordable and really beautiful for what you get. Not to mention well-constructed enough to actually stay up when in strapless mode. The boxers too are just divine and I would have paid £22.50 (~$29 / ~25€) for them in a heartbeat if I saw them in store.
Verdict: 10 / 10
Love the knickers but not so keen on the bra? There's also a non-longline, non-strapless version plus a really beautiful plunge. Another piece in the Kiara range that's worth checking out is the soft-cup bodysuit with lashings of sheer lace. Unrelated, but I'm also really in love with the embroidered Nadine bra!
Let me know what you think of this Kiara set! Had you heard of, or ever bought from, Hunkemöller?