Disclosure: I received this corset free of charge from Glamorous Corset to review. I never accept money for reviews.
I've always been curious about mesh corsets. I like the appearance of them – almost like a skeleton of a 'real' corset – and the way you can layer one over your outfit without covering it up. The promise of breathability appeals too; it's around 30°C here most days lately.
So when US-based brand Glamorous Corset offered me something to review, I immediately checked out their mesh selection. There are 5 options: Jolie, Emma, Lara, Lexi and Bella. The first three are regular underbust corsets, the last two are shorter waspies.
As someone who's 5'3 and with a short-ish torso (7.5″ from my underbust to my hip bone), the biggest problem I always have with corsets is the length. The bones often poke me in the thighs when I sit, and underbust styles overlap my bra and press the wires painfully into my skin. So I went with the Lexi that's only 9″ tall at the centre-front, and shorter at the back and sides.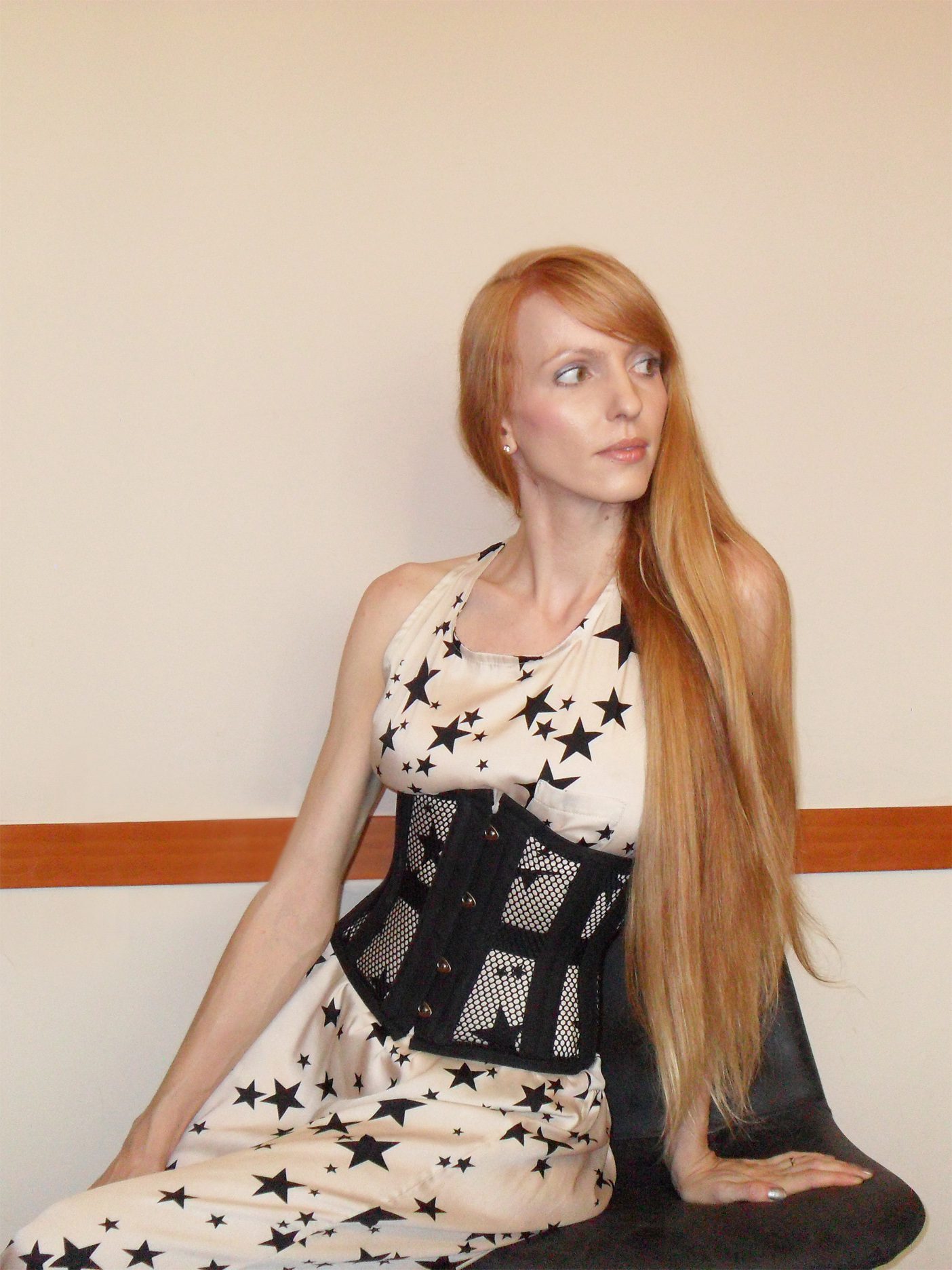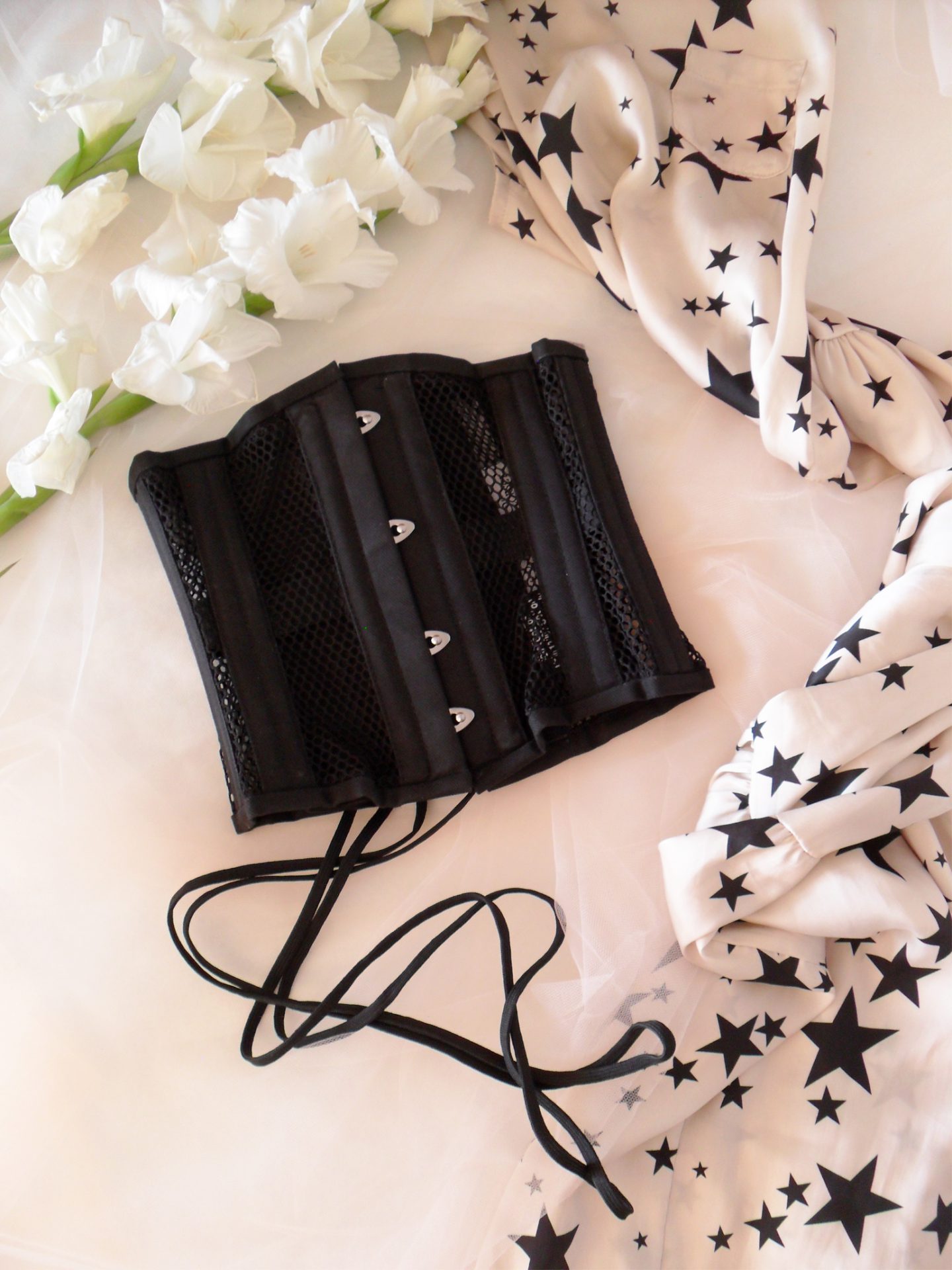 I'm glad to say that it's an ideal length on me. If you compare my photos to the Glamorous Corset model, you'll see that it takes up much more of my torso. So if your vertical measurements are similar to mine, expect this to fit like a full-length underbust and not a cropped cincher.
I asked for the Lexi corset in a 20″ waist size – it's available up to 40″. My natural waist right now measures 25″ so I wasn't expecting to be able to cinch it fully down. That was intentional, because with a mesh outer the wide, opaque modesty panel essentially blocks out one of the mesh panels if you lace the corset closed all the way. The labels are visible through the mesh regardless, but there was nowhere else the brand could have put them – you'll just have to snip them out if you don't like them.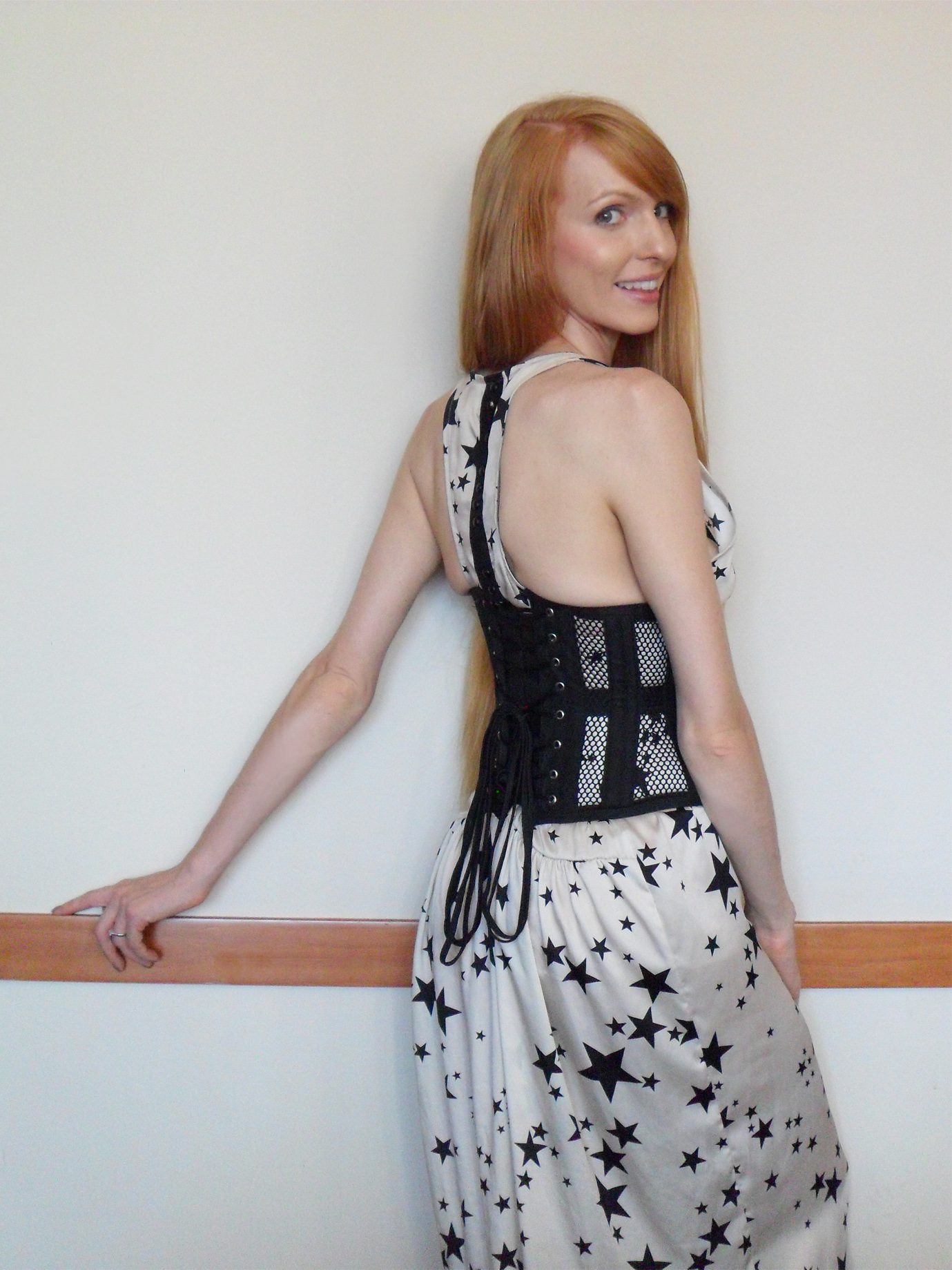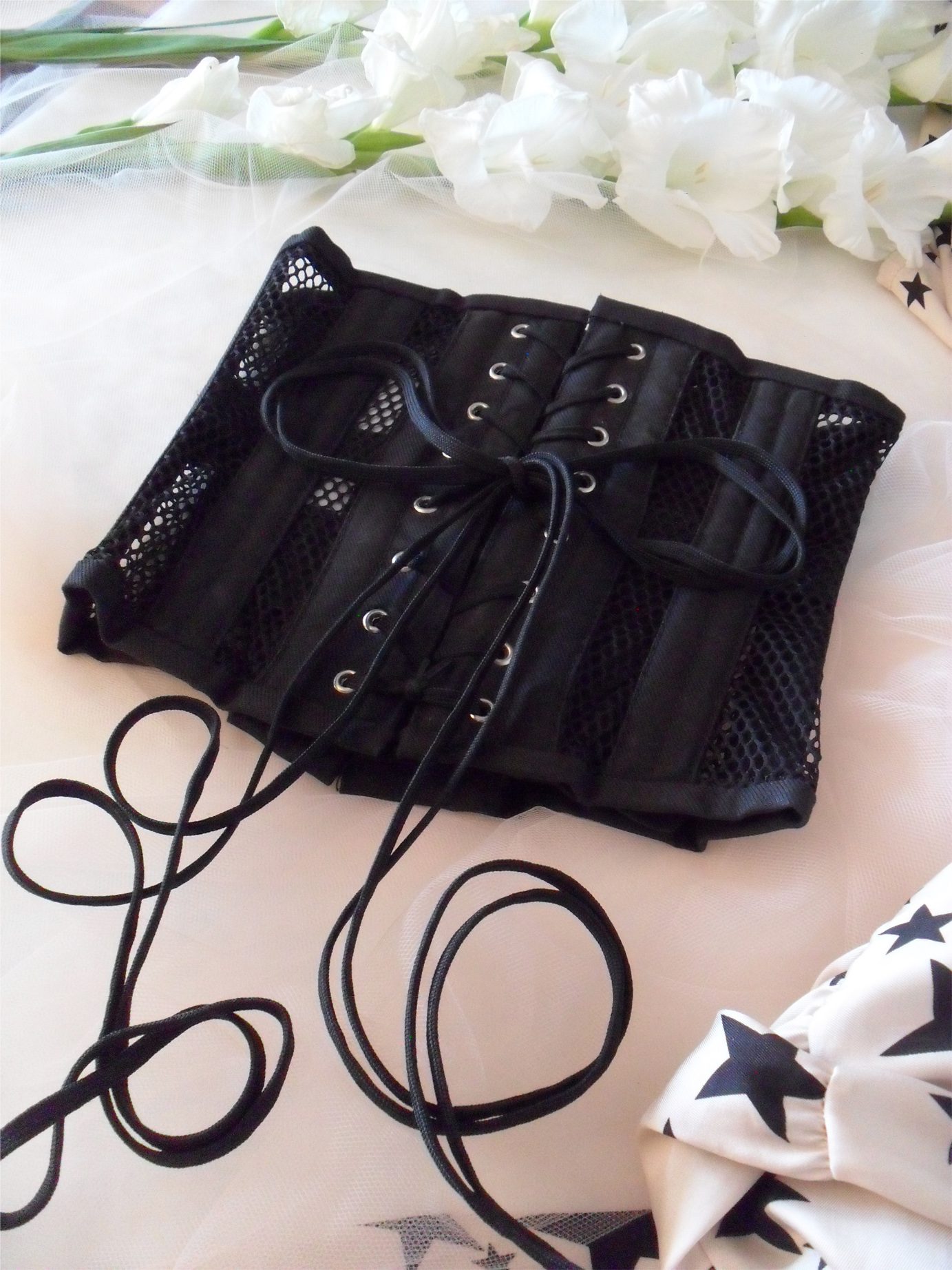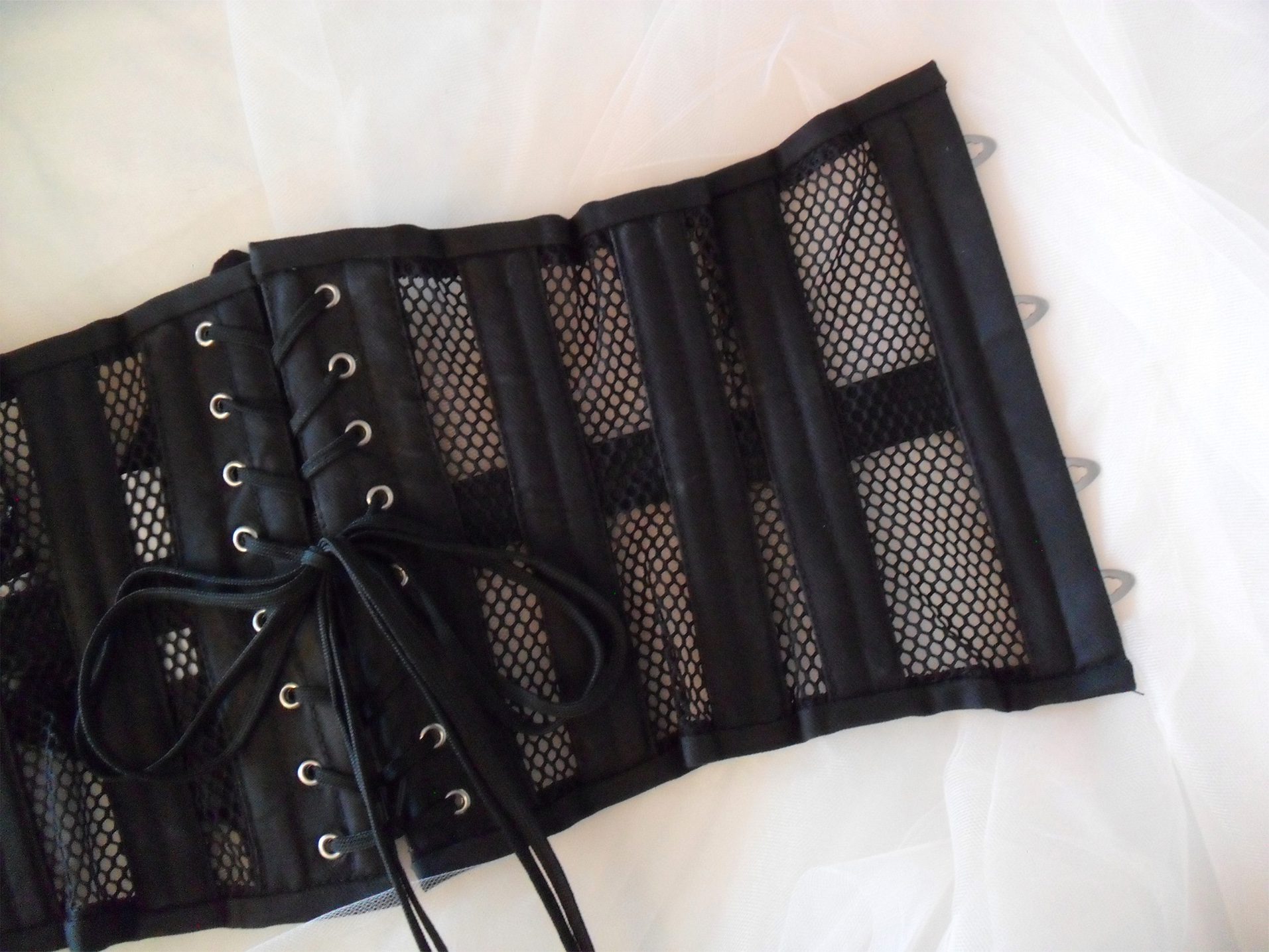 Here's the thing that surprised me: worn with a 2-3″ gap at the back, my narrowest point is still 24.5″. Probably more like 24″ in real terms, because the corset adds some bulk. It's not a big reduction at all, and yet my waist looks noticeably more nipped-in. No, they're not dramatic curves, but bear in mind what I'm starting with – I'm pretty straight-up-and-down. (I have looked curvier in other corsets though, so it's not just my figure – I'd say Lexi creates a more gentle curve by design).
What this corset seems to do is compress the waist in mostly from the sides, making it seem narrower from the front but a tad wider in the profile. This image explains it better. I'm no corset expert (and have never tried another mesh corset to compare it to) but I guess it may be to do with the material – the mesh has slight stretch, so it can't squeeze your waist in quite the same way as a tightly-woven coutil would. The whole corset probably expands a bit under tension, which I've read can happen with mesh styles.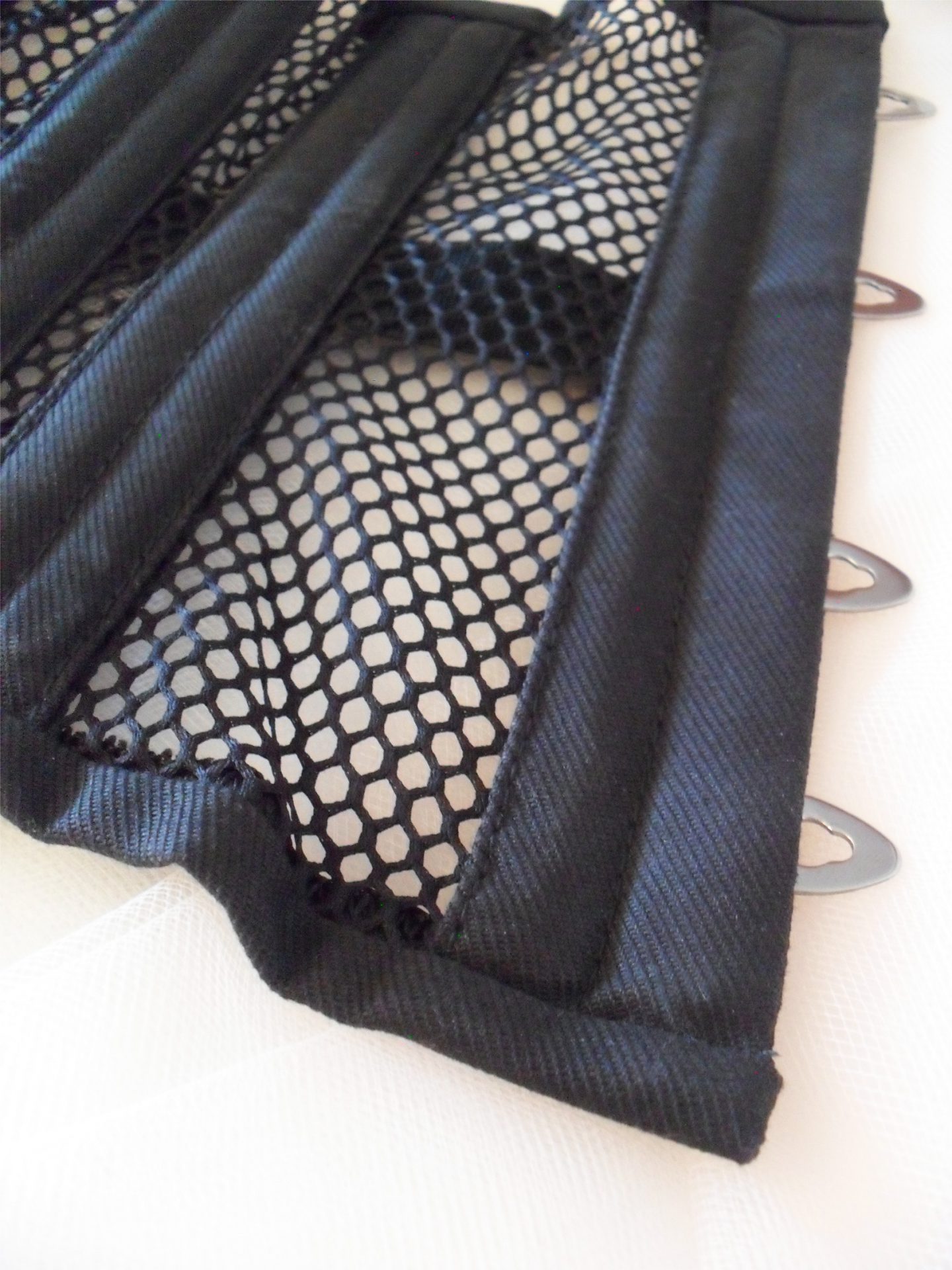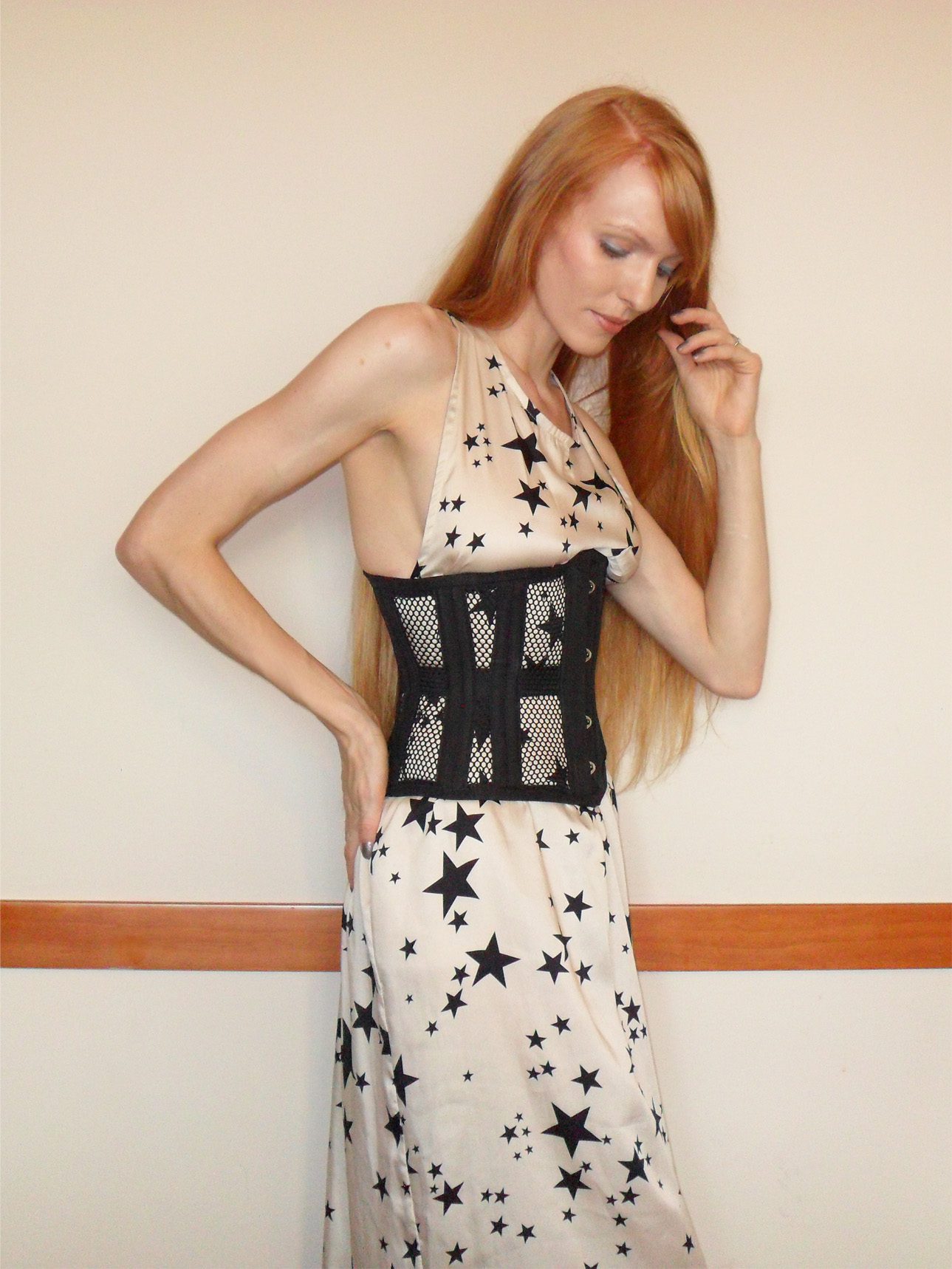 Still, it's made me look curvier so I'm happy with the fit. It's a comfy corset too – I rarely wear them and can easily keep this one on for half a day. And the mesh? Definitely breathable! I've worn this on swelteringly-hot days without sweating (except behind the solid modesty panel, which tells me the mesh makes a difference).
Quality-wise, I'm impressed for the price. This is actually the second Lexi that Glamorous Corset sent me. After wearing the first one once, I noticed that the waist tape was almost fraying where it joined the busk; the brand agreed it was defective and sent a replacement. I've worn this one three or four times without issue, so I think I was just unlucky.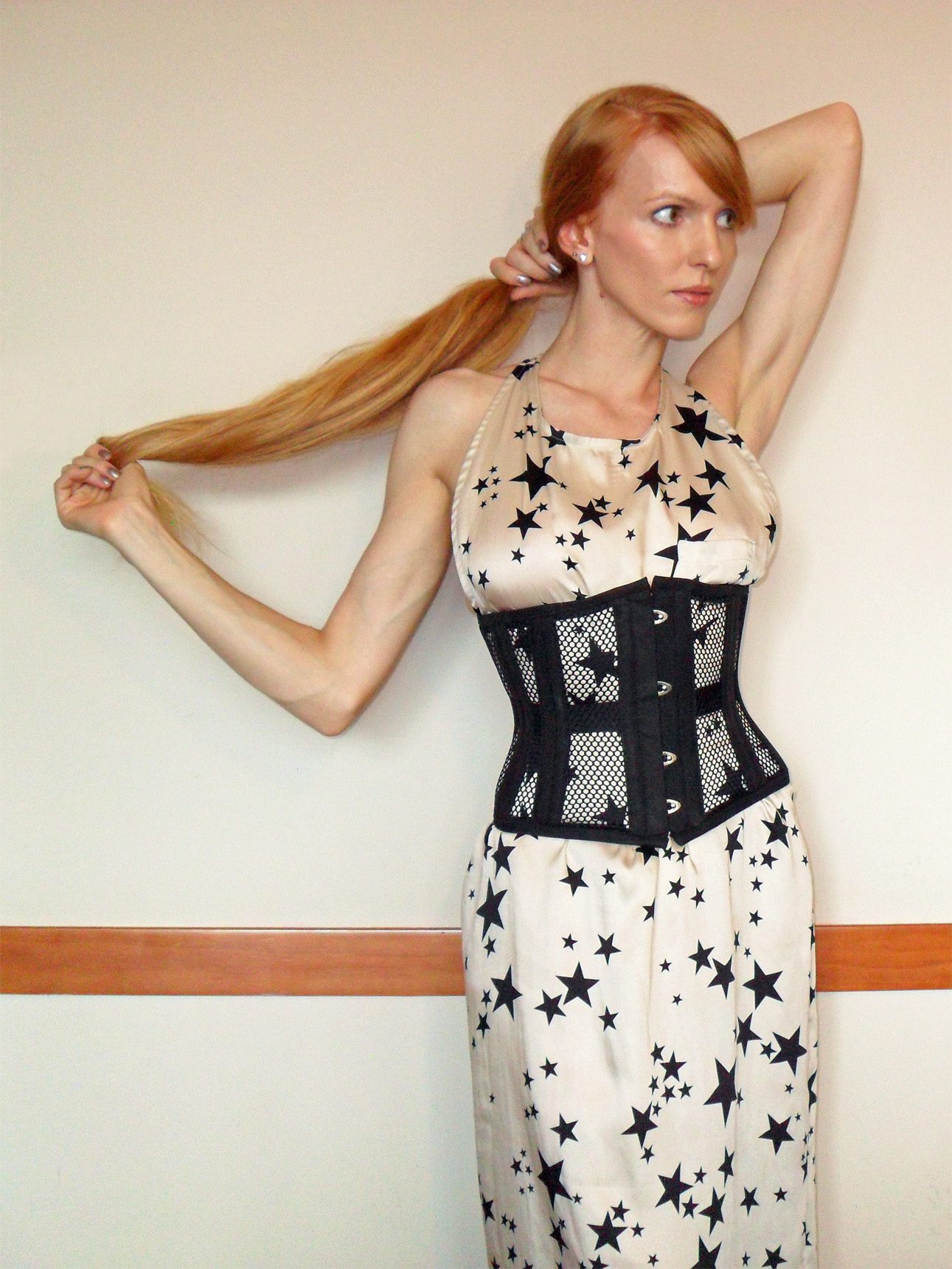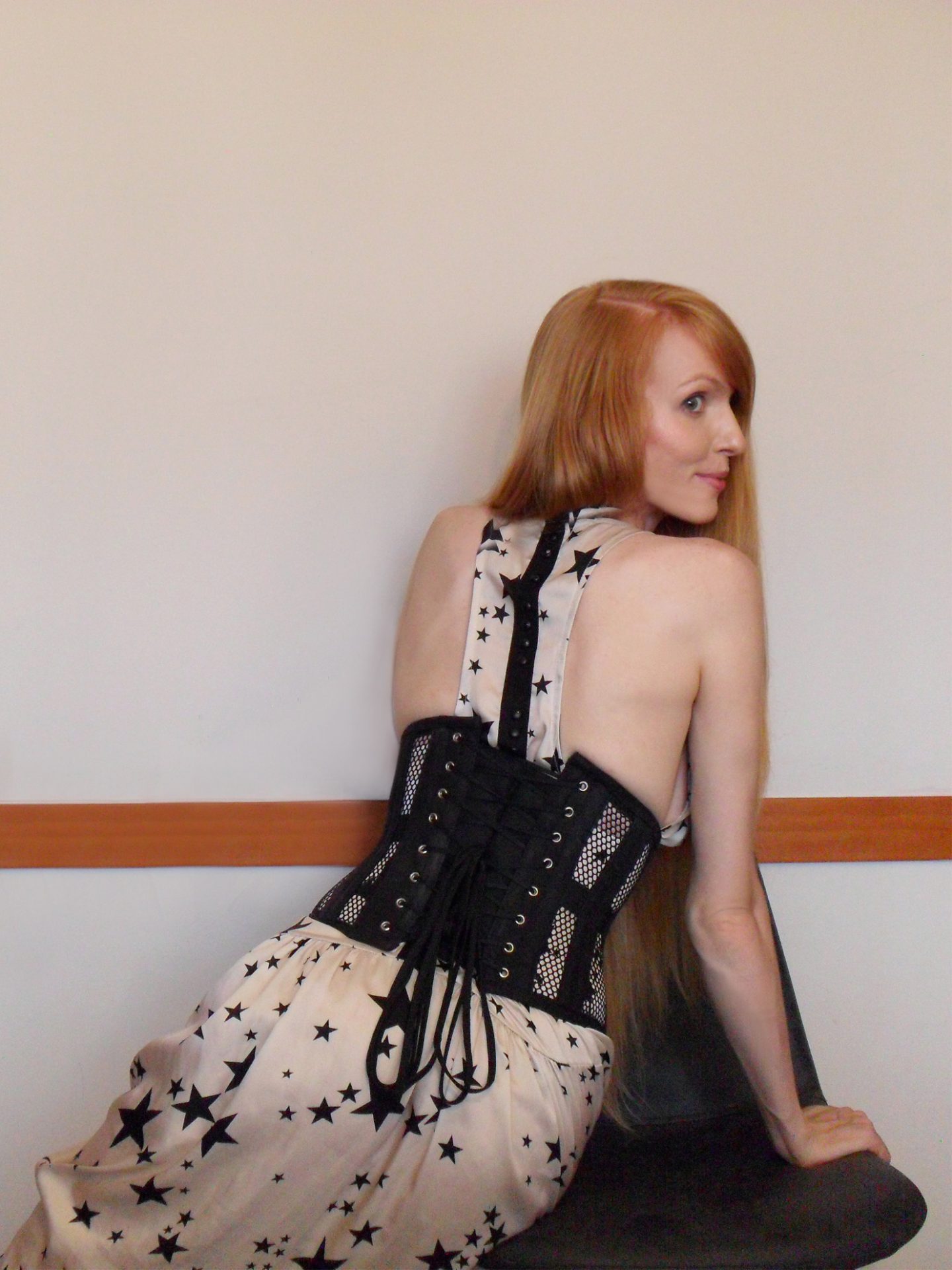 The Lexi corset usually costs $84 (~£66 / ~73€), though it's currently on sale for $74 (~£58 / ~65€). That's good value for money – it feels sturdy, looks good, and does offer some shaping. Oh, and it comes with a nice velvet storage bag too.
You can't expect miracles from a budget-priced corset, but it's both eye-catching and effective enough to be worth the price. I would recommend this for someone who wants comfort and a slight waist reduction, especially if you've found standard-length underbusts too long in the past.
Have you ever worn a mesh corset? Or any style from Glamorous Corset? Let me know your experiences with either in the comments below!