Disclosure: Links with a * are affiliate links.
I shared this piece on social media yesterday, and then decided I simply had to feature it on the blog too. The Soni corset* is part of Agent Provocateur's new AW18 collection, and is the first design of theirs since last year's Haylie bra that has really caught my eye.
Over the past few seasons, it has seemed like Agent Provocateur was on a perpetual downward spiral. In April 2017, the brand that was once darling of the lingerie industry filed for bankruptcy. It was bought out, but its diffusion line L'Agent was shuttered and multiple stores closed down.
Since then – and a bit before then, to be honest – the brand hasn't had quite the same lustre as it used to. Their photography and video campaigns went from inspiring to bland, and in some cases even tacky. More importantly though, the lingerie got kind of boring. It's felt more like they're copying existing trends rather than being the ones to set them – I mean, they're even doing the sporty logo elastic thing now.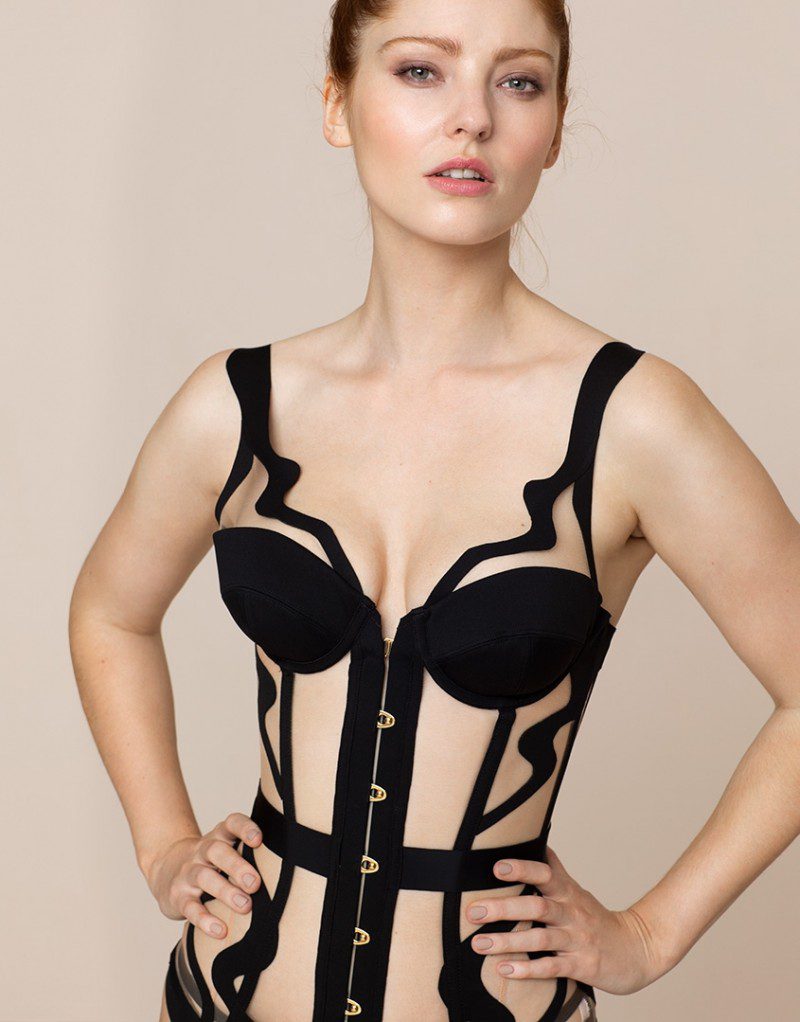 But maybe – hopefully! – they're turning things around. In the past few weeks, Agent Provocateur has released some really gorgeous, playful and eye-catching images. And now they've debuted Soni, a bra set and corset range that I utterly adore.
It's not the only new thing on the Agent Provocateur site that I like either. I love the cage-style Rubi set* and matching corset*, and I know some of you will feel the same way about the Cephora tights*. The Marjorie bra top* is cute, and they're adding yet more pieces to the website as I type this.
But the Soni corset stands out to me because, so far, I think it's the most unusual. In case you haven't guessed by now, I'm a sucker for anything that has a graphic black pattern on an ultra-sheer tulle backing. But it's usually floral or geometric; I've never seen anything like the wiggly lines of the Soni corset before.
I'm saying exactly what I said about the white Haylie bra here, but it reminds me of wisps of smoke. And my favourite thing of all is that the unusual, organic shape continues along the edges of the cup. That's an expensive, high-end detail you certainly won't be seeing on cheaper garments.
The Soni corset* costs £395 (~$518 / ~443€). Based on the images and my previous experience with Agent Provocateur 'corsets', it's probably more of a corset-styled basque than something that will cinch your waist. But I'd still love to own it! There's also a matching bra set* in the range.
Are you loving this corset design as much as I am? What are your thoughts on Agent Provocateur in general – does AW18 seem like a 'comeback' collection to you too?