Last year wasn't the best year for swimwear trends. I have to admit, I don't remember any of them. Really, 2020 was about wireless lingerie and loungewear. Nonetheless, new swimwear brands were already on their way to launch as the pandemic started, and others had to keep thriving.
This summer, the consensus seems to be that we only have one life to live – safely. Bikinis are definitely de rigueur and size ranges are expanding up to KK cups. Here are some of the full bust swimwear brands I recently discovered, or rediscovered, on social media this year:
Soul Shore
30-36, DD-GG
Soul Shore is a UK brand that aims to create affordable yet trendy DD+ swimwear. Launched in March 2021, this brand is definitely one of the most recent brands I discovered this year. Their designs are youthful and remind me of 80s fashion trends with their high leg cuts and colourful prints. Soul Shore offers swimwear in a relatively wide size range for such a new brand – I am pleased to see these designs available in G-GG cups. It seems, however, that the brand is focusing on petite bodies as their coordinates only go up to a Large or UK 12. As for the affordability factor, a bikini set will cost you £38 (~$52 / ~44€).
All Peace
30-40, DD-G
All Peace is another full bust swimwear brand launched in 2021, created by a British-Nigerian designer (and DJ) Olatunde Bola-Lateef who wanted to fill the gap in the market for mainstream silhouettes in larger cup sizes. The brand is definitely inspired by Nigerian fashion and features lots of colorful prints, as well as a signature asymmetrical look. The size range goes from XS to XL but you can check their useful size chart that indicates what bra sizes are correlated to these letters, up to 40G. One thing that surprised me about this brand was that they mainly offer thongs as coordinates. If you want some extra coverage, they do offer a couple of bikini briefs, plus matching sarongs which can be very fun beach accessories!
Form and Fold
30-38, D-G
Form and Fold, formerly The Fold, isn't a new label. The Australian brand launched in 2017 and has been offering D+ swimwear with a focus on small bands and deep cups since then. However, in March 2021 they rebranded themselves as Form and Fold in order to slightly change the trajectory of their brand as well as make it more environmentally-friendly. Their minimalist aesthetic makes for timeless pieces and 78% of their Italian fabric is made from recycled waste, such as fishing nets and industrial plastic from landfills and oceans all over the world.
Vanessence
UK 8-16, D-K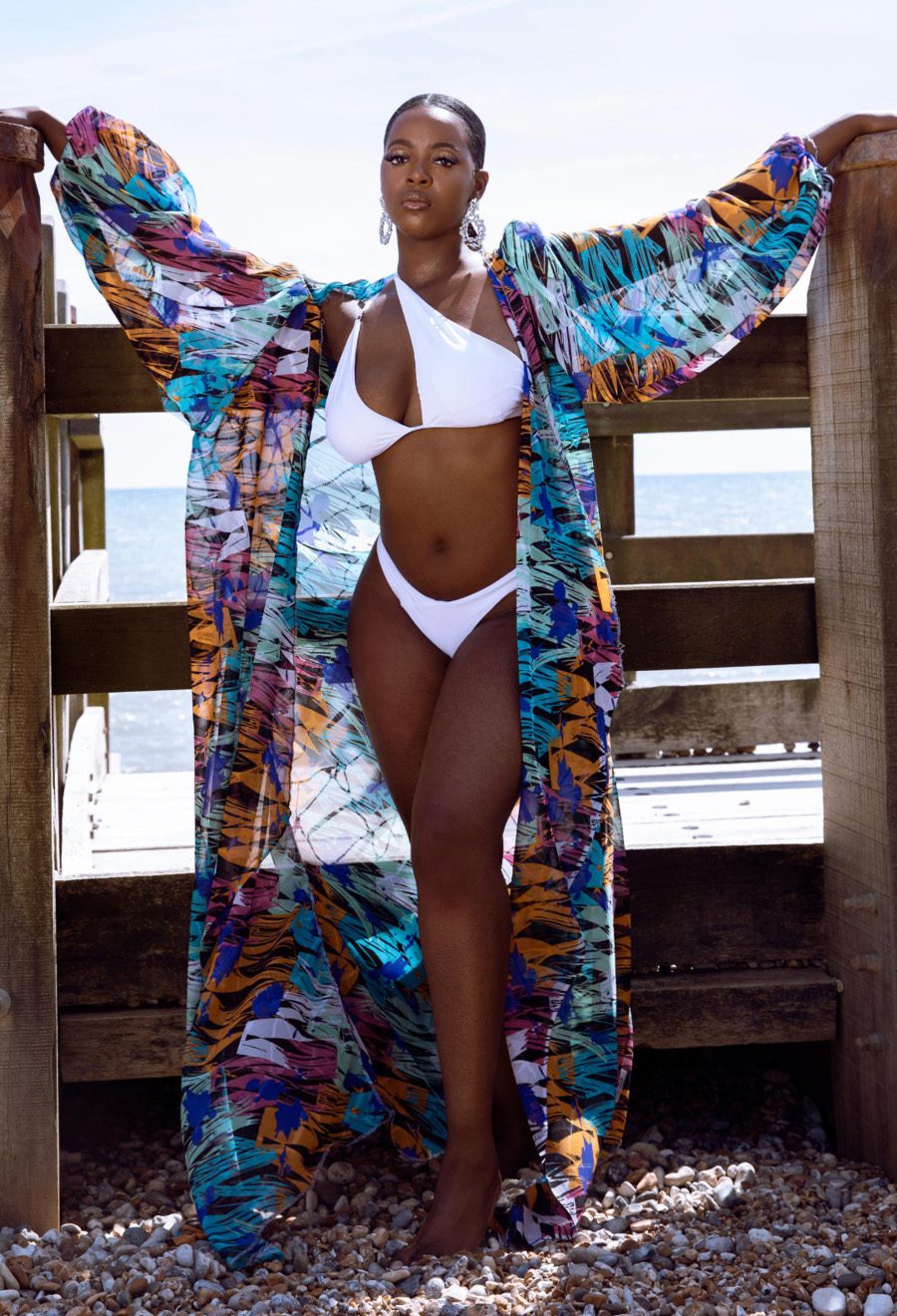 While many new brands are focusing only on D to G, UK brand Vanessence claims to fit breasts up to a K cup (don't be thrown off by their 'extra' sizes such as EE – just pick whichever grouping aligns with your usual UK cup size letter). Launched in July 2020, Vanessence has a different approach to full bust swimwear sizing. Their versatile bikini tops are meant to fit many band sizes and should be ordered based on your cup size. Vanessence also makes beachwear items that are meant to offer colourful, mainstream options to full-bust women.
Jeuje Clothing
30-38, DD-H
Jeuje Clothing is originally an Australian clothing brand designed by a professional bra fitter, which launched in 2019. They currently offer two bikini bra designs, featuring an exclusive print and many different options of coordinates. The brand is very much fit-focused and will provide tons of information to help you get the best fit possible, down to the measurements of their model, which is actually very helpful for online shopping. Jeuje also offers three matching summer dresses in this exclusive print!
Reign Studio
28-40, F-KK
Reign Studio, formerly known as Reign Swim, is a lingerie, loungewear and swimwear brand offering wireless products in a very wide range of sizes. The label rebranded as Reign Studio in February 2021. This might be the ultimate full-bust brand for lockdown lounging. The brand offers sizes S-XL but aims to fit bodies from UK 6-20 and up to a 40KK, which makes it one of the most inclusive of all the new brands I have seen lately. Their products are focused on comfort as well as offering supportive and trend-led garments to their customers.
Have you tried any of these brands? How do you feel about the industry's new approach to swimwear fashion (i.e. wireless, flexible sizing, etc.)?