Readers, I've found them: the ultimate lingerie-inspired accessories.
I've been a huge fan of Romanian fashion label Murmur ever since I first discovered it in 2013. I can't afford it, but I obsess over it regularly nonetheless. Specialising in luxury, edgy outerwear that's inspired by lingerie, iconic Murmur designs such as their Satin Sculpt Bra Top have been on my wishlist for years. Lately I've fallen head over heels for their Ivy Leggings too, but frankly just about everything on their website is something I'd wear.
Murmur works lingerie-inspired details into their designs in numerous ways, but by far my favourite is their use of shiny suspender grips as decorations. It's a design feature I love whenever I see a brand using it, but whereas that often means a couple of suspender grips used as shoulder strap attachments, Murmur really goes all out, applying rows of them that stretch all the way up the side of a pencil skirt or waist to ankle on a pair of trousers. They push the idea further than anyone else, and that's what makes their pieces so captivating.
Now (or rather, back in October but I've only just seen it), they've done just that once again through a collaboration with Romanian accessories brand Optimef. The three-piece capsule collection includes a black leather clutch bag and a leather belt available in black or beige, all featuring the most enormous suspender-style hardware I've ever seen. If you're too shy to do the lingerie as outerwear trend but still want to shout about your love of lingerie from the rooftops, these are for you!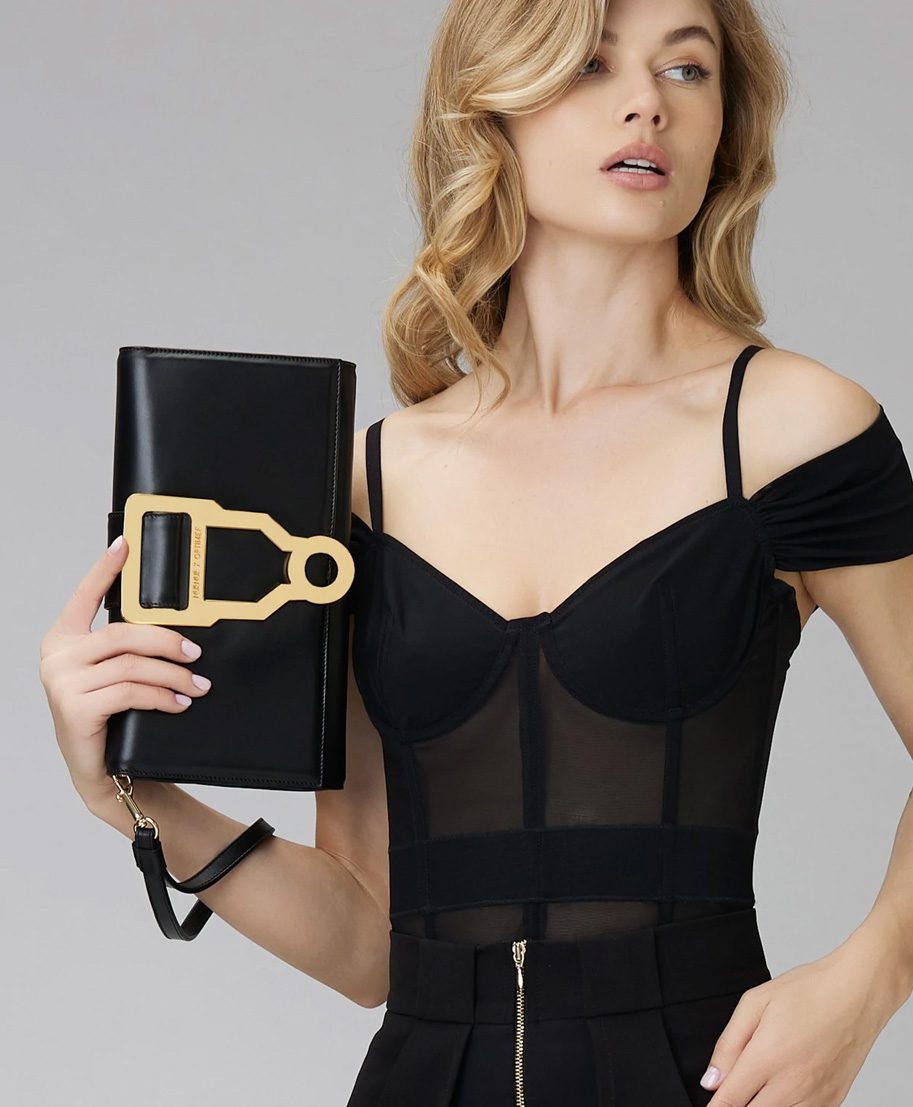 You can purchase via either Murmur or Optimef's websites. The belt costs 290€ and the clutch is 590€, although the latter is currently slightly discounted on Murmur's site where it's down to the last few pieces. They're both made in Romania from top grain leather, with the engraved 'suspender grips' created in solid brass. The belt is available in five sizes from 60-80cm.
As a side note, the suspender-printed garments shown in the first image a part of a range designed to celebrate Murmur's 10 year anniverary last year. They're also still available, and also pretty fabulous for a lingerie lover!
Are you swooning over these lingerie-inspired accessories too, and how would you style them?