Maternity lingerie is something I'm pretty ambivalent about; on the one hand, a lot of effort and research has gone into making the pieces as practical and comfortable as they need to be at this time, but on the other hand it seems like brands feel they can charge significantly more than for 'standard' lingerie just because the product description has the word maternity in it.
There's also the fact that the vast majority of maternity lingerie I see just isn't all that nice. Some pieces are okay, some even verge on pretty, but I have yet to see a truly luxurious maternity lingerie set that made me jealous it didn't come in a non-maternity version. Pregnant and nursing women want (and deserve) gorgeous lingerie too!
Luckily, there are ways to wear beautiful lingerie during and after pregnancy with no risk to your comfort, health or self-esteem. Here are three tips to do just that…
1. Go Wire-Free
One of the things that can make bras so uncomfortable during pregnancy and whilst nursing is the wires. They're there to offer support and keep the bra 'in shape' but when your breasts are sore, tender and (if you're breastfeeding) getting larger and smaller and larger again throughout the day, chances are they'll just start to dig in and pinch.
That's often the reason maternity lingerie can feel like such a relief the first time you put it on, but don't forget that you can get that same sense of comfort and freedom from standard non-wired bras. Many high-street stores only seem to stock wired lingerie, but with a little digging you'll soon discover how many non-wired bras there are out there.
The image above shows the Ghost bra by Playful Promises* that's only £25. I'd also recommend this ASOS soft-cup bra that's £16 and this non-wired Gossard bra (also available in white) that's £26. All of these are shaped to offer great support despite the lack of wires.
Update 12/07/2014 – having now had a baby I can definitely recommend that Playful Promises bra – I wore my Dandelion* set a lot during pregnancy which is the same design in a different fabric. It was just so comfortable!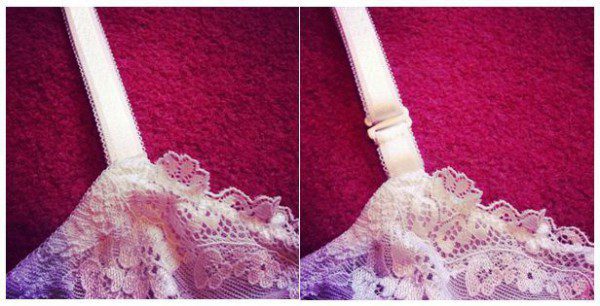 2. Customise
Of course, when it comes to breastfeeding you need to be able to unfasten your bra cup and that's not a feature any standard bra that I know of offers. However, it's super simple to add this onto bras you already own!
You'll only need the most basic of sewing skills (i.e. the ability to thread a needle and do a few stitches in a straight line) but first you'll need to make sure the bra you want to customize is suitable. Molded or padded cups won't, by their very nature, want to be folded over, and neither will a bra that has boning. Soft-cup bras with clearly defined cups (rather than a semi-bandeau style) are best.
All you'll need is 2 sliders and 2 hooks of the kind you find at the top of detachable suspenders, with holes the same diameter as your bra straps:
Cut your bra strap about 2cm up from the cup.
Thread that 2cm through the slider, fold over twice so no raw edge is showing and stitch in place.
Thread the end of the longer length of the bra strap through the hook and fold and stitch as before.
Repeat on the other strap – you've now got a bra where you can unfasten each cup as and when needed!
You can even do this with babydolls, chemises and other lingerie with soft cups and straight shoulder straps, so you don't have to feel restricted to wearing bras only if that's not your usual lingerie style.
The best bit is that the hardware you add won't look 'ugly' so you can keep on wearing your customized pieces well after you no longer need nursing lingerie!
3. Do Your Research
Last but not least, before you splurge on dedicated maternity chemises and nightgowns be sure to shop around and see what's out there that could fit you, bump and all. Plenty of lingerie designers create loose, floaty pieces that aren't intended to be maternity lingerie but still work perfectly during pregnancy!
Just check out this roomy Bridgette babydoll by Betty Blue's Loungerie, this Beatrice babydoll by With Love Lingerie (with optional belt for post-pregnancy) and the In the Shadows of Moonlight babydoll by Sarafina Dreams that's pictured above – plenty of room for growing tummies without losing any style points!
I'd love to hear from mums and mums-to-be on whether they have any other tips on buying 'non-maternity' maternity lingerie!