Disclosure: Links with a * are affiliate links.
As I am experiencing late summer heat waves in Montreal, I wish it was socially acceptable to walk around in bikini. If you are lucky enough to be by the beach, I envy you. However, if you currently have to handle a busy schedule, you might want to wear clothes that don't hinder your motivation.

The textile industry has made lots of progress and it is now possible to find relatively breathable-feeling synthetic fabrics. These fabrics are frequently more hydrophobic than actually breathable, but they can sometimes be comfortable and suitable for the hot weather. However, I'd argue that natural fibres are often the best initiative. Here are the very best natural or semi-synthetic lingerie and loungewear fabrics and fibres for hot weather:
Linen
Linen has been trending a lot with the recent wave of fashion sustainability concerns, as well as 'cottage core' fashion, becoming more popular. Naturally absorbent and breathable, linen is also a very durable fabric. If you like the wrinkled look of it, this is a very low-maintenance natural fibre fabric. It's also hypoallergenic and has temperature-regulating properties. In my experience, linen is a very good ally if you have to wear pyjamas during heat waves, as it doesn't feel wet the same way cotton does after sweating.
Cotton
Cotton is a relatively accessible, affordable, and easy-to-maintain fibre. If there is a natural fibre that most people can already find in their wardrobe, it really is cotton. Breathable and versatile, it comes in many forms: it can be used for denim, lace, jersey, and many other types of fabrics. While it's comfortable to wear, cotton does retain humidity, and cotton jersey doesn't dry as fast as linen or silk. However, you must know that muslin, mousseline and batiste cotton – three lightweight cotton fabrics – are rather more convenient thanks to their thin, even semi-transparent format. They can be used in the shape of a slip or half-slip under summer clothes to help you regulate your temperature and protect your clothes from sweat.
Modal and micromodal
Semi-synthetic modal, and its even finer cousin micromodal, are derived from the cellulose of beech trees. These are soft fabrics, often used for pyjamas and 'practical' underwear. Although these fabrics are often worn during the colder season, they are breathable and are more water-absorbent than cotton. While cotton is overall more breathable, modal is valued for its softness against the skin and resistance through the wash and use.
Bamboo
Bamboo fibre is made by dissolving the cellulose in the bamboo plant. Note that 'bamboo' fabric isn't necessarily equal to natural fabric or even ecologically-wise manufacturing; some processes to obtain it are more sustainable than others, which is reflected in the price of the resulting fabric. However, bamboo is a versatile fibre that can be made into everything from satin or linen-like fabrics to soft ones such as jerseys. It's known to be breathable and pleasant to wear when used in well-manufactured garments.
TENCEL™ Lyocell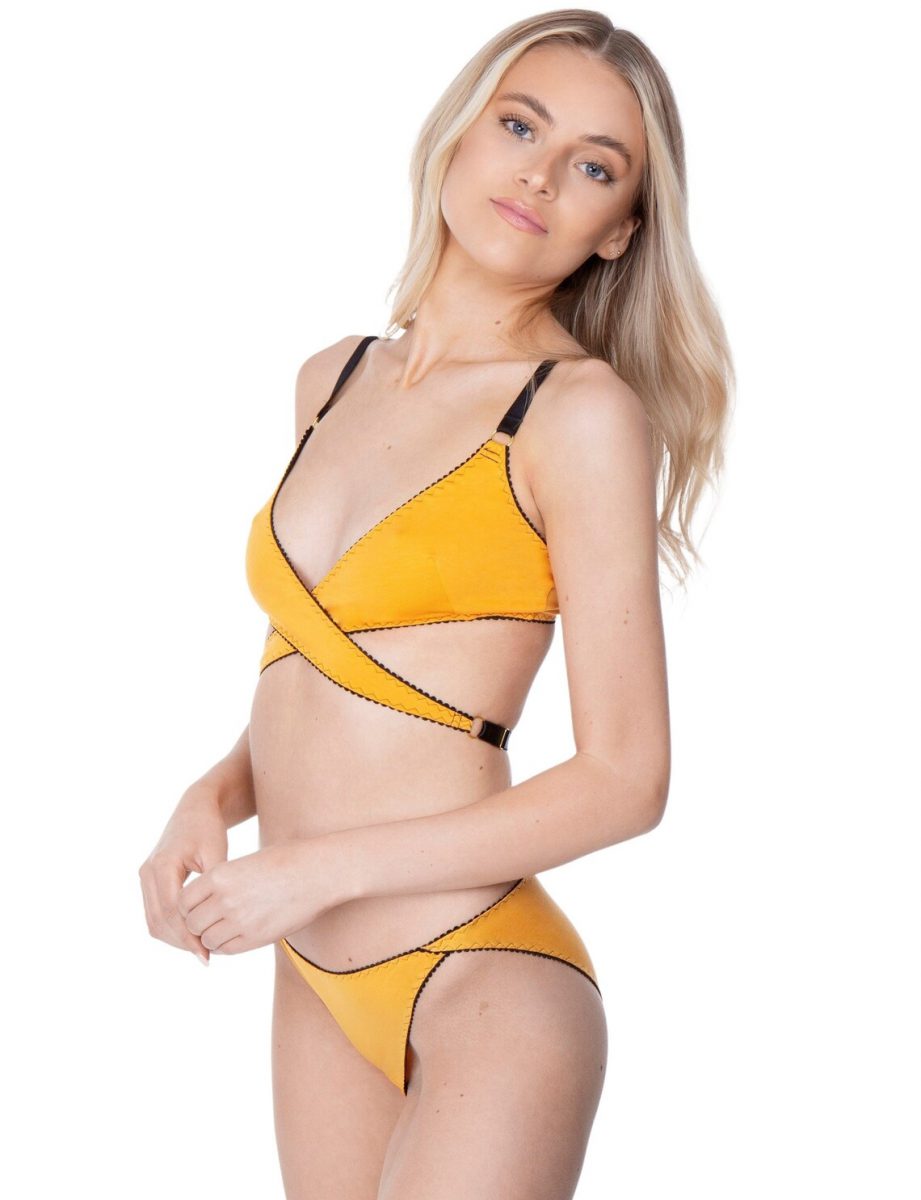 TENCEL™ lyocell is made from sustainably-sourced wood, mostly birch, beech, spruce and eucalyptus trees. This fabric somewhat resembles linen, in terms of appearance. It also is a bit easy to crease, though often more resistant to wrinkles than linen. TENCEL™ is less breathable than linen in my experience but still a very good alternative. I find it easy to wear in the summertime. Besides, it's a versatile semi-artifical fibre which can also take the form of a satin and other weaves. TENCEL™ or lyocell in general retains colour dyes very well, which means your clothes with look lovely for a long time even if you put them in the washing machine.
Silk
Since you are reading a lingerie blog, chances are you are familiar with silk's reputation for breathability and softness. It is in fact a fibre that is very pleasant to wear in all its forms. Personally, I think crêpe de chine and especially silk georgette are good summer alternatives as they don't show water stains as much as silk satin. However, there is nothing quite as delicious as the shine of silk charmeuse under the sun on a hot summer day. It is really up to your preference and how you like to care for your clothes. I like silk georgette because, since it's is not initially shiny, washing it doesn't alter its look as much as it does to silk satin. But it's hard to resist the feel of satin against one's skin.
---
I believe that natural-based fibres are still the simplest way to get quality clothing that is breathable and eco-friendly, however, it is true that synthetic fibres are usually less wrinkly and delicate.
What do you prefer to wear during a heat wave?