Think of this as a roadmap to the internet's largest communities of lingerie addicts: a State of the Union for lovers of silk and lace. I'm going to introduce you to the most important social media scenes, breaking down the barriers of how to use each site and what to follow first.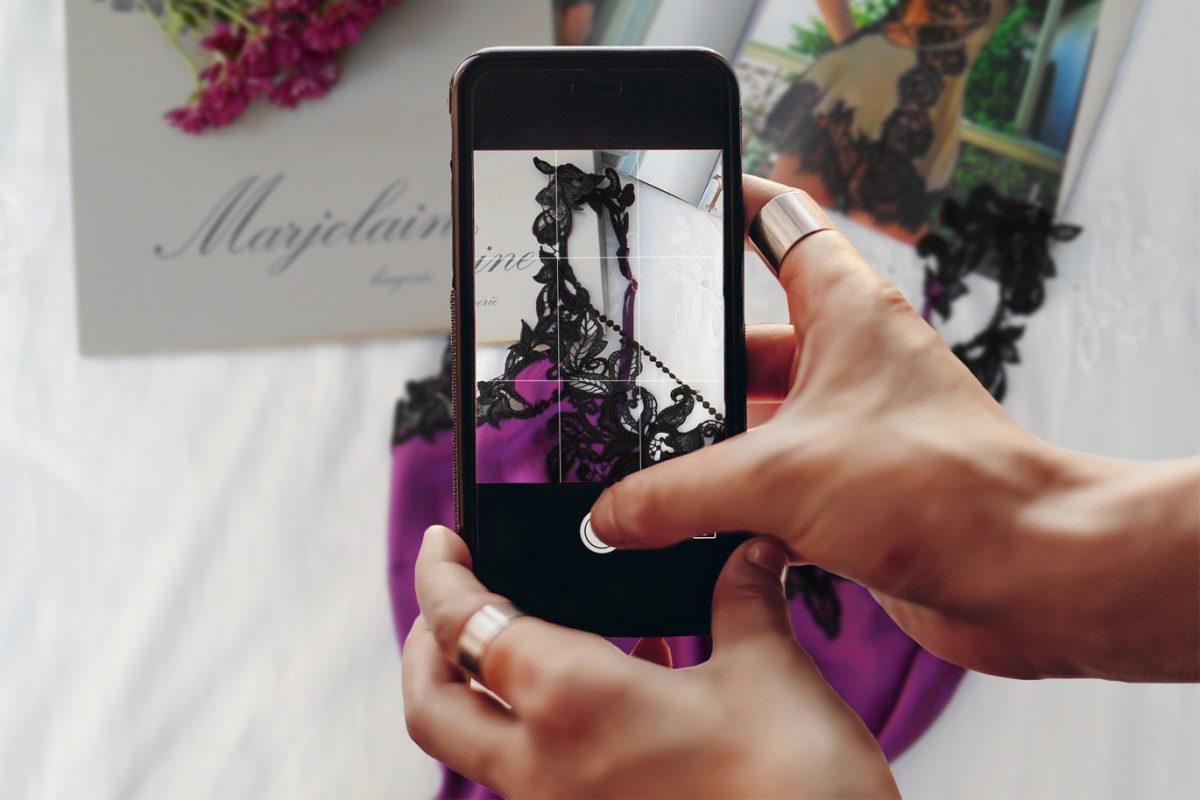 Instagram
Instagram is the unparalleled visual centre of online lingerie fandom. Here, you'll find brands, collectors, distributers, educators, photographers, and more. It's the place to go when contemplating a new purchase, as you can see designs on a variety of body types and skin tones, but conversation rarely extends beyond what's pictured. Posting trends to look out for: unboxings, new sets, styled shoots, and mixing and matching items from different designers.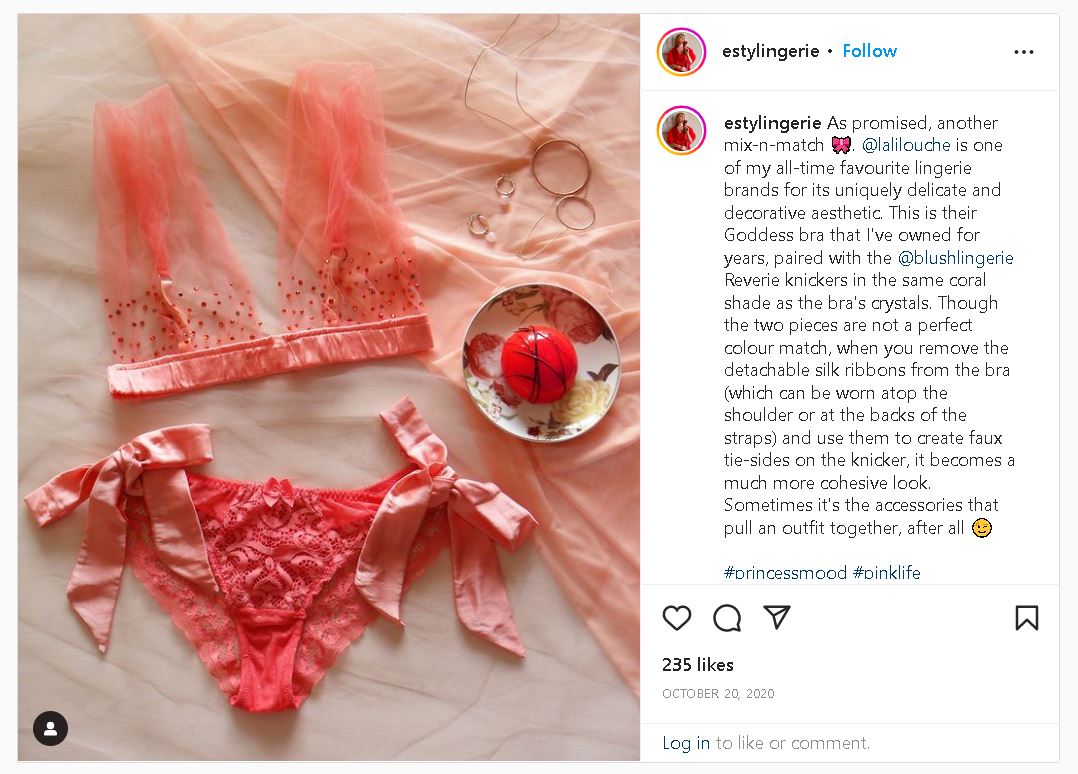 Instagram is really pushing video lately, but for now, many posts are still static images. With a caption limit of up to 2,200 characters, some collectors do share in-depth reviews of their purchases here, but brief captions are much more common. So if you want more details, you'll have to ask! While conversations do happen in the comment sections, I find it's more common to engage with 24 hour 'story' posts.
To get involved through stories, here are some ideas to try:
Reshare your favourite posts from other creators (and add your thoughts!)
Use the poll or Q&A features to ask a question. For example, are you curious about a new brand? Ask the community for advice.
Are you the first to spot a new launch? Share it with the community!
Use your stories (and highlights, the 'save story' feature) to create wish lists in the app.
Respond to other people's stories. The owner of the story can see all responses and might even choose to share the anonymised answers in a new story post.
But just like any conversation, I know it can be difficult to jump in as a new participant. Remember: your feed is your window to the community. You can't connect when you can't see the posts! Here are a few easy tips to help curate your Insta feed:
Follow brands. Find the profiles of brands or stores you already enjoy. Then, the important part: look to see who they're following. If you like the style of one page, you're also likely to enjoy the aesthetic of the pages that inspire them.
Follow creators. Your favourite lingerie bloggers are on the cutting edge of style. Follow their pages for the most up-to-date reviews and musings. They often highlight new brands or creators to follow.
Follow hashtags. Some of the most popular and interesting hashtags in the lingerie community are #lingerieaddiction, #lingerieaddict, #lingerieasouterwear, #lingeriemovieclub, and #lingerielover. Following hashtags allows any post associated with that tag to show in your feed. This is a great way to find new content creators, such as collectors and educators, who don't have the marketing budget or brand name recognition of larger users. Which reminds me….
The algorithm…. Constantly changing, and frequently loathed, the algorithm controls the order in which you see posts on your feed. The current iteration offers a choice between Instagram's default order, a curated list of users you've saved as 'favourites', or a purely chronological order from every user you follow. To change the sorting, you must choose one at the top left of your screen each time you open the app. Don't forget to use the notification bell, located on each user's profile page, to never miss a post from your very favourite Instagrammers!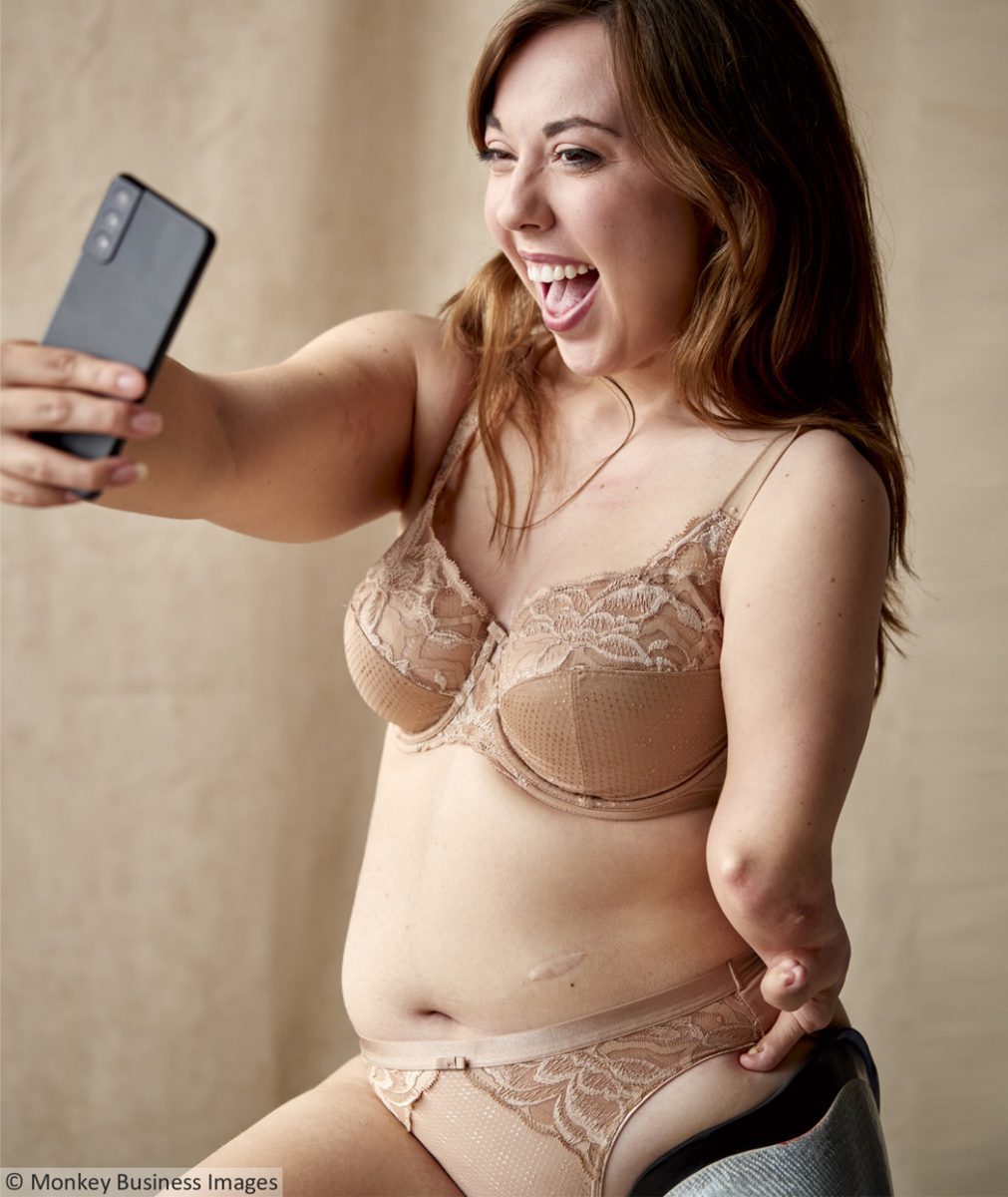 There are a few other good-to-know tips for joining the Instagram lingerie community. For example, many collectors restrict who can follow their accounts. They might have rules such as "women only", "no empty accounts", meaning you must have posted on your own profile before they'll accept your request to see theirs, or "no reposts", meaning the user doesn't want you to reshare their post to your stories. Many people have multiple accounts, such as one for their personal life and a separate one to participate in the lingerie community. Above all, the lingerie community on Instagram is a welcoming space that prioritises safety and affirmation of its participants.
To get you started, here are some of my personal favourite users to follow for a mix of education, review, and promotion-based content: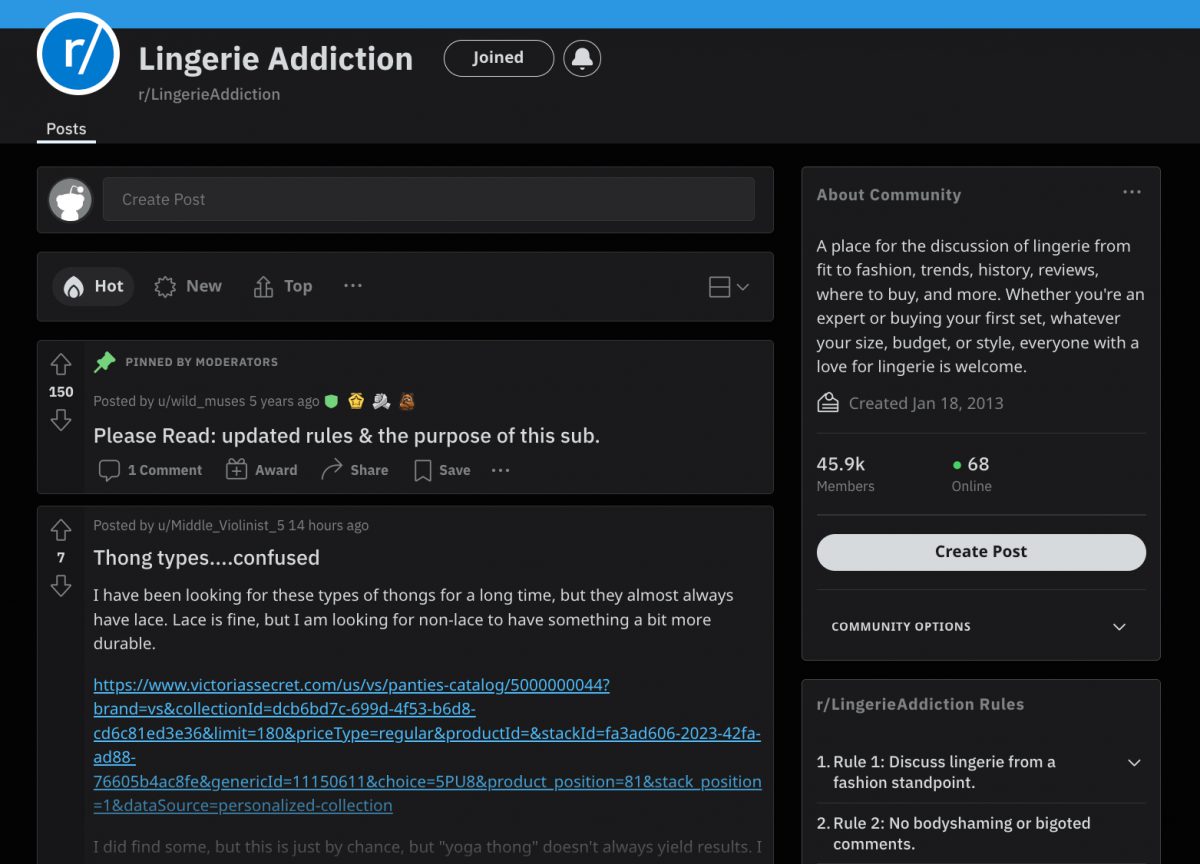 Reddit
Reddit is a complete 180 from Instagram – it's a text-based platform! But it's for good reason that Reddit is the second most-active gathering of lingerie addicts this side of the web.
Reddit is organised by following 'subreddits', which are small communities created around a common interest. I don't recommend following specific users, because users are generally part of numerous communities (meaning you'll see every post they make in r/cooking, even if you only followed them for their excellent taste in vintage La Perla).
But don't worry, I'm going to offer a run-down of the best lingerie community subreddits before setting you off to explore.
Note: subreddit activity is largely determined by number of users. More users = more frequent posts. Before posting in a subreddit, don't forget to check out their community rules. For example, some communities require your post titles to be written in a specific way, or don't allow certain types of posts/comments.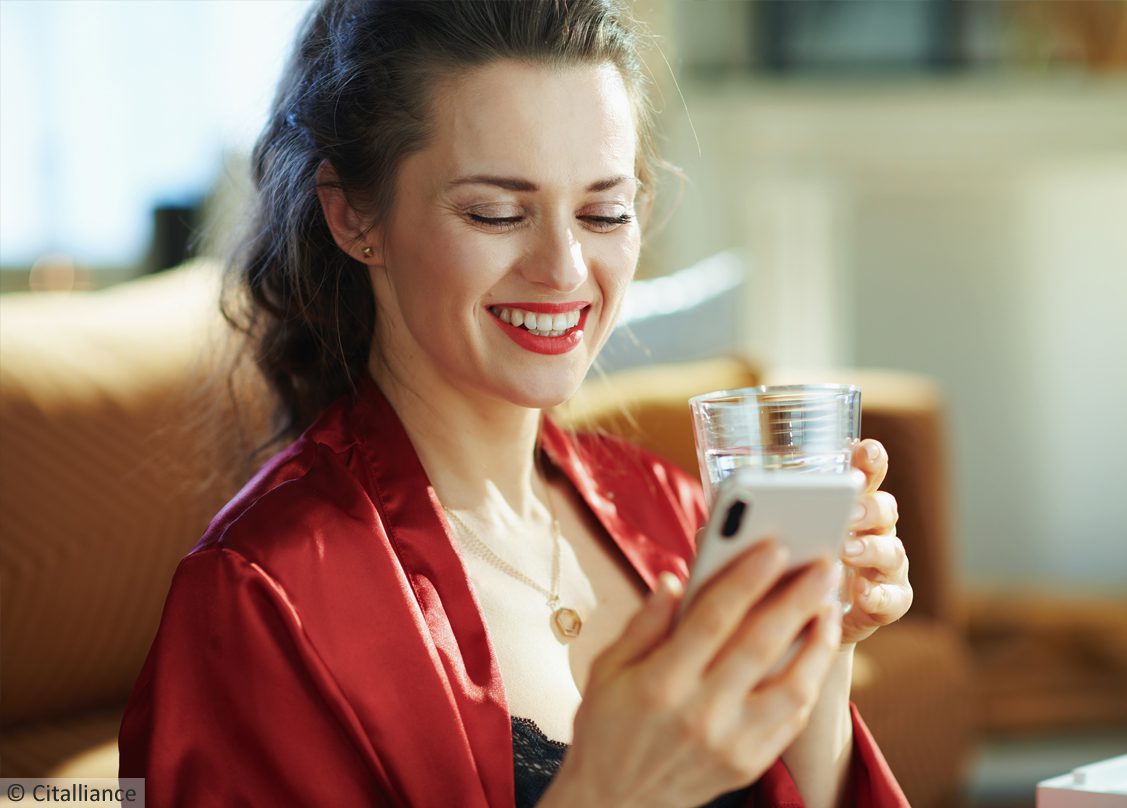 Twitter
Twitter is built for engaging in conversation with the users you follow, and it's a lot less strict than Instagram when it comes to nudity (although it needs to be kept out of your profile header image!). As a result, some members of the Instagram lingerie community will direct their followers to Twitter for the full version of a shoot. Join Lingerie Twitter if you're primarily looking to follow brands and public figures such as Cora Harrington, author of In Intimate Detail, rather than smaller collectors. To engage with the Twitter lingerie community, use the retweet and reply functions.
TikTok
TikTok is a video-based platform that uses your viewing patterns to suggest new content. You can guide its recommendations by following users, such as lingerie brands, favouriting hashtags, such as #lingeriefashion, #ethicallingerie and #budoir, and 'liking' videos relating to the lingerie community. While primarily used by designers (such as @Nearerthemoon and @FoxtrotMolly), hobbyists and bloggers are beginning to experiment on the platform. Since video content takes more effort to produce, be sure to engage with the posts of your favourite creators! For example, you can 'duet' TikToks by filming a short clip of your own in response to another's post.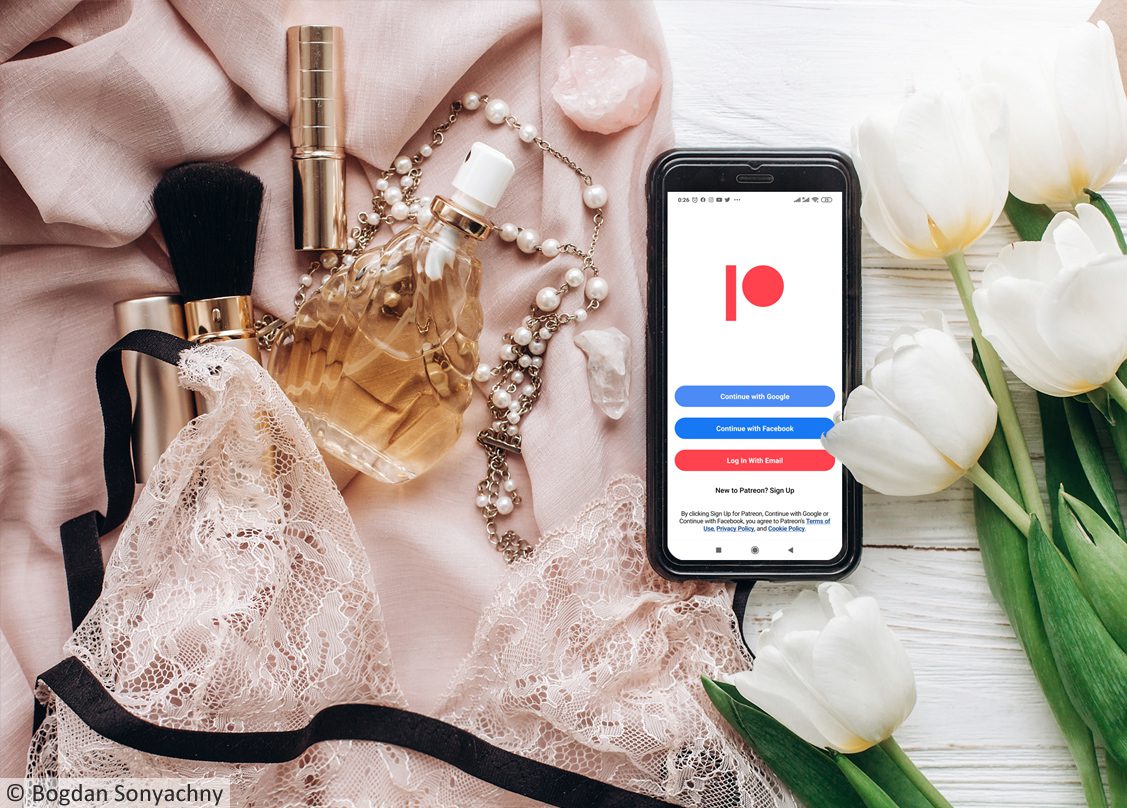 Patreon
Patreon is a payment-based platform, usually with several tiers of support ranging from $1 or $2 a month to $25+. Join Patreon if you're interested in behind-the-scenes posts not shared on the other social media sites. Some creators have complained about Instagram seemingly demoting content which mentions Patreon, so they've gotten creative with how they reference it, calling it "P@tr**n" for example or a vaguer "the other site" / "my membership site". Karolina Laskowska and Logandria are two of my personal favourites to follow.
Facebook
Feeling nostalgic? The Facebook lingerie community is alive and well. You can find it in private groups, such as the Lingerie Addicts Facebook group or the private groups of specific boudoir photographers such as Tigz Rice. Because Facebook isn't an anonymous platform, it can feel more vulnerable to participate here. However, the moderators of each group frequently prioritise community comfort and safety through the membership process. To join lingerie groups, which usually exclude men, participants typically must answer a few questions explaining why they wish to join. Moderators approve each member of the group and enforce community guidelines.
Tumblr has recently announced relaxed nudity guidelines, meaning we might see a resurgence of activity there. Look for signs on Instagram – your favourite creators will no doubt share any new social links in their stories!
This is a sampling of the largest social media-based lingerie groups on the web today. Social media is a powerful tool. But it's important to be mindful of how you interact with online platforms. On one hand, these platforms can help you connect with others who share your interests, introducing you to new brands and styles. However, social media can also be a dangerous place, inspiring overspending or feelings of body dysmorphia. Remember to protect yourself online.
What are your favourite ways to connect with the lingerie community through social media? Do you have any other tips for new users?