Disclosure: This blog post contains affiliate links.
This article was going to be a lingerie review of a teddy (or halterneck suspender belt thing – I'm not really sure what you'd call it!) that I bought by Rene Rofe recently. However, whilst I was researching the brand to come up with some more of their products that I could talk about and potentially recommend, I found myself coming across designs that were, let's just say, familiar – and I'd never heard of Rene Rofe until very recently.
Rene Rofe is a US-based brand, founded in 1986, that sells 'sexy' lingerie for those on a small budget. I'm not normally a fan of cheap lingerie, but I stumbled across the piece above on eBay and absolutely loved it. For $8.95 (that's about £5.50) I wasn't expecting good quality, but I did like the unusual design and thought it would be a great alternative to a regular suspender belt to wear with a black bra – if you've seen the Esty Lingerie collection, you'll realise I am a little obsessed with black elastic neck straps on lingerie!
This piece was nice enough for the price; the 'one size fits most' sizing didn't fit me well but I liked the look and it's a very unusual design to find in this price range. However, when I took a closer look at the brand I found these pieces: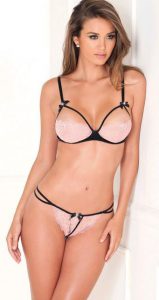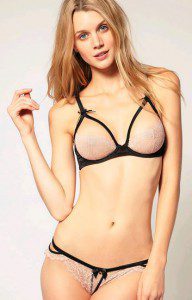 Left: A bra set by Rene Rofe
. Right: The Rita bra set by Myla.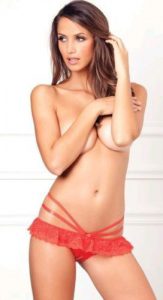 Left: Knickers by Rene Rofe.
Right: The Alina set by Agent Provocateur.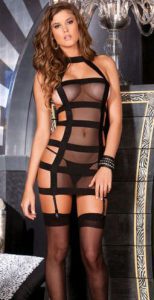 Left: Garter dress by Rene Rofe
. Right: A Frederick's of Hollywood garter dress.
(Note: It was pointed out to me that Rene Rofe do private labelling and this Frederick's of Hollywood piece may actually just be produced by Rene Rofe. However that doesn't change the fact that some of the other Rene Rofe items are clearly imitations, such as the 'Alina' with a different lace and the 'Corazon' below with different cups).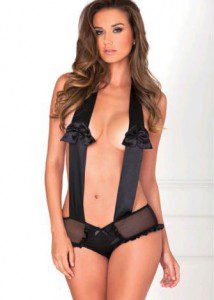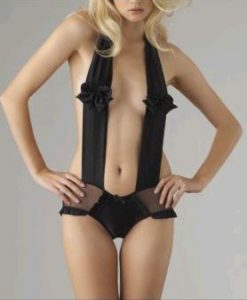 Left: A playsuit by Rene Rofe
. Right: A silk playsuit by Myla.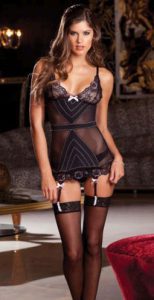 Left: A garter dress by Rene Rofe
. Right: The Corazon garter dress by Trashy Lingerie.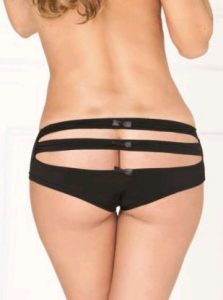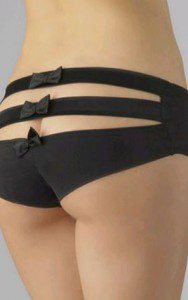 Left: Slit back knickers by Rene Rofe
. Right: The Cynthia knickers by Myla.
Rene Rofe have plenty of other designs that I don't recognise from elsewhere, but I'm sure you'll agree the ones above are too similar for it to just be a coincidence – some of them are exact replicas!
Some of these designs are pieces I've really, really wanted for a long time (such as the Myla Rita set and the Agent Provocateur Alina in red) but which have now sold out, so I won't say that a little part of me wasn't tempted to buy the Rene Rofe copies when I first saw them. But copycat designs aren't just a cheaper way to 'get the look', or an easy way to get hold of styles no longer available from the original designer.
Copyright laws don't do much to protect fashion – prints and patterns can be protected, but not actual designs. That's not to say one brand can't sue another for copying their design, but in order to win a case for damages they have to be able to prove that the knock-off design is costing them somehow, i.e. people are buying the knock-off when, if it didn't exist, they'd be buying the original. And when the knock-off is 10% of the price of the original design, that's not usually the case.
However, even if you'd never splash out on the Agent Provocateur or Myla original, by buying the cheaper copy you're fuelling an industry that makes its money from other people's hard work. Brands like Agent Provocateur spend a fortune on design, striving to come up with new and original ideas every season, and when another brand replicates that exact design it takes some of the originality away from the original brand or designer. Plus, it's just not nice – how would you feel if you designed something you were proud of and then found that another brand had copied your design exactly and was selling it at a tenth of the price?
Personally, I think there's a massive difference between being inspired by another brand (which is totally okay and normal), and copying.
What do you think of copycat designs, in lingerie or in fashion in general? Would you ever be tempted to buy a cheaper version of a designer item you just couldn't afford?