Disclosure: This blog post contains affiliate links.
I've said it before, but if there's one lingerie item that I love above all others it's floor-length robes. Even the most impractical ones look amazingly comfortable, and even the simplest ones look breathtakingly glamorous.
I'd always planned to buy one of the really well-priced (only £85!) Flirty Thirty's Hollywood robes that were on sale here at Esty Lingerie, but the brand sadly shut down before I got the chance. I have found an original 1940s pattern that's almost identical though, so it's my pre-summer mission to have a go at making one for myself.
I also have my heart set on this incredible leopard-print full-length robe by Betty Blue's Loungerie, and for those that have the budget (sadly not me), the beaded Agent Provocateur Lenara gown and the sequinned Harlette de Falaise Pink Princess gown are show-stopping.
However of all the floor-length robes I've ever seen, there have never been any as beautiful or as glamorous as these sheer Boudoir by D'Lish gowns. I mean, just look at them!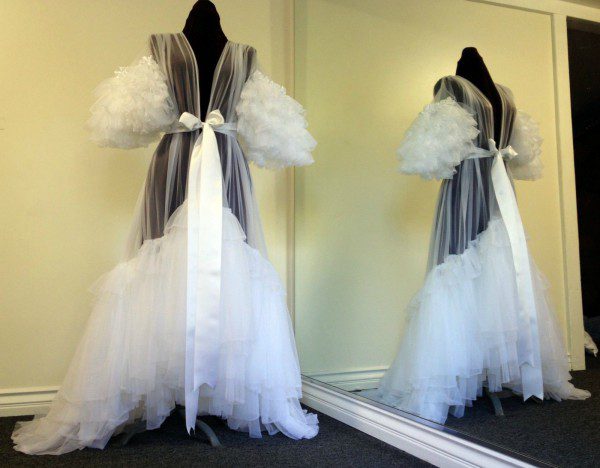 Looking at the photos, you'd probably put the prices of these robes at £500-£1,500 (I would anyway), but amazingly these four sold on auction on eBay for between £125 and £185. I did bid on a couple, but as they ended in November when I was doing my Christmas shopping I just didn't have the cash to bid high enough at the time. However, I would absolutely be willing to pay those prices for a floor-length robe like one of these. It's well below what they're worth.
There were plenty more too, including a gorgeous sheer white one with pink satin trims and a stunning lipstick-red version with masses of ruffles. The white robe above is something I'd love to have in my lingerie trousseau when I get married, but to be honest I'd be more than happy with any of them, for my honeymoon or just for waltzing around the house at weekends feeling like a Hollywood starlet!
These robes are all made by the burlesque performer and costumer Catherine D'Lish, a member of the Burlesque Hall of Fame and a choreographer and costumer for Dita Von Teese. And I always wondered where Dita got her incredible gowns from!
Catherine's robes were available in her eBay store
 and although she's not currently selling any, she told me she'd probably be making some more during her next tour break (she is currently on tour until June this year) so bookmark her store and keep checking back. I definitely will be!
Update 13th May 2015: Catherine D'Lish no longer auctions her robes on eBay. Instead you can buy them at a fixed price from her online shop where prices typically start at $249.99 (~£159).
What are your favourite floor-length lingerie gowns?