Disclaimer: I purchased this lingerie with my own money and Panache did not request a review. This blog post contains affiliate links.
I'm stuck back in hospital – probably until early June this time – so I've decided to make the most of my time here by sewing hordes of one-off pieces for a sample sale in summer, and by ploughing my way through around a dozen lingerie reviews I've been meaning to do for months and months.
So first up, it's the Fern balconette bra and thong by Panache.
I've been buying a lot of lingerie at clearance prices through retailers' eBay outlets recently as being pregnant means I need to wear a new size but one that probably won't fit me long-term, and I came across this gorgeous set for sale by Belle Lingerie
 which is a shop I've bought from before.
Appearance
I never liked florals for lingerie until I bought my (wonderful!) Justine set by Lepel, and whilst I'm still not a ditsy-print kind of girl I think I'm coming around to what I call 'grown up' florals, like this one. It looks a little bit like an antique print to me, and the fact it's very dark yet still very colourful makes it fun whilst being classy.
The sheer, embroidered black lace along the tops of the cups and at the sides of the thong are gorgeous, and even the elastic used on the bra straps is a bit fancier than what you'd typically see on a bra.
Verdict: 9 / 10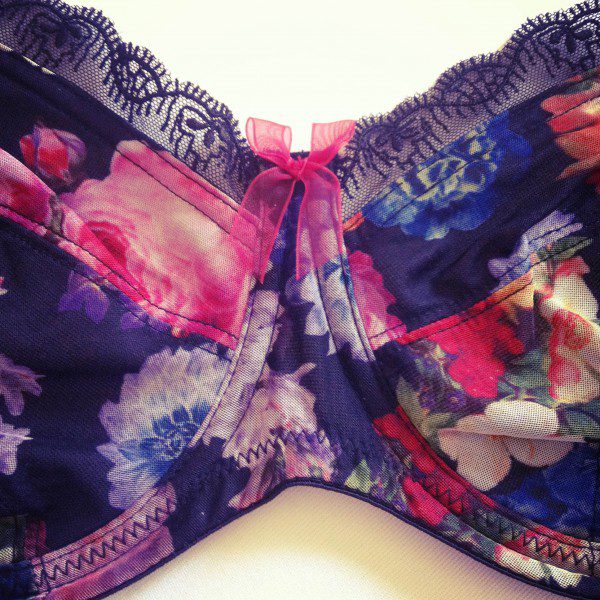 Construction
Overall, both pieces are really well made – the fabric is thick despite being mesh, the stitching is pretty much impeccable (tiny loose thread here and there) and the bra manages to look delicate but feel nice and sturdy.
The only real issue with the construction that I saw was the fabric just beneath the underwires – it's been pulled too tight so that it curls up instead of lying flat against the skin, which is kind of annoying but not too visible when worn.
Verdict: 7 / 10
Fit
I bought the bra
 in a 30G and the thong
 in a UK size 8. I've pretty much always been a UK size 8 and the thong fits perfectly and is comfortable, so I'd say it's true to size.
The bra's band fits perfectly and the cups are just the right size – the only problem I have is with the underwiring. The gore comes up quite high so it started to dig in after a while and left red marks, and if you have close-set breasts like me you'll probably struggle to get it to lay flat against the skin too. The underwires are particularly stiff so even though the shape was fine, because they didn't really flex at all they'd started to feel uncomfortable towards the end of the day too.
The cups come up higher than I'm used to too – I last wore this bra with a pretty average (not high-cut, not low-cost), straight-across neckline and found the lace trim peeking out every five minutes.
I've worn the set a few times and will definitely be wearing again, but considering the slogan on the bra's care label is 'love the fit' and I find the fit okay, it's not going to become one of those bras I reach for on a weekly basis.
Verdict: 6 / 10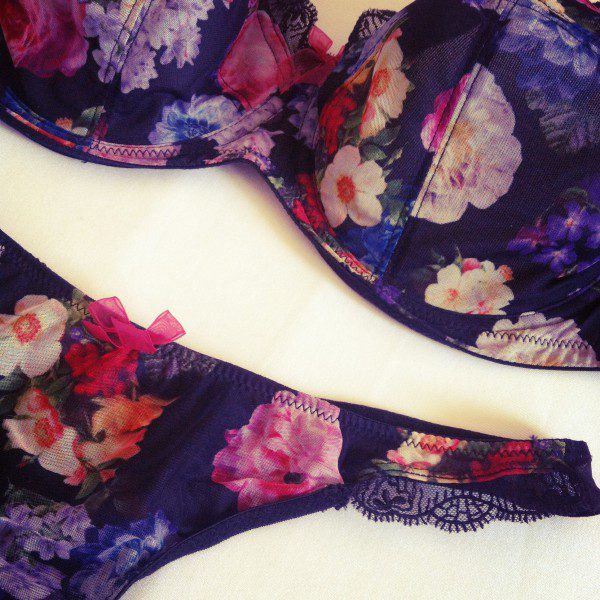 Washability
The Fern set is hand-wash only, but if you do machine-wash your lingerie I think this set would be fine inside a mesh lingerie bag. I've hand-washed it in cool water a few times and it looks as good as new. Thanks to the high-quality, digital print, none of the colours leak which is always a bit of a worry when buying multi-coloured pieces!
Verdict: 9 / 10
Value for Money
I paid £13.95 for the bra and £7.49 for the thong, so barely over £20. Considering how gorgeous the set is, the brilliant construction and how well it fits when I first put it on, I do think it's great value for money. However, I'd rather have paid a little more and got flexible underwires that didn't dig in so much!
Verdict: 8 / 10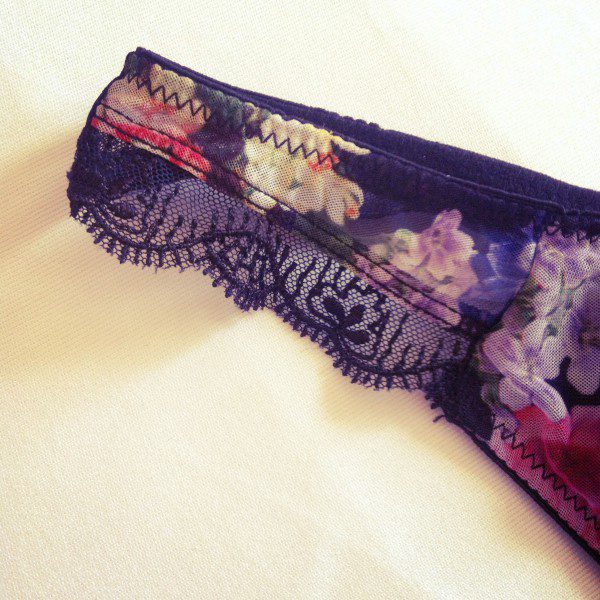 Would I recommend it?
This depends on your body shape. If you have close-set breasts, or very little 'padding' over your ribs, you're likely to find the underwires uncomfortable. If neither of those apply to you however, then I'd say definitely! It's gorgeous, supportive and really well made for the price. The Fern bra set is also available in different prints if this one's not to your liking.
Becky from Becky's Boudoir also reviewed Panache's Fern set in a different colourway, in a similar size (30GG), and had the same problem with the centre gore as I did.
However, you can also check out February Girl's review of this set who felt the same way about me as the gorgeous floral print but didn't have the same problems with the underwire digging in, so just because it's a bit uncomfortable on me doesn't mean it will be on you.
Have you tried anything from Panache's Fern collection? What did you think of the fit?