Disclosure: I received this lingerie set free of charge to review.
Between the recent busyness of life and the fact I've cut way back on lingerie purchases, it's been a while since I wrote a product review. I feel a little bit out of practice! But when Lana Derin of Pagan Poetry got in touch to introduce her newly-launched brand and offer to send me something, I was intrigued enough to say yes.
Derin is a Ukrainian designer now living in the US, and as you'll gather from the brand name and a quick scroll through its Instagram page, this is a gothically-inspired lingerie line. The about page describes the collection as having a "modern dark aesthetic [that] embodies chaos, mysticism and sensuality". However, unlike some others in this niche, it doesn't feel costume-y, which means you can still appreciate these pieces even if you just like black lace underwear.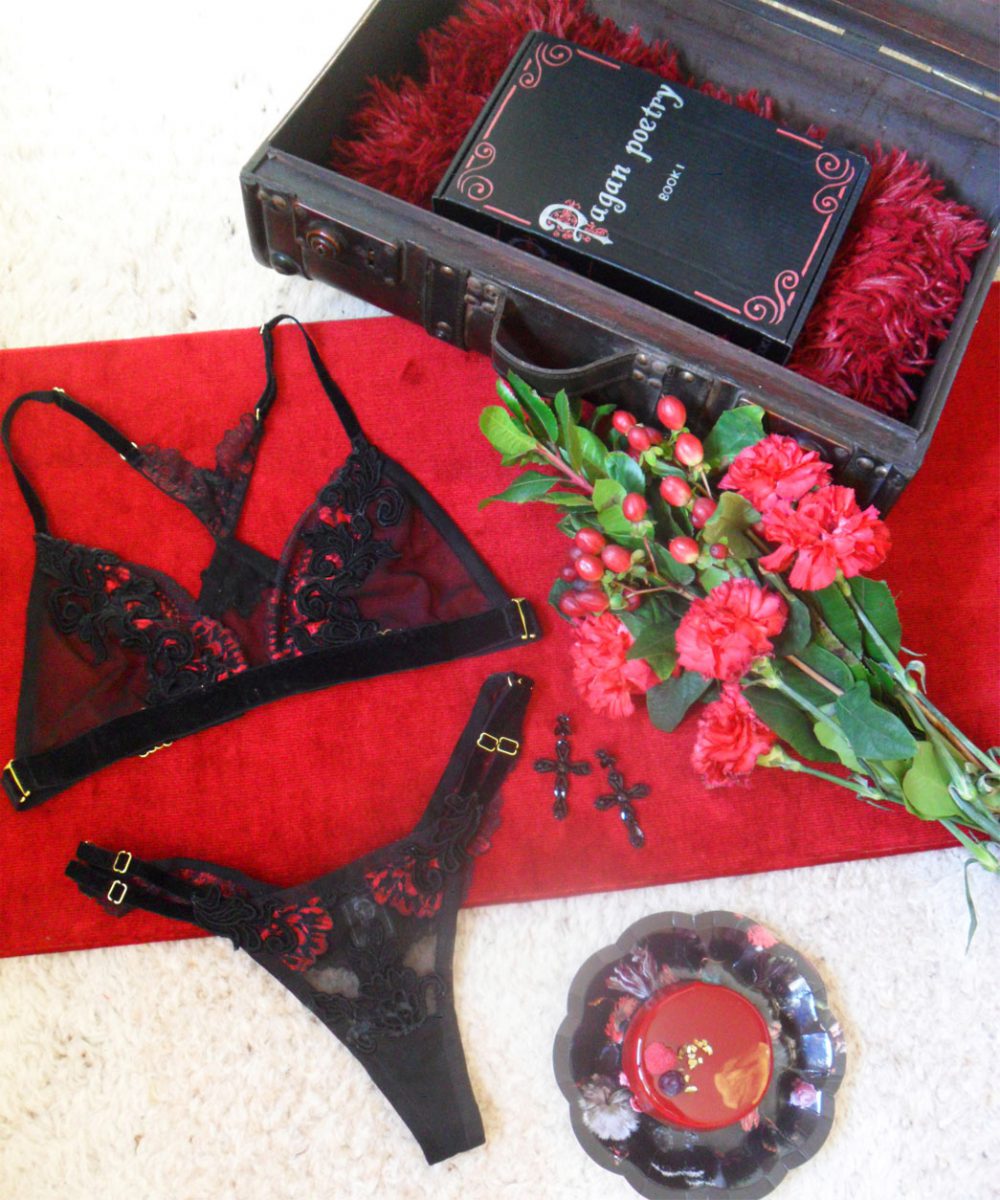 I received the Midnight Spell bralette and thong set on the advice of Derin, which just so happened to be my favourite anyway! I do also adore the corsetry-inspired waist cincher from the Velvet Seduction set (which would be great for styling as outerwear), but Midnight Spell includes an overlay of thick guipure-style lace which adds a textural dimension that I just find really pretty.
It's worth noting here that a great thing about the brand's debut collection, titled Book I, is that it's all made from the same mix of fabrics so you can easily mix tops, bottoms and accessories from different 'sets'. Whichever combination of pieces you choose, it's going to match.
Presentation
I don't usually discuss the packaging that my lingerie arrives in, but in this case I thought it was really cute: the set arrived wrapped in tissue paper and accompanied by a few stickers, inside a black card box which had been decorated by hand to look like a book. A nice 'extra touch' that you only get when shopping with an independent designer-maker!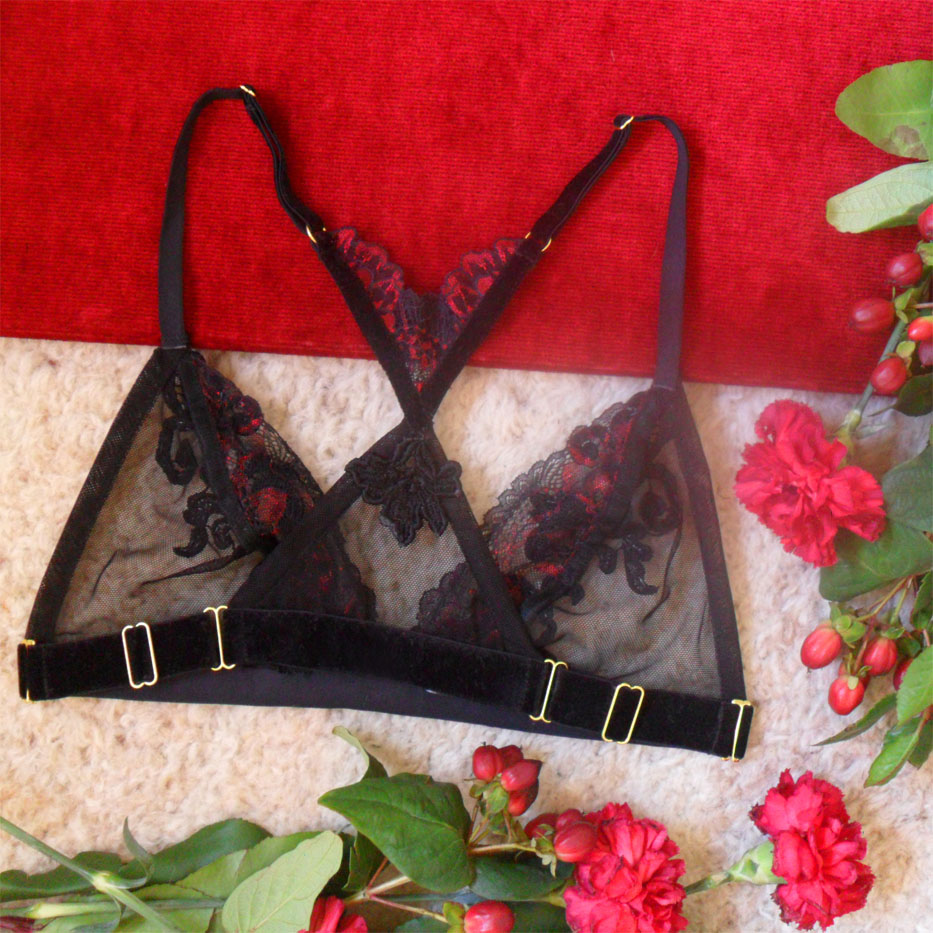 Design & construction
The Midnight Spell bralette is a standard triangle-shaped bralette from the front, but with a decorative racerback on the reverse. The base materials are a black stretch mesh and a black and blood red stretch lace, on top of which raised, swirly lace motifs have been appliquéd up the centre of each cup and at the centre-back. The shoulder straps and band are both made from stretch velvet elastic, and all of the hardware is gold-toned metal. With the colour combination and the use of velvet, it's definitely giving subtle vampiric vibes.
The matching thong is particularly pretty, with overlapping flourishes of the scallop-edged, red-detailed lace and thicker embroidered motifs on both the front and back, and double velvet straps at the sides. The gusset is lined with black cotton.
From the outside, this bralette set looks very nice and neatly-sewn. Inside, there are some raw lace and elastic edges that have gone a bit fluffy, and you can also see how the appliqués have been sewn on by hand with long stitches which would be relatively easy to catch. While there is sometimes a handmade charm to seeing inner construction work, in this case it's not quite as neat as I would hope for from a 285.90€ bra set. Particularly when it appears that the embroideries are a significant part of the pricing – the Midnight Spell bralette is almost double the price of the similar-ish Velvet Seduction bralette which has no appliqué work.
But, these 'flaws' are mainly aesthetic (the construction does feel sturdy) and they're on the interior, so maybe you can overlook them if you love the design.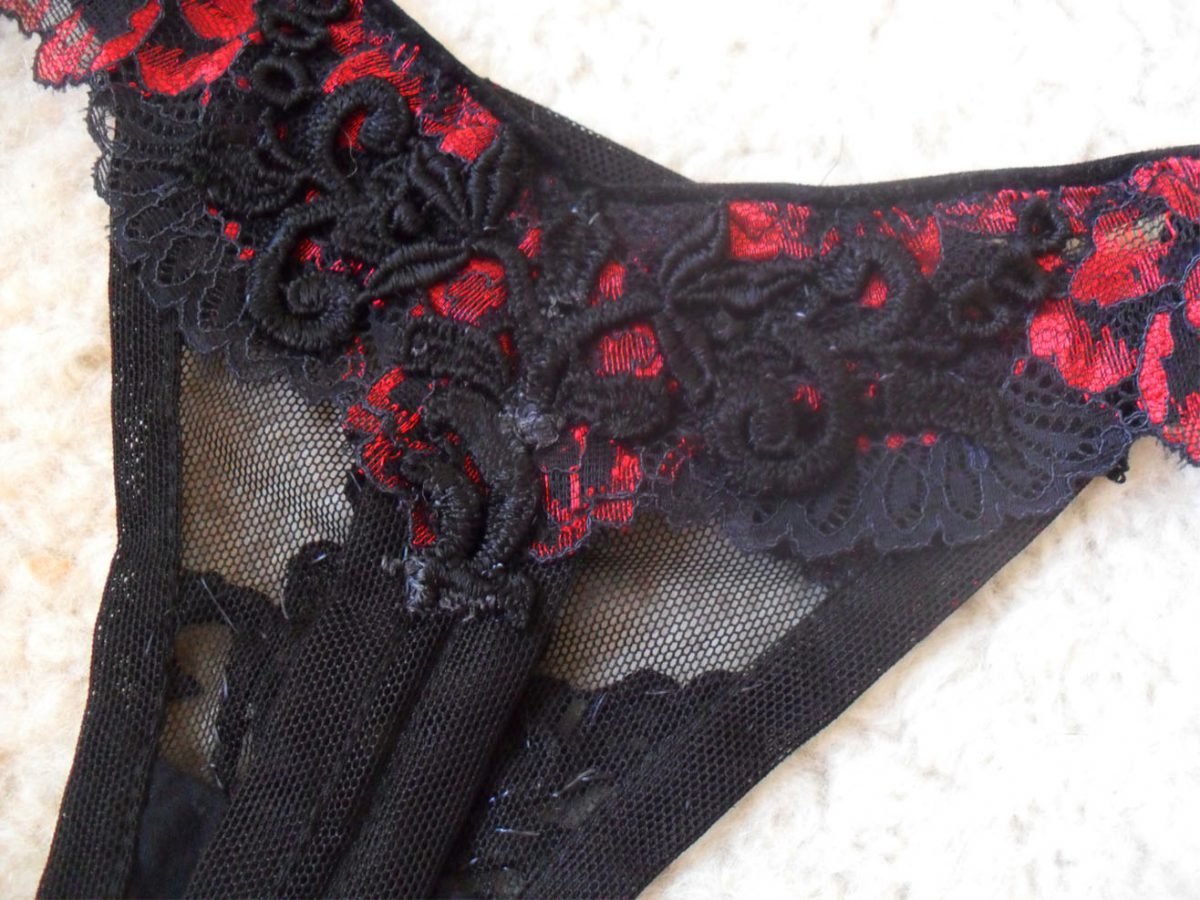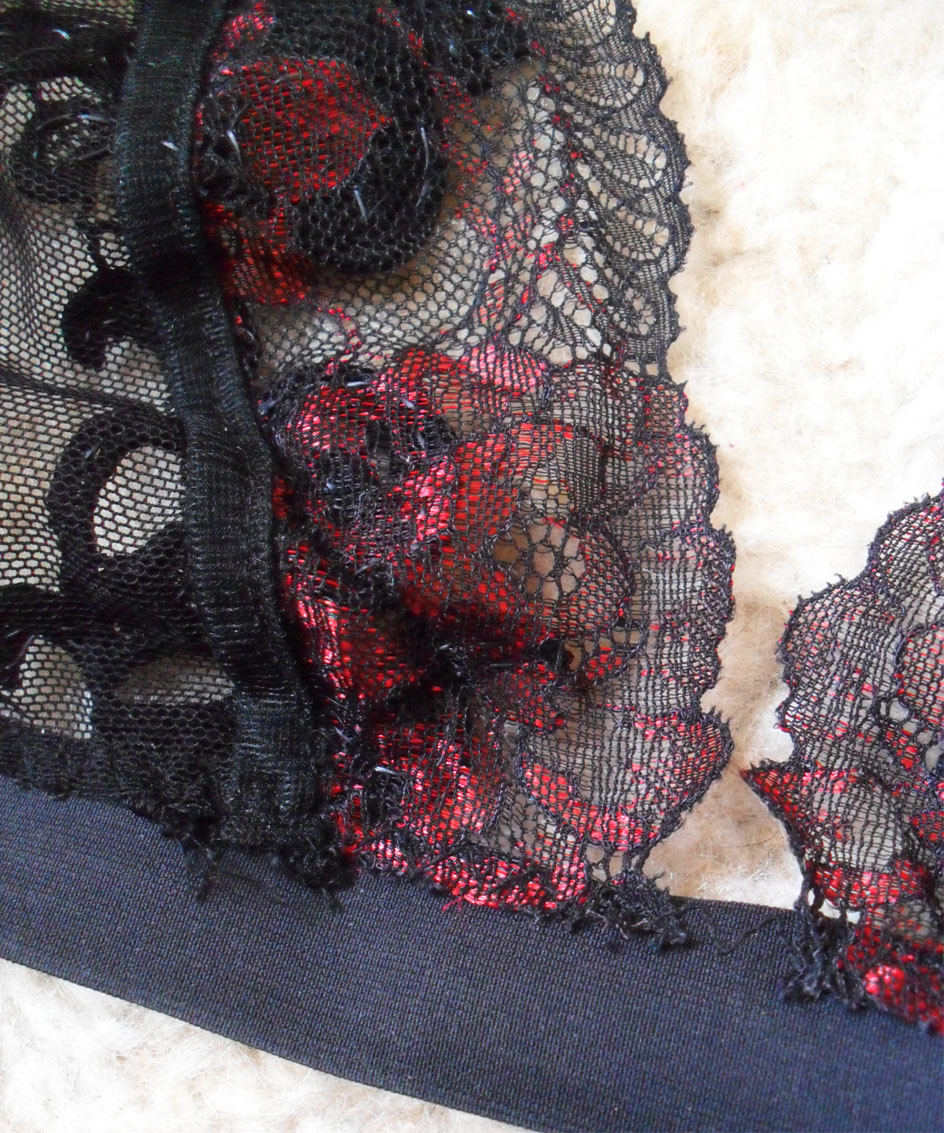 Fit & comfort
One thing I really love about this Pagan Poetry lingerie set is just how comfortable it is! It's one of those sets that you can truly forget you're wearing. I recently took a 25+ hour ferry journey to the UK and back again, and this was the set I chose to wear both times we boarded for exactly that reason.
I think this is partly thanks to the fabrics being fairly soft with nothing scratchy on the interior, and partly thanks to how well it fits me. I wasn't sure which size to ask for initially as Pagan Poetry's size chart only includes an overbust measurement and that puts me in an XS, but as a 30DD, I usually take a Small or Medium in bralettes and tighten the band as much as possible. I was advised to try the Small in the Midnight Spell bralette specifically, as it is the only one where the band is adjustable. It was a good call as the fit is spot on with the band tightened most of the way, although it is adjustable enough and the cups stretchy enough that the bralette could fit a range of sizes.
To keep the racerback design centred, this bralette is adjustable at both sides, and it fully detaches as both sides too via gold-tone swan hooks. I kept getting the back part twisted initially, so I've found the easiest way to put it on is with the help of a mirror! Once on, it provides lightweight support (the mesh is stretchy but firm).
The double straps at the sides of the thong are also made from a soft, stretchy velvet and are adjustable via gold sliders, so there's a lot of flexibility there too. I received it in my usual size of XS and it fits perfectly, but would also easily fit a size larger.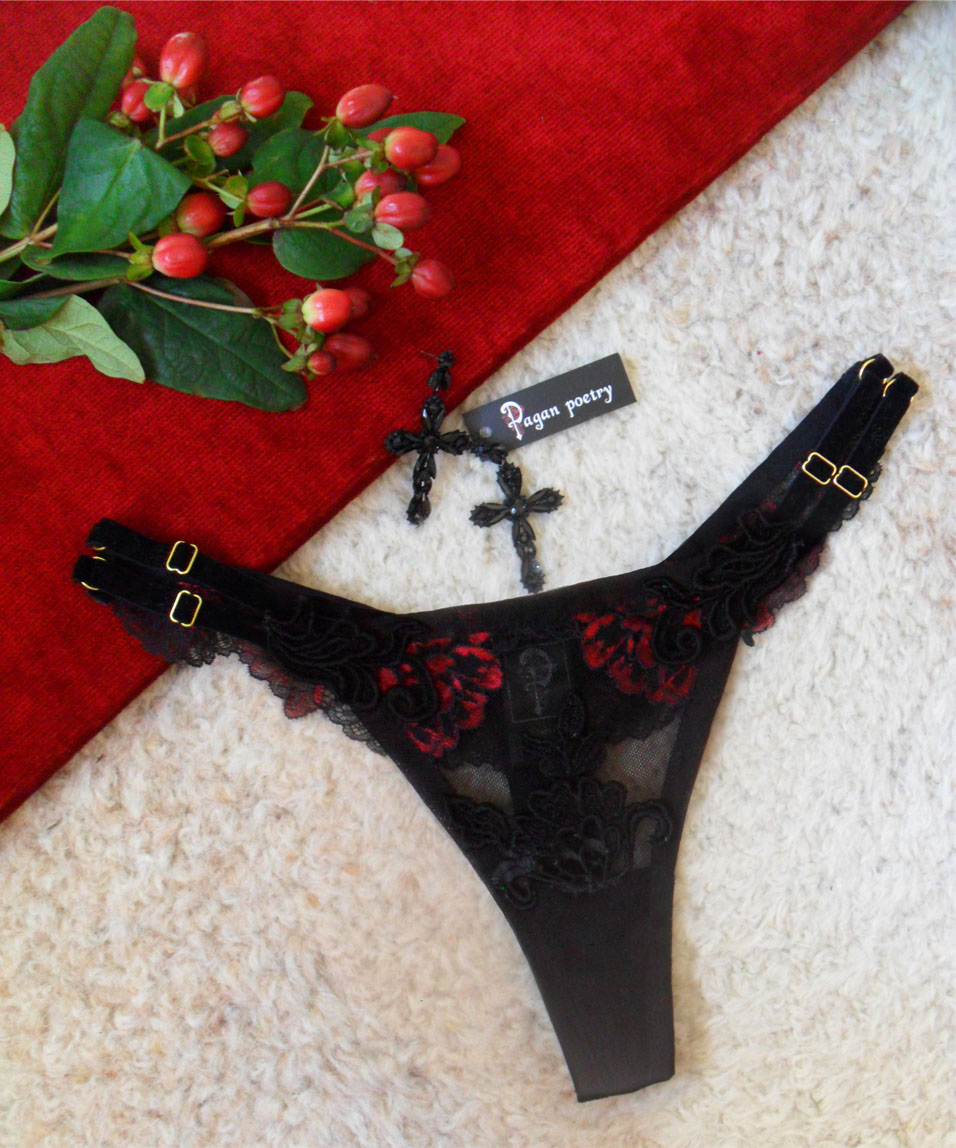 Final thoughts
Overall, I really like Pagan Poetry's Midnight Spell bralette set. It's pretty, it's comfortable, and the velvet-trimmed racerback design is going to look great under a black silk camisole this summer. Do I wish the construction was a little more 'finessed' on the inside, given the price point? Yes, because then I'd have nothing bad to say about it. But I also appreciate that it's a debut collection and those are rarely perfect.
I wouldn't pay 285.90€ (approx. £250 or $315) for this in a store, to be honest. But I like it enough to recommend checking out the rest of the collection where there are more affordable options. I'm also a fan of the recently-launched Book II collection, which offers various sets for just slightly over 100€. It's very different aesthetically – still dark, still a bit edgy, but with more of a minimalistic and futuristic vibe (and hey, finally some more buckle closures in lingerie design). Although I like my lacy set, I'm more excited by this second collection personally, so I'm hoping this is the direction that Pagan Poetry continues to move in!
What do you think of this Pagan Poetry set? And which collection is your favourite – the Book I or Book II?