Disclaimer: This blog post contains affiliate links.
How to do lingerie as outerwear is a topic that's been overdone I think. I can't tell you anything about how to have your lace camisole peeking out of an unbuttoned shirt, or your harness worn over your top, that hasn't been said many times before.
There is however one brand that I think doesn't get enough attention with regards to this topic, and that's Amoralle. There are the usual bodysuits that you can wear as a top for a smooth line under skirts and trousers, but the robes and nightdresses take things to a whole other level. Amoralle isn't just lingerie you can work into your outerwear, it's lingerie you can often wear as outerwear – as in, entirely on its own!
Sure, these pieces aren't bra sets, they're less-revealing bodysuits and loungewear. But this is loungewear that doesn't have to be confined to the house. From the beach to the red carpet, these Amoralle pieces really are made to be seen…
Work into your beachwear wardrobe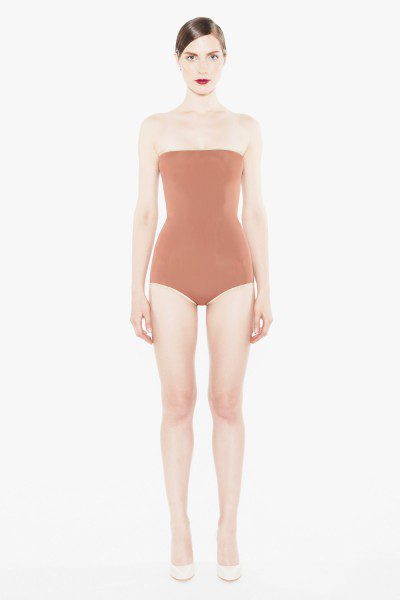 I own the black version of this bodysuit (no longer available) and it's made from a wonderful, slinky fabric that would look as great poolside as in the boudoir! I don't know about this cocoa version but my black one leaks dye when washed however, so I wouldn't recommend it if you plan to actually go swimming.
If you're looking for something with a little more drama, this shimmering bodysuit is another one that doubles up as a swimsuit, revealing just a hint of skin all the way down thanks to the button-front design.
Black and white lace-trim nightdress, £399
Intended as a nightdress, this monochrome piece also doubles up as an expensive-looking maxi dress. With its sheer lace midriff, low-cut back and semi-sheer fabric it'll keep you cool and chic on the beach when thrown over your swimwear.
Jersey and lace nightdress, £91
For those who prefer to keep it short and sweet at the beach, this printed jersey nightdress is a great throw-over dress for when the beach starts to cool off in the early evening. The sheer section is pretty revealing but if you pop some leggings into your beach bag it'll be a great beach-to-boardwalk transition outfit.
Work into your office wardrobe
Smoky blue top with garters, £65
This high-backed, long-sleeved top is quite demure despite the lace panel, and makes for great officewear teamed with a pencil skirt or trouser suit. The suspenders are detachable, so you really can wear it as just a top, or add stockings for a sexy surprise when the skirt comes off.
Coquette Paulette bodysuit, £223
Fans of the ultra-feminine pussy-bow blouse will adore this bodysuit, which from the waist up is exactly that. Team it with a high-waisted skirt or pair of trousers and no one will know it's lingerie (although the top is sheer so depending on your office dress code you might need to wear more than just a bra underneath).
Work into your eveningwear wardrobe
Open back lace nightdress, £223
Looking for a provocative dress for a dinner date or night on the town? This low-backed nightdress is sure to impress! If you're feeling a bit exposed pop a fitted blazer over the top.
Designed as a nightdress, the opaque fabrics mean this also works as a luxe-looking micro-mini dress. To tone it down a notch, pair with opaque tights.
In search of a basic, classic Little Black Dress that will flatter your figure? This simple slip is designed to shape your curves but doesn't look like heavy-duty control wear. Dress it up with heels and a statement necklace for a sexy night-out look (I'm loving Amoralle's brand new jewellery line that's ultra simple but very unique!).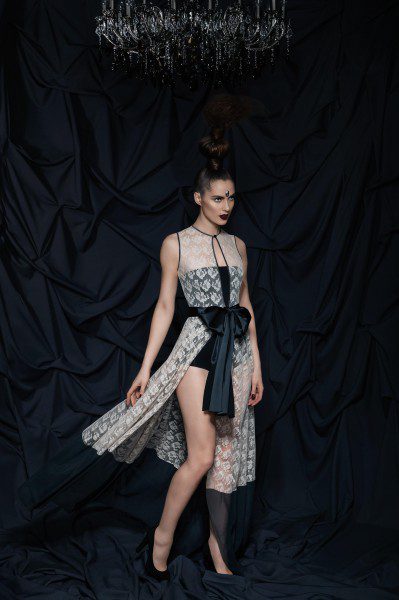 If you're headed somewhere really special, this floor-length robe oozes red carpet glamour. Alone, it's a beautiful robe to throw on over your lingerie, but add a simple mini, midi or maxi length dress below (I think black would look best) and no one will know you're wearing your nightwear in public! You can check out my review of this robe here.
There are plenty more Amoralle pieces that double up as outerwear, particularly bodysuits that work as blouses and tops, but these ones were my favourites.
What are your thoughts on the lingerie as outerwear trend? Would you wear any of these pieces in public?