Disclosure: This blog post is sponsored by Salt & Lace Intimates.
The more unique or ultra-pretty pieces I add to my lingerie collection, the more I find myself trying to 'sneak' some of them into my outerwear. A strappy bra peeking out from under a top there, a slip worn as a summer dress there. Very often it doesn't even look like lingerie at all, because that's not really the point – it's just a way for me to wear my favourite garments as often as possible!
I've written about wearing lingerie as outerwear on the blog before, but today, in collaboration with US-based retailer Salt & Lace Intimates, I wanted to give you some tips on picking out and styling pieces for specific occasions. Because what you wear to dinner at an upscale restaurant is probably going to be quite different to how you'd dress for brunch at Starbucks, but no matter where you're headed, there's usually a way to slip a little lingerie in if you want to.
Lingerie as Outerwear: Casual Daywear
Lingerie camisoles translate really easily into outerwear because, well, they're really just tops. I tend to find ones designed to be worn exclusively indoors however have thinner, more delicate-looking straps and/or less coverage at the back – which is exactly what makes them so pretty to look at. They're not designed with covering a bra in mind, but you can still wear a strapless one for support or, failing that, invest in some nipple covers and lifting boob tape.
If you're going for a tucked-in look, and especially if you want it to stay that way, then bodysuits and rompers are also an option. You can wear them under jeans, sweats, skirts, shorts… just about anything. Satin fabrics and lace details will bring a 'dressier' vibe to your look that goes well with a pair of sandals or ballerina flats, while stretchy jersey and ribbed fabrics (which are a popular lingerie trend right now!) will keep things casual.
Lingerie as Outerwear: Beach Trip
While I don't recommend wearing items such as bra sets or bodysuits for swimming (the materials won't be designed for it, and they might deteriorate), you can get creative when it comes to cover ups. Robes are super versatile for example, and work as outerwear for practically any occasion. For the beach, keep the mood summery with lightweight or even sheer fabrics (no velvet!), in light or bright colours and prints. In particular, look for robes that have wide sleeves and cuffs for an easy, breezy fit. You might also want to ditch the belt and just wear it open for an even more relaxed vibe.
Kaftans, gowns, and satin pyjama bottoms are other items you'll find in the loungewear section that can, depending on their design, work well as cover ups or for a waterfront stroll. Lingerie brands' accessories ranges can also be a great place to find little extras to adorn your beach look. Salt & Lace has a great range of metallic body chains that look just as fabulous draped over a swimsuit or bikini as they do in the boudoir!
Lingerie as Outerwear: Dinner Date
Headed somewhere fancy for dinner and want to dress up for the occasion? This is one of my favourite excuses to do lingerie as outerwear, because there are just so many options to choose from! Everything I've already mentioned such as camisoles, bodysuits and robes can be given a more elegant twist by swapping jersey fabrics for satin, velvet or lace. I particularly love the idea of a robe worn as a lightweight jacket – you can keep the look firmly in the 'outerwear' category by wearing it over tailored trousers or jeans and heels, and perhaps switching out the soft belt that comes with it for one that's more structured. This look works with robes of any length, even long ones, although be sure it's not going to drag along the floor.
Some bras, especially longline ones, work great on their own as a crop top (add a blazer if you want more coverage) while others can be flaunted in a subtler way under a sheer top or blouse. Alternatively, layer a bra with an interesting neckline detail under a top or dress that will show that off.
Lingerie as Outerwear: In the Club
There's a lot of crossover between this and the 'dinner date' category, because the difference between the two really just comes down to your personal style. But when I think 'club' versus 'restaurant', I'm picturing lingerie as outerwear looks that are a little sexier and more daring. Perhaps a little glitzier too.
As always, layering is the key to building a lingerie-as-outerwear look that's only as revealing as you want it to be. Underwired bodysuits and chemises can give you a pushed-up or plunging neckline without the need to wear a separate bra, and can easily be tucked into a skirt or trousers. Or try a lingerie-on-lingerie look by wearing sheer styles over an opaque bra or camisole.
To add the perfect finishing touch to your outfit, body chains and harnesses make for an unconvential alternative to a necklace. Plus – and this goes for any occasion, not just clubwear – the hosiery section is always a great place to find eye-catching 'extras'.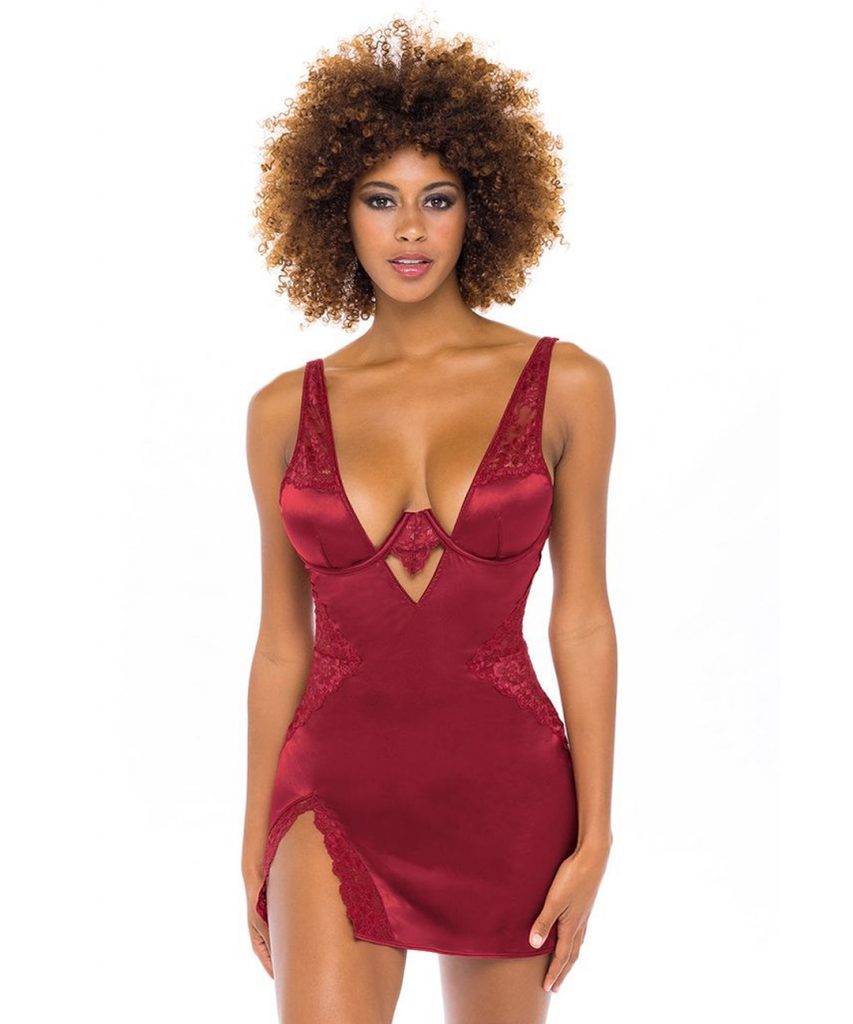 If you sometimes style your lingerie as outerwear, what are your favourite garments to do it with and how do you wear them?