Disclosure: I purchased this bodysuit myself.
Earlier this year, I wrote about Beba Lingerie, a Serbian brand that I had at the time just discovered – and it was love at first sight. It was giving me strong Honey Birdette vibes, with maybe a little Bordelle thrown in too, and the prices seemed pretty great for the designs on offer. I simply could not get the brand's Becca bodysuit out of my head, and so, despite it still costing more than I would typically spend on lingerie, a few weeks later I bought it.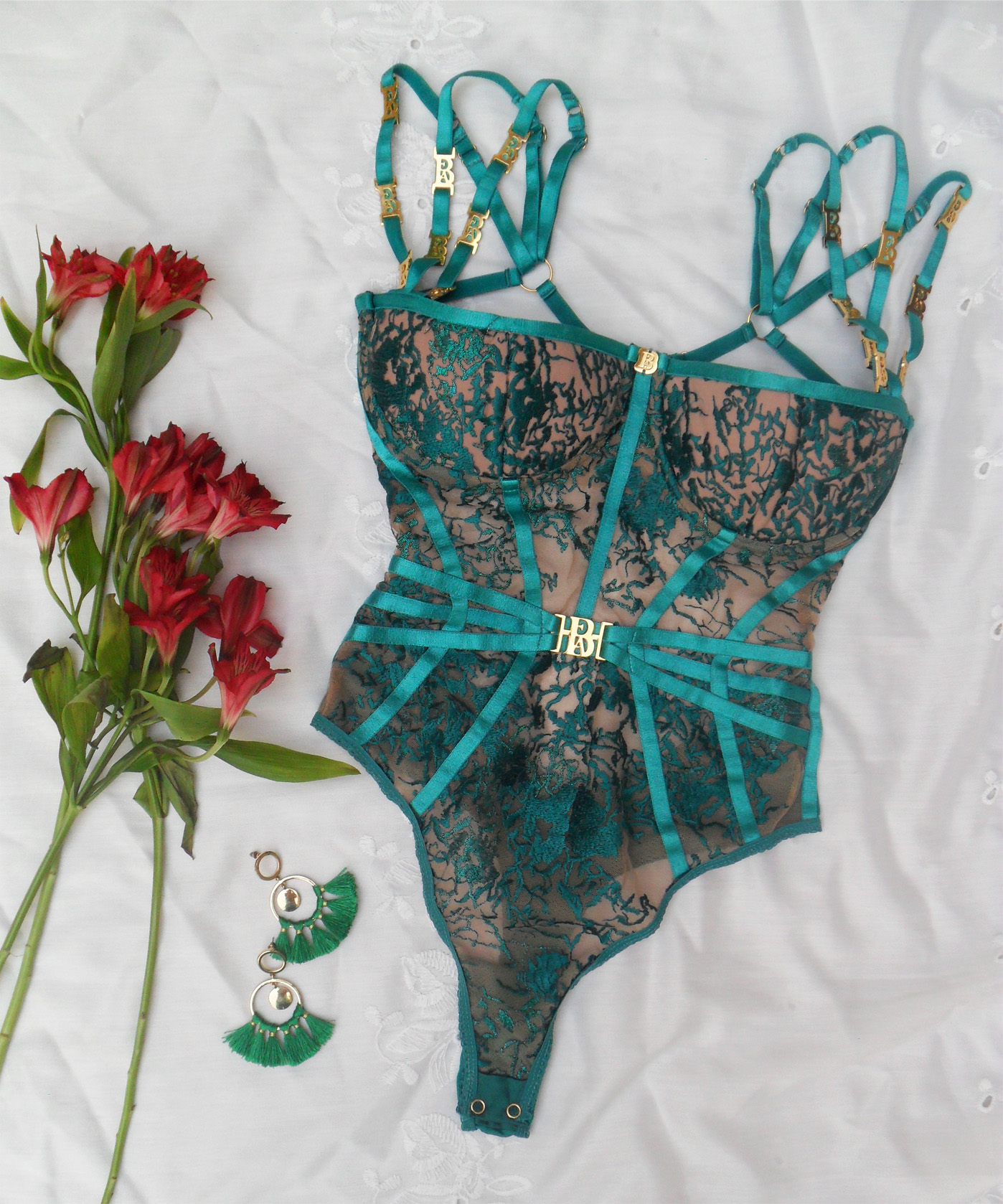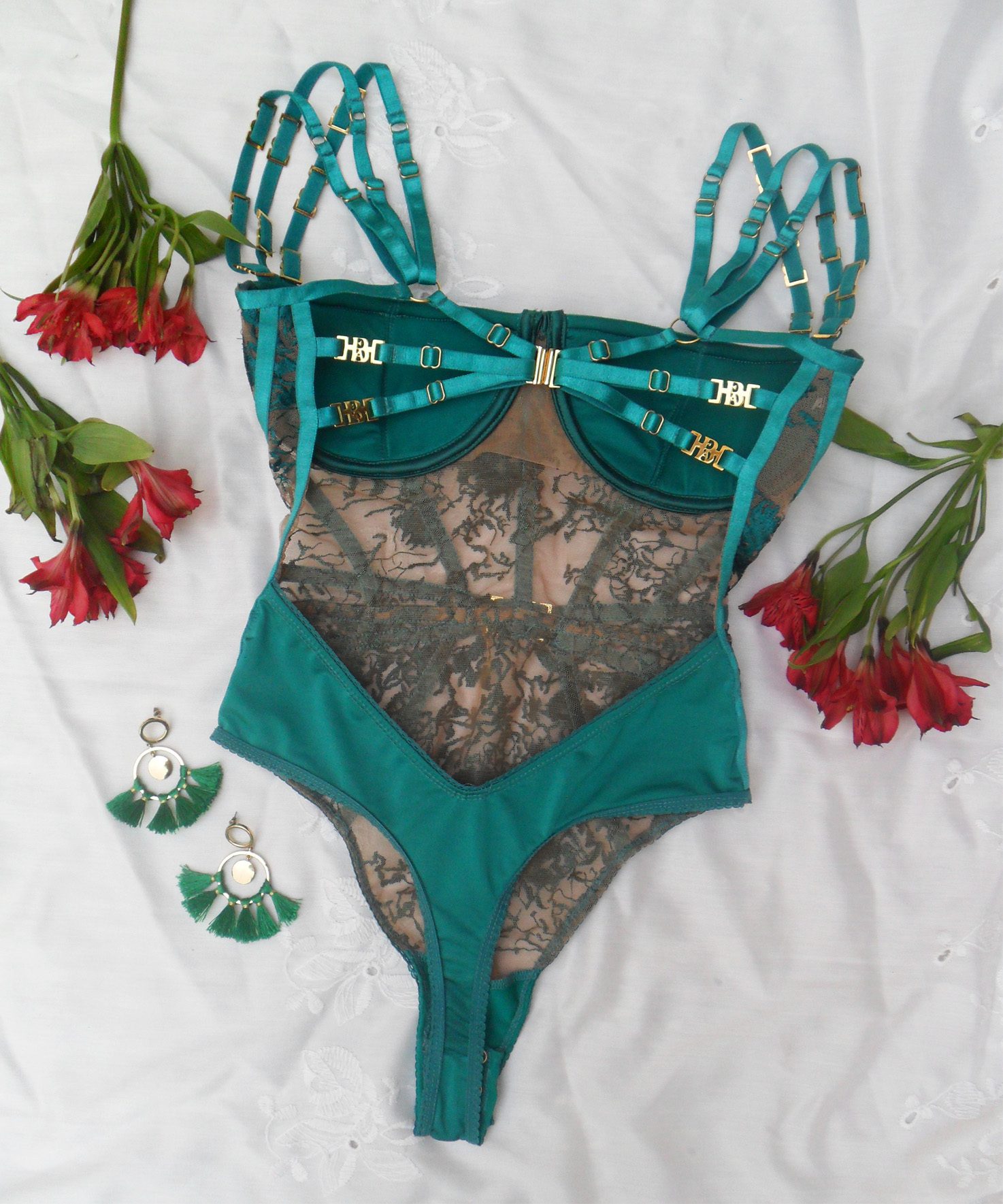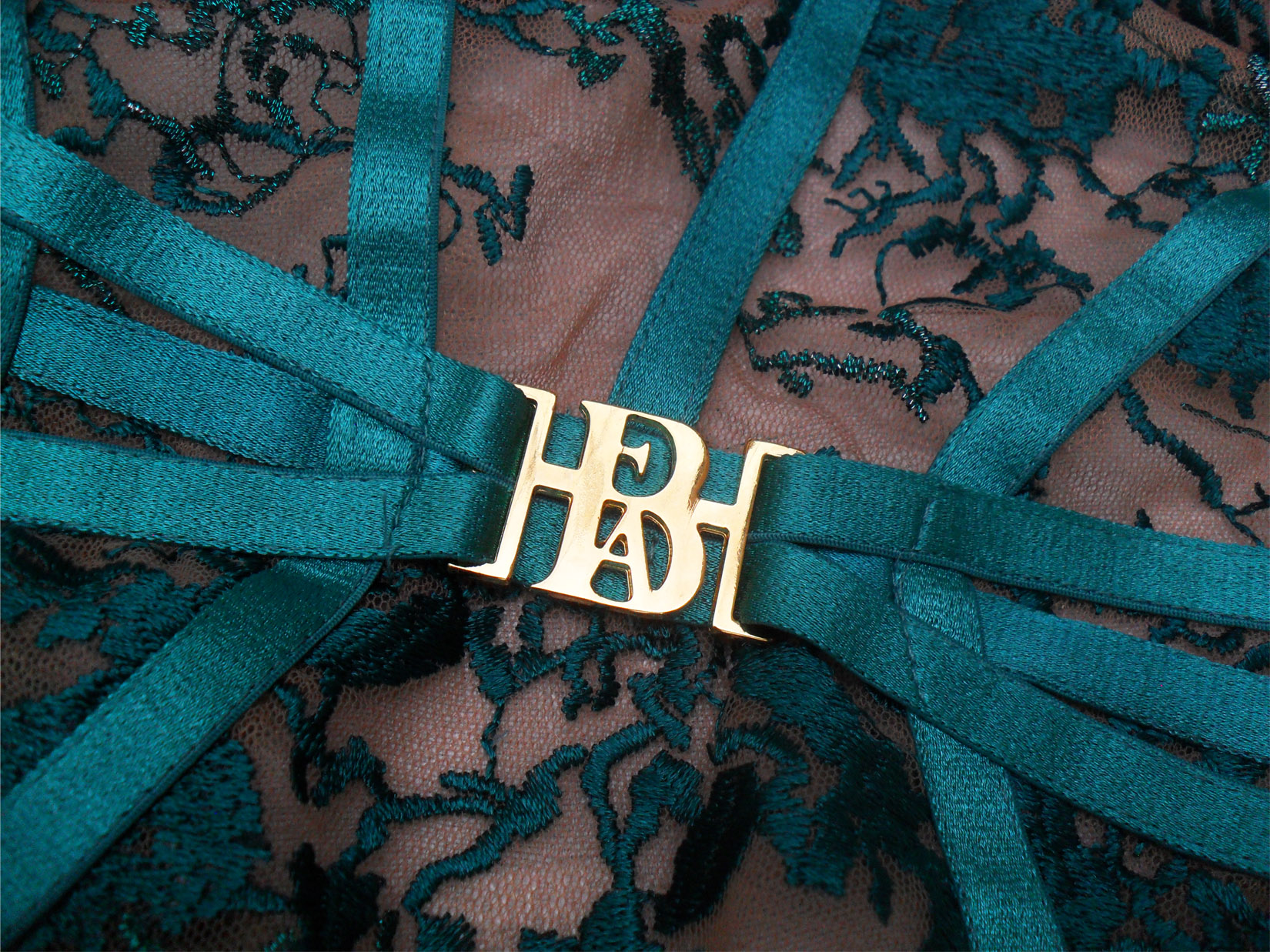 Ordering process
Unfortunately, the ordering process was less than ideal. I began by sending an Instagram DM asking for size advice (after getting an error message on their contact form) followed by an email a few days later when I hadn't heard back. It took 10 days to receive a reply – to the DM only – which I just put down to indie brands sometimes getting very busy. I went ahead and purchased… and no email confirmation arrived. And when I got logged out of their website a few days later and couldn't remember my password, I didn't get the password reset emails either. At this point I was very glad I'd paid with Paypal, since it was the only record I had of my order number.
Beba's website doesn't give international delivery estimates, but does say 1-5 business days for Serbian customers so I assumed despatch would be fairly quick. After nine days had passed since ordering with no status updates, I emailed asking when it would be sent. A week went by with no reply so I sent an Instagram DM asking the same, which did get a response saying it would be shipped in a couple of days.
The bodysuit did indeed arrive shortly after, but unfortunately didn't fit. Over the next few days I sent an Instagram DM with a photo asking again for size advice plus emails to all three email addresses I managed to find for this brand requesting the returns address, all of which unanswered. So I decided to try WhatsApp. It's not mentioned as a contact method on their website, but their phone number is so I gave it a shot – and got an instant reply!
Following this I communicated with the brand mostly via WhatsApp. Sometimes I got a reply, sometimes I didn't. It was highly frustrating to say the least – especially as I had been told the replacement should arrive before I went on holiday, but the date was drawing closer and I wasn't getting any information on whether it had been shipped (eventually I just asked them to send it to the address I would be staying at instead, which is where I received it).
All in all, the customer service left a lot to be desired. But I guess what you really want to know is, was the lingerie itself worth all the hassle?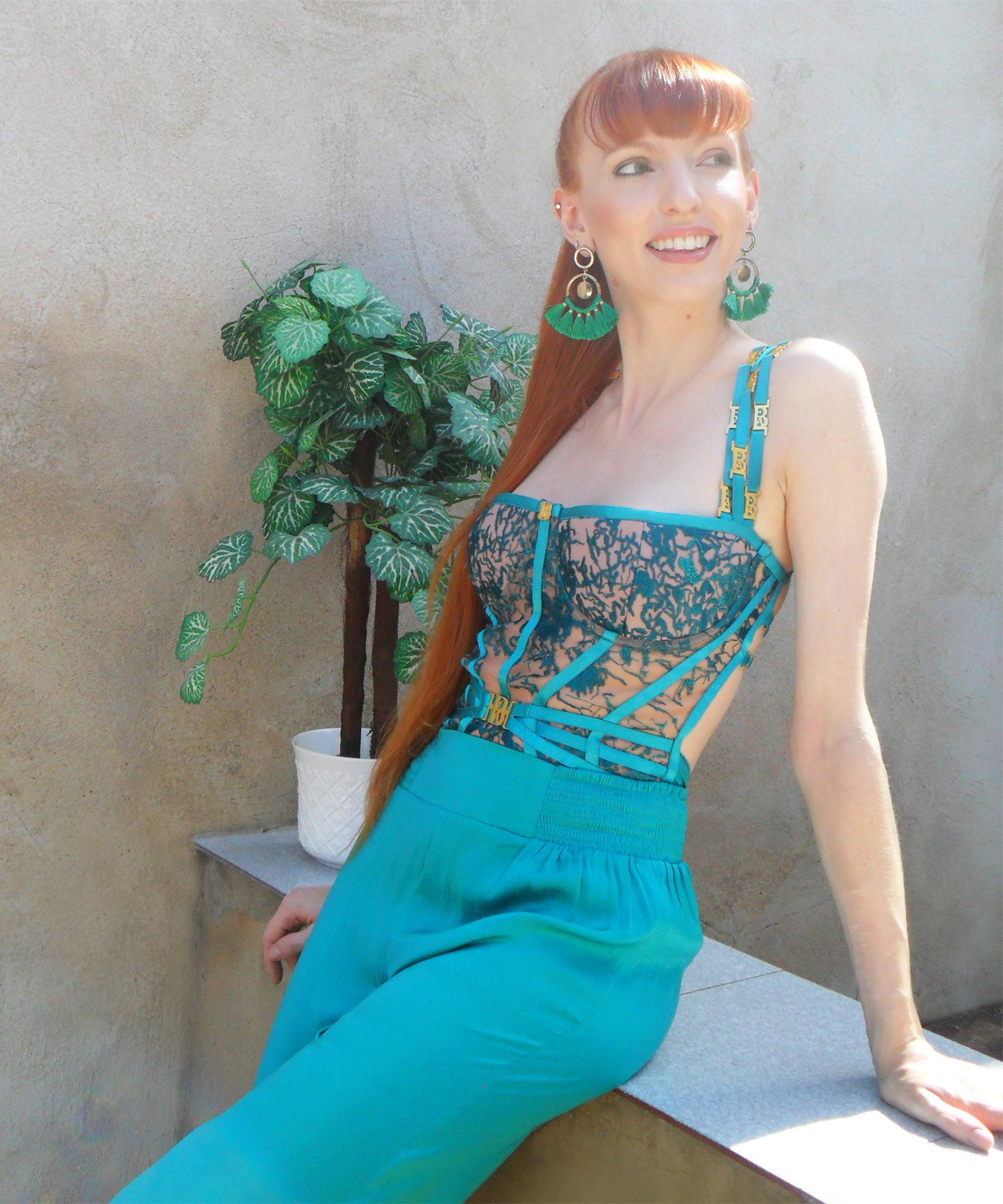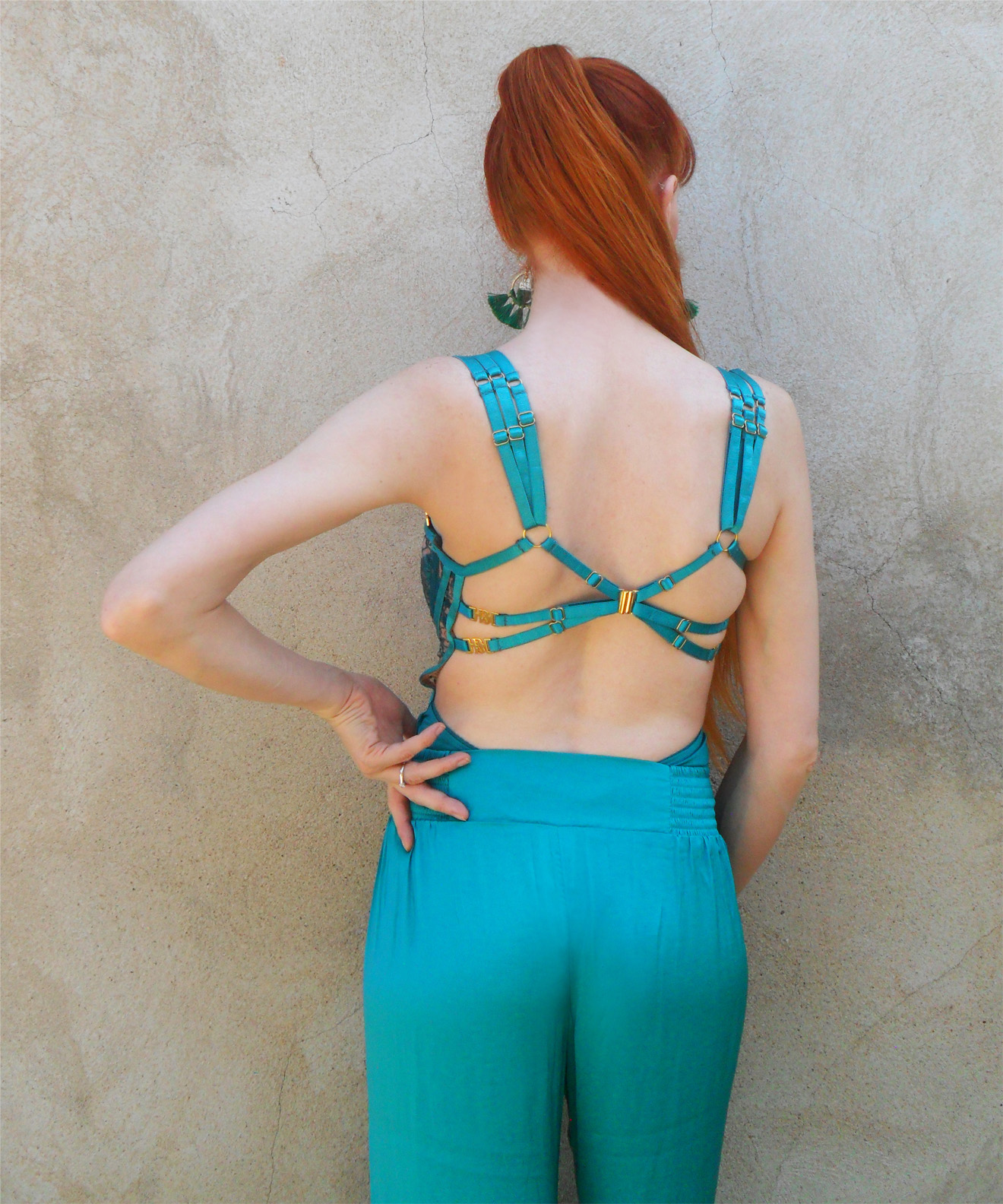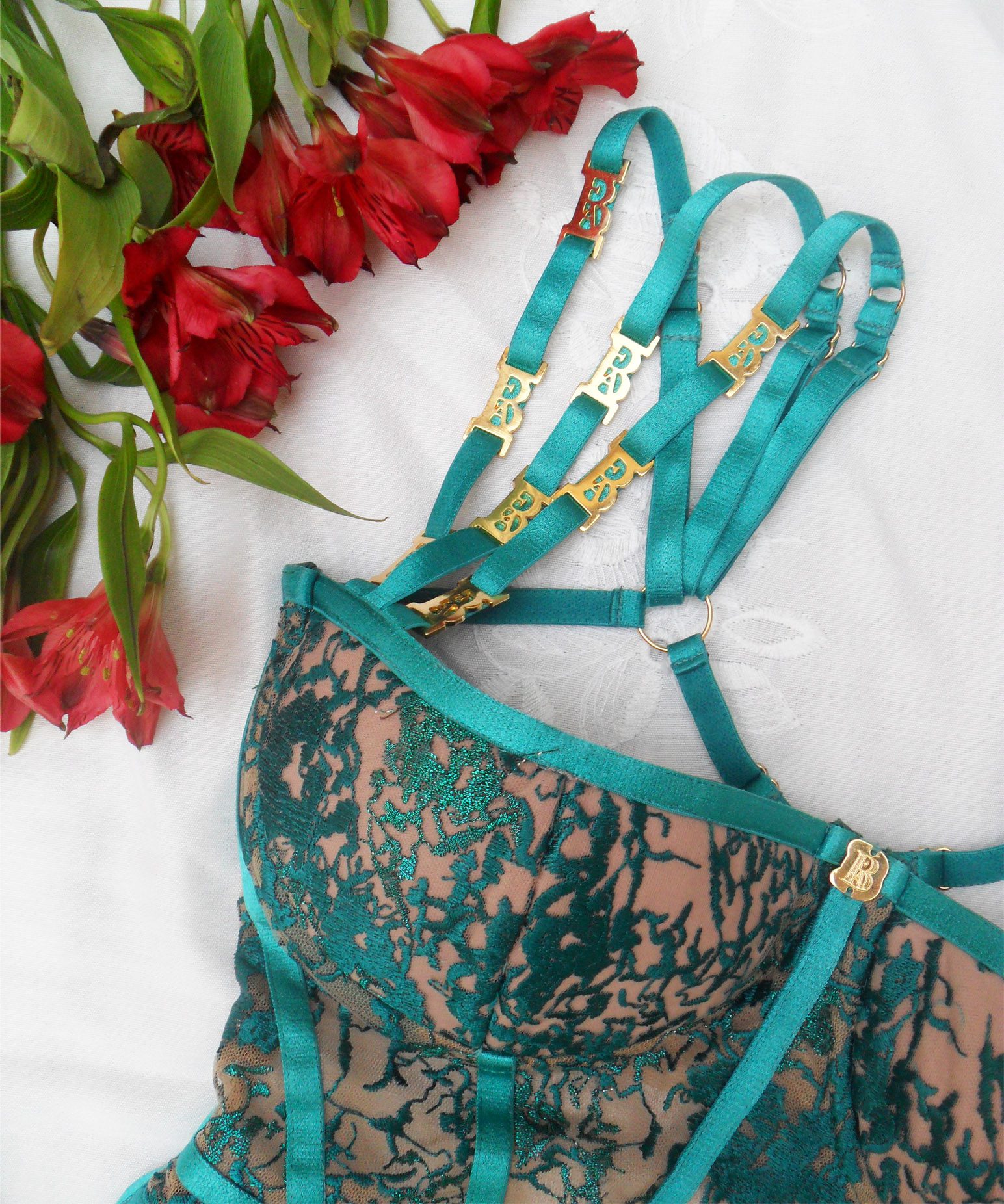 Appearance
The Becca bodysuit is available in five colours. In hindsight, I wish I'd picked the white which would have paired best with my typical outerwear style – since this is definitely a piece worthy of showing off – but at the time I was too captivated by the vibrant teal. And wardrobe-matching considerations aside, it is a stunning colour which looks just the same in real life as it does online.
The base of the bodysuit is a sheer beige tulle with an organically-shaped embroidery that reminds me of marble, and which uses shimmering metallic thread in random places. Over this, lines of teal satin elastic are sewn angled in towards the centre to help define your waistline. At the very middle is a large gold-tone metal embellishment with the Beba logo, plus a smaller metal charm sewn between the cups.
What really sold me on this bodysuit however is the triple shoulder straps, which feature a total of eight Beba logo hardware adornments on either side. The back too is equally lavish in its use of strapping and gold-toned hardware, with yet more branded jewellery at the sides and a golden clasp to fasten. The design is mostly open at the back, with a high cut legline and a thong-style bottom made from opaque fabric.
This bodysuit basically epitomises everything I love in lingerie: embroidered tulle, a creative embroidery pattern, vibrant colour, excessive strapping, and lashings of metal hardware. So in that respect, I love it! Although the overall aesthetic may remind me of other brands, there's no denying that this is a very unique design, and one that is incredibly eye-catching.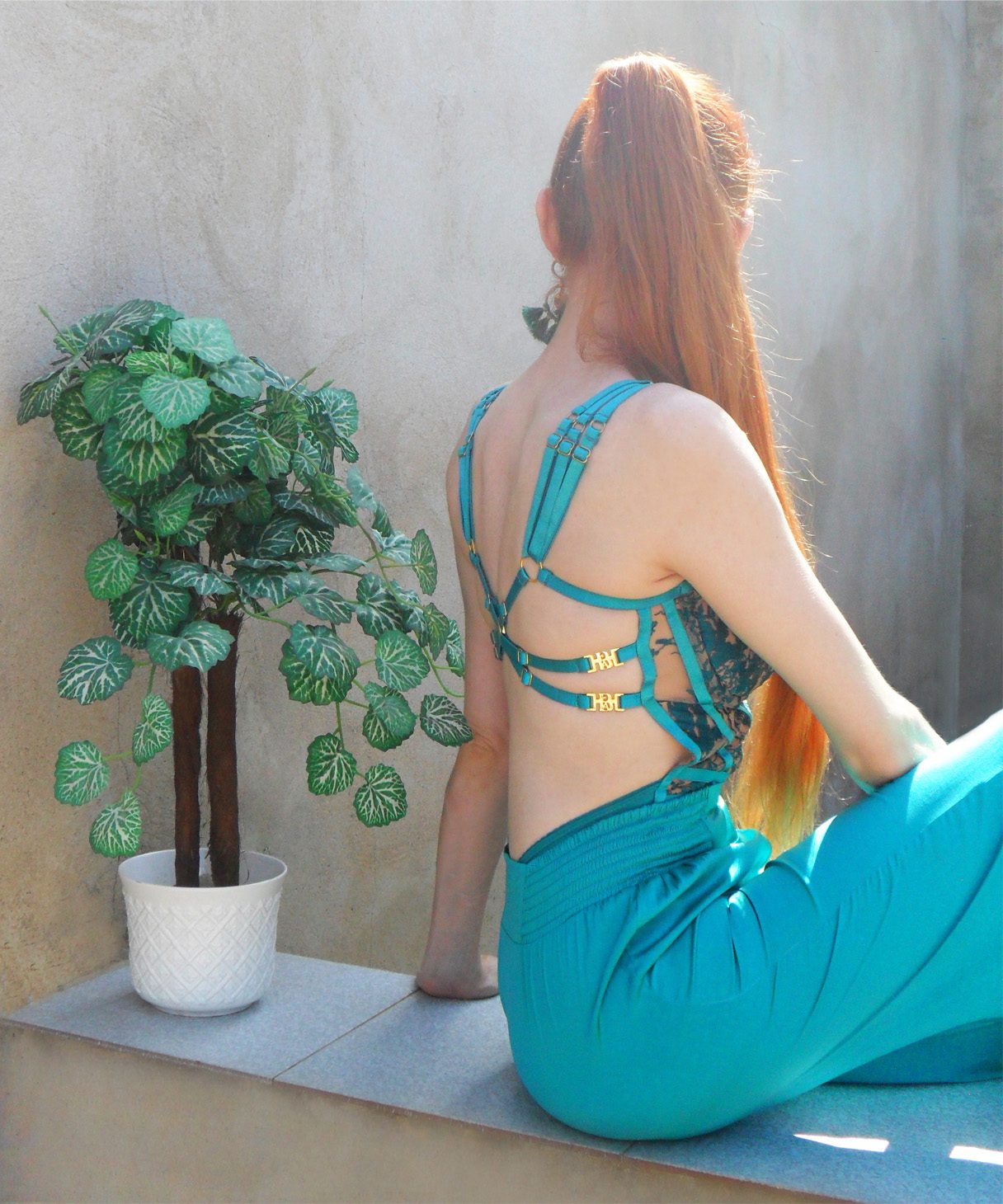 Fit
According to Beba's size chart, I would need a size XS underbust, A cup, and XS body. I was very dubious about the A cup part, given my typical bra size is a 30DD, which is why I initially reached out to the brand for guidance. I gave them my measurements and bra size, and asked if their cups fit larger than standard, and was advised to stick to the size chart. I should have trusted my gut because I was spilling way out of those A cups!
Since the fit photo I sent along with a request for further size advice was one of the messages I never received an answer to, I took my best guess on which size to exchange for and swapped it for an XS-C-XS. When the replacement bodysuit arrived, I at first thought I'd made a terrible mistake – the cups looked huge! However, when I tried it on the fit was actually okay, insofar as they weren't cutting in or gaping. The reason they look so big when the garment is laid out flat is because these cups are wide: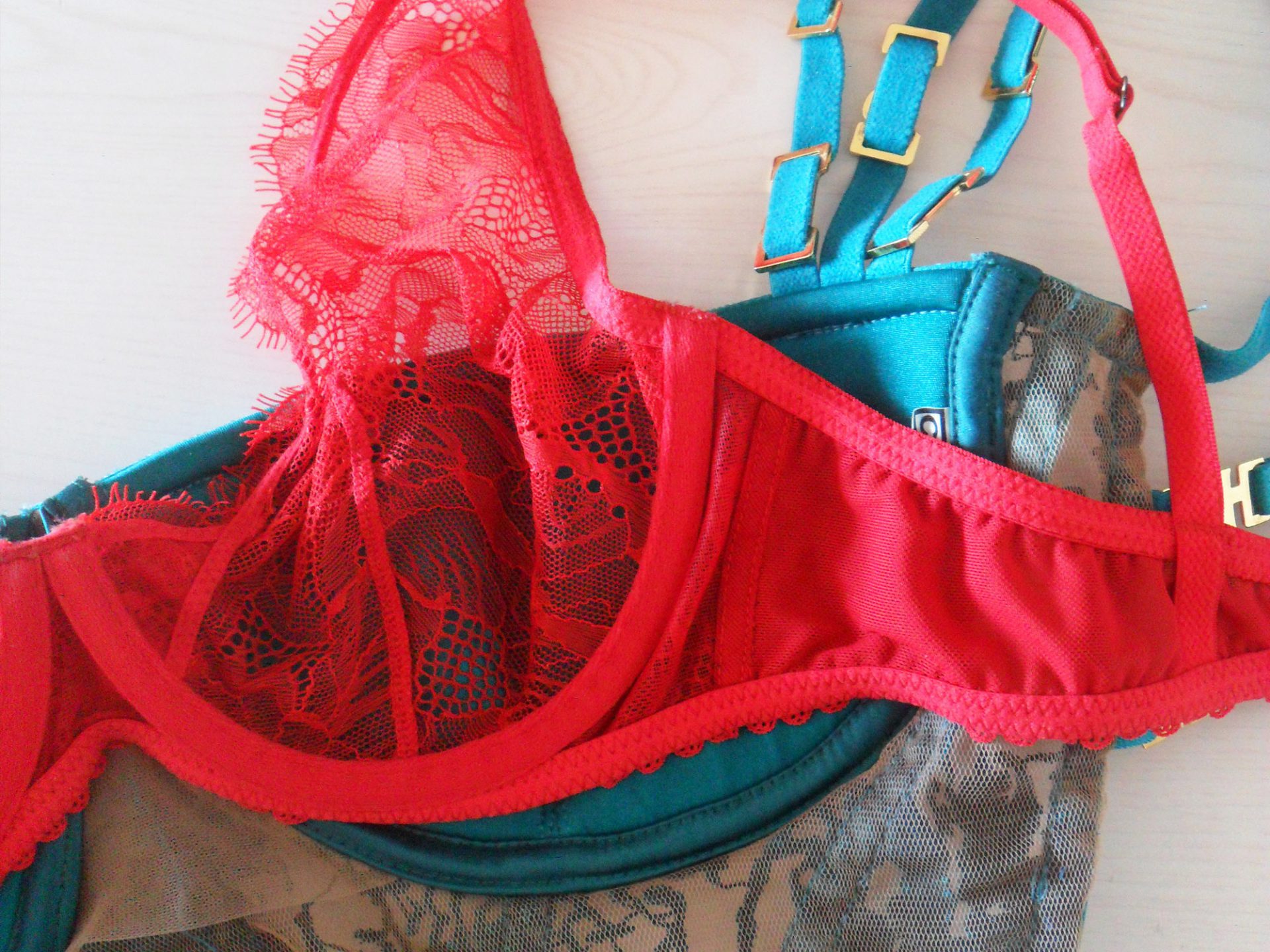 The C cups are no deeper than the A cups were, just wider. I get the feeling Beba probably uses the same 'C cup' regardless of band size, with the underbust size you choose only influencing the length of the elastic at the back. I do think this C fits me better than a smaller or larger size would, but I feel like I've sister sized up from a 30DD to a 36B – it's the same total cup volume, but a much wider and shallower shape than I need.
It doesn't look terrible. However, it means the cups wrap quite far around to the side of my body, hence the straps are right next to my underarms. And that means that the corners of the metal hardware positioned there keep pinching as I move around. I think I might alter this piece to bring the straps inwards.
As for the fit on the rest of the body, I'm in two minds over whether I made the right call to stick with an XS here. I followed the size chart, but am right at the upper limit of the hip measurements for it and when the first bodysuit arrived, I noted that it had incredibly little stretch at the hips. Getting it on without popping any stitches was a real struggle! But once on, the sides of the waist buckled outwards – you can see in my photos that they aren't lying flat, and that's why I didn't want it any larger. I'm 5'3 and this bodysuit is definitely made with a taller body in mind to pull it smooth.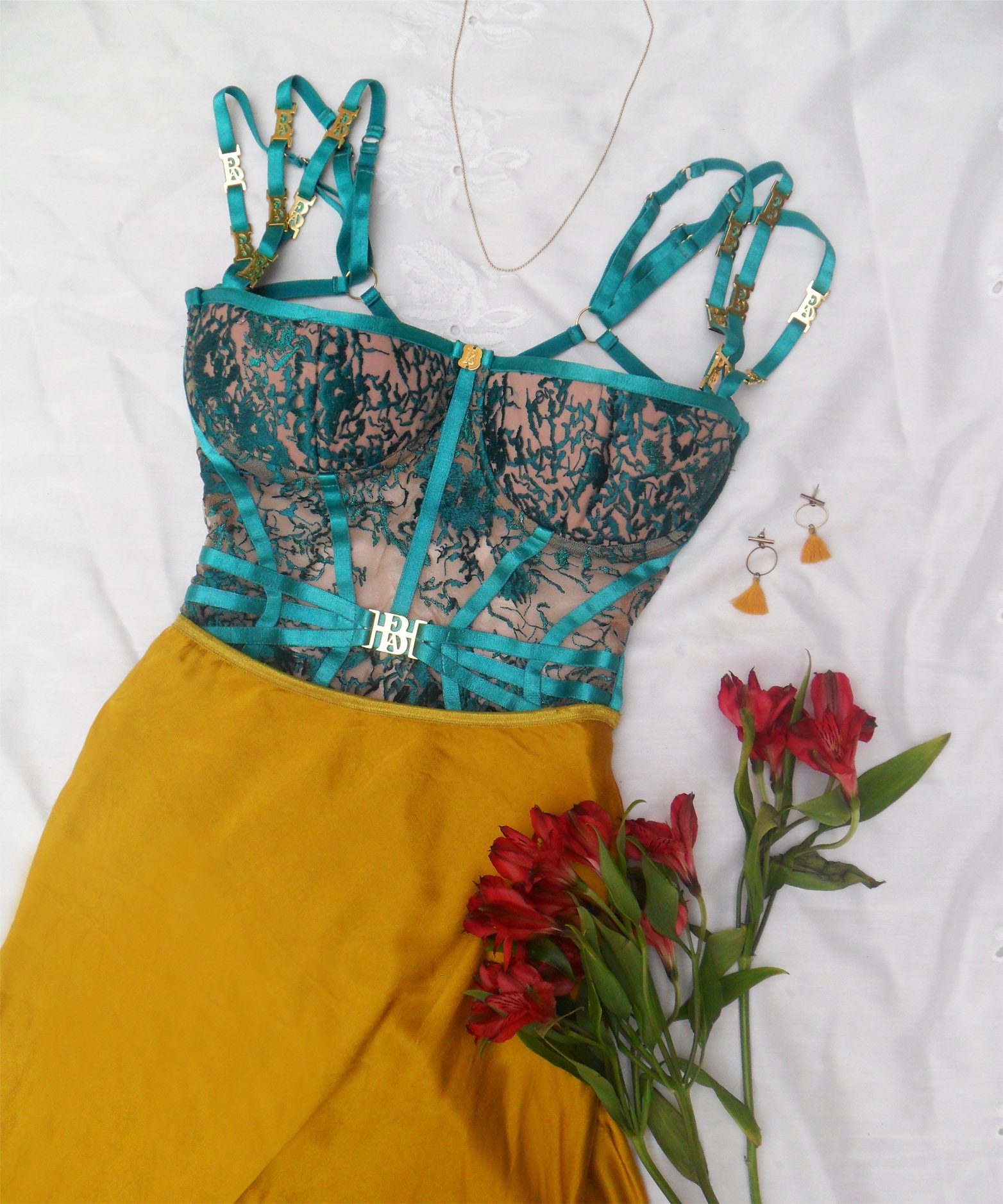 Construction
Although I am disappointed with the fit of this bodysuit, the general construction is okay. The embroidered tulle is backed by a second layer of plain tulle for a smoother interior, the lightly-padded cups are lined with the same soft fabric used for the back of the thong, and the gusset is lined with a soft jersey.
The gusset fastens with poppers which I appreciate from a wearability perspective, and there are three length adjustments so you can tweak the fit a little. The clasp closure at the back is a bit fiddly to do up, but stays securely closed once you get there. I was a bit surprised to see the elastic attached to the thong section with a straight stitch – a zig-zag stitch would have allowed for more stretch here, making getting it on and off much easier.
When I first saw these bodysuits online, I thought the 148€ price tag (approx. $173 / £127) was on the low side for something so unique and luxurious-looking. Now that I've seen the garment in person, I do see why it's not more expensive. There are areas of stitching that are slightly wonky or bunched up, and a raw edge visible on the interior (on one side only, so not intentional). They're small things that don't really affect the overall appearance or durability, but it's not the perfectly-executed finish I would expect from a true luxury garment.
Final thoughts
It was the stressful ordering process more than anything else that let this purchase down, however the bodysuit isn't perfect either. It's absolutely gorgeous, and would certainly have a big visual impact if you're buying it purely for a photo shoot. But with the multiple fit issues, it's not something I'll be wearing regularly, and definitely not something I would have spent 148€ on had I been shopping in store.
What do you think of Beba's Becca bodysuit? Is the strikingness of the design something you could overlook fit issues for?