Disclosure: I received this lingerie set free of charge, but not with any expectation of a review.
You may recall Keòsme from my earlier review of their Bersèra swimsuit, or my review of the Hermiona bra set by their sister brand loveJilty. Both Keòsme and loveJilty are produced by yesUndress, a Ukrainian retailer with an ever-growing number of brands under its umbrella. They are all (incredibly!) budget-friendly, except for Keòsme which is the retailer's luxury label.
A while back, yesUndress asked if they could gift me the Augusta dress after seeing I'd liked it on social media. As a piece that's very much my aesthetic but significantly beyond my budget, obviously I said yes – it was like Christmas coming all over again!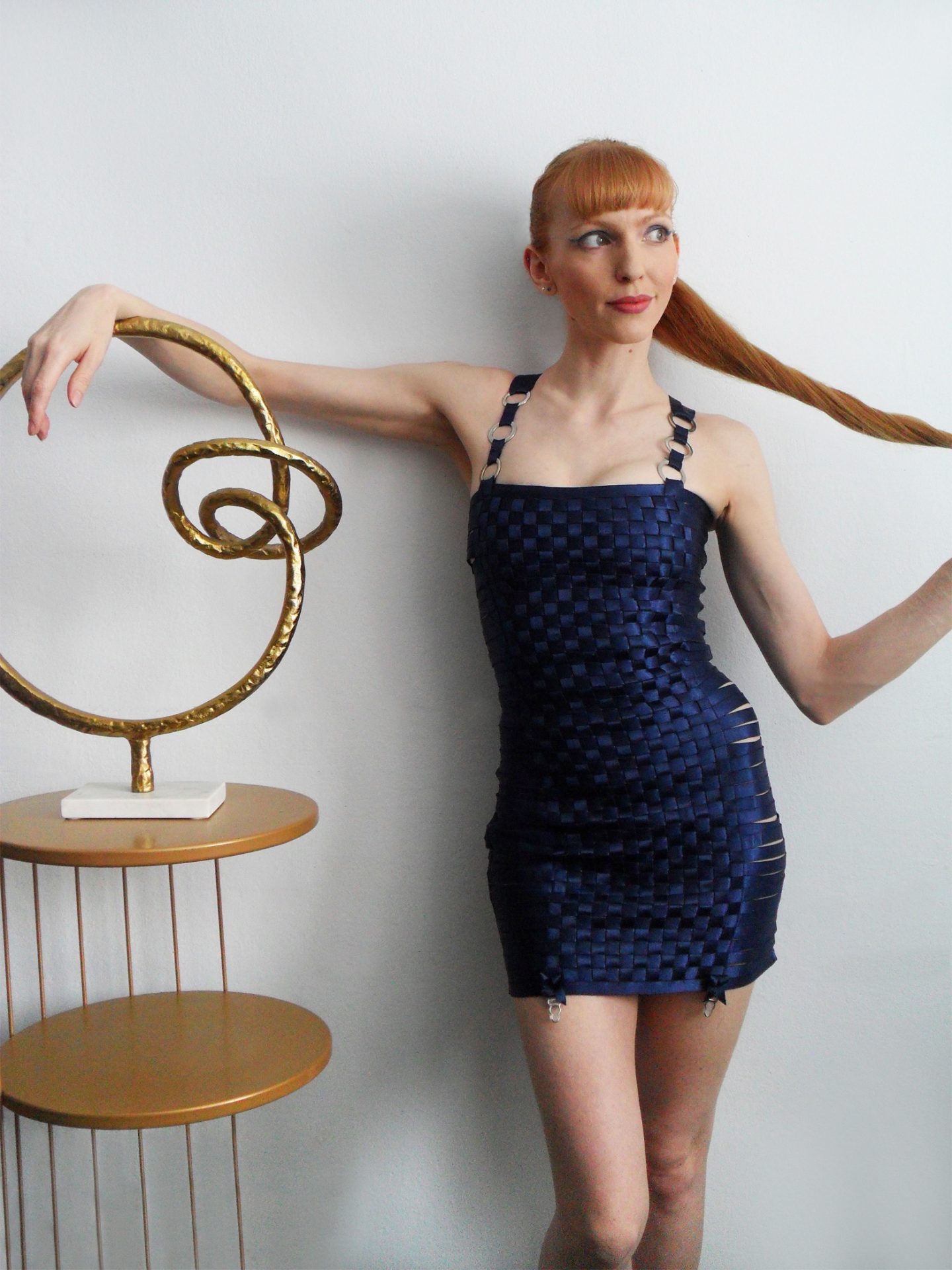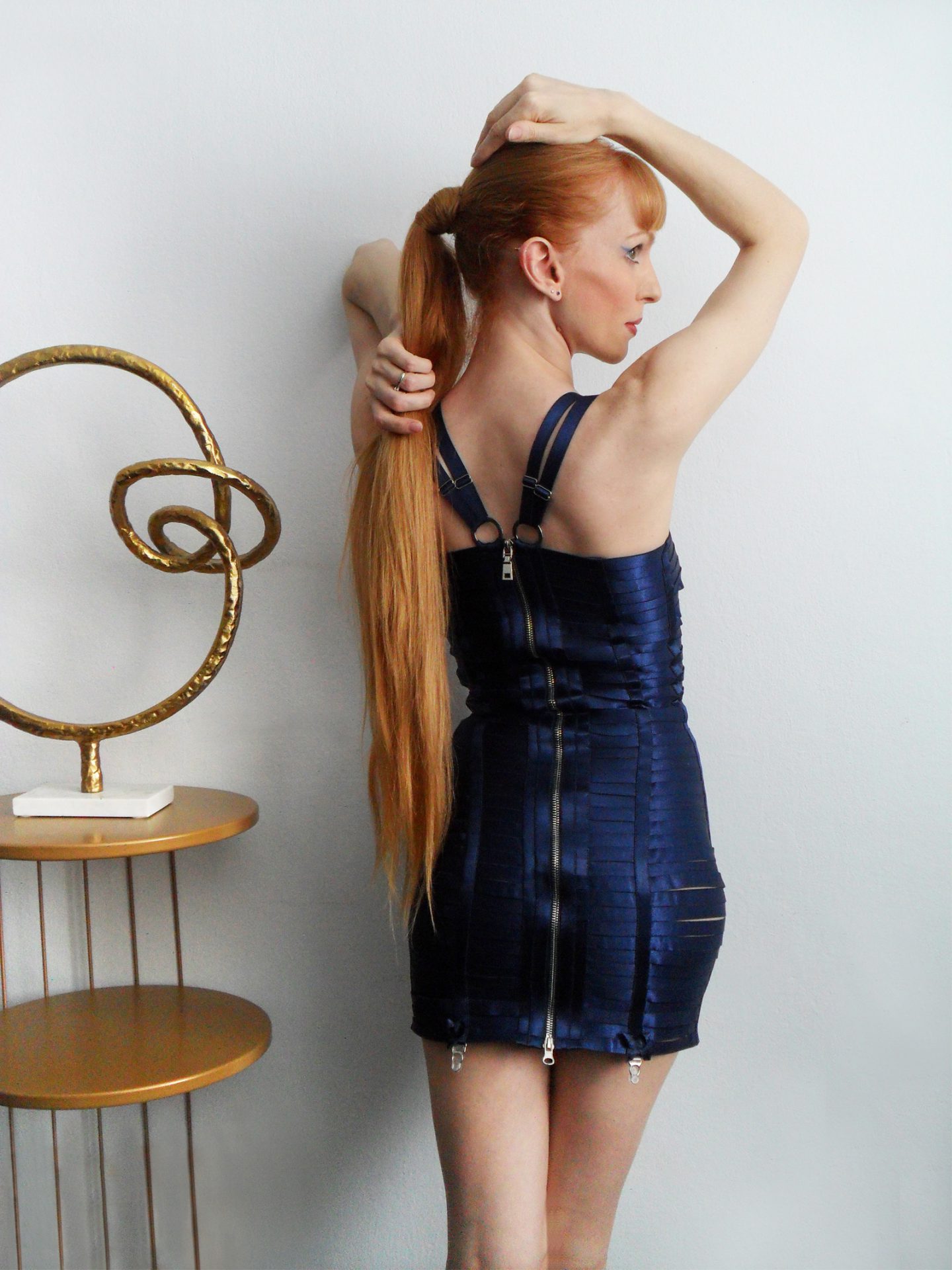 Clearly, this is a Bordelle-inspired piece. That was the first brand to popularise elastic cage dresses in lingerie, and they've done them in dozens of variations throughout the years. However, I feel like Keòsme has taken that general idea and created something original. Most notably, Bordelle hasn't, as far as I'm aware, ever used the 'lattice' effect elastic placement that makes the front of this Keòsme piece fully opaque.
There's no lining here – it is quite literally an elastic dress. I love that for two reasons. One, it is pretty flexible on fit. There are no adjusters, besides the ones on the shoulder straps, because it will just stretch where it needs to stretch. The lattice panel is the firmest part however and covers all but the sides of the bust, so do bear that in mind if you're full-busted. I wear a 30DD bra size and am wearing the Augusta dress in an XS-S, and it's fine but would be a tight squeeze on a chest larger than mine.
And reason number two, the thick, springy elastic also functions a bit like a shapewear fabric. The dress itself is shaped into a gentle hourglass, and it definitely nips in my waist and makes me look curvier than I naturally am. It does feel fairly tight, especially around the waist, but not in an uncomfortable way. Just a noticeable way. I can wear it for an entire day no problem!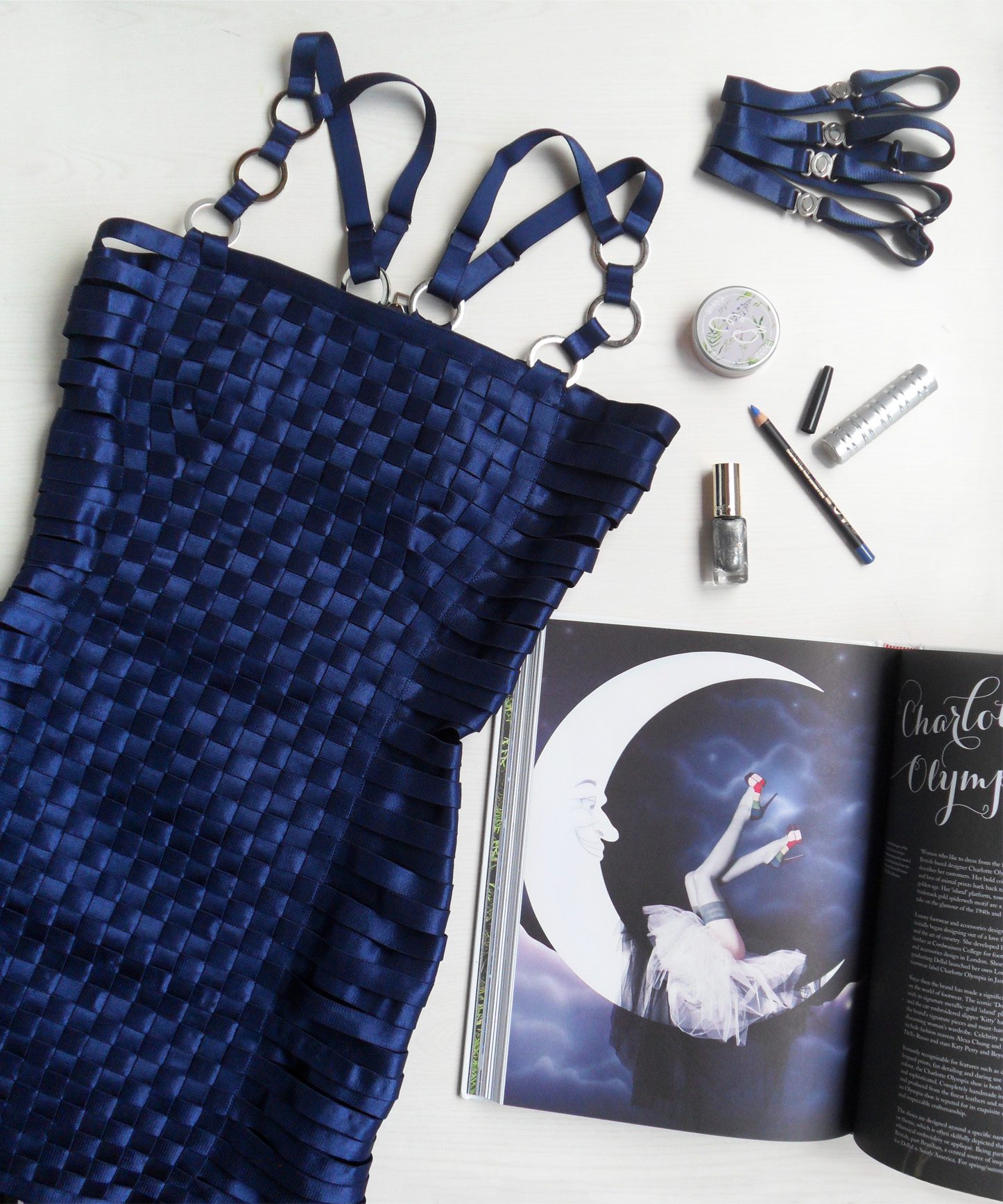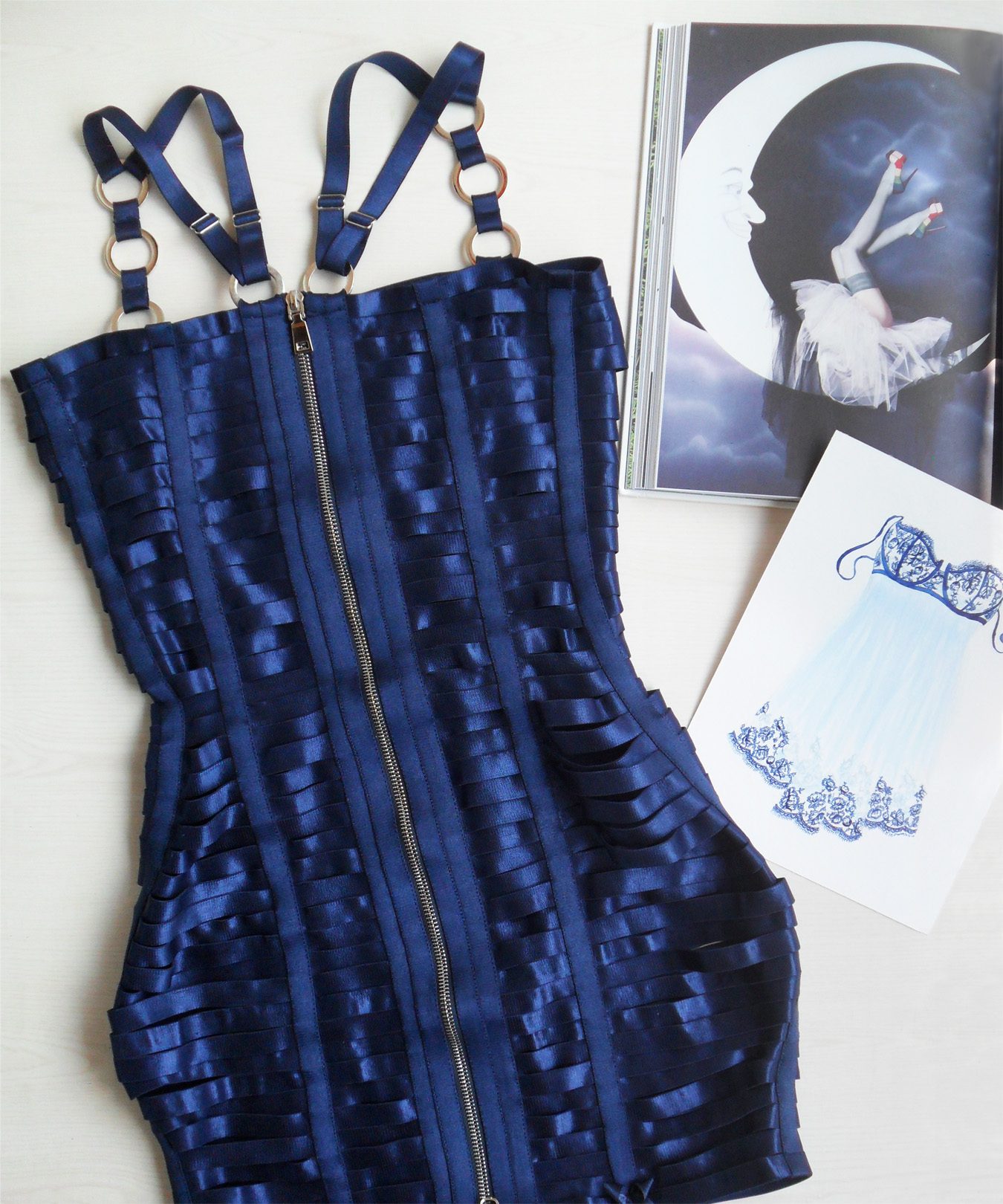 Overall, the Angela dress is very well-made. The elastic is thick, soft and glossy, the stitching is perfectly neat, and the metal hardware feels substantial. After close inspection, I did notice that the elastic joining the three silver rings on one strap has been sewn backwards, with the raw edge facing outwards (on the other side, it's against the skin). That's not ideal of course, but not overly visible either.
The back of my dress fastens with a double-ended zip, although there's a different style of zip shown in the product photo (it's possible I received a sample garment and the design was later tweaked). At the hem, there are four suspender grips topped with satin bows. These aren't adjustable in length, and they also aren't detachable which is the one thing I would change about this design if I could.
You can wear the Augusta dress with stockings, but it is primarily intended to be worn with the Ardour garter set. The problem with those is that although they have metal rings at the front and back, once you adjust the garters to fit your thighs there's a good chance you won't get both rings to line up with the dress' suspender grips. So when I attach the garters at the front, I can't do the same at the back and it looks like I just forgot. That said, I don't hate the way the dress looks when it's worn alone – the dangling suspender grips are somewhat decorative, in a Murmur kind of way.
I'll be honest, I haven't worn this dress as much as I would normally wear something before reviewing it – it's kind of hard to find the right occasion, especially during a quarantine! But I did make sure to wash it once. There are no washing instructions on the label or website (and I don't recall it arriving with any), but I would 100% recommend hand-washing this so it doesn't get twisted out of shape. Also, being entirely elastic, you absolutely cannot tumble-dry it or you're going to ruin the fit. It was easy to wash, pretty colourfast (it's normal for a little dye to leak from dark garments, which is why you wash them separately from light ones), and dried quickly draped over a washing line.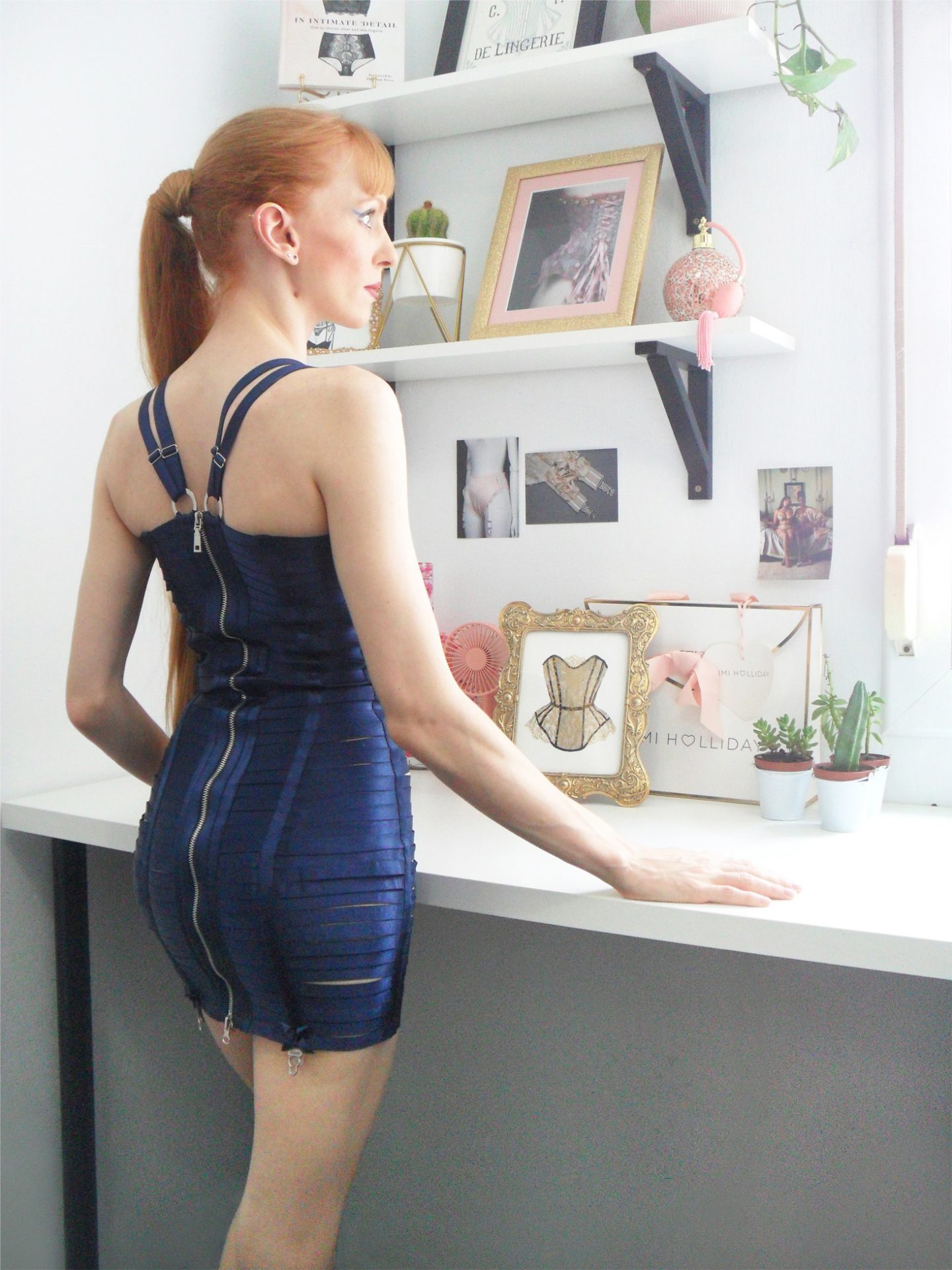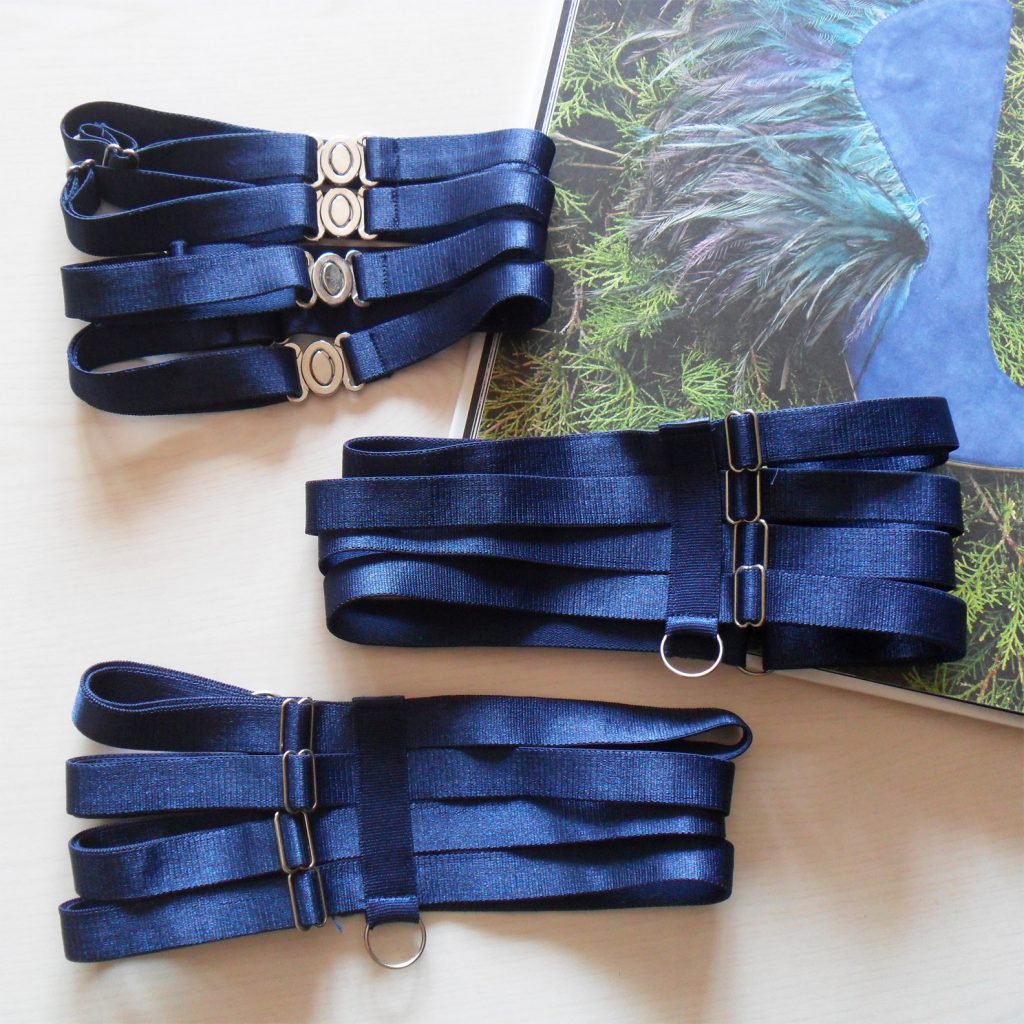 All in all, I love Keòsme's Augusta dress, just as I expected I would. I might not wear it super often, but I have no doubt it will remain a treasured addition to my lingerie collection. It's available in sizes XS-S to XL-2XL (size chart here) and costs $350 (~£276 / ~310€), which includes a matching choker. While expensive, it is an absolute showstopper of a piece, and the overall quality justifies the price.
Also, to put it into perspective, the basic, non-adjustable Bordelle Angela dress retailed for £630, and they now only sell adjustable versions that start at £840. Those do have underwired cups and 24k gold-plated hardware, so it's not exactly a like-for-like comparison. But if Bordelle is too much of a stretch for your wallet, I can happily recommend Keòsme as an alternative option. The size range is slightly larger too!
Keòsme has a number of elastic lingerie dresses available if this style or colour isn't quite what you're looking for. Other favourites of mine include the beautiful Soaemias dress with embroidered overlay and ribbon lacing, the lipstick-red Yarara dress with overbust strapping, and the Moderatrix dress which looks to be inspired by that staple of sexy lingerie, the 'French maid' look.
What do you think of the Augusta dress? Is there another elastic dress by Keòsme that you like more?